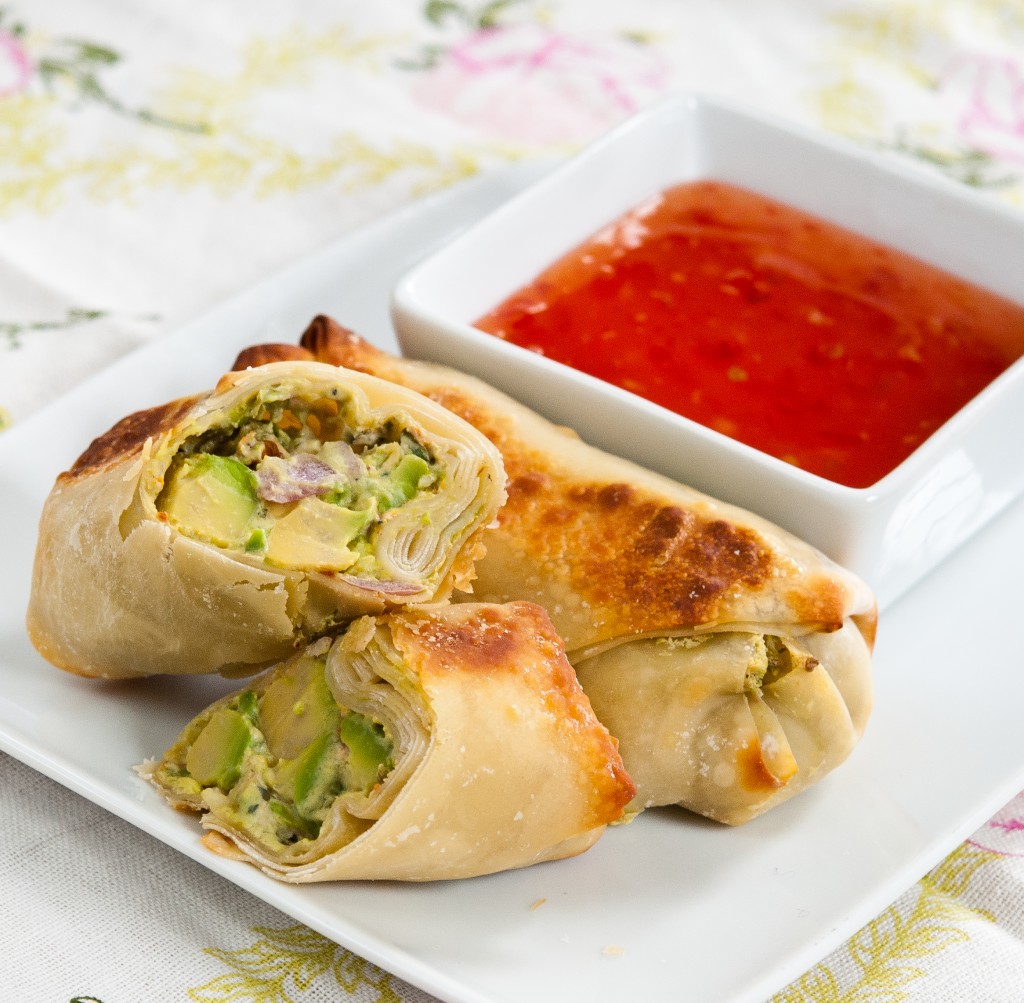 I guess my theme this week is food inspired by stuff I used to eat at work. I used to travel quite a bit for a former client – it was a hectic way to live but a lot of fun. Work travel is a great way to see little bits of cities you might never have had a chance to spend time in – usually there isn't much time to do touristy stuff, but if you can fit in one or two little things or try a good restaurant, it's more than you'd get to do staying at home.
Of course, between the good local restaurants you get to try are the ones you have to go to just to make sure you eat. Those are the ones that were always a bit of an adventure for me as a plant-eater trying to stay healthy on the road. I can't count the number of iceberg salads and pastas with red sauce I've eaten in various cities across the country because that was what was available. And sometimes if something looked really good, I'd just give in to the deep fryer and go to town.
These egg rolls were one of those special cases. I'm mildlyobsessed with avocado – if I could pick one food that had to be in everything I ate for the rest of my life, that would be it. I found avocado egg rolls on the menu at BJ's Brewhouse, a restaurant where my coworkers and I always ended up killing time before redeye flights home from Seattle, and I loved them so much that I ordered them every time I was there. Healthy? Nope. Delicious? Yep.
I work on a different project now, and my Seattle days are over. But I still REALLY like those egg rolls, so I started looking for a way to recreate them and maybe healthify them a bit in the process. I had immediate success with this one, and I wasn't surprised – how could they go wrong?  If you don't care about the extra oil, you can certainly deep fry these, but I don't think they suffer for being baked. I for one am certainly enjoying being able to eat these without traveling across the entire country. Serve these with any dipping sauce you like – ranch, soy-ginger, or sweet chili.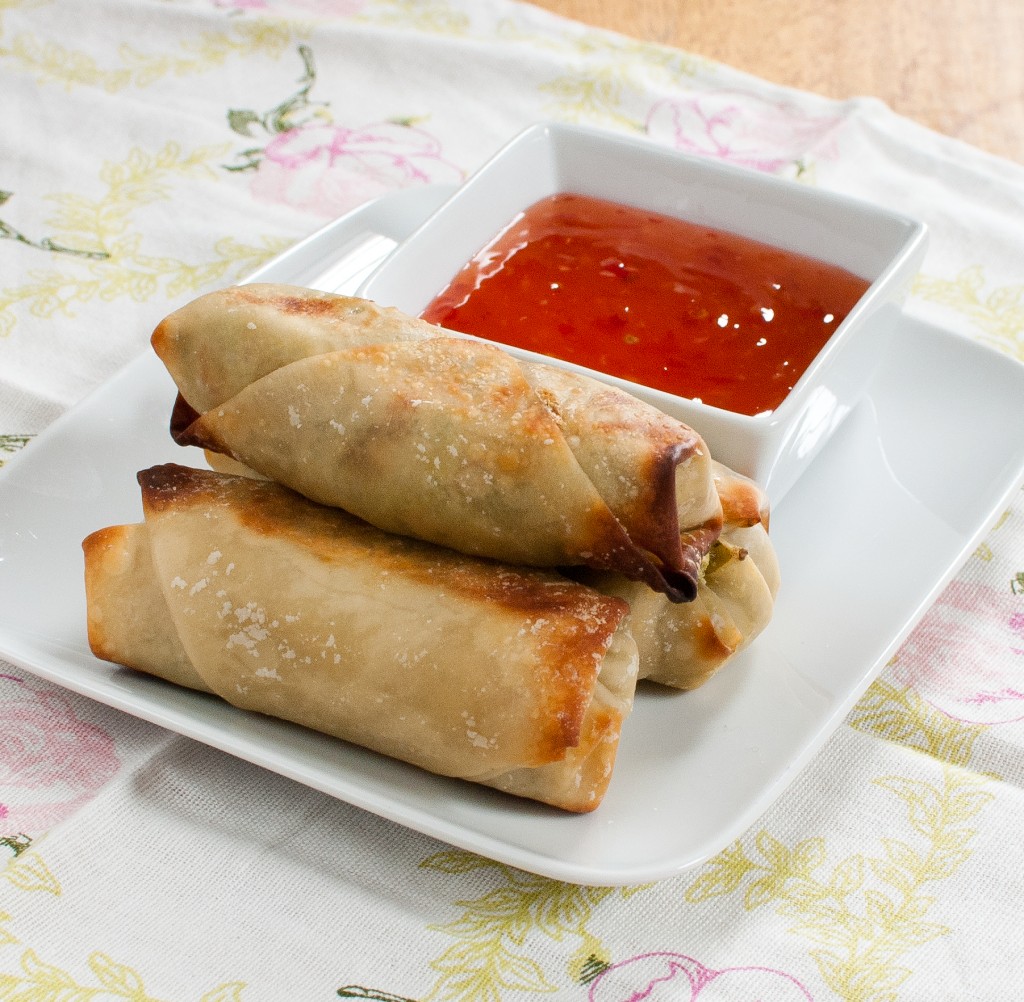 Baked Avocado Egg Rolls
Ingredients
2 large, ripe avocados, diced
Juice of one lime
4 oz (1/2 package) fat-free cream cheese, softened
2 Tbsp sun-dried tomatoes in oil, drained and chopped roughly
¼ cup red onion, minced
1 clove garlic, minced
1 Tbsp pine nuts, chopped
2 Tbsp cilantro, chopped
Pinch of red pepper flakes
Salt & pepper to taste
9 egg roll wrappers
Cooking spray
Instructions
Preheat oven to 400 F. Line a baking sheet with parchment paper and set aside.
Place diced avocados in a medium bowl. Gently stir in lime juice.
Stir in cream cheese, sun-dried tomatoes, onion, garlic, pine nuts, cilantro, red pepper, and salt and pepper until thoroughly combined.
Lay an egg roll wrapper on a work surface. Place 2-3 tablespoons of the avocado mixture down the middle of the wrapper. Fold one point of the wrapper over the mixture and roll once. Fold in the two sides and roll the egg roll shut. Use a bit of water to fold in and seal the remaining tip. Place on baking sheet and repeat with remaining wrappers and filling.
Spray tops of the egg rolls lightly with cooking spray. Bake for 10 minutes. Turn each egg roll and spray the other sides lightly with cooking spray. Return to oven and bake for another 10 minutes, until browned and hot.
Serve with dipping sauce of choice.
Source: Inspired by
BJ's Brewhouse
Don't miss a thing – sign up to receive new recipes by email, or follow me on Facebook, Instagram, and Pinterest.