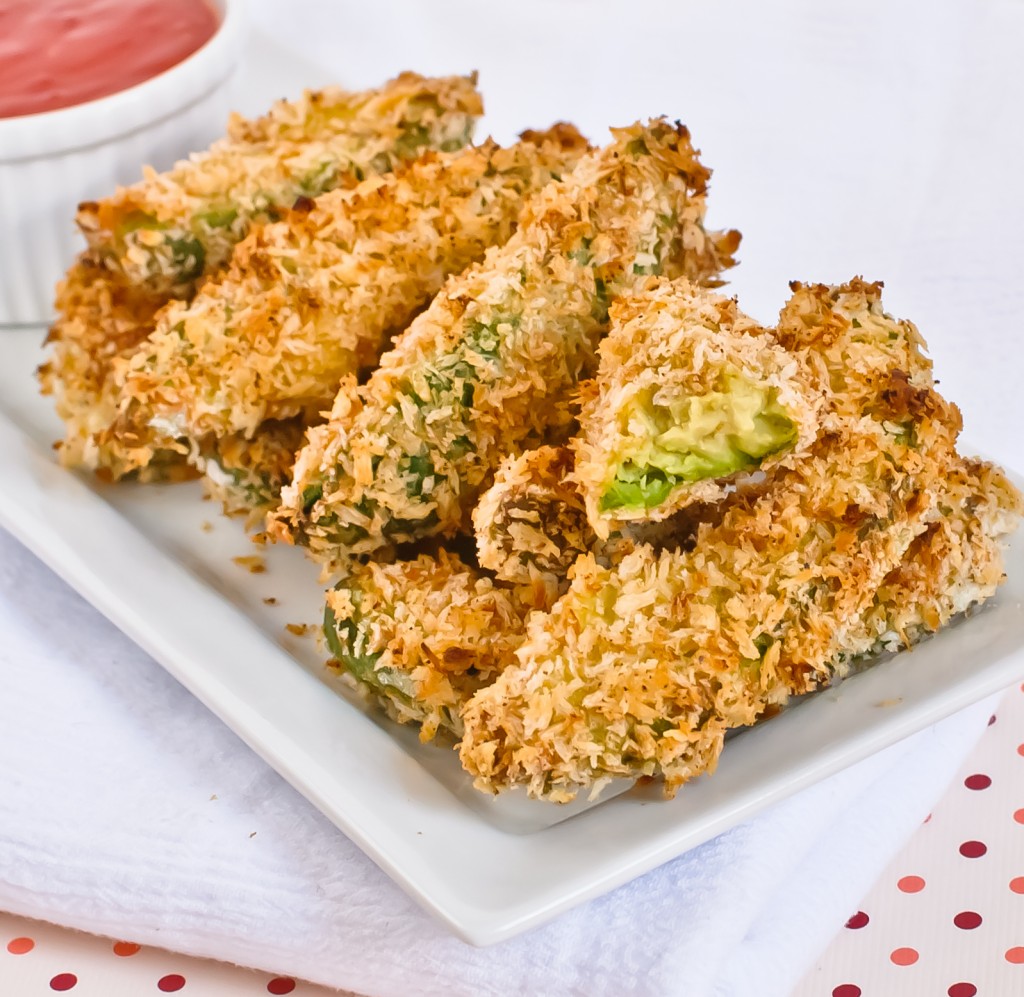 I honestly thought I had done everything one person can do with an avocado. Guacamole. Pesto. Salad. Frosting. Hair masks. Face masks. What could possibly be left?
Oh…FRIES? I can make FRIES from an avocado? And I can bake them instead of frying? Come with me to the moment I found this out. Can you see the rays of heavenly light pouring down around me? Can you hear the Hallelujah chorus? Or do you just think I'm a little bit weirder than you did just a few minutes ago?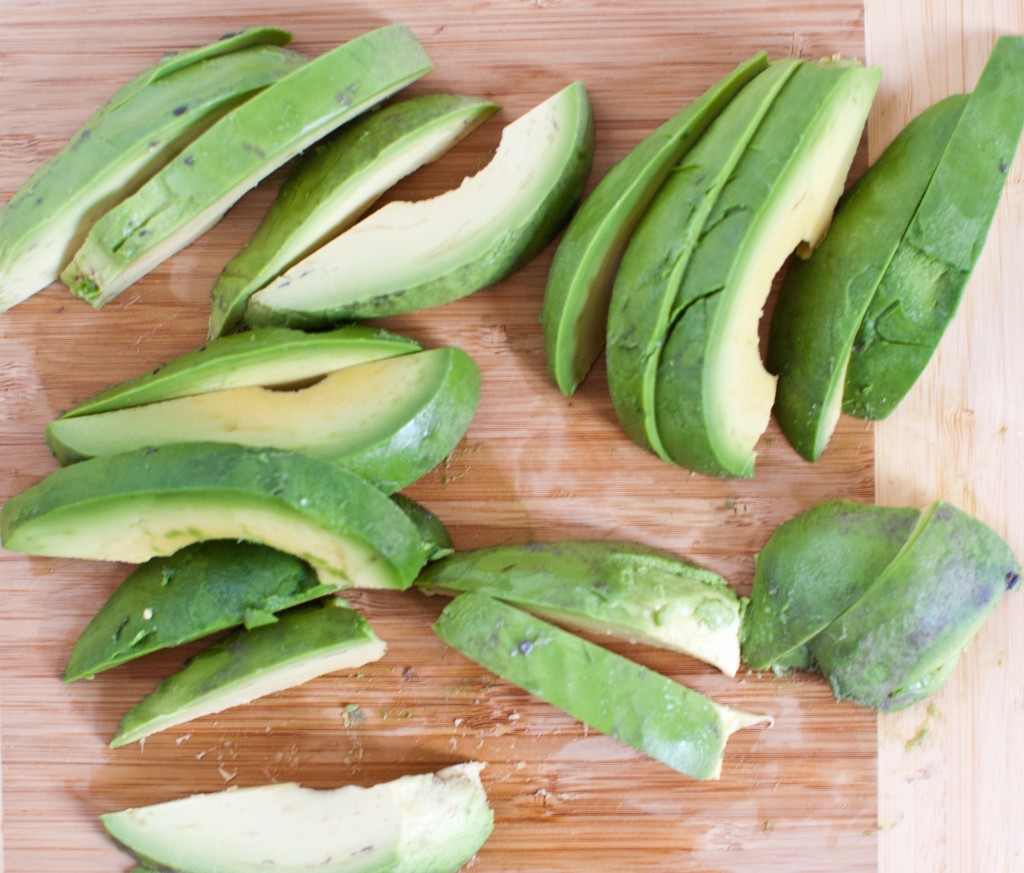 This starts with fresh, ripe avocado, sliced lengthwise. If you can keep from sprinkling some sea salt on it and eating it just like that, well, more power to you. You've got more willpower than me, and you get to move on to the next round, where it's rolled through seasoned flour, dipped in an egg wash, and then coated with crispy, crunchy panko breadcrumbs.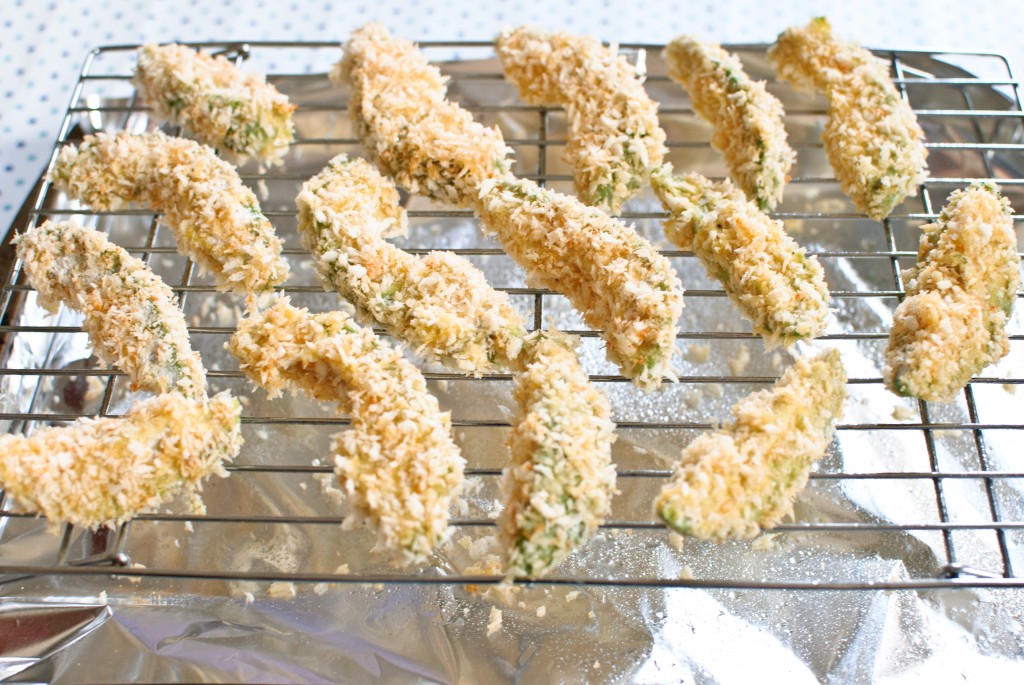 You also get to scare people when you're done breading and your hands look like this: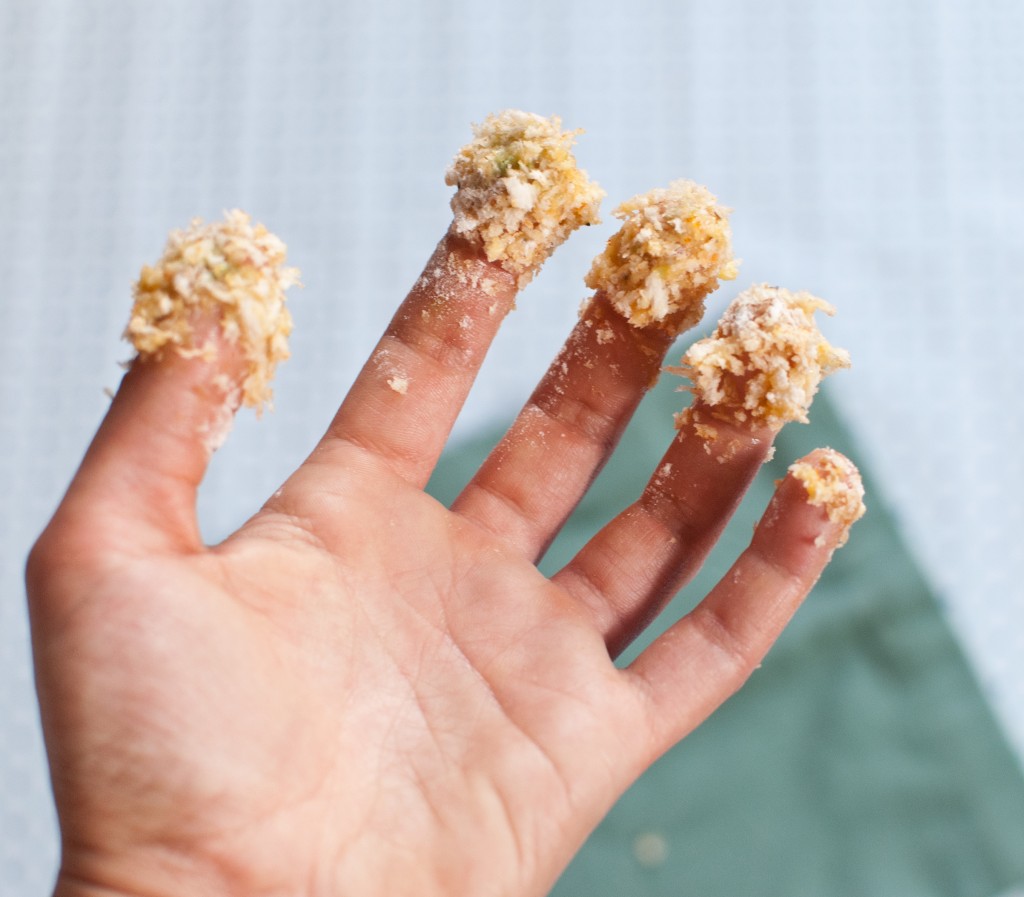 You can get people to agree to almost anything if you're chasing them with hands like this.
A relatively quick high-heat bake finishes these babies off, and while you dance around ecstatically waiting for that twenty minutes to pass, you can think about what dipping sauce is worthy of these. It could be anything. I'm partial to sweet chili sauce myself, but you can go in almost any direction. Ranch, chipotle mayo, wasabi-soy sauce…whatever you dip these in, make sure it's something you really like. Cooked avocado is tender and buttery but it's mellow to the extreme – it's good to have a flavor-packed sauce to go with the to-die-for crunchiness of the panko crust with the soft avocado middle.
Make these. Let me know if you hear the Hallelujah chorus like I did. You don't need to be embarrassed – it's not you. These really are that good.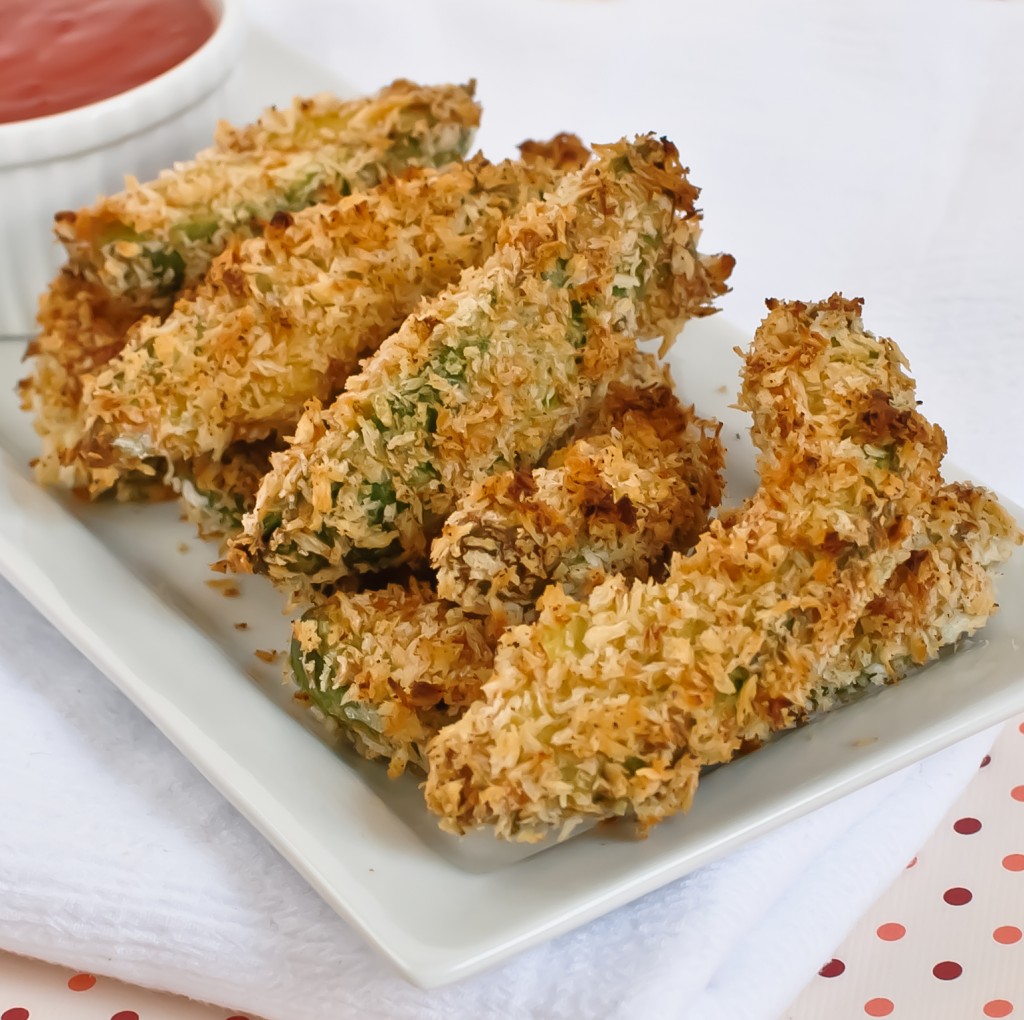 Category:
Side Dish, Appetizer
Ingredients
3 ripe (but not overripe) avocados
½ cup all-purpose flour
Salt and black pepper
2 eggs - see Notes for substitute to veganize
1½ cups panko breadcrumbs
1 Tbsp butter or margarine, melted
½ tsp garlic powder
½ tsp onion powder
½ tsp paprika
½ tsp salt
¼ tsp freshly ground black pepper
Cooking spray
Instructions
Preheat oven to 450 F. Line a baking sheet with foil and place a wire rack on the sheet. Set aside.
Slice avocados lengthwise - for three avocados, you'll get 20-22 fries.
Set up three bowls in an "assembly line" (prepare your best Laverne and Shirley routine). In the first bowl, place the ½ cup of flour and add a pinch of salt and a few grinds of black pepper.
Crack the eggs into the middle bowl and beat lightly.
In the last bowl, combine the panko and melted butter and mix with your fingers to coat. Add garlic powder, onion powder, paprika, salt, and pepper and stir to combine.
Dredge each avocado slice through the flour, and then the beaten egg. Coat thoroughly with the panko and place on the wire rack. Spray lightly with cooking spray.
Bake for 20-25 minutes, until panko is lightly browned. Cool for about ten minutes and serve with dipping sauce of choice.
Notes
To veganize - instead of the eggs, puree 6 oz silken tofu with 2 Tbsp non-dairy milk, OR for a more flavor-packed option, stir together 2 Tbsp dijon mustard, 2 Tbsp maple syrup, 1 Tbsp soy sauce and 1 Tbsp Vegenaise. If you don't have a wire rack to bake the fries on, it is completely fine to bake them on parchment paper or greased aluminum foil - just turn them halfway through baking.
Source
: Adapted from
Adventures in Cooking
Don't miss a thing – sign up to receive new recipes by email, or follow me on Facebook, Instagram, and Pinterest.