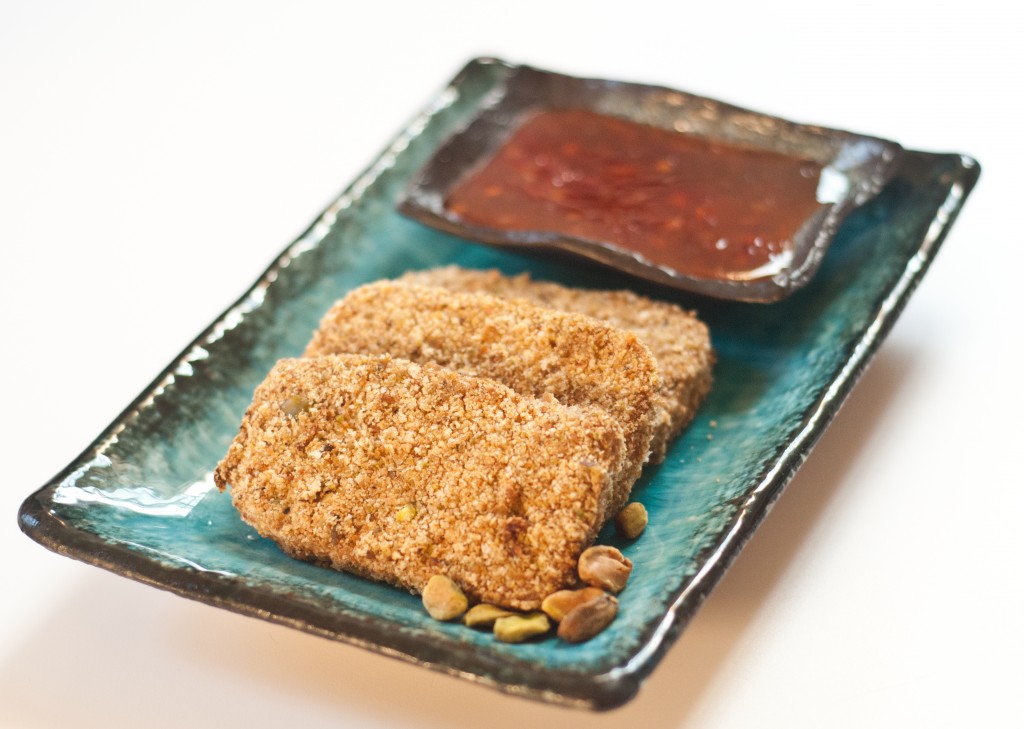 I'd be lying if I said it's easy to keep tofu perpetually interesting. If you don't eat meat, chances are you've had tofu six ways from Sunday – fried, baked, sautéed, roasted, breaded, blended, smashed, scrambled, shredded…and now I sound like Bubba. The point is, tofu can get old – if you let it. It's all too easy to get stuck in a rut with any food. The same way a lot of people have the old go-to chicken recipe that they can whip up in a snap, but has kind of lost its zing, so goes tofu.
I don't like to allow myself to fall into ruts, in life or in food, so I'm always looking for ways to keep foods like tofu that are staples for us interesting and fresh. It's incredibly easy to make the same stir-fry four nights a week and have the leftovers for lunch the next day, but it's also incredibly boring. For me, too much repetition takes the fun out of cooking, and I find myself more inclined to heat up some processed frozen garbage or order take-out rather than have the same old thing yet again. So I look for inspiration in my towering stack of cookbooks, and on the internet, which is where I stumbled upon this fantastically simple yet undeniably rut-breaking recipe. A pistachio-laden breadcrumb topping clings to getting-more-interesting-by-the-minute tofu that's first been coated in a silky maple-mustard sauce (which is good enough to eat plain). Served with a quick homemade sweet chili dipping sauce on the side, it's good to go in under an hour and will send that tired four-night-a-week stir-fry straight to a dark corner in the back of your mind, where it can sit and think about what it's done.
Pistachio Crusted Tofu
Ingredients
For the tofu:
1 14 oz package extra-firm tofu (not silken)
1 Tbsp soy sauce
½ cup panko breadcrumbs
½ cup shelled pistachio nuts
Salt & pepper to taste
2 Tbsp brown mustard
2 Tbsp pure maple syrup
½ Tbsp soy sauce
1 Tbsp Vegenaise (or mayonnaise)
For the sweet chili sauce:
1 Tbsp cornstarch
2 Tbsp water
½ cup rice vinegar
½ cup granulated sugar
⅓ cup water
2 cloves minced garlic
1 tsp minced ginger
1-3 tsp dried red chili flakes (1 for mild, 3 for hot)
Instructions
Drain tofu and press lightly between two paper towels to remove extra water. Cut into ½ inch slabs and brush with the tablespoon of soy sauce. Set aside while you prepare the coating.
Combine mustard, maple syrup, ½ Tbsp soy sauce, and Vegenaise in a bowl.
In a food processor, pulse pistachios until finely ground. Combine ground pistachios, breadcrumbs, and salt and pepper in another bowl.
Dip each slice of tofu into the maple-mustard sauce, coating evenly, then dredge in the bowl with the breadcrumb mixture. Coat each side well with the breadcrumbs. Try not to lick your fingers, even though you will have tempting alien-like bulbs of pistachio crumbs extending from them.
Place tofu on the baking sheet and bake for 15 minutes. Flip each piece over and bake for another 15 minutes, or until golden-brown. Serve warm with sweet chili dipping sauce on the side:
While the tofu is baking, prepare the sweet chili sauce. Combine cornstarch and 2 Tbsp water in a small bowl and stir to dissolve. Set aside.
Combine the rest of the sauce ingredients in a small saucepan and bring to a boil. Cook for ten minutes over medium heat, until reduced by ½. Reduce the heat to low and stir in the cornstarch/water mixture. Cook over low heat for another two minutes, until thickened. Remove from heat.
Source: Pistachio crusted tofu adapted from Fat Free Vegan.