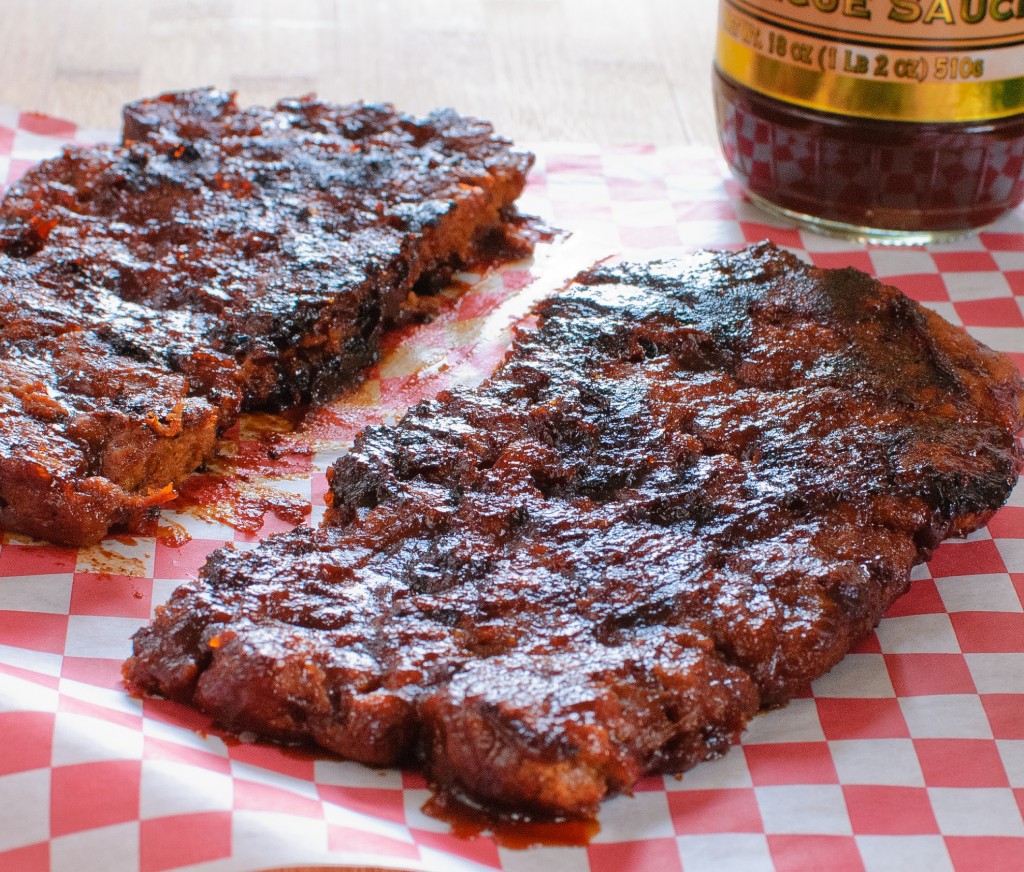 It's extremely rare that I feel deprived as a vegetarian (although admittedly, I miss bacon more than I sometimes care to acknowledge). With handy veggified substitutes for nearly all the classics – chicken wings, hot dogs, pulled pork – we don't miss out on much. But on big barbecue days like Memorial Day, Labor Day, and the 4th of July, well, we herbivores sometimes get the short end. A couple of times (a long time ago before veggie options became a norm at these things), I've failed to fend for myself and ended up with only coleslaw for dinner while everyone else tore into big plates of barbecue ribs.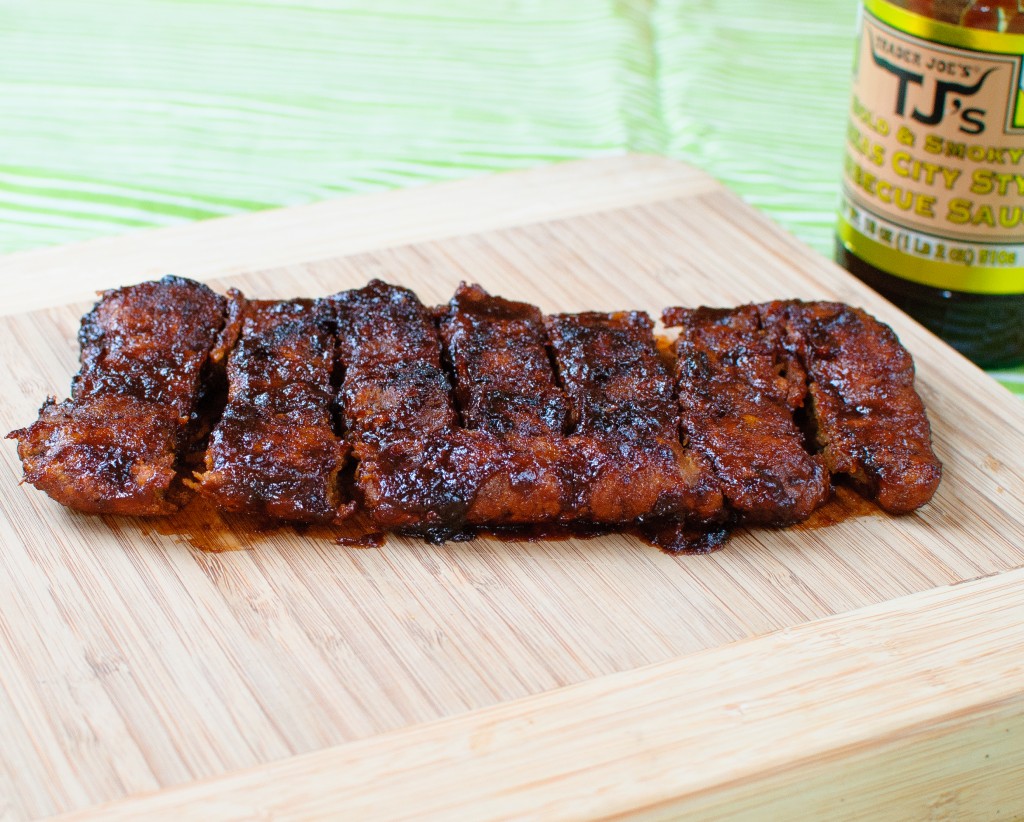 Never again, my friends. Never again.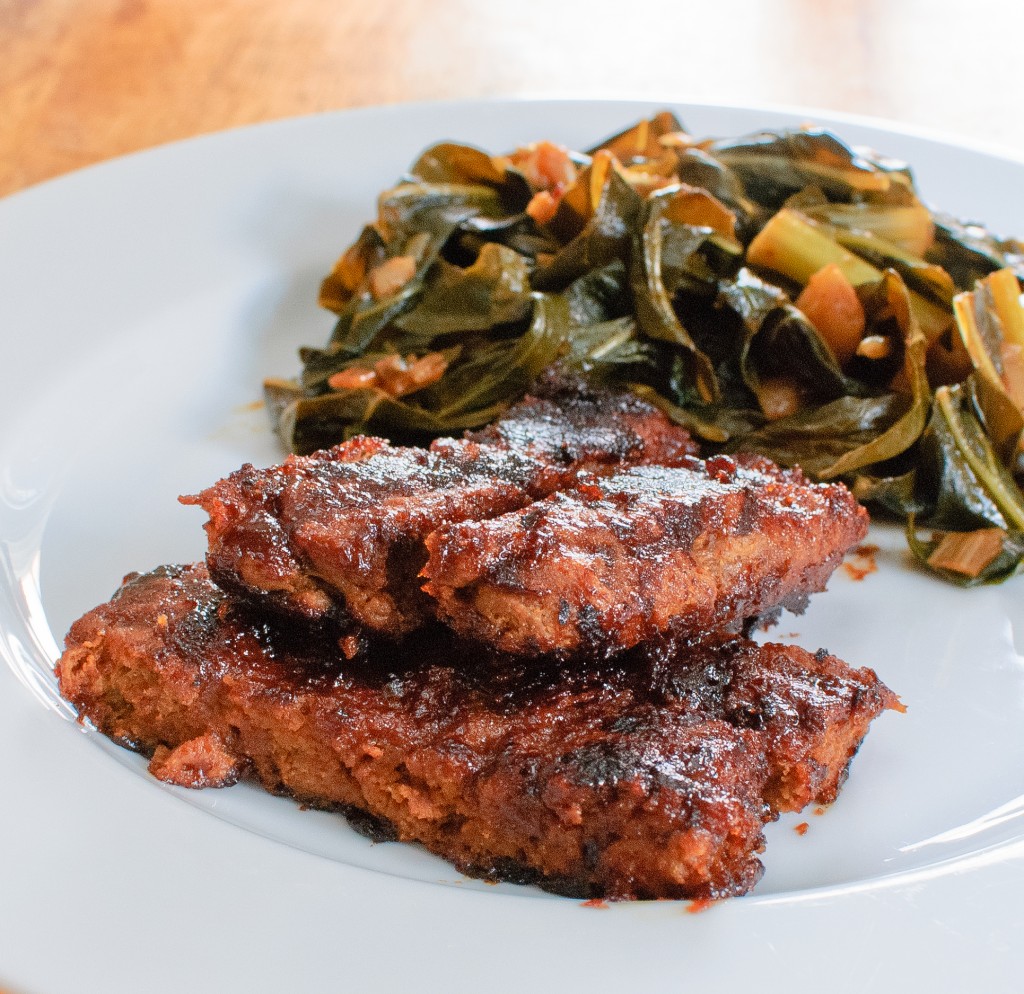 There are a whole bunch of fantastic things about these vegan barbecue ribs:
They can be made ahead of time, then slathered with barbecue sauce and tossed on the grill at your leisure, providing an easy and convenient option if you need to BYO vegetarian dish to a cookout

Seitan gives them a real bite, so they aren't mushy at all – they hold up beautifully on a grill and on a fork

The "ribs" experience is really about the smoky flavor and the virtual bath in BBQ sauce – both of which are perfectly replicated here

They aren't made from a pig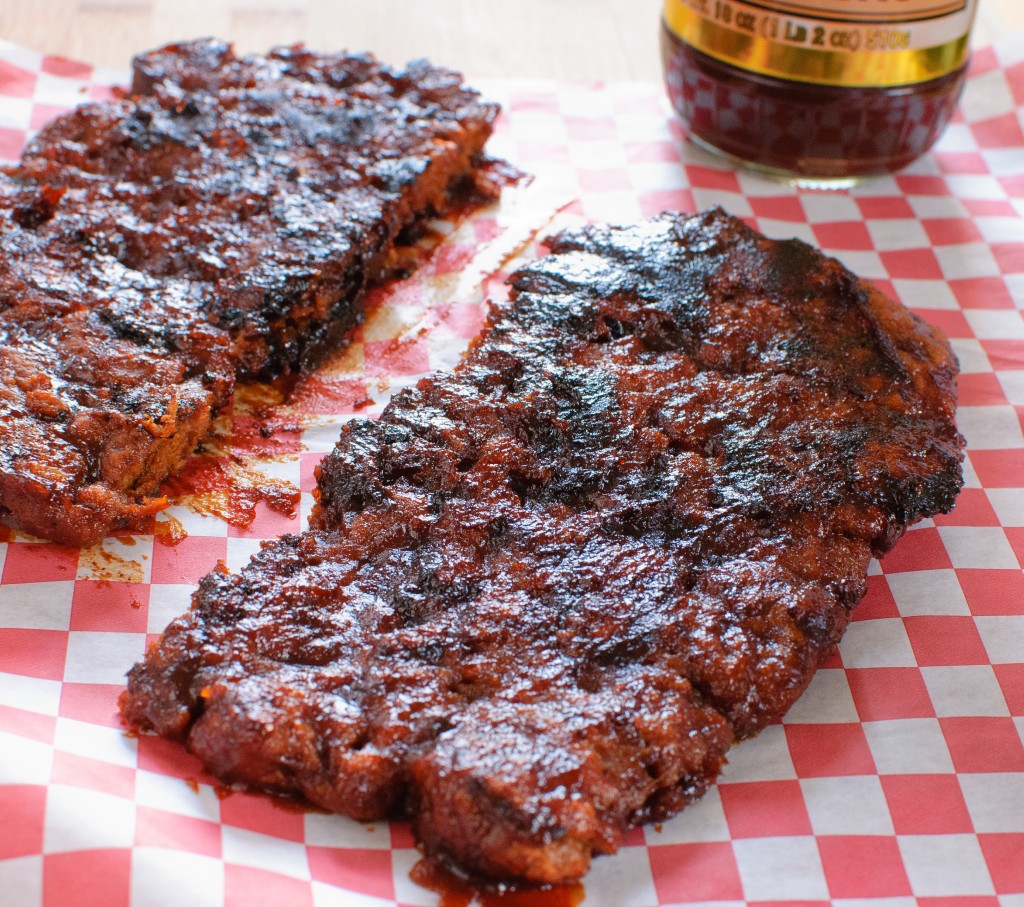 This is one of my go-to dishes in the summer. I can't even tell you how satisfying it is with potato salad, or wilted collards, or even the cole slaw that used to be the main dish. I've even brought it to cookouts and shared it with omnivores – it sure wouldn't fool anyone (no bones is a dead giveaway, for one thing) but this has been a hit with everyone who's tried it. Whether you bring these to a summer holiday gathering to share or just grill 'em up at home on one of those perfect grilling nights, I'd be willing to bet they'll become a mainstay in your rotation, too.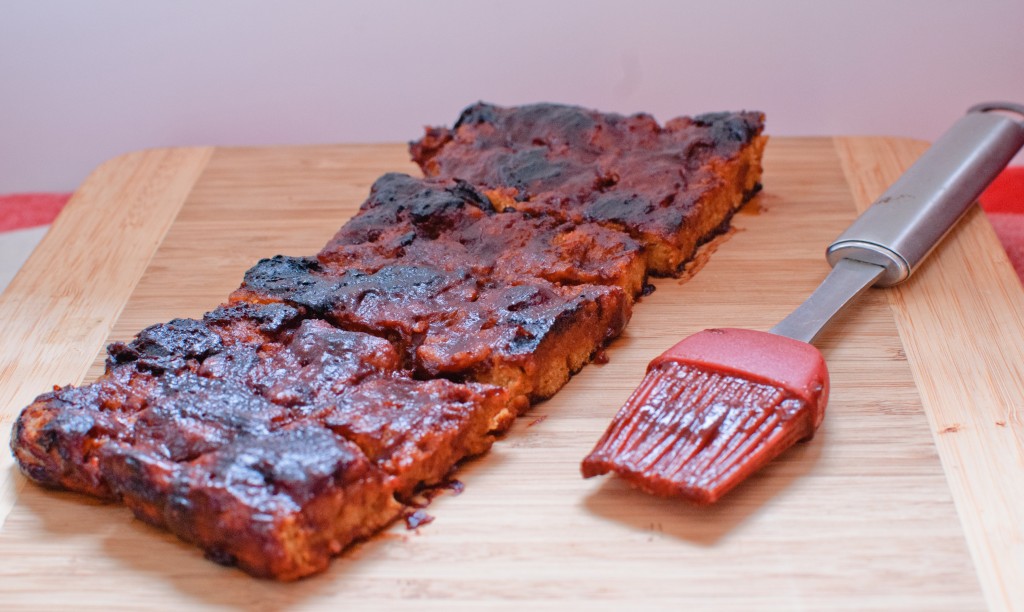 Vegan Barbecue Ribs
This vegan spin on BBQ ribs is made from seitan for a hearty and wholesome addition to your next cookout.
Ingredients
1 cup vital wheat gluten
2 Tbsp nutritional yeast
1 Tbsp smoked paprika
2 tsp onion powder
1 tsp garlic powder
Several grinds fresh black pepper
¾ cup low-sodium vegetable broth
2 Tbsp natural peanut butter
1 tsp liquid smoke
1 Tbsp soy sauce
1 cup barbecue sauce of choice, plus more for serving
Instructions
Preheat oven to 350 F. Lightly grease an 8x8 baking dish and set aside.
In a medium bowl, stir together vital wheat gluten, nutritional yeast, smoked paprika, onion powder, garlic powder, and pepper.
In a measuring cup, whisk together broth, peanut butter, liquid smoke, and soy sauce until incorporated. Pour mixture into bowl with the dry ingredients, and stir gently until well-incorporated and the mixture has formed a soft dough. With your hands, knead gently for 2-3 minutes.
Transfer mixture into greased baking dish and flatten so it's spread evenly across the entire pan. Use a knife to make one lengthwise cut across the dough, then cut evenly crosswise to make 1-inch slices. You don't need to pull them apart; you just want the ability to easily separate them after grilling.
Place pan in preheated oven and bake for 25 minutes. While the ribs are baking, heat up your grill or lightly oil a grill pan.
Remove from oven and brush the top of the ribs with barbecue sauce. Place sauce side down on heated grill (or grill pan on the stove over medium heat). Brush the top with more barbecue sauce.
When the bottom of the ribs are deeply browned (about 5-6 minutes), flip over and cook the other side until brown. Remove from heat and serve immediately, with more barbecue sauce if desired.
Source
: slightly adapted from
Fat Free Vegan
Don't miss a thing – sign up to receive new recipes by email, or follow me on Facebook, Instagram, and Pinterest.