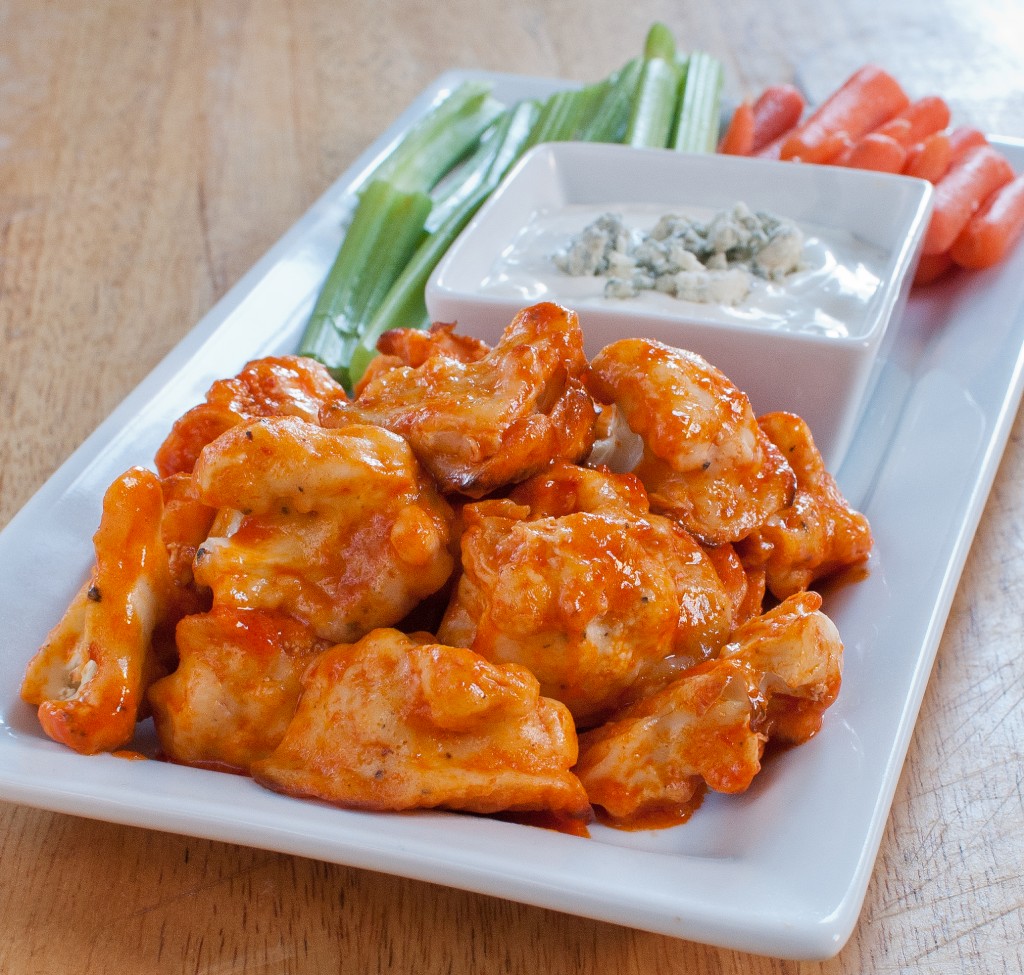 I was never a wing person. When I started dating Nor and he still ate meat, we would joke about how there was really no polite way to eat chicken wings. Regardless of how appropriate you're trying to be, at the end of the day you're still sucking meat off a bone with sauce all over your face and fingers. There is truly no polite way to do it. Nor was the most gracious wing-eater I'd seen, and to this day he is the only person I've ever seen eat a tray of buffalo wings and not be completely smeared with sauce and grease at the end of that ordeal.
As for me, I honestly don't think I have ever eaten a chicken wing in my life (anyone who knows me in real life that might remember better than me, feel free to speak up). But since Nor gave up chicken four-plus years ago, wings have been one of the few things he really misses. I've tried to replicate with seitan – those are amazing and you'll probably see the recipe here at some point – but they are deep-fried. And I. HATE. FRYING. So those have been SUPER special occasion wings – think, your team is in the Super Bowl type of special. But then I found the recipe for these, and I thought "this is too good to be true. They're made of vegetables and BAKED."  I could make these on any given Sunday and snack on them all day! And I did. For the "hey Mikey, he likes it!" factor, here are the reactions of my two cohabitants (the usual one and a guest) at the time I made these:
Chrissy: "Can I have a piece of cauliflower? OH MY GOD, this is amazing." Note: her later reaction was that these are just as good before you toss them in wing sauce.
Nor: "Skeptical diatribe about using cauliflower for wings." Pause for cooking time. "Whoa…these are really good. Can we have these next weekend? And for the Super Bowl?"
I wasn't even thinking Super Bowl when I first tried these, but they are PERFECT for it. Especially if you have vegetarians, especially if you're not looking to load up on apps, especially nothing. These are really good. Trust me, even as a devout veggie, I would never have thought the best wing substitute I'd come across would be cauliflower. And trust me, I wouldn't have thought it'd come from PETA, of all places. The breading is a perfect, almost biscuit-like tender-crisp coating, and the cauliflower keeps more than enough of a bite to be satisfying rather than soggy. I'm going to need a new Swingline, because these are going to be a staple around here.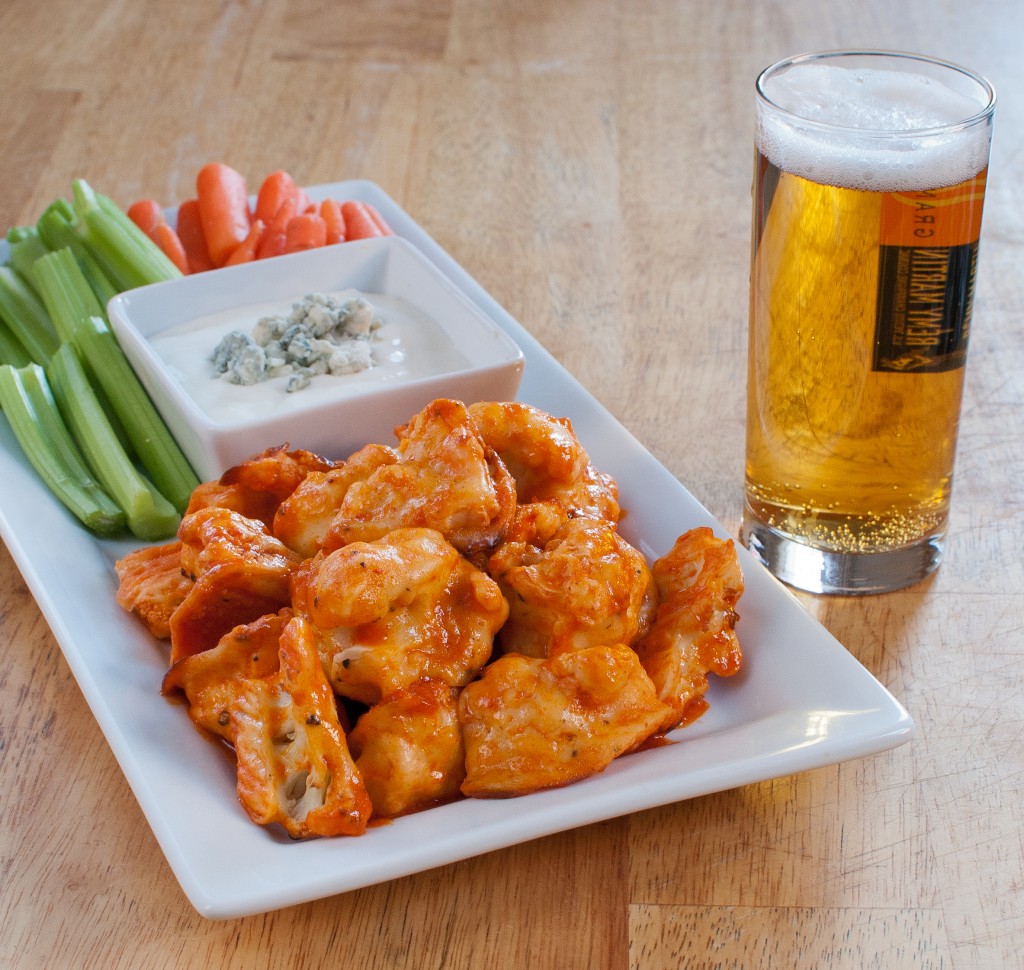 Cauliflower Buffalo "Wings"
Ingredients
Wings
1¼ cups non-dairy milk (almond or soy)
1 tsp white vinegar
¾ cup all-purpose flour
1 tsp garlic powder
1 head cauliflower, chopped into bite-size pieces
Buffalo Sauce
½ cup cayenne pepper sauce (I use Frank's Red Hot)
½ cup (8 Tbsp) margarine or Earth Balance
½ tsp white vinegar
¼ tsp kosher or sea salt
Garnishes and Dip
Baby carrots and celery, to serve
Vegan bleu cheese or, if you're not vegan, regular bleu cheese
Instructions
Preheat oven to 450 F. Line two baking sheets with parchment or foil (spray if foil) and set aside.
In a measuring cup or small bowl, combine the milk and vinegar. Let sit for five minutes. Add the flour and garlic powder and stir to combine.
Dredge the cauliflower pieces in the milk/flour mixture and place on the baking sheets, leaving a little room between each piece. Bake for 20-25 minutes.
While cauliflower is baking, combine hot sauce, margarine, vinegar and salt in a small saucepan and bring to a low simmer. Remove from heat and set aside.
Remove cauliflower from the oven and cover with hot sauce mixture. Toss to coat completely. Bake for another 6-8 minutes.
Serve with celery, carrots, and vegan bleu cheese dressing.
Notes
If not vegan, you can replace the non-dairy milk/vinegar with buttermilk.
Source:
adapted from
PETA
Don't miss a thing – sign up to receive new recipes by email, or follow me on Facebook, Instagram, and Pinterest.