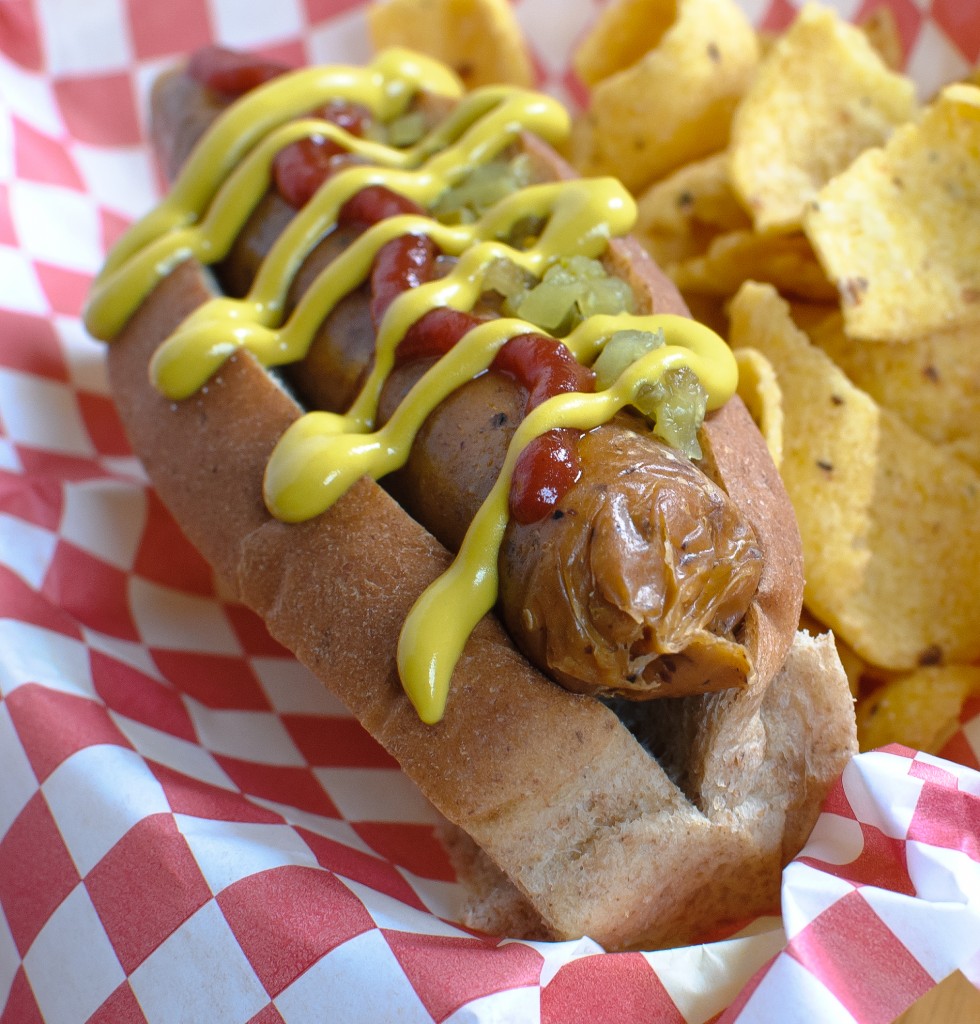 The last time I ate a hot dog was upwards of five years ago, on a boiling summer day, at a baseball game. Nothing sounded better than a hot dog and a cold beer, and boy, did they both hit the spot. There's no denying that, whatever's in hot dogs (shudder), they taste pretty darn good.
Since then, I think I've tried every vegetarian faux-hot dog on the market, and I have never been impressed. Not only are they just as processed as regular hot dogs (albeit without the objectionable animal products), but they just don't taste very good. They tend to be rubbery and limp and flavorless – not something you want to sink your teeth into at a ballgame, or a barbecue, or anytime at all.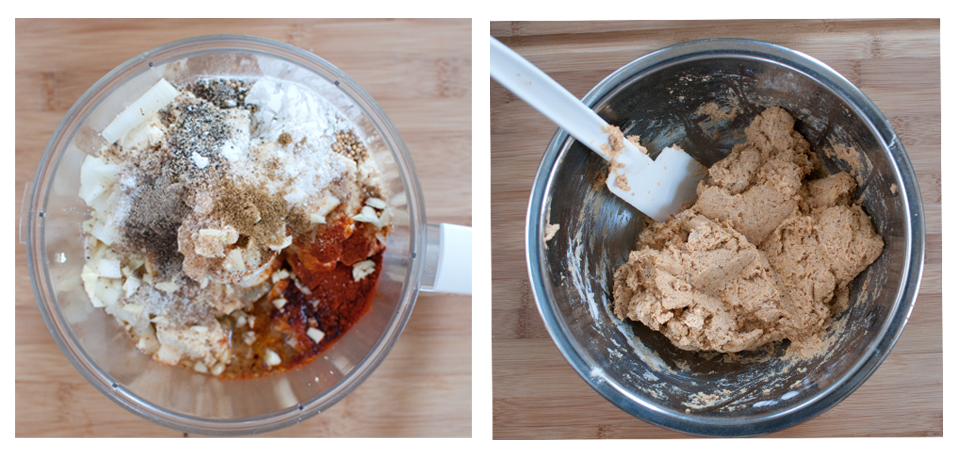 When I went on the hunt for a veggie hot dog recipe I could make at home, my list of criteria made me less than optimistic:
No soy isolate/overprocessed meat replacer
Must have tons of flavor
Must be able to stand up to grill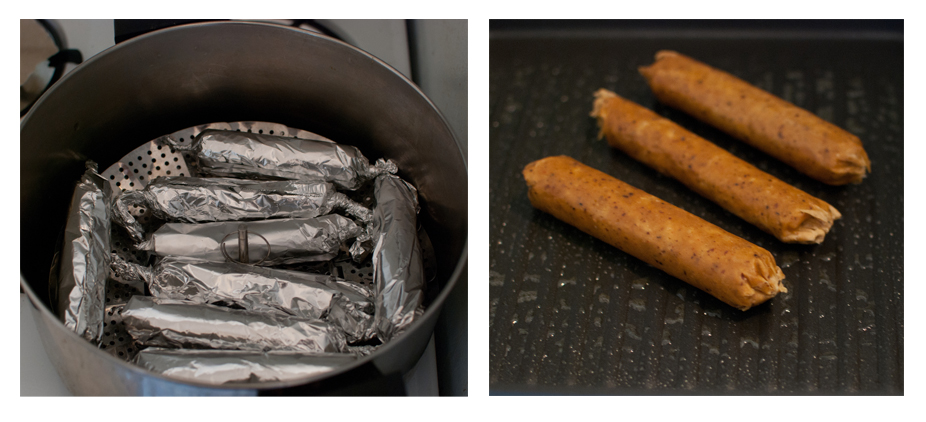 I honestly thought I'd have to try to Frankenstein a hot dog out of whatever I could find in the fridge until something worked – luckily, I was saved by this absolutely perfect recipe. Relatively easy and actually really fun to make, these look, smell and taste about 100 times better than any store-bought fake hot dog – and even give the real deal a run for its money. Once I figure out how to smuggle a few of these into a ballgame, I'll be a happy camper. In the meantime, right now is the heart of grilling season – whip up a batch of these for your next barbecue, or just to have on hand for a quick dinner.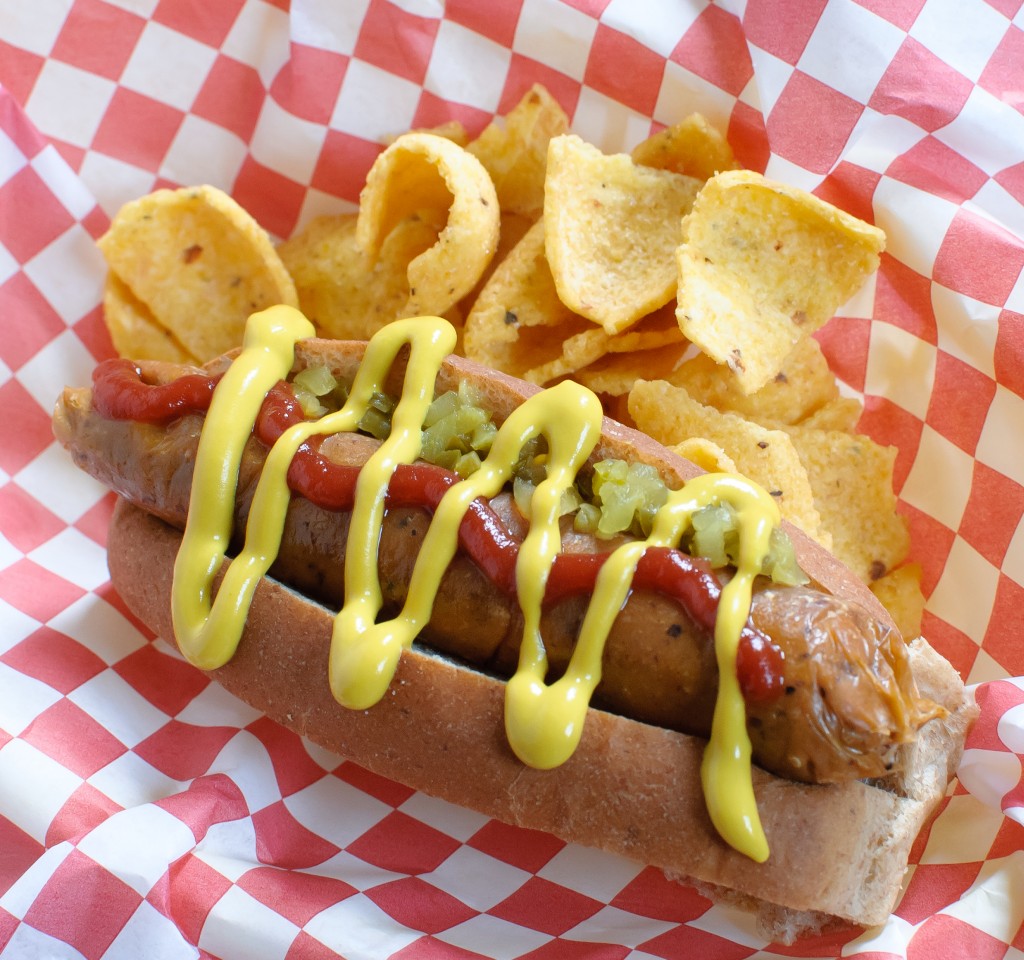 Vegetarian Hot Dogs
Make your own vegan hot dogs!
Ingredients
5 Tbsp (30g) almond meal
9 oz (250g) firm tofu
2 Tbsp soy sauce
3 Tbsp vegetable oil
½ medium onion, diced
2 cloves garlic, minced
1 Tbsp smoked paprika OR several generous dashes liquid smoke
1½ tsp granulated sugar
1 tsp salt
¾ tsp ground black pepper
1 tsp ground coriander
1 tsp ground mustard
½ tsp nutmeg
½ tsp ground cardamom
1 tsp cumin
1⅛ cup vital wheat gluten
1 tsp cornstarch
Instructions
Crumble tofu into the bowl of a food processor.
In a liquid measuring cup, measure the 2 Tbsp soy sauce and add enough water to get to the 100mL line. Add to food processor.
Add almond meal, oil, onion, garlic, paprika/liquid smoke, sugar, salt, pepper, coriander, mustard, nutmeg, cardamom, and cumin to the processor and pulse until smooth, about two minutes. Pour into a large mixing bowl.
Add vital wheat gluten and cornstarch to the mixture and stir to combine. Knead gently - the mixture will be soft but you'll see strands of gluten forming.
Divide the dough into nine equal pieces. Roll each into a rough hot dog shape (doesn't have to be perfect). Wrap each dog in parchment paper and then aluminum foil. Twist ends of the foil shut.
In a large pot with a steamer insert or basket, bring enough water to just under the steamer to a boil. Arrange your hot dogs in the steamer - close together is fine, and it's okay if they're touching.
Cover and steam for 45 minutes. Turn off heat and let cool in the pot, uncovered.
To cook, unwrap hot dogs and simmer in water for five minutes, or fry in a frying pan, or throw 'em on the grill until hot and pretty with grill marks!
Serve on buns with ketchup, mustard, relish, diced onions, or your favorite hot dog topping.
Notes
If you're soy-free, some readers have had success subbing butter beans for the tofu - pinto or cannelini would probably work just as well.
Nutrition Information
Serving size:
1 hot dog
Calories:
185
Fat:
9g
Saturated fat:
1g
Carbohydrates:
9g
Sugar:
1g
Sodium:
108mg
Fiber:
1g
Protein:
15g
Cholesterol:
0g
Source: 
Thrifty Living
Don't miss a thing – sign up to receive new recipes by email, or follow me on Facebook, Instagram, and Pinterest.