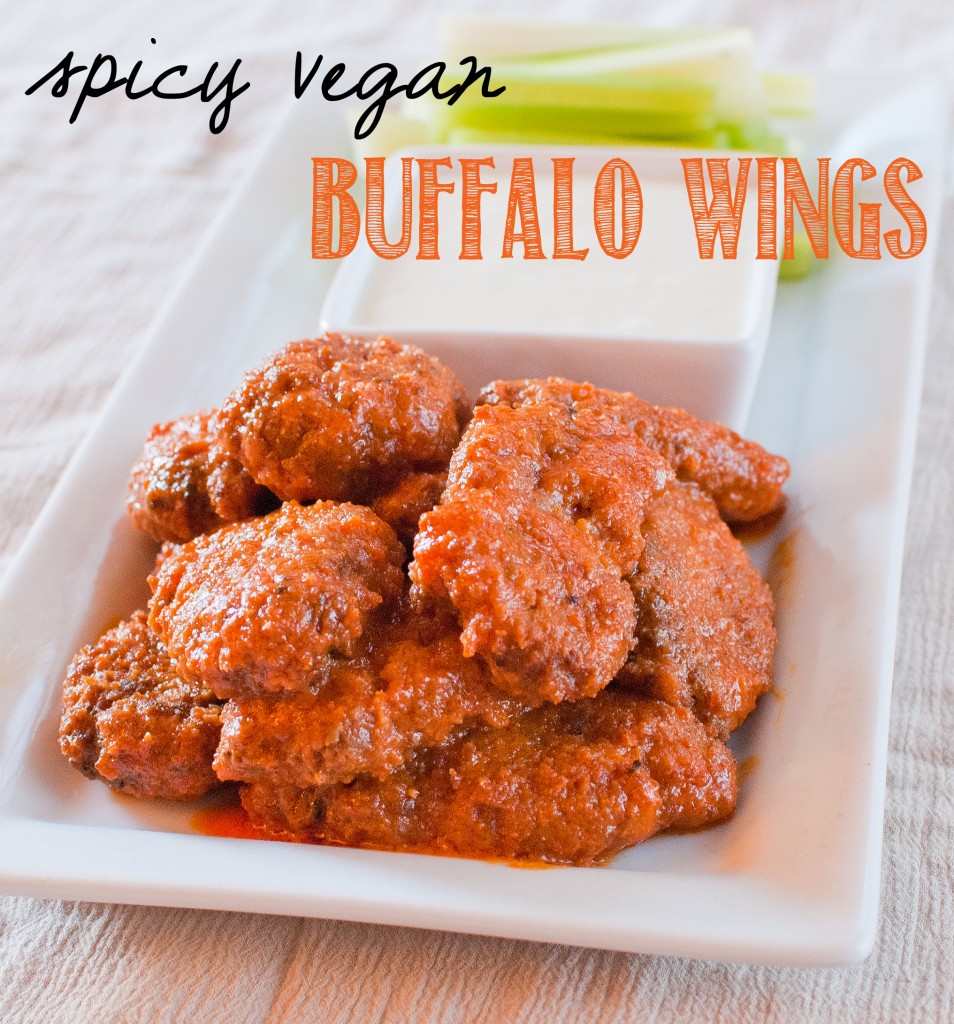 For someone who's never had real chicken wings, I seem to have a little bit of a fixation on vegetarian variations. Of course, I do live with someone who was a chicken wing fanatic before he went veggie – but even if I didn't, things that are breaded and fried and tossed in buffalo sauce are delicious and I refuse to miss out on that just because I don't eat chicken.
All that said – these don't fit the cliché. They don't "taste just like chicken!" They are delicious and flavorful and one time I ate so many for lunch I couldn't have dinner. But they're not chicken – whenever I make a veggie replacement for a classic meat dish, I try to think of it in its own right and appreciate the tastes and textures for what they are instead of trying to compare apples and oranges (or, in this case, chicken and seitan).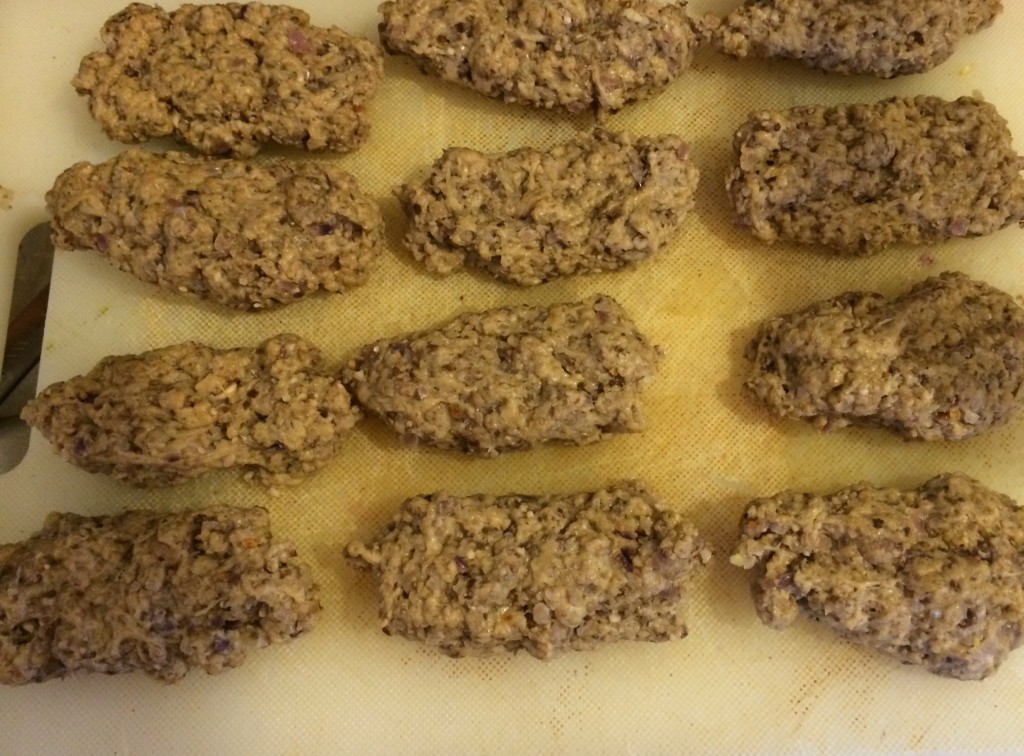 If you haven't had seitan, or don't know about it, it's what's known in the vegetarian world as "the wheat meat." Its base is the gluten protein extracted from wheat, milled into flour. It's then mixed with liquid and seasoning and cooked. It bakes, fries, or steams up with a toothsome, meaty texture that tofu really can't touch, and that's why you'll find it in recipes like this, or vegetarian hot dogs. To me, it has a very distinct taste that I really like – I use it in "chicken" parm, "chicken" noodle soup, the aforementioned hot dogs, and lots of other stuff. In this recipe, we mix in mushrooms and onions for extra flavor and a softer texture. Then we roll each little "wing" in breading and fry 'em up.
Yep, we're going to fry. This is about the "wing experience" – greasy bar food, messy hands, and Super Bowl-ready indulgences. If you're super-averse to frying, you can bake them at 400 for 15 minutes per side rather than the quick pre-frying bake described in the recipe. However you cook them, they're a fantastic vegetarian alternative to garden-variety chicken wings, for the big game or any other occasion. Just don't forget to bring lots of napkins.
Seitan Buffalo "Wings"
A vegan version of chicken wings made from seitan. Perfect for a party, the Super Bowl, or just because.
Ingredients
Breading
1 cup non-dairy milk
1 tsp vinegar
½ cup panko breadcrumbs
½ cup all-purpose flour
1 tsp smoked paprika
1 tsp salt
¼ tsp cayenne pepper
Buffalo Sauce
½ cup Frank's Red Hot Sauce (or other cayenne pepper sauce)
½ cup margarine
1 tsp white vinegar
¼ tsp garlic powder
¼ tsp salt
Wings
2 Tbsp olive oil, divided
4 oz cremini mushrooms, sliced
¼ cup onion, diced
1 clove garlic, minced
1 tsp dried sage
½ tsp dried thyme
½ tsp dried parsley
1 tsp salt
¼ tsp freshly ground black pepper
½ cup water
1 cup + 1 Tbsp vital wheat gluten
Vegetable oil for frying
Instructions
Prepare the Breading
Combine milk and vinegar in a small bowl and stir. Set aside.
Combine breadcrumbs, flour, and spices in another bowl and set aside.
Make the Sauce
Combine hot sauce, margarine, vinegar, garlic powder and salt in a small saucepan. Heat on medium-low, whisking frequently, until margarine is melted and mixture is bubbling. Remove from heat and set aside.
Make the Wings
Preheat oven to 400 F. Line a baking sheet with parchment and set aside.
Heat 1 Tbsp of oil in a large skillet over medium heat. Add mushrooms and onions and cook until softened and most liquid is released, about five minutes.
Transfer to the bowl of a food processor and add the garlic (meanwhile, wipe down the skillet so you can use the same one for frying). Pulse until finely chopped, about 30 seconds. Add sage, thyme, parsley, salt, pepper and water and process into a relatively smooth paste. Add vital wheat gluten and process until mixture is smooth and doughy (about 45 seconds to 1 minute). If mixture seems too wet, add 1 Tbsp of vital wheat gluten.
Roll the dough into a cylinder about 16 inches long. Cut into 1-inch pieces and shape into tube-like pieces, then flatten slightly (the pieces will swell a little when you cook them).
Place the wings on the lined baking sheet and bake for 5 minutes per side. Remove from oven.
Heat about 1.5-2 inches oil in a large skillet over medium-high heat (if you have a thermometer, you're going for 350-375. If you don't, flick a stray breadcrumb into the oil - if it bubbles immediately and browns within seconds, you're good to go). Turn the heat under the wing sauce back to low.
Dip each wing into the milk mixture, then roll in the breadcrumb mixture, ensuring each is thoroughly coated. Fry for 45-60 seconds, then flip and fry for another 30-45 seconds, until coating is browned.
Drain on paper towels and keep warm in a 250 degree oven. When all the wings are cooked, toss with the buffalo sauce. Serve with celery, carrots, and your favorite blue cheese (this is my favorite vegan version)
Notes
If you're not concerned with these being vegan, you can replace the milk/vinegar in the breading with buttermilk, and the margarine with butter in the wing sauce.

If you can handle the heat, feel free to double the hot sauce in the buffalo sauce.
Source: Adapted from Vegan Dad
Don't miss a thing – sign up to receive new recipes by email, or follow me on Facebook, Instagram, and Pinterest.