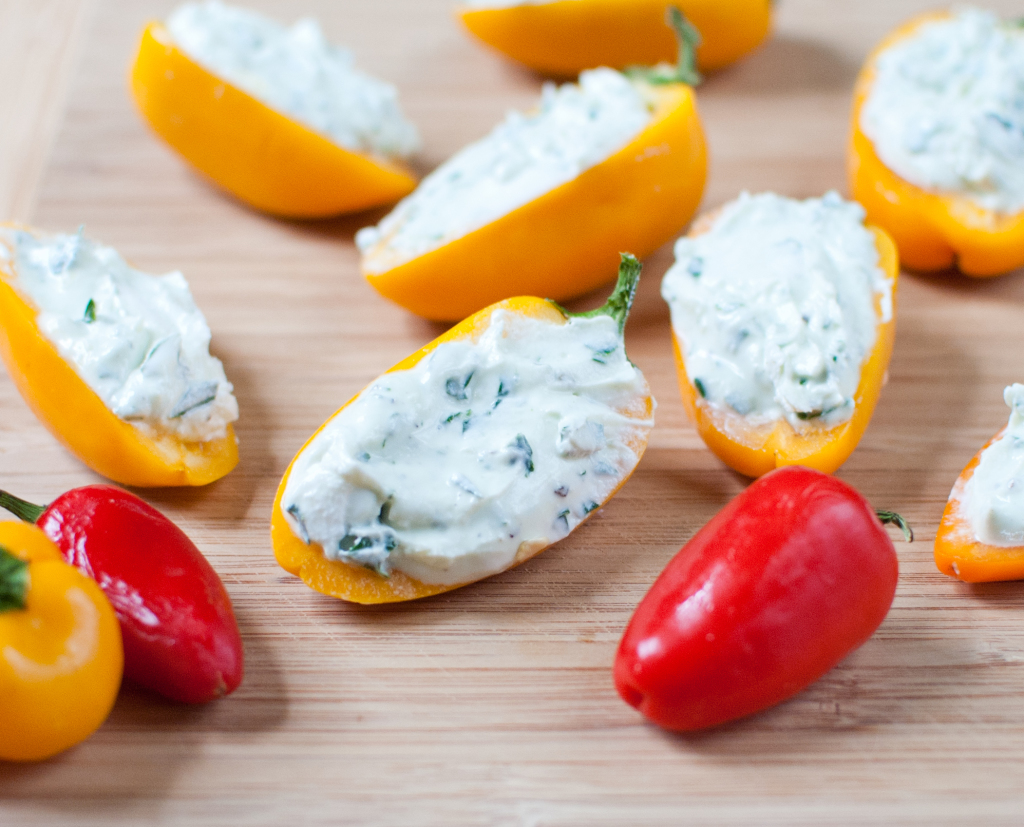 MINIATURE FOOD. This is a problem for me. Whenever I walk by mini food at the farmer's market, out comes my wallet and there goes my good judgment. If it's tiny, I must have it. Baby eggplant, baby zucchini…once I even bought baby sweet potatoes. Once I peeled them, there wasn't much left, but what was there was adorable.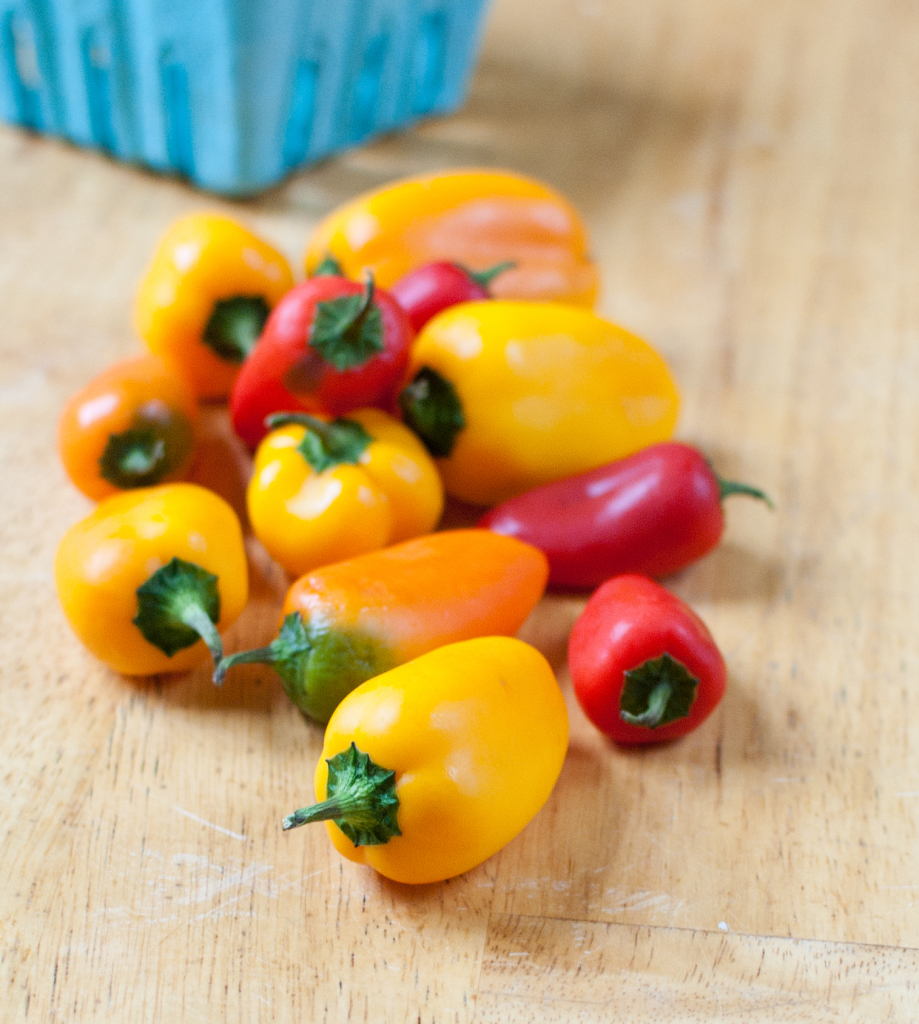 My weakness struck again, unsurprisingly, when I saw these little bitty bell peppers. Obviously I needed two cartons. I snacked on a bunch of them, and made this easy appetizer with what was left. These couldn't be easier to make, and while I wouldn't say they're healthy per se, they're lightened up with a bit of Greek yogurt and definitely on the better end of the spectrum when it comes to finger foods.
I preferred them baked to get that melty, browned goodness from the goat cheese, but if you're short on time, they can just as easily be served cold. They make a great game day snack or appetizer, and are of course adorable and small. Goat get yourself some mini peppers and whip these up!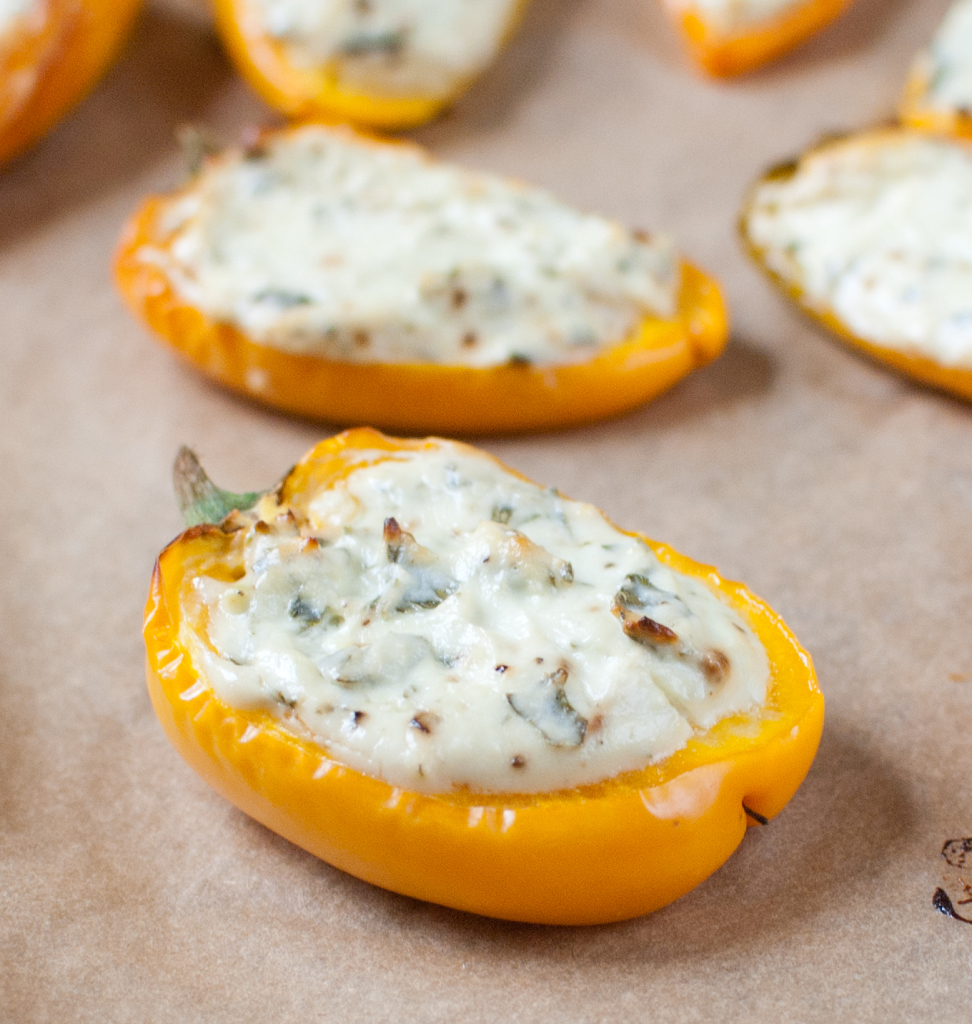 Goat Cheese Stuffed Mini Bell Peppers
Miniature sweet peppers stuffed with herbed goat cheese. Can be served cold or hot.
Ingredients
16 miniature bell peppers, halved, seeds removed
1 tsp olive oil
2 cloves garlic
8 ounces goat cheese, softened
¼ cup Greek yogurt
¼ cup finely chopped fresh herbs (I used parsley and basil)
Salt and pepper to taste
Instructions
Preheat oven to 400 F. Line a baking sheet with parchment or lightly oiled foil and set aside.
In a small skillet over medium heat, heat the olive oil. Add the garlic and sweat for 1-2 minutes, until just fragrant. Remove from heat.
Combine goat cheese, yogurt, garlic, herbs, salt and pepper in the bowl of a food processor. Pulse for 30 seconds until well combined (you can also just stir together in a bowl - just finely chop the garlic first if you do so).
Spoon about 2 tsp of the mixture into each bell pepper half. Serve immediately, or bake for 12-14 minutes until filling is lightly browned on top.