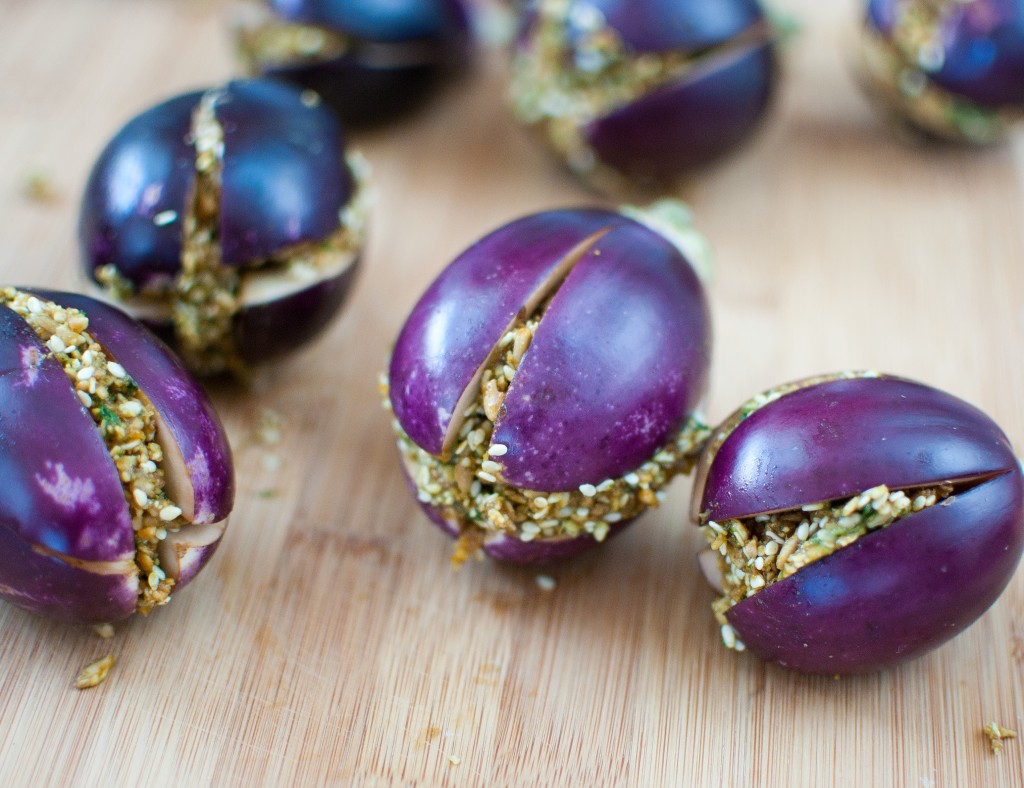 I've never really been an  eggplant fan. I think they're beautiful and I know they're good for you, but too many times when I've tried make good use of them, I've ended up with mushy, seed-laden, bitter messes. I gave up on eggplant a long time ago – or so I thought. Apparently I'd forgotten that the one thing I abhor even more than gross food is failure. As if to remind me of that, my CSA has been slingshotting all kinds of eggplant my way each week. It's almost like they're challenging me – "You can't handle a little eggplant, Julie? You're just going to let them rot in your fridge? HERE'S TWENTY MORE!"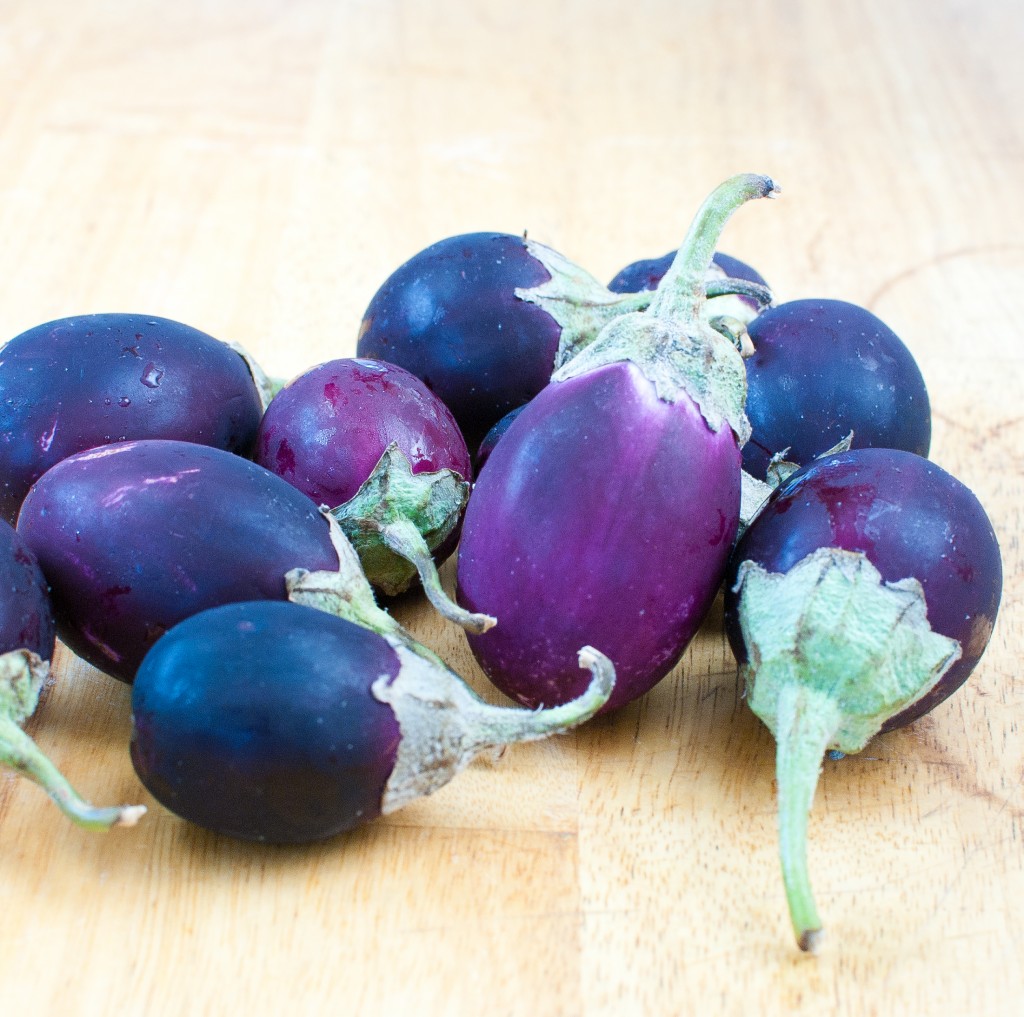 Fine, CSA. Challenge accepted. Besides, how could anyone resist these tiny baby eggplants? They're kind of adorable. Along with being small and cute, Indian eggplants are less bitter than their full-size counterparts, and their texture is a bit firmer. So we're set up for success, right? No brown seedy mush for dinner tonight, folks.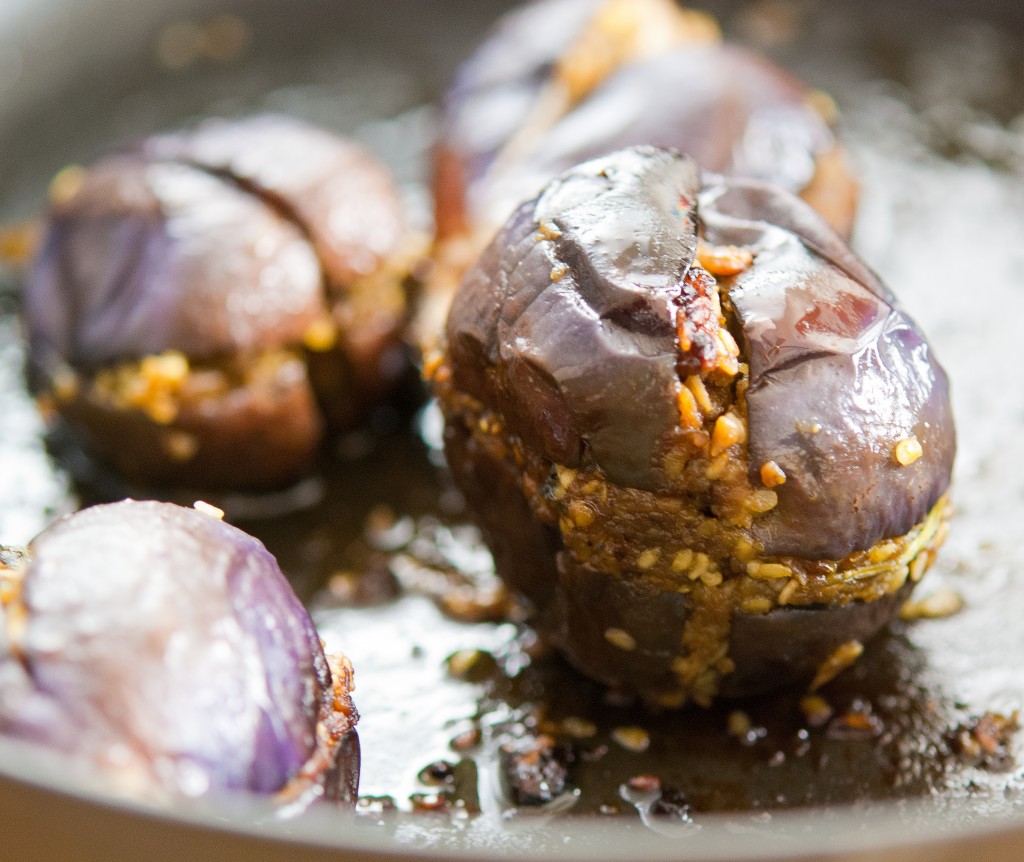 Okay, so the end result did end up looking a little like alien pods. Delicious alien pods. Given the Indian varietal of eggplant, I decided to let that drive the meal. I found this recipe in a cookbook called 5 Spices, 50 Dishes and barely modified it at all, other than swapping sunflower seeds for peanuts. This was AMAZING. I'm not exaggerating. In one dinner, it basically turned my general rancor towards eggplants on its head. It's easy, nutritious, filling, and (most importantly) delicious. The heat from cayenne pepper is mellowed by a slight sweetness from brown sugar, and the garlic and toasted sesame and sunflower seeds lend depth to an incredibly simple dish. This masala is so good – I was seriously eating it off the spatula I used to scrape it out of the blender. This is a winner for a quick weekday dinner, a healthy lunch, or if you're just trying to reverse your bias against eggplant.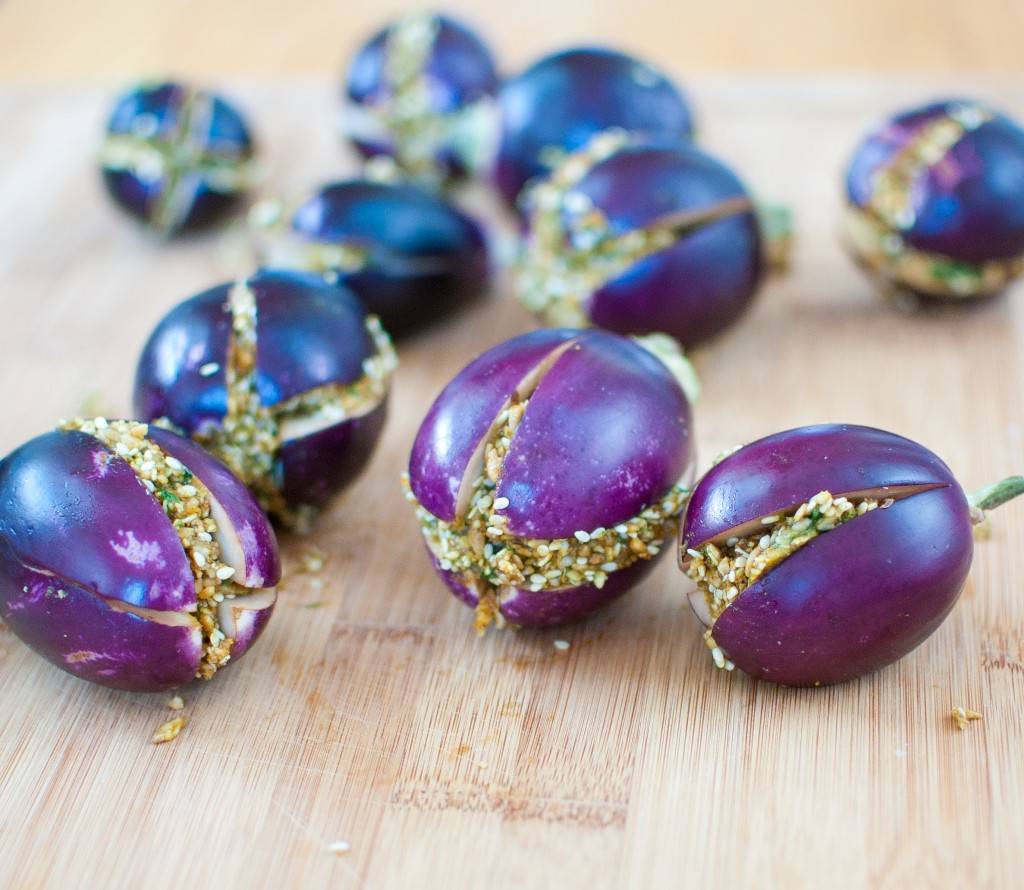 Stuffed Indian Eggplant with Sesame-Sunflower Masala
Tiny Indian eggplants are stuffed with a healthy, spicy sesame and sunflower seed masala.
Yield:
3 main dish servings or 5 side dishes
Ingredients
¼ cup toasted sesame seeds
½ cup roasted sunflower seeds (preferably unsalted)
2 cloves garlic, minced
2 tablespoons brown sugar
1 teaspoon salt (reduce if using salted sunflower seeds)
½ teaspoon ground turmeric
½ teaspoon cayenne
¼ cup cilantro leaves, chopped
2 teaspoons water
10 Indian eggplants
3 tablespoons vegetable or canola oil
¼ cup water
Instructions
First, make the masala. Combine sesame seeds, sunflower seeds, garlic, brown sugar, salt, turmeric and cayenne in a food processor or blender and pulse until coarsely chopped (mixture should be crumbly). Add cilantro and water and pulse several times to combine into a spreadable, semi-dry paste.
Cut the stem of each eggplant down to about ½ inch and peel off the leaves. With a sharp knife, make a lengthwise cut from the bottom of each eggplant to just below the stem. Turn 90 degrees and make a second cut, so the eggplants each have four flaps (see picture).
Use a spoon to fill each eggplant middle with the masala mixture, then press eggplant flaps together firmly to work some of the masala in between each cut.
Heat oil in a large, shallow skillet over medium heat. Add eggplants and cook 2-4 minutes, turning once or twice.
Reduce heat to low, add the water, and cover. Cook 15 minutes, turning once. Remove from heat and serve.
Source
: adapted from
5 Spices, 50 Dishes
Don't miss a thing – sign up to receive new recipes by email, or follow me on Facebook, Instagram, and Pinterest.