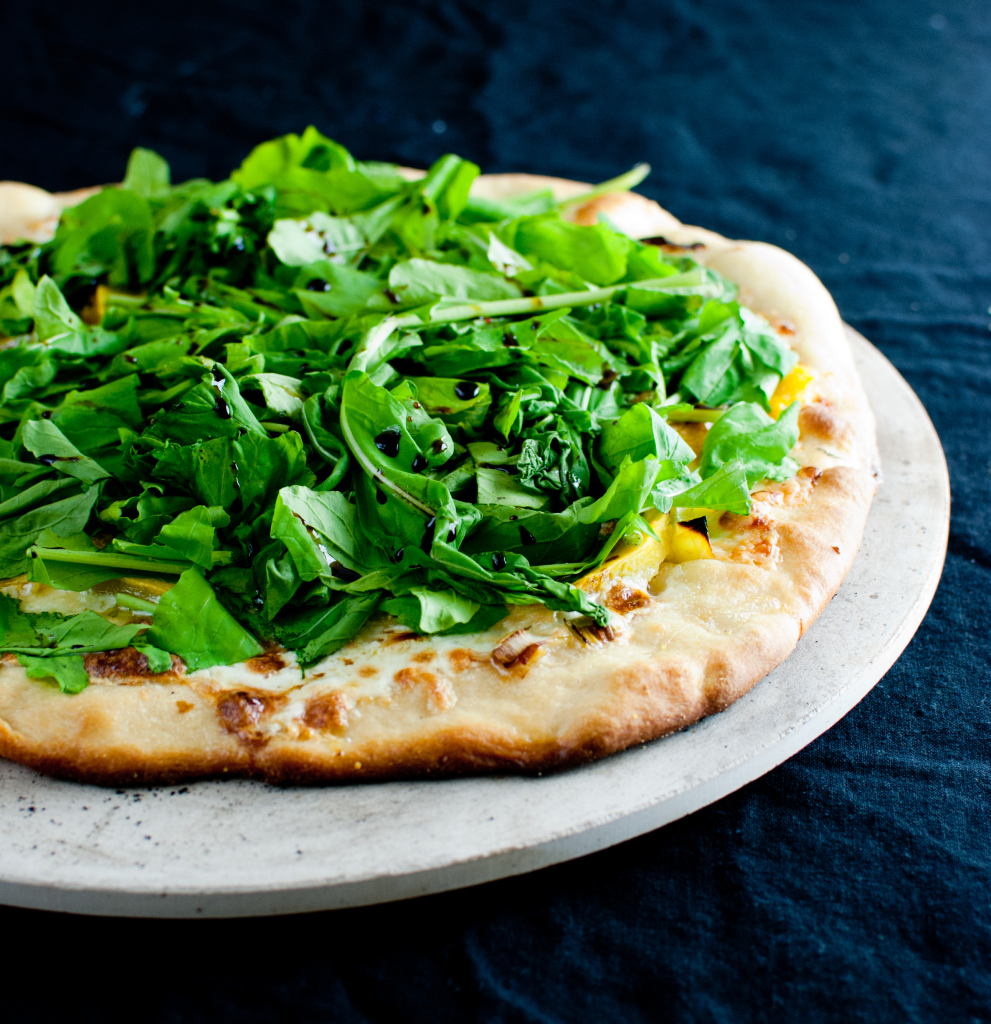 Sometimes you really need a fancy pizza.
My first pizza love will always be a classic pie smothered in marinara sauce and mozzarella, with a few garden variety toppings generously sprinkled on top (mushrooms and kalamata olives are my favorite). But there's a special place in my heart for the gourmet pizza – flavors that go a little beyond what you'd expect in a pizza, complexity on crust.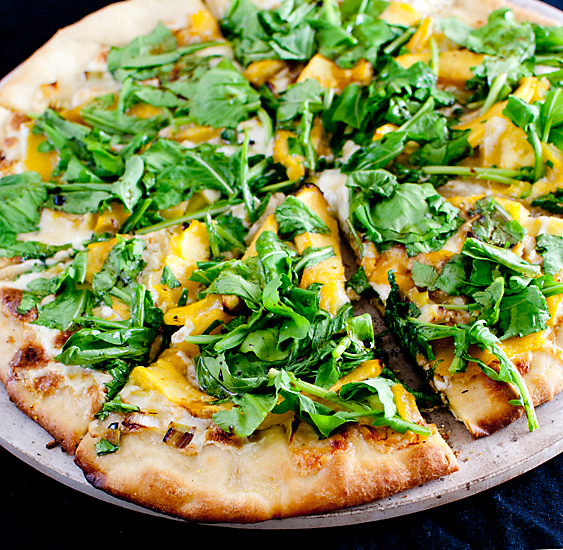 This particular fancy pizza is a clear front-runner for my all-time favorite – it's got good old mozz, of course, but with some pungent gorgonzola mixed in. Topped with sautéed leeks and maple-roasted acorn squash, this pie comes out of a hot oven an absolute dream. I would never have guessed that these flavor combinations would go together so perfectly, but wow, do they ever. The sweetness of the squash is perfectly tempered by the leeks and gorgonzola, and peppery arugula piled on top of the hot pizza right out of the oven lends a brightness that adds a lot of flavor without being overwhelming.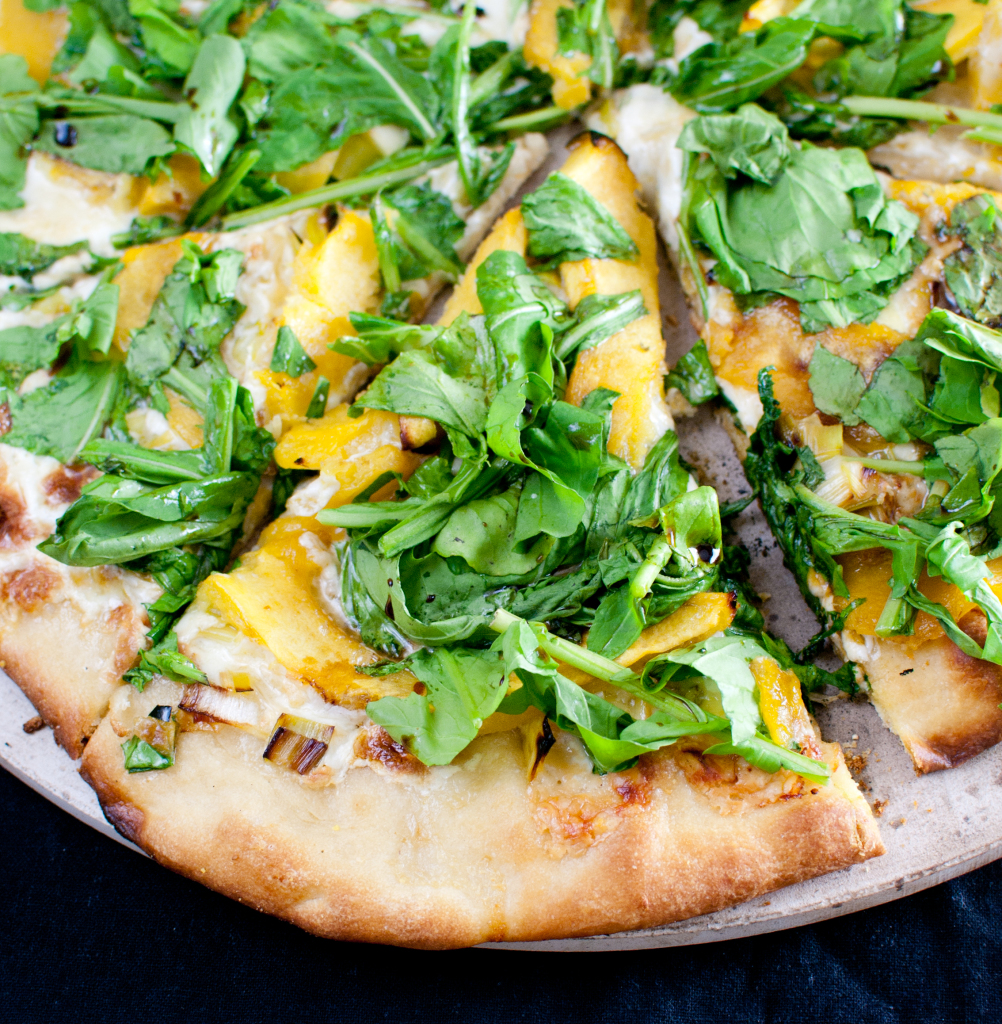 I ate half of this the night I made it. It should be noted that this is in no way a personal pan pizza or anything dainty like that – this is a full-size pizza pie that could probably feed four people. I made short work of the leftovers, too, so it's now a documented fact that a human life can sustain for several days on nothing but this pizza.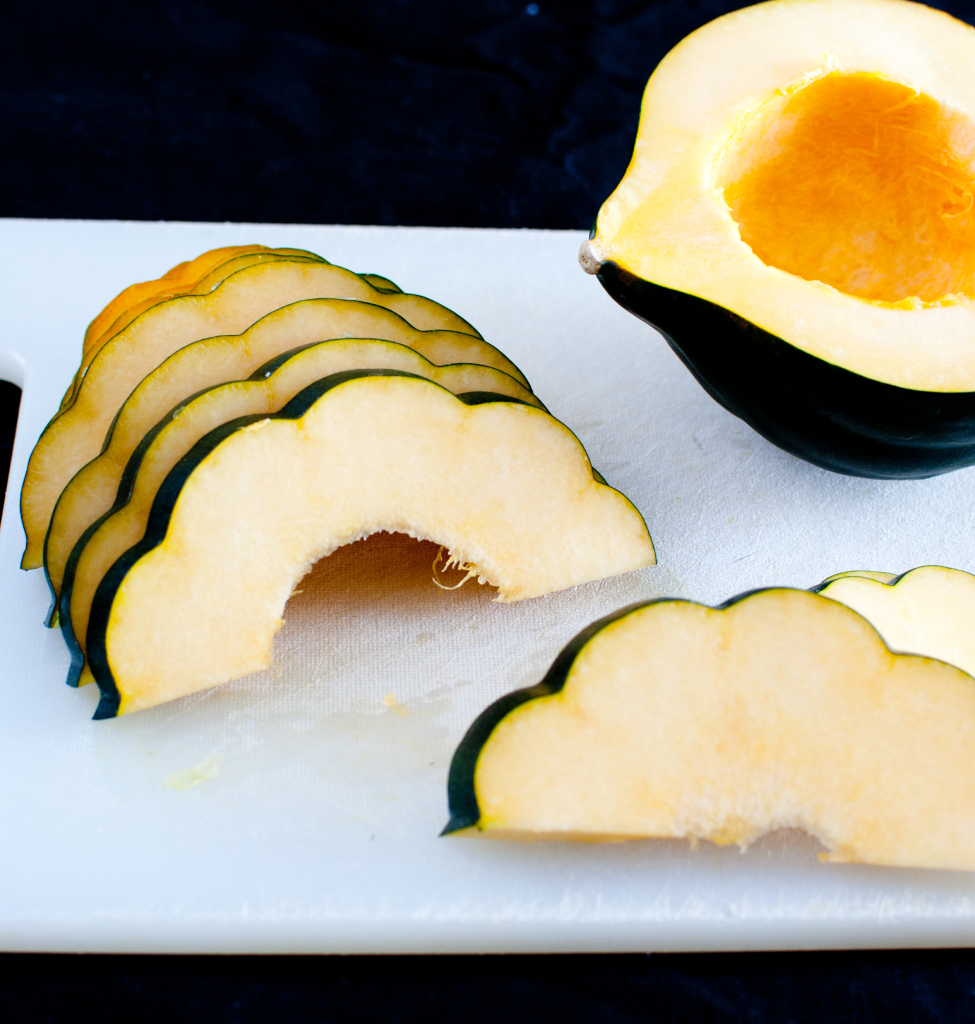 I haven't done a lot with acorn squash other than stuffing it, so this was a really good way to use up one of the five (!!!) my CSA has sent me over the past few weeks (I am seriously drowning in gourds). Honestly, the maple-roasted squash almost didn't make it onto the pizza – I spent a good few minutes just nibbling on a few pieces in the kitchen before remembering that I was ostensibly making something else with it. If you've got one lying around, I highly recommend this – it'll steal a pizza your heart.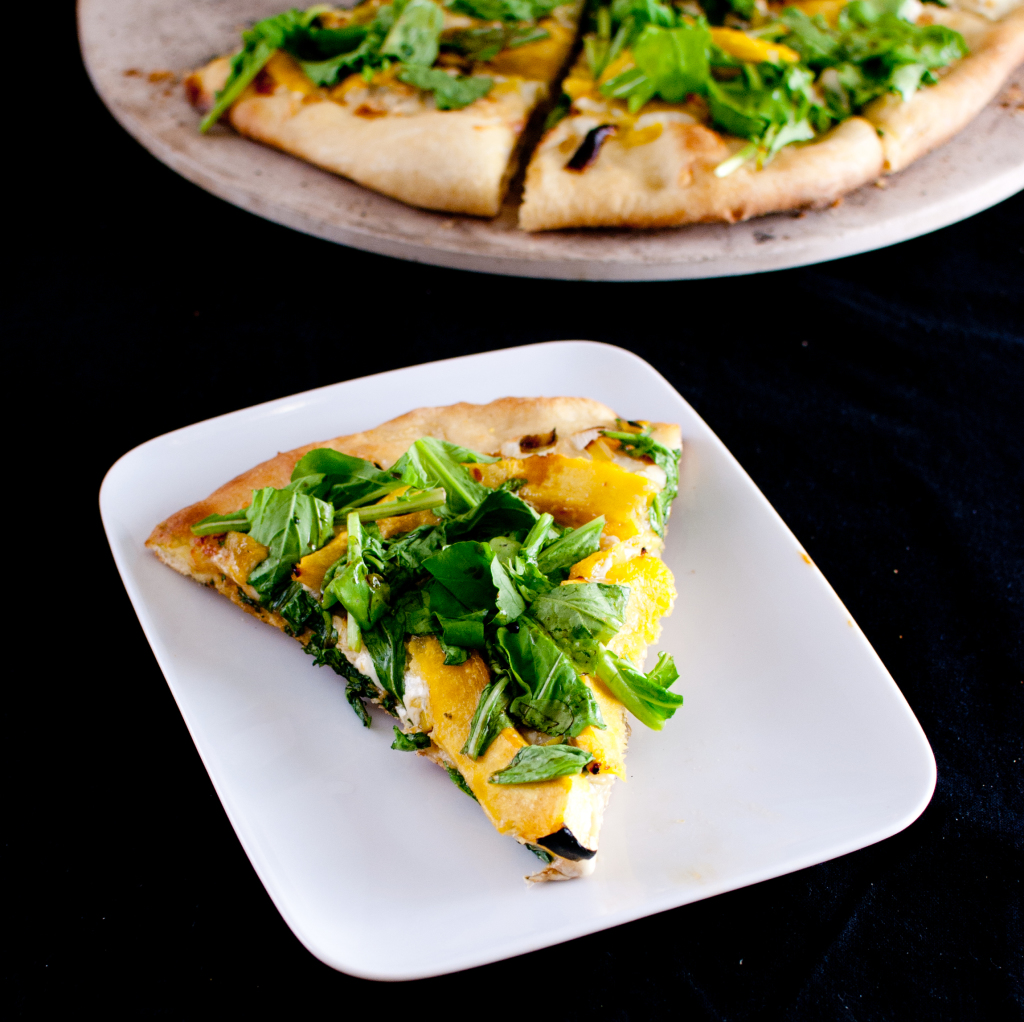 Acorn Squash and Gorgonzola Pizza
Acorn squash, gorgonzola and arugula pizza. A gourmet pizza perfect for a party or just a night in.
Ingredients
1 acorn squash
2 tablespoons maple syrup
1 tablespoon olive oil
¼ tsp ground cayenne pepper
Pinch of salt and freshly ground black pepper
1 Tbsp olive oil
1 medium leek, trimmed and diced
1 recipe Easy Pizza Crust (or use your favorite storebought crust)
2 Tbsp cornmeal
8 ounces mozzarella cheese, shredded
¾ cup crumbled Gorgonzola
2 Tbsp olive oil
1½ cups arugula leaves
1 Tbsp balsamic vinegar
Instructions
Preheat oven to 375 F. Line a baking sheet with parchment.
In a large bowl, mix the maple syrup, olive oil, cayenne, salt and pepper.
Slice the acorn squash lengthwise (from stem to bottom) and use a spoon to scoop out the seeds. Discard the seeds. Slice the halved squash into ½ inch half moons and place in the bowl with the maple syrup mixture. Toss to coat thoroughly. Spread coated squash evenly in a single layer on the baking sheet. Bake 25 minutes, until fork tender/easily pierced with a knife. Remove from oven and peel off skins when cool enough to handle. Increase oven temperature to 450 F.
While the squash is cooking, saute the leeks. Heat olive oil in a skillet over medium heat. Add leeks and cook until tender and slightly browned, 5-7 minutes.
Lightly coat a work surface with the cornmeal and roll the pizza dough into a 14 inch circle. Sprinkle the mozzarella and gorgonzola evenly over the dough. Scatter the leeks over the cheese. Top with the squash slices. Brush the edges of the crust with olive oil.
Transfer pizza to a hot pizza stone or baking sheet. Cook 10-12 minutes until crust is lightly browned on the edges. Remove from oven and top with arugula. Drizzle with balsamic vinegar, slice, and serve.
Source
: slightly adapted from
Giada de Laurentiis
Don't miss a thing – sign up to receive new recipes by email, or follow me on Facebook, Instagram, and Pinterest.