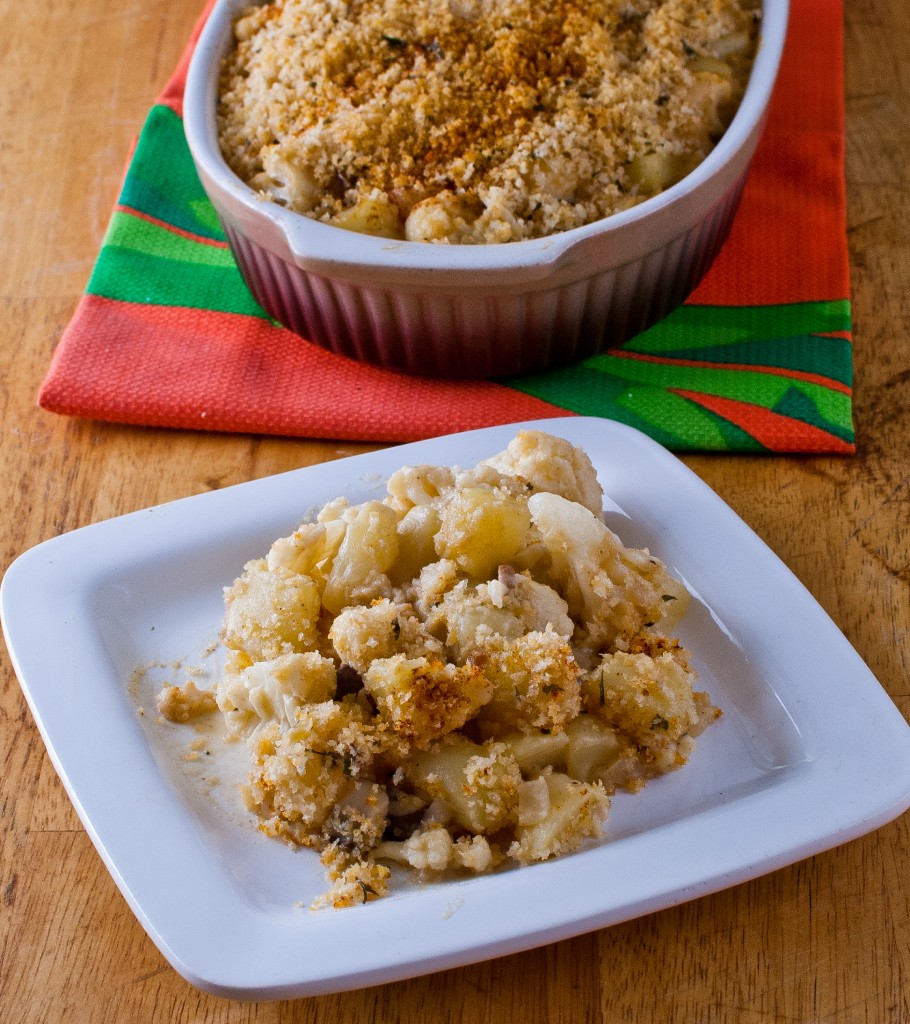 Well, this is a first. I'm writing a blog entry over the weekend to publish on Monday, with college basketball on in the background.
Wait, that's not a first at all. I do that all the time. The difference this time is that I'm doing it from an airplane at 35,000 feet.
Should that have stopped gobsmacking me by now? It hasn't. I still can't believe I can do all this on an airplane. So freaking cool. It's just like being at home. The only difference is that if I was home, I'd be cooking dinner. Oh. And also the part where if I was at home I wouldn't be cramped in next to several hundred strangers breathing the same recycled air. There's that, too (have I mentioned that while I do think it kicks ass that I can watch my bracket bust itself from high above the clouds, I don't love flying?).
If I was home, I'd be making this. Born out of necessity (the necessity of not letting my groceries go bad), this healthy casserole was the result of a head of cauliflower that was starting to look a little tragic, and a bunch of potatoes left over from Nor's home-cooked birthday dinner (not to be confused with his birthday dinner out). It was intended as a quick and easy dinner, and I think it's going to be a regular one. As much as I love a cheesy, rich casserole (a lot. I love that a lot), I appreciated the relative lightness of this creamy bake. It allowed the cauliflower and potato to shine, and was filling without being overwhelming. It's also vegan, which is sometimes an accident but always a bonus. I hope you enjoy it safely on the ground, breathing only the freshest of air.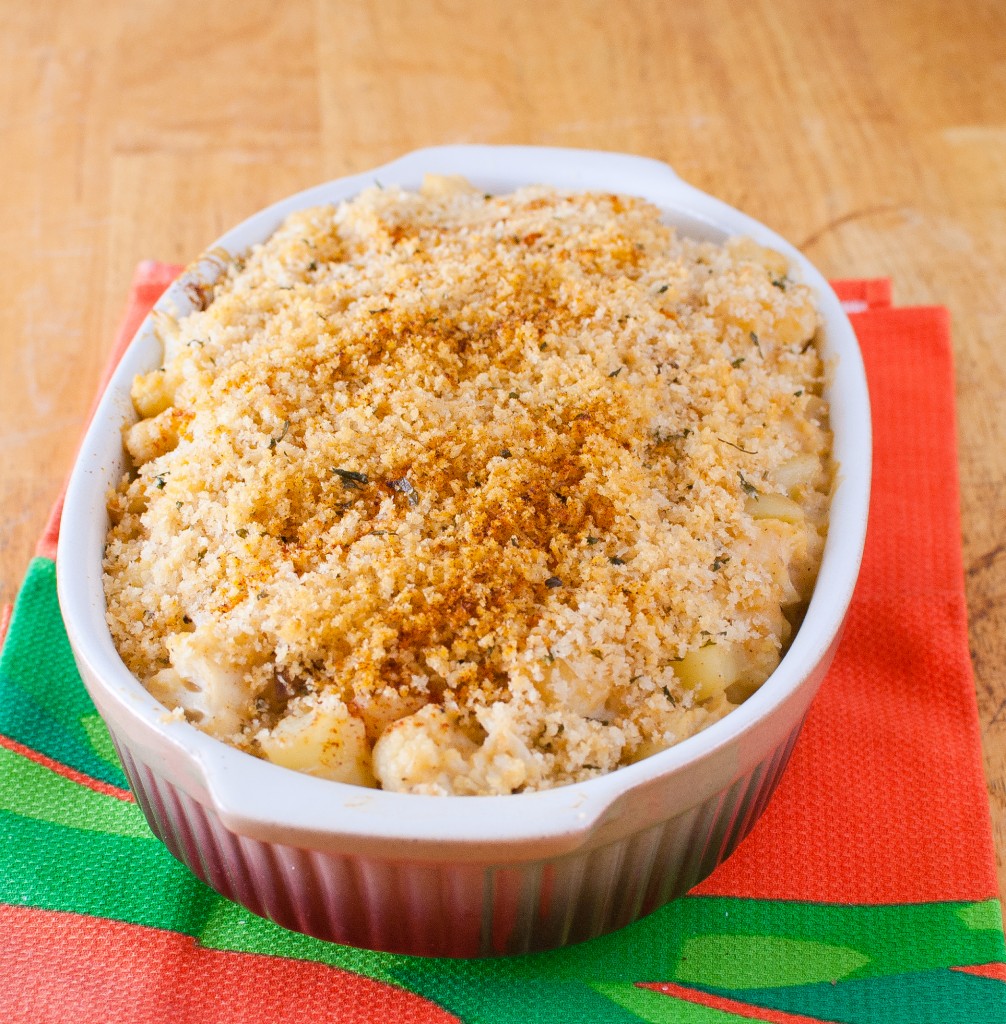 Cauliflower Potato Casserole
Ingredients
1 head cauliflower, chopped into florets
4 small russet potatoes, chopped into 1-inch pieces
4 Tbsp margarine or vegan butter
1 small onion, finely diced
2 cloves garlic, minced
¼ cup all-purpose flour
2 Tbsp Dijon mustard
1 Tbsp vegan Worcestershire sauce (Annie's a safe anchovy-free brand)
1 tsp smoked paprika
¼ tsp red pepper flakes
2 tsp kosher or sea salt
Freshly ground black pepper
1 Tbsp olive oil
1½ cups Panko breadcrumbs (plus a little additional salt and pepper)
2 cups unsweetened almond or soy milk
Instructions
Preheat oven to 350 F. Lightly spray a 9x9 or smallish oval casserole dish with cooking spray and set aside.
Fill a large saucepan with about 2 inches of water. Place a steamer insert or basket in the pan and add the potatoes. Cover and turn the burner to high. Steam potatoes for 10 minutes.
Add the cauliflower (do not remove the potatoes) and steam for an additional 10 minutes. Remove from heat and set aside.
Wipe the residual water from the saucepan and add the vegan butter. Heat on medium heat until bubbling. Add the onions and cook until softened and translucent, 7-10 minutes. Add the garlic and cook for an additional 2 minutes.
Reduce heat to medium-low and add the flour. Cook, stirring constantly, until mixture has formed a smooth paste and smells nutty.
Stir in mustard, Worcestershire, paprika, red pepper, salt and pepper. Add milk and turn heat to medium. Cook, stirring frequently, until sauce is thickened, about 10 minutes (it should coat the back of a spoon).
Add the cauliflower and potatoes and stir to coat. Remove from heat and pour into prepared baking dish.
Heat olive oil in a saucepan over medium heat. Add breadcrumbs, salt and pepper, and cook, stirring, until lightly toasted, 3-4 minutes. Distribute evenly on top of cauliflower mixture.
Bake for 30-35 minutes, until bubbly and lightly browned on top. Remove from oven, let cool for 5 minutes, and serve.
Source: Adapted from Chow.com
Don't miss a thing – sign up to receive new recipes by email, or follow me on Facebook, Instagram, and Pinterest.