I'm excited to introduce a new feature on Baked In: Vegging Out. I'll be sharing my experiences dining out as a vegetarian, focusing on the quality of  food, variety of choices, and overall veg-friendliness. Generally, these restaurants will be in and around Washington, DC, but there may be a few elsewhere when I travel.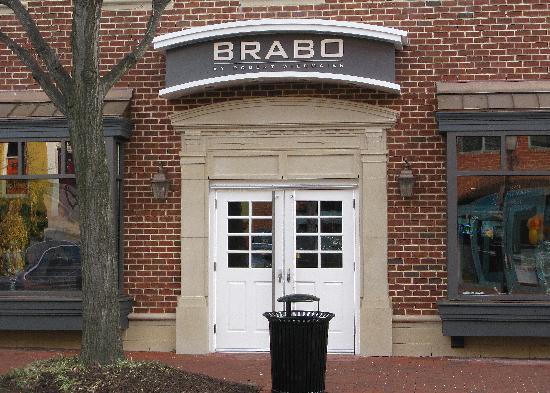 Nor turned 40 (40!!) last week. It's hard to believe that he was barely 33 when we started dating. I always try to give him a good birthday, but obviously a milestone like 40 calls for something a little more special. When I started planning his birthday festivities, I knew I wanted to take him out for an amazing dinner. This isn't hard in and around DC, but being vegetarian adds a bit of a kink to it. Fine dining is heavily geared toward meat eaters – bone marrow and foie gras and a lot of other stuff I wouldn't even want to be in the same room with – so I knew I had my work cut out for me to find a place that could give us an amazing experience and accommodate our dietary needs.
I found a few places that had vegetarian/vegan tasting menus – one was ruled out immediately because it was closed Sunday and Monday and I was planning this for a Sunday night, and I just couldn't get super excited about the posted menu at the other one. I know, I know – beggars can't be choosers, and I kept it in the back of my mind while I continued searching.
I came across Brabo while searching "Old Town Alexandria" (where we live) and "vegetarian." I'd heard of it, but never imagined it would be vegetarian friendly. But when I clicked over, right on their menu page, I saw this:
Accommodating Every Appetite in Alexandria: BRABO recognizes that every one of our guests has different tastes and dining preferences. Therefore, we are more than happy to offer vegan and vegetarian dishes in addition to our daily menus. 
Score! Well, maybe. It's one thing to plop that on the website, but was it more than just lip service? I gave them a call to let them know I was planning a special occasion and to see if they could make it work. I realized as soon as I dialed that I was calling on a weekend evening in the middle of the dinner rush – major faux pas on my part, but someone had already answered. Despite the fact that I was calling during their busiest time, the woman who answered was pleasant, cheerful and quickly confirmed for me that they could not only do vegetarian a la carte meals for us, but we could even do a special tasting menu if we wanted to (they offer a set tasting menu, but it's far from vegetarian). That was all I needed to hear – a six course tasting menu, all vegetarian? Sold.
I didn't tell Nor what we were doing until we were about to leave the apartment. He was thrilled, and as we walked the 10 blocks to Brabo, I had my fingers crossed that everything would work out.
Turned out there was no need to be nervous. From the moment we walked in, we were treated like VIPs. The hostess immediately wished Nor a happy birthday, and as she sat us, she gave us menus and said she knew we were vegetarians and that our server would walk us through the options and tasting menu. When he came over to our table, he wished Nor a happy birthday too, and told us that the chef would be preparing a special tasting menu throughout our evening especially for us. But first, of course, would we like to start off with a drink?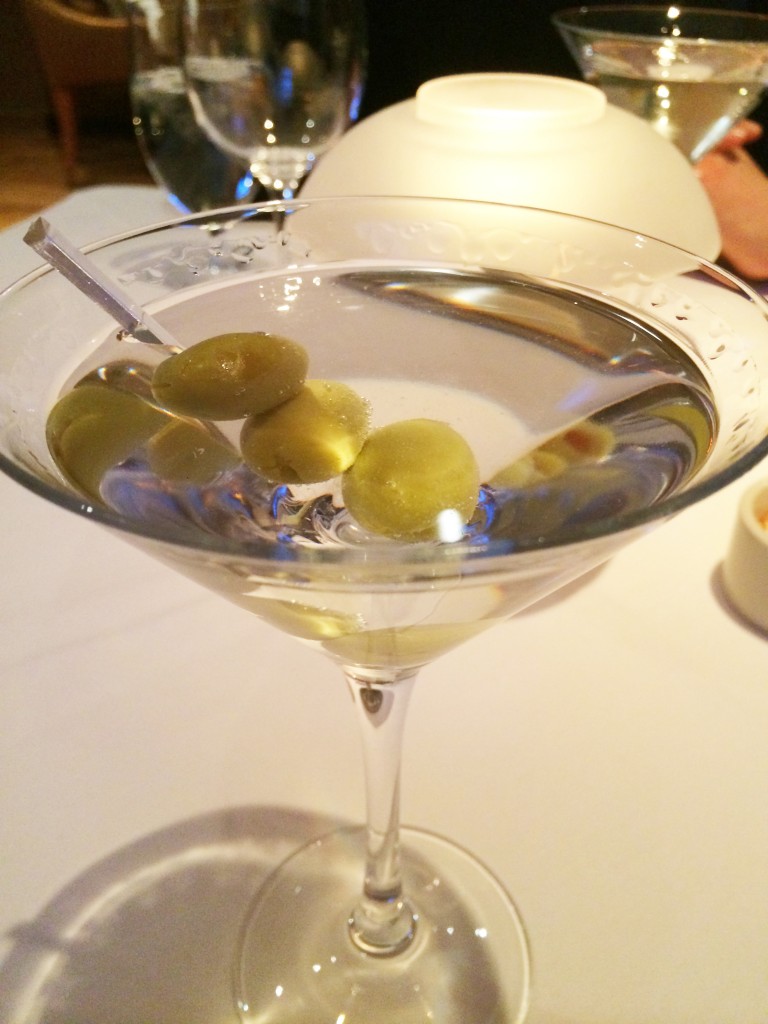 It wasn't until our martinis arrived (Sapphire for Nor, Goose for me) that it occurred to me that it might be a fun idea to blog about this later. I asked Nor if he'd mind if I snapped some pictures of our food and drinks through the evening, and he thought it was a great idea and even encouraged me to take notes about each course so I wouldn't forget, given that we were planning on doing the wine pairings (he knows me so well). You'll have to excuse the quality of my photos from here on out – they were quickly snapped with my phone without flash as each course was served, so as not to be disruptive to our experience (or anyone else's). We actually ended up having a lot of fun jotting down notes for each dish throughout the evening.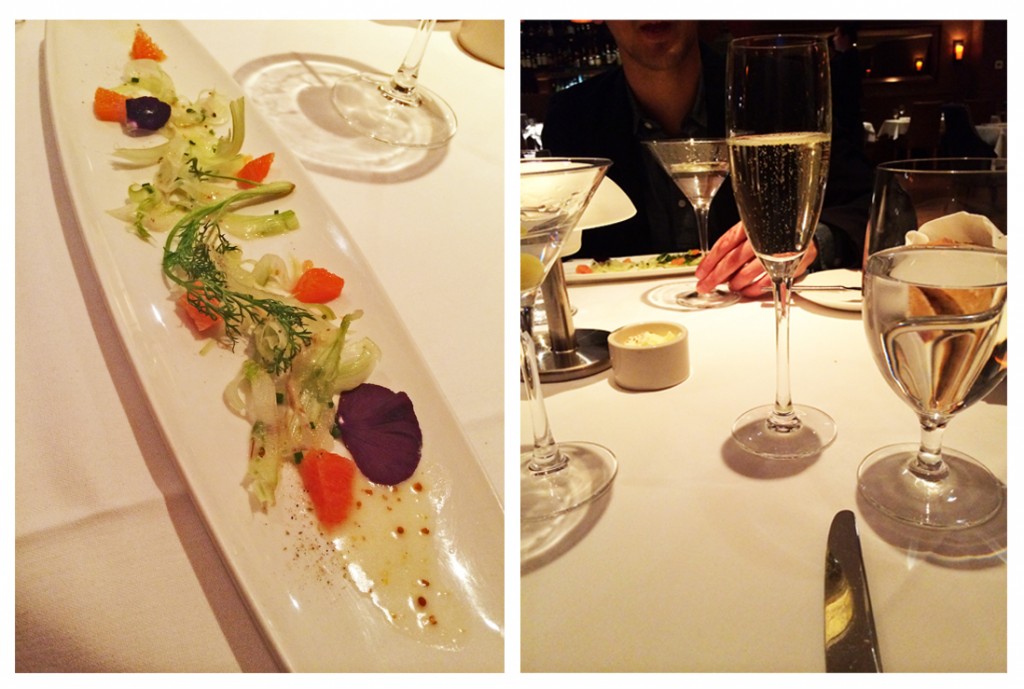 Before each course was brought out, either the sommelier or our server (also a sommelier) would pour the wine for that course and talk about where it was from, the flavors in it, how it went with the upcoming course, etc. I'll admit I zoned out a little during some of this, but Nor was loving it. He had a lot of questions about each wine, and the sommelier was extremely knowledgeable and quick with the answers.
The first course was a shaved fennel and orange salad with a light vinaigrette, paired with a sparkling wine from Austria. I'm usually not crazy about fennel (I hate licorice) but I loved this. It seemed like the licorice-y flavor was mellowed both by how thinly sliced it was plus the tartness of the orange. And the sparkling wine was great. I can't speak to how it paired with the flavors in the dish because I'm a rube and my reaction was pretty much "yay bubbles!"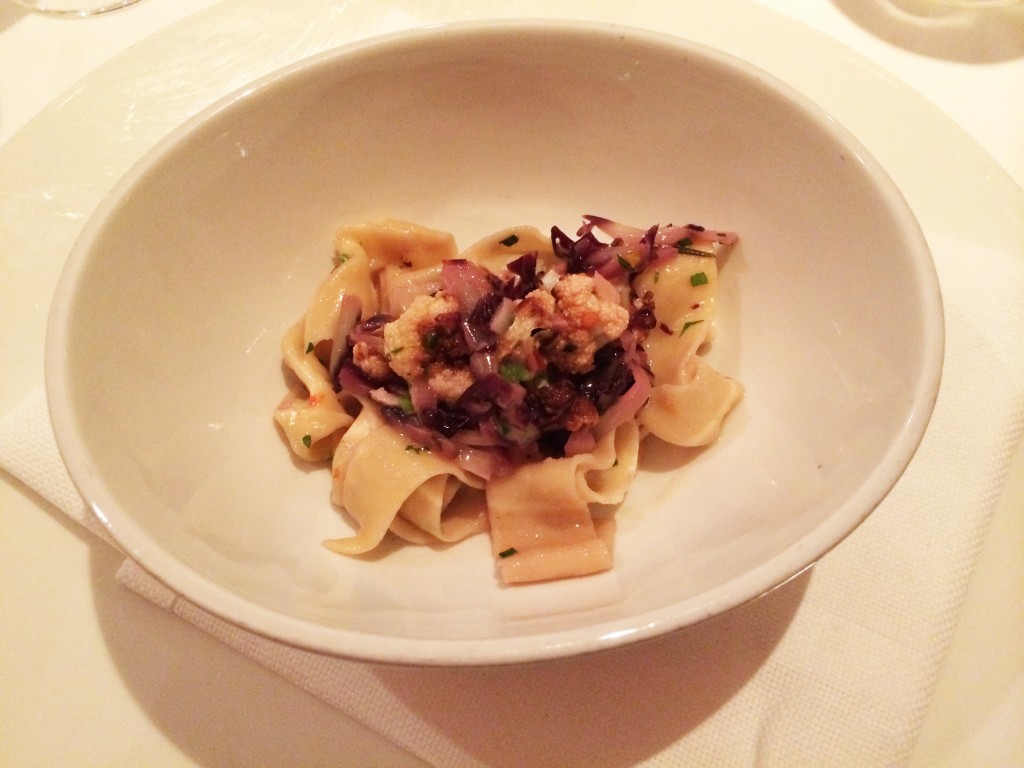 The second course…OMG. The second course was a house-made pappardalle pasta with herbed butter, roasted cauliflower, and radicchio. I wish I was more eloquent about this kind of stuff – but it was just holy crap, eye-rollingly good (I IS FOOD BLOGGER). The cauliflower was perfectly caramelized and paired beautifully with the bitterness of the radicchio. With the butter, it was incredibly rich, but the portion was small enough that I wasn't intimidated by having four courses still to come. This was paired with an Italian unfiltered white wine – no additives, no fining and only a tiny bit of sulfur added before bottling. Do I know what this means? Not really. But wine good.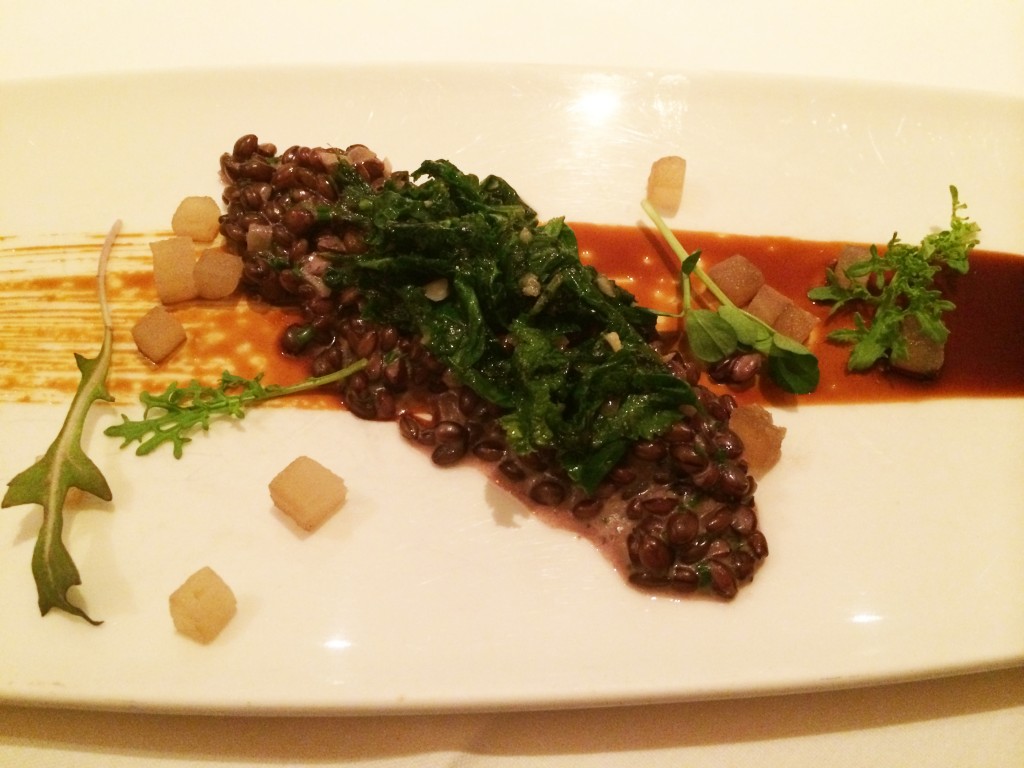 Course #3 was a barley risotto with wilted mustard greens and bourbon-compressed pears. I'm not even going to pretend to know what a bourbon-compressed pear is, but this dish was fantastic. This was the course where I realized that everything was working out perfectly – Nor loves barley and risotto so it seemed like the perfect "everything falling into place" moment. This one was paired with a French pinot noir from Burgundy. Wine good.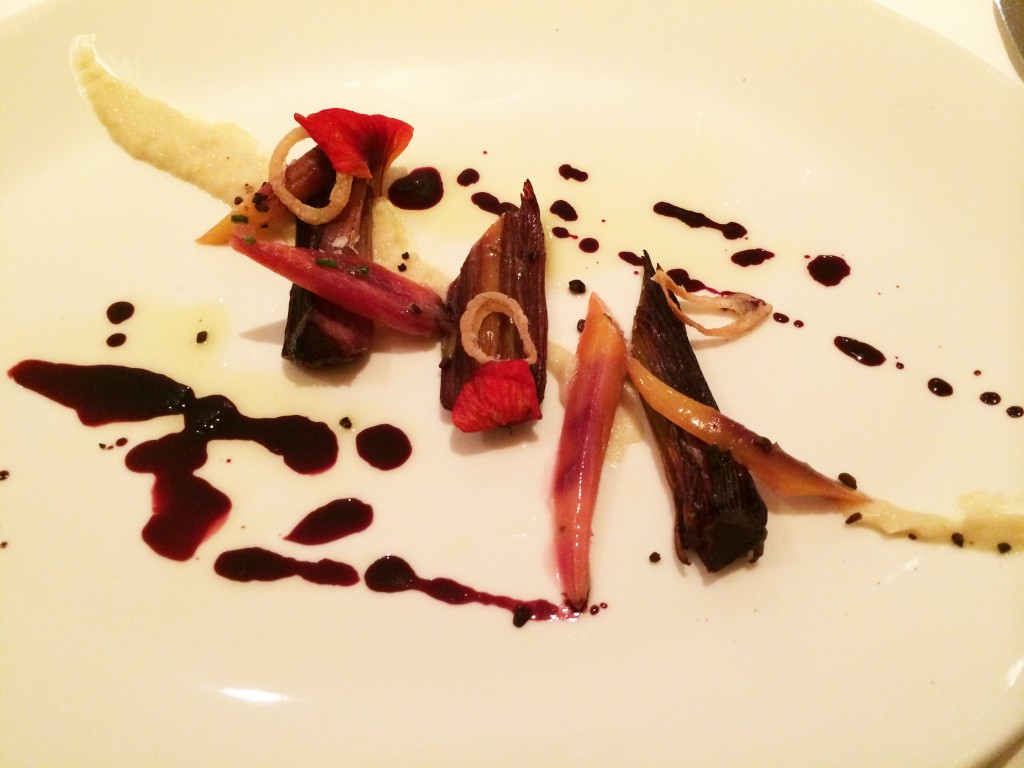 The fourth course was a small plate of red wine braised leeks with crispy shallots and onion puree. Onions, onions, and more onions; the romance was thick in the air. I loved this – the flavors were incredibly deep and rich, but it was a tiny portion and all veggies, which fit perfectly after the previous two rich courses of pasta and barley. I've never had leeks like this before – they were so tender and just melted in your mouth. This was served with a Dolcetto wine from the Piedmont region of Italy.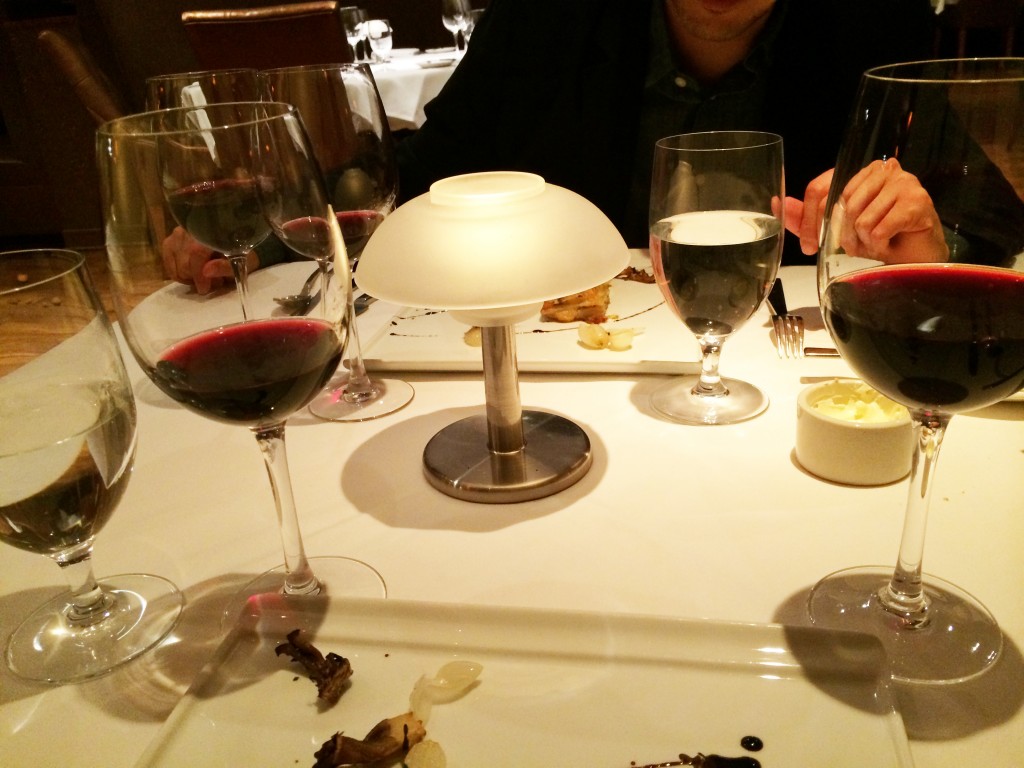 It was around this time that I realized I was getting a little behind on my wine. Considering that each glass was a "tasting" pour, they were very generous. Trust me, I'm not complaining – although my notes did start getting sort of hilariously nonsensical right around here (one example: "dolcetto from piedmont, wtf is dolcetto? remember to google."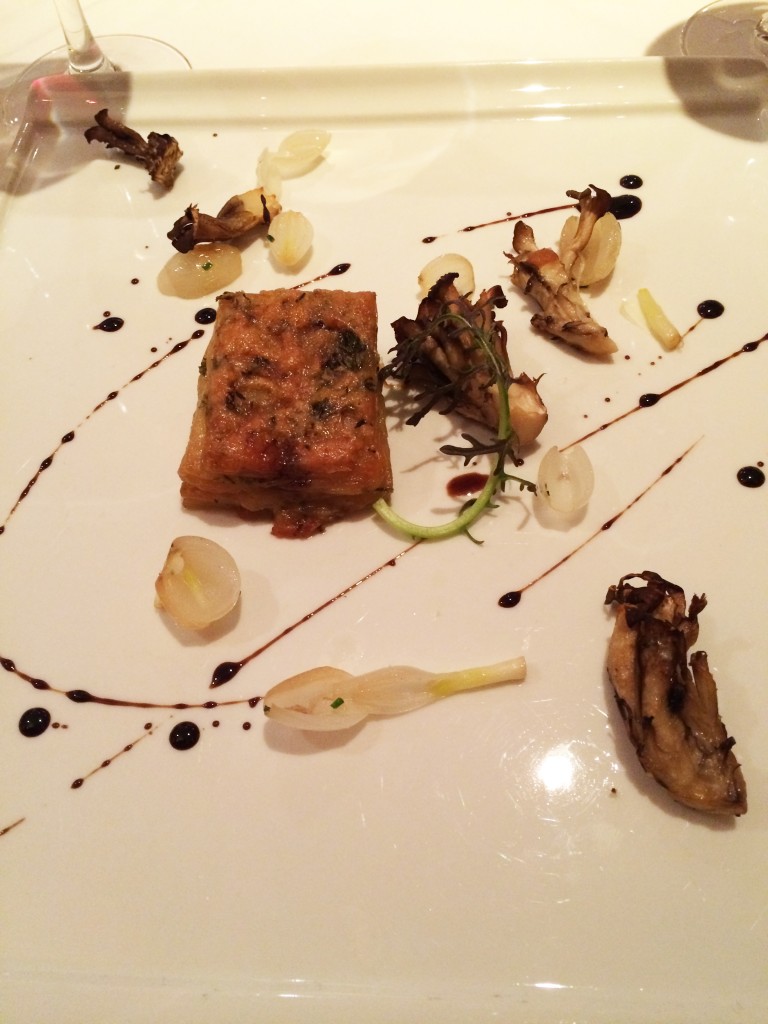 The fifth course (the last "dinner" course) was a potato-gruyere gratin with hen of the woods mushrooms. This was probably my favorite course, because cheese (I'm sophisticated). This was definitely the richest, heaviest course and the perfect way to finish off the savory part of the meal. It was paired with a Sangiovese Cabernet from Tuscany. My note on this one: "sommel. says big." Clearly my mental acuity didn't take a hit from all the wine.
Right before this course, the head chef, Harper McClure, stepped out of the kitchen and visited our table. We knew how busy he probably was back there and tried not to keep him, but we did use the couple of minutes we had with him to very enthusiastically let him know how much we appreciated the amazing vegetarian food he'd come up with for us and how much we were enjoying it.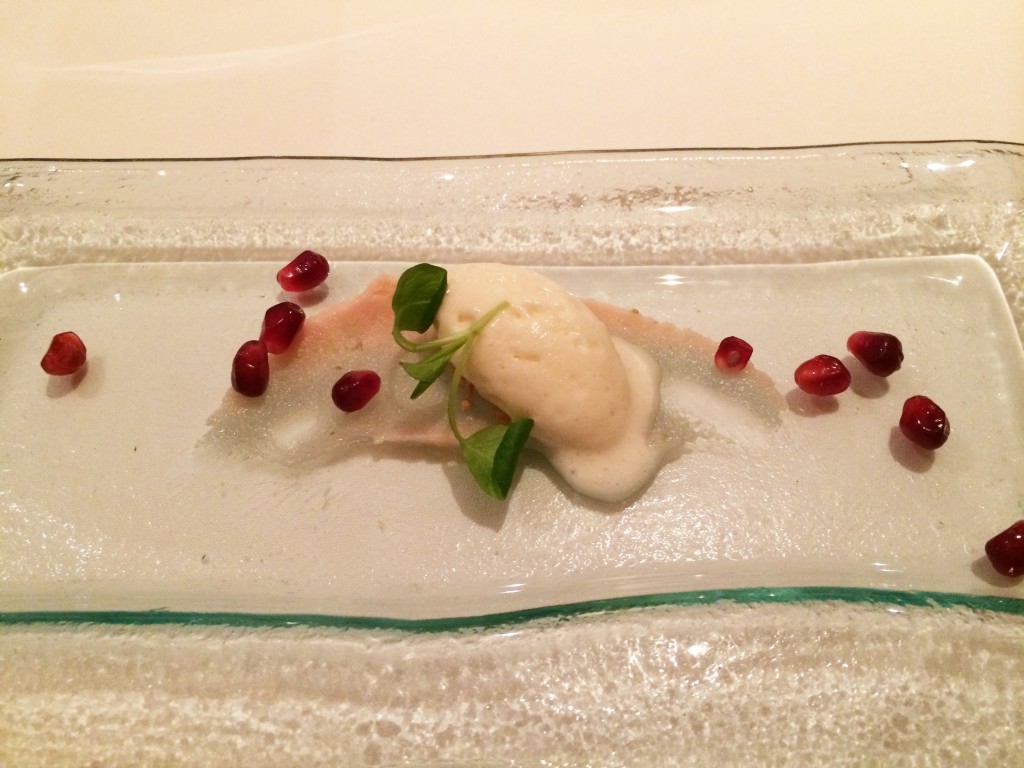 We had an intermezzo before dessert to cleanse our palates – this was a goat cheese sorbet with beet-lime ganache, pomegranate seeds and a tiny bit of what I'm assuming is the most highfalutin granola ever made. This could have easily been served as dessert and I would have been happy.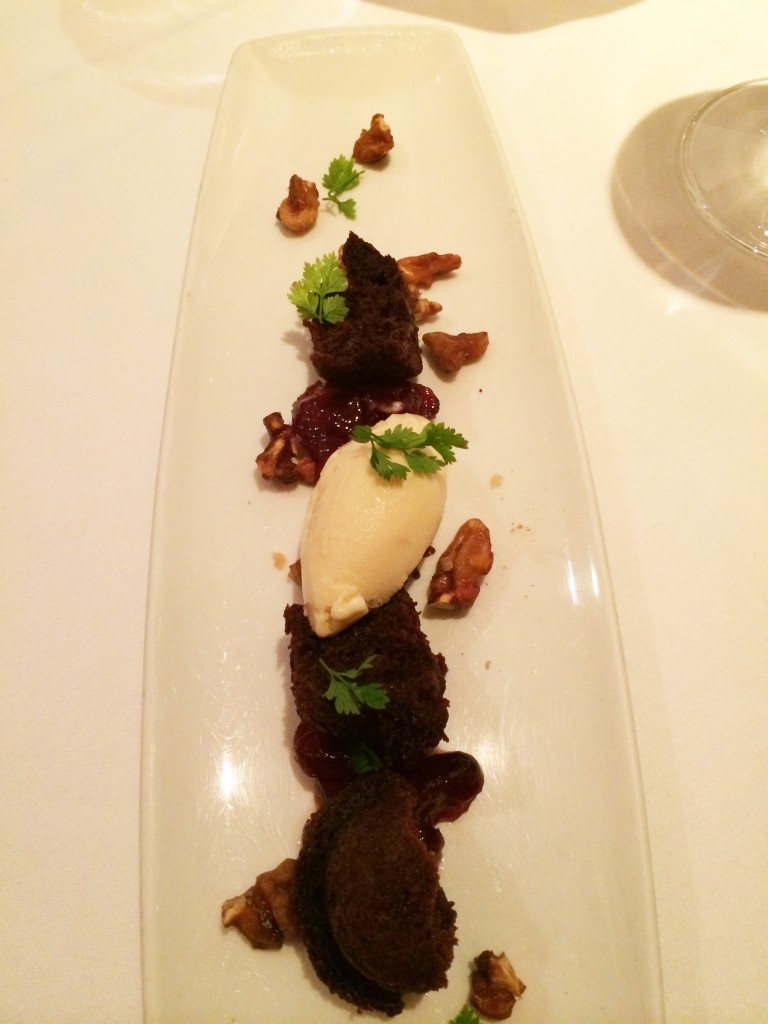 The actual dessert was a chocolate celery root spice cake with candied walnuts, ice cream, and cherry compote. That came to us with a small glass of cream sherry, which I wasn't expecting to like. Surprisingly, I ended up digging the maple flavor quite a bit. I'm sure it had nothing to do with the fact that I had already had sixteen thousand glasses of wine.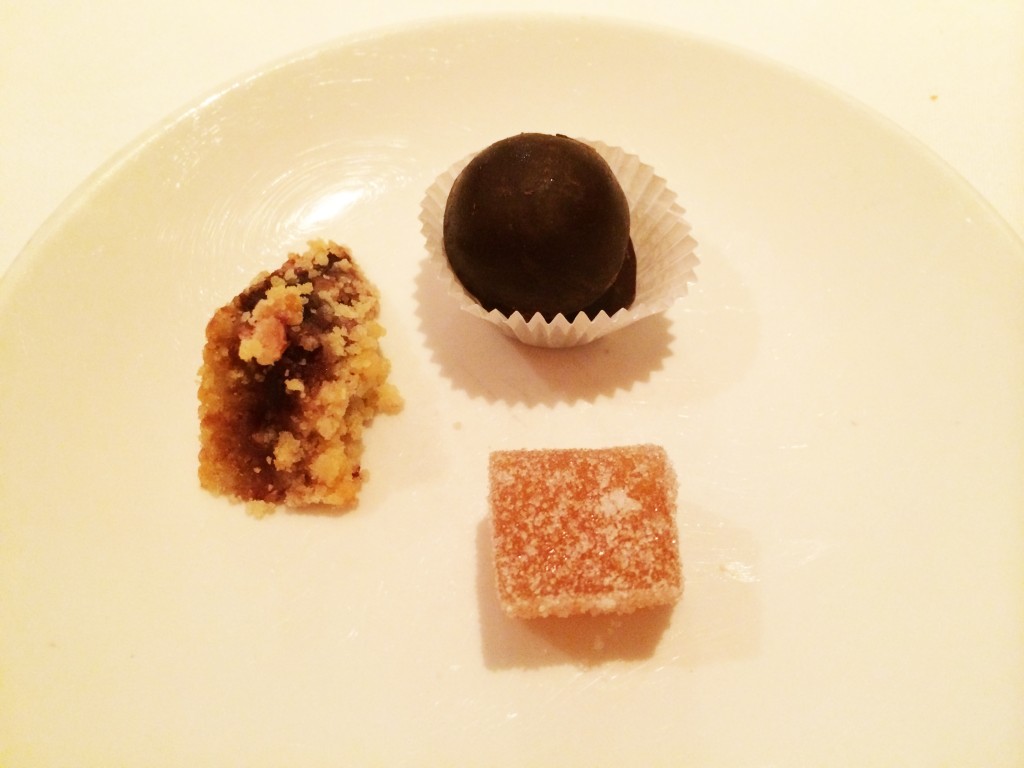 Just when we thought we were done, they brought us ANOTHER dessert course with the check. It was just a few small bites, and somehow, some way, we managed to find room. Fortunately, our walk home was nearly a mile so we were able to walk some of it off.
Now, to sum up the whole experience:
Service: A+
Unreal. Everyone, even the busboy, wished Nor a happy birthday. They were attentive without being overbearing, patient with the litany of questions commoners like us who don't ever eat like this had for them, knowledgeable as all get out about the food and wine, and even sent the chef out to say hello. Can't beat that.
Vegetarian Friendliness: A+. I'm going to break this down into a few different pieces.
Accommodation: It's no secret that many upper-tier chefs aren't very enthusiastic about vegetarian food and are often disdainful of vegetarians as people (remember Anthony Bourdain's lovely comment that "vegetarians are a persistent irritant to any chef worth a damn?). So it's not always easy to find a really nice restaurant that's happy to come up with vegetarian dishes that aren't pastas or risottos they're already using as sides for other main courses. While I have no idea how Harper McClure really feels about vegetarian food, he sure put on a good show for us. Add that to the fact that the restaurant openly advertises their willingness to accommodate vegetarians and vegans, and you've got a pretty unusual (and welcome) approach by a fine dining establishment.
Variety: Many restaurants offer one or maybe two vegetarian options. While we weren't selecting a la carte items, the variety in the tasting menu was amazing. Every course was completely different than the last and nothing felt like it was cobbled together to try to fill a plate.
Quality: Top-notch. Everything was fresh, flavorful, and absolutely beautiful. I wish I could have set up with a studio light and my DSLR to show how artful the presentation was and how bright and vibrant the colors were. The flavors were complex, the courses flowed together perfectly, and everything tasted out of this world. I can't say enough good things about this meal.
Overall: A+
We're not high rollers. Our typical dinner out is the Mexican restaurant up the street. This was a once in a blue moon (if not once in a lifetime) kind of experience for us, so it meant the world that it was so perfect for Nor's 40th birthday. We were both blown away by the service, the food, and the experience as a whole. I would enthusiastically recommend Brabo for a special occasion vegetarian dinner out in DC, with the caveat to call ahead and give them a heads up so they can plan ahead. It was the perfect celebration and the perfect night, and I'm really grateful to them for being so wonderful about giving us a special experience there.
The Details:
Brabo Restaurant
1600 King St
Alexandria, VA 22314
http://braborestaurant.com