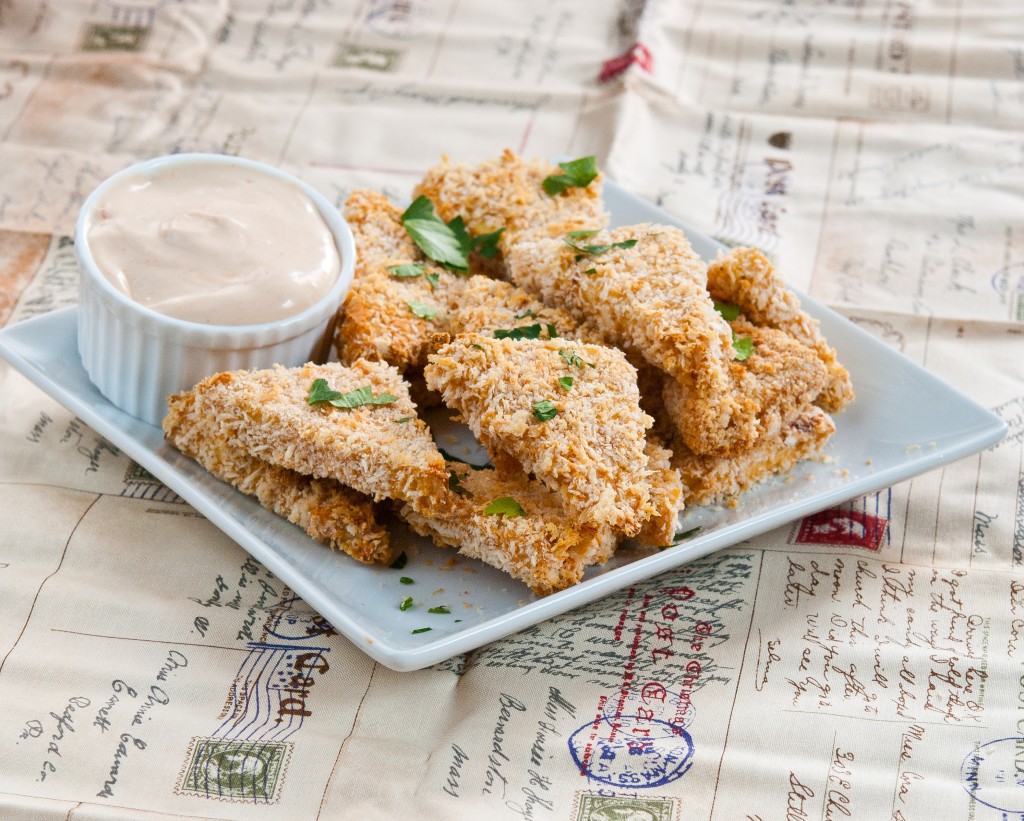 Lately I've been seeing recipes for Bang Bang Chicken and Bang Bang Shrimp popping up all over Foodgawker and Tastespotting. I guess the shrimp is originally an appetizer from Bonefish restaurant, which I've never had, and I'm not sure where the chicken came from. All I know is when I see anything with a crispy panko coating and a spicy-sweet dipping sauce, I need to immediately either eat it or vegetarianize it. I am a firm believer in the notion that anything breaded, faux-fried, and dipped in something spicy or creamy will be good. It could be an old shoe. Coat it in panko and I'm good.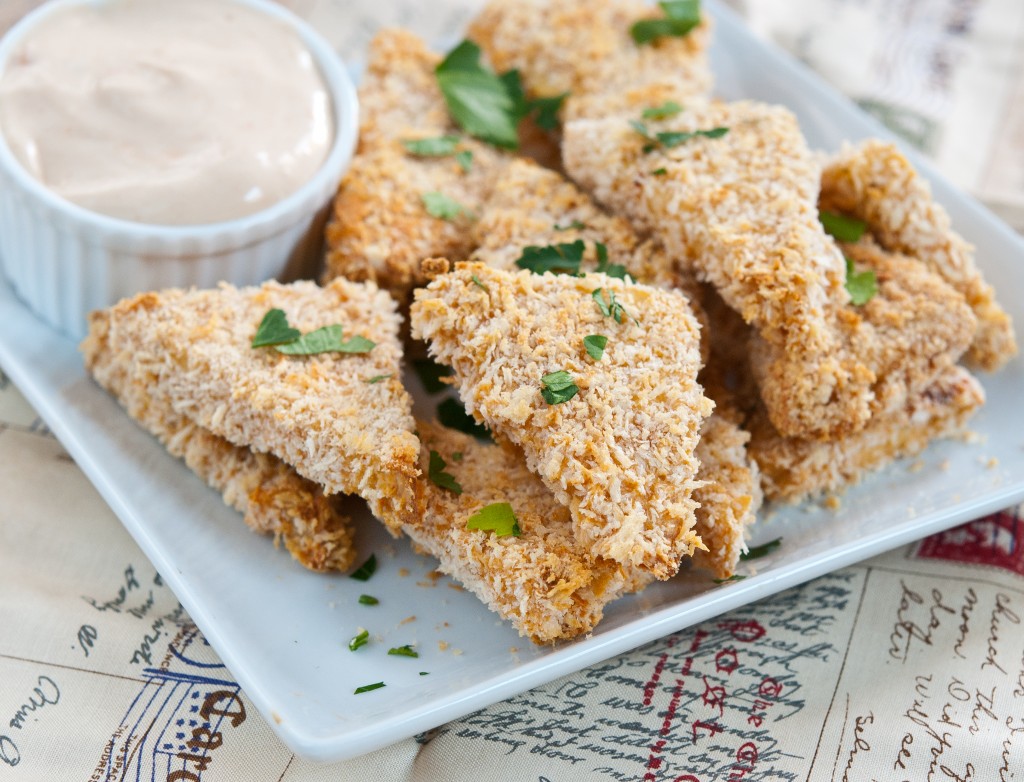 This was no exception. The tofu took the coating and breading perfectly, and crisped up to a lovely texture in a hot oven. Dipped in a sweet chili and sriracha mayonnaise…man. Doesn't matter a bit that it's not chicken or shrimp, or that it's not actually fried. And depending on your mood, this can be a starter, like it is in the restaurant, or a perfectly hearty main dish. Or both, like it is for me – whenever I make this, I can't stop eating it. Luckily, since it's tofu, and it's baked, that's not such a bad thing. Or at least it could be worse.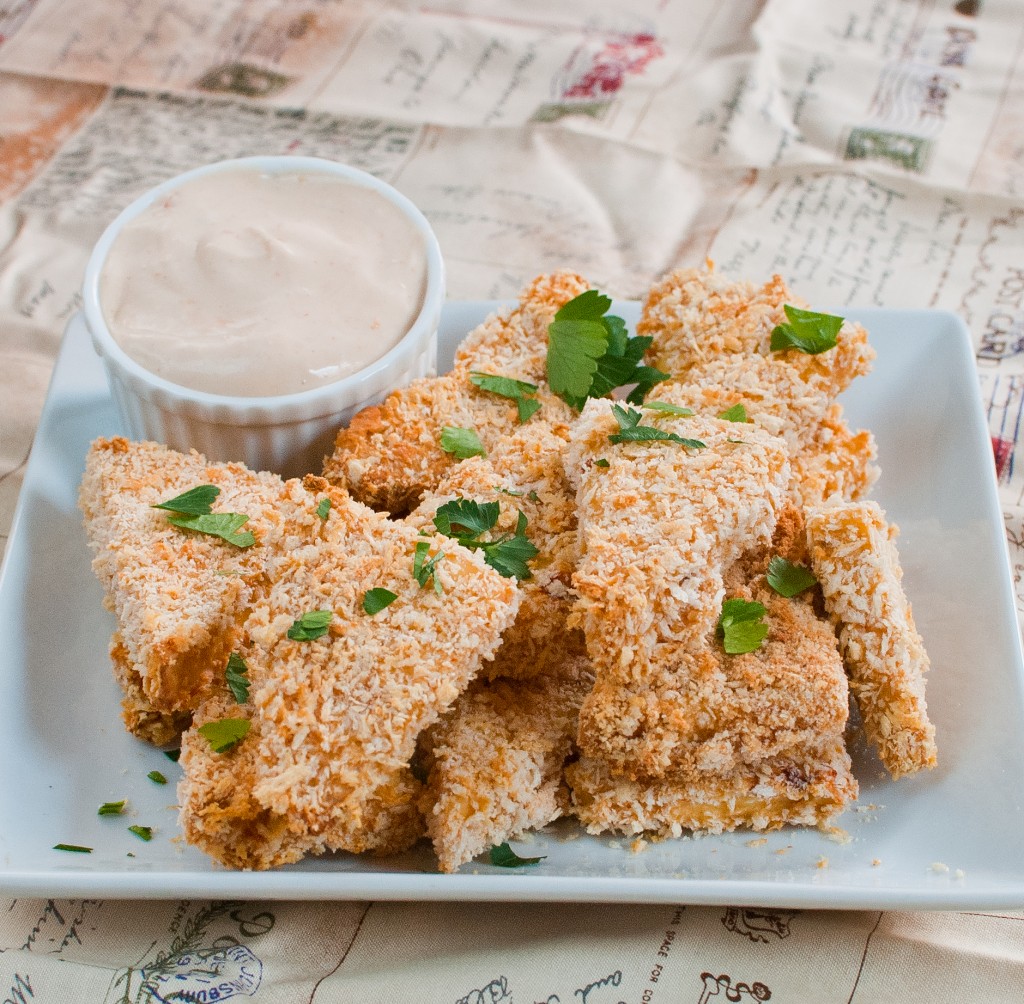 I hope all of you have a wonderful weekend – I have a good one planned. Some working out, some time with good friends, and Mother's Day festivities on Sunday. Moms, I hope you get some peace and quiet if that's what you asked requested for Mother's Day – I know that would be first on my list.*
*one of like a zillion reasons I'm not a mom
Prep time:
Cook time:
Total time:
A healthier, vegetarianized version of the popular restaurant starter.
Ingredients
½ cup mayonnaise (or Vegenaise)
¼ cup sweet chili sauce
2 Tbsp red pepper hot sauce (Tabasco or Frank's are both good in this)
1 Tbsp honey or agave
1 15 ounce package extra firm tofu (I use Trader Joe's high protein super firm)
1 cup low-fat buttermilk
1 egg
1 Tbsp hot sauce
¾ cup all-purpose flour
½ cup cornstarch
1 Tbsp garlic granules
2 tsp smoked paprika
Salt & pepper to taste
2 cups panko bread crumbs
Instructions
Combine the sauce ingredients (mayo, chili sauce, hot sauce and honey). Cover and refrigerate.
Preheat oven to 425 F. Line a baking sheet with parchment paper and set aside.
Remove the tofu from the package and place on a plate. Cover with another plate and stack some cookbooks or a heavy skillet on top. Allow to drain for 30 minutes or so.
Slice the tofu in half crosswise, then cut lengthwise into six slices. Slice each square into a diagonal (if you want to just cube it, that's fine too. The tofu police are currently on sequestration vacation).
Stir together buttermilk, egg, and hot sauce in a small bowl. In another larger bowl, combine flour, cornstarch, garlic powder, paprika, salt and pepper. Pour in the buttermilk mixture and stir until smooth.
Place the tofu into the batter and stir until well-coated. Dredge each piece through the panko and place on the prepared baking sheet. Bake 30 minutes, turning the tofu halfway through. Serve with dipping sauce.
Calories:
302
Fat:
9g
Carbohydrates:
34g
Sodium:
94g
Protein:
20g
Source: Vegetarianized and adapted from Jo Cooks