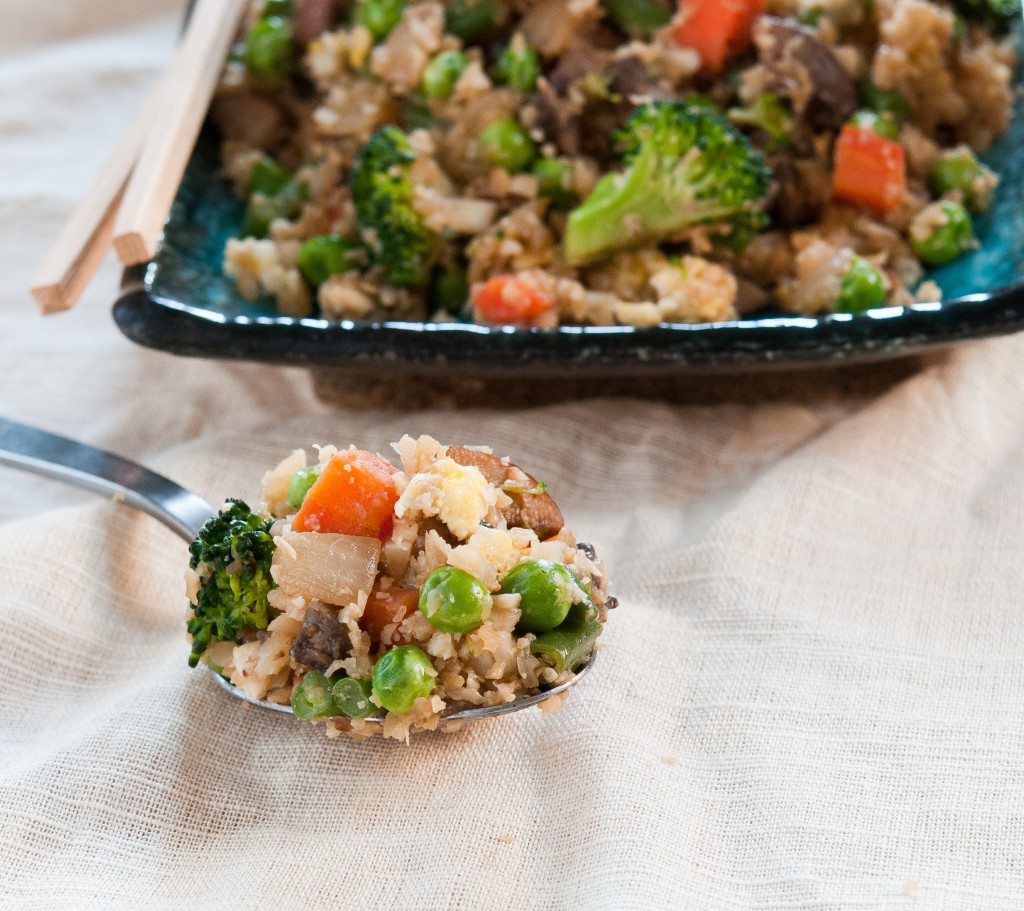 The last office building I worked in before we moved further out into the wilds of suburban DC had a lot of fun stuff in it. It had a nice gym, a fancy bar with amazing happy hour specials, and a decent cafe for lunch.
I did not list those three things in order of importance, by the way – although a decent lunch place is important, being within walking distance of a good happy hour is paramount. But that's not the point right now. The point is that this cafe had a lot of good things going for it – an adequate sandwich selection, a salad bar, and a small hot bar. The hot bar was pretty limited, but always included a gigantic buffet warmer of fried rice. Which I could not keep my hands off of. At least four days a week I'd go down intending to get a salad, instead ending up with what my friend Emily and I lovingly termed a "rice vat."
Incidentally, the rice vat is the most likely origin of the 25 pounds I had to lose last year, even though we moved offices five years ago.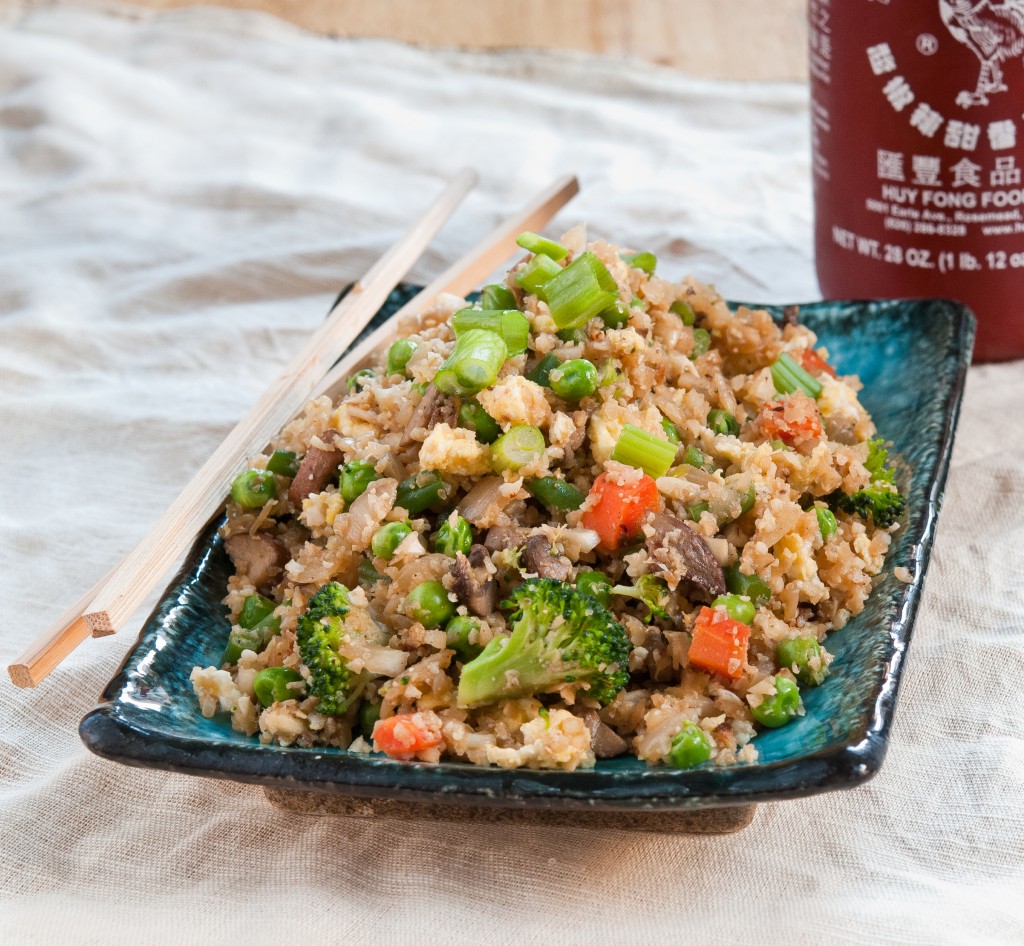 I don't think I've had takeout fried rice since. Nor makes it for us sometimes, but his is considerably healthier than the office cafe, and I don't eat an entire vat. Even still, I've taken a bit of a hiatus from working out lately, so I've been trying to compensate by not making dinners too starch-centric. That's why this recipe has been absolutely perfect, because that rice…is not rice. It's cauliflower, which you can grate by hand or whiz in a food processor to get a shockingly rice-like texture that soaks up flavors without getting soggy.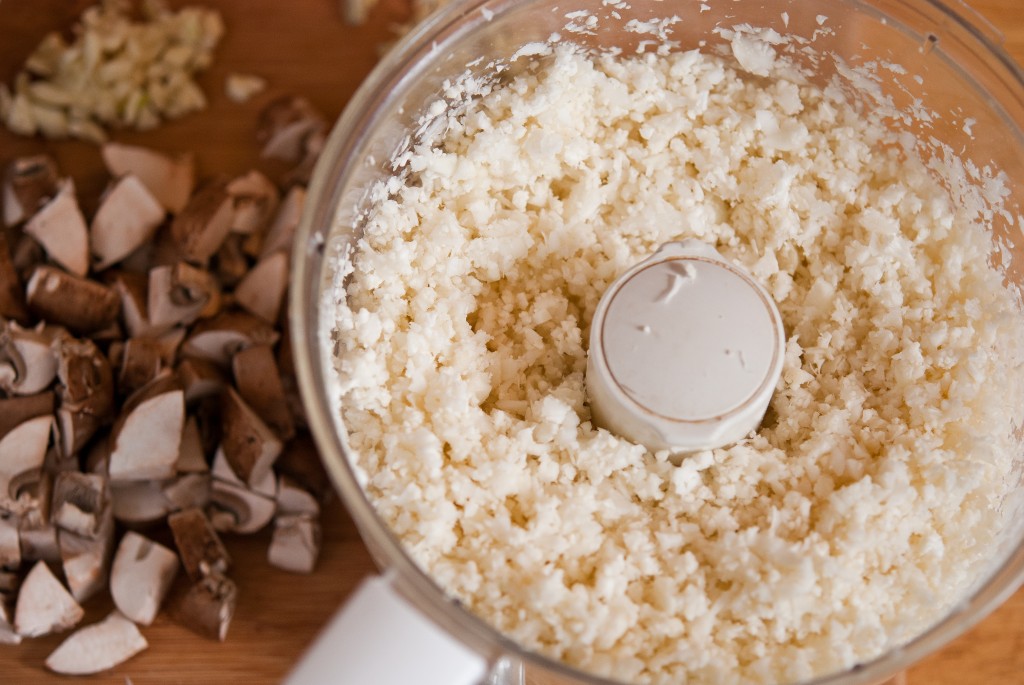 As for the rest of the dish, you can follow the recipe exactly if you want, but remember that fried rice is at its heart a "leftovers" dish. So use whatever you have on hand and don't feel pinned down to what's in the recipe – let what's in the fridge guide you and see what you end up with. That's half the fun!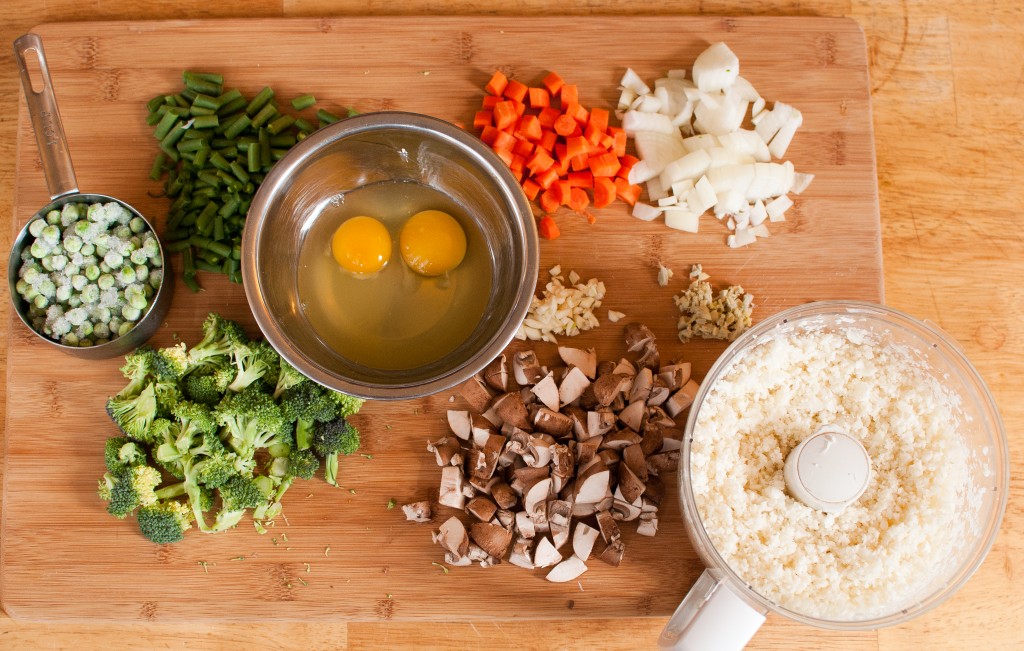 If you love fried rice but don't want to hearken back to your greasy takeout days, this is a great healthy alternative. It's light, flavorful, and absolutely packed with veggies. Now I just need to find a healthy replacement for happy hour.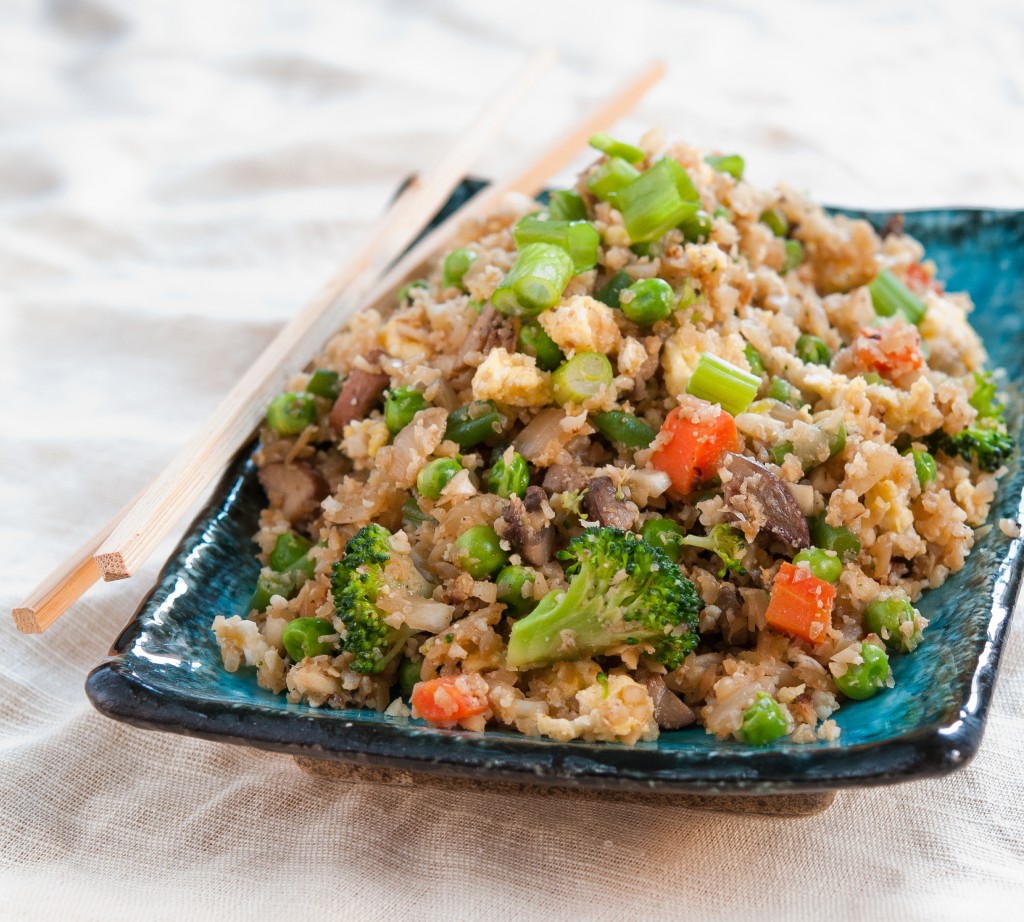 Cauliflower Fried Rice
Cauliflower replaces the rice in this alternative to takeout.
Ingredients
1 small head cauliflower
2 Tbsp vegetable oil, divided
2 eggs
1 small onion, diced
1 carrot, diced
1 cup cremini mushrooms, chopped
2 cups broccoli, chopped
2 cups green beans, chopped into 1-inch pieces
1 cup frozen peas, thawed
2 cloves garlic, minced
1 inch piece ginger, grated
¼ cup low-sodium soy sauce
2 tsp sesame oil
Hot sauce to taste
Instructions
In a food processor or with a grater, chop cauliflower into "rice" sized pieces. In a food processor, this will take about a minute of pulsing. Set aside.
In a small bowl, lightly beat the eggs. In a wok or large skillet, heat 1 tablespoon of the oil over medium heat. Scramble eggs until almost done (they should still be the slightest bit runny). Remove to a bowl and set aside.
Wipe out the wok and heat the remaining tablespoon of oil over medium heat. Add onions and carrots and cook, stirring frequently, until onions and carrots onions are translucent and softened, about five minutes.
Add mushrooms and broccoli and cook, stirring frequently, for another five minutes. Stir in cauliflower, green beans, peas, garlic and ginger.
Turn heat to medium-high and add soy sauce, sesame oil and hot sauce. Cook, stirring constantly, for another 3-4 minutes. Add the scrambled eggs back in and cook for another minute. Remove from heat and serve immediately.
Nutrition Information
Calories:
250
Fat:
13g
Carbohydrates:
24g
Sugar:
10g
Sodium:
573g
Protein:
11g
Source: Adapted from Full Belly Sisters
Don't miss a thing – sign up to receive new recipes by email, or follow me on Facebook, Instagram, and Pinterest.