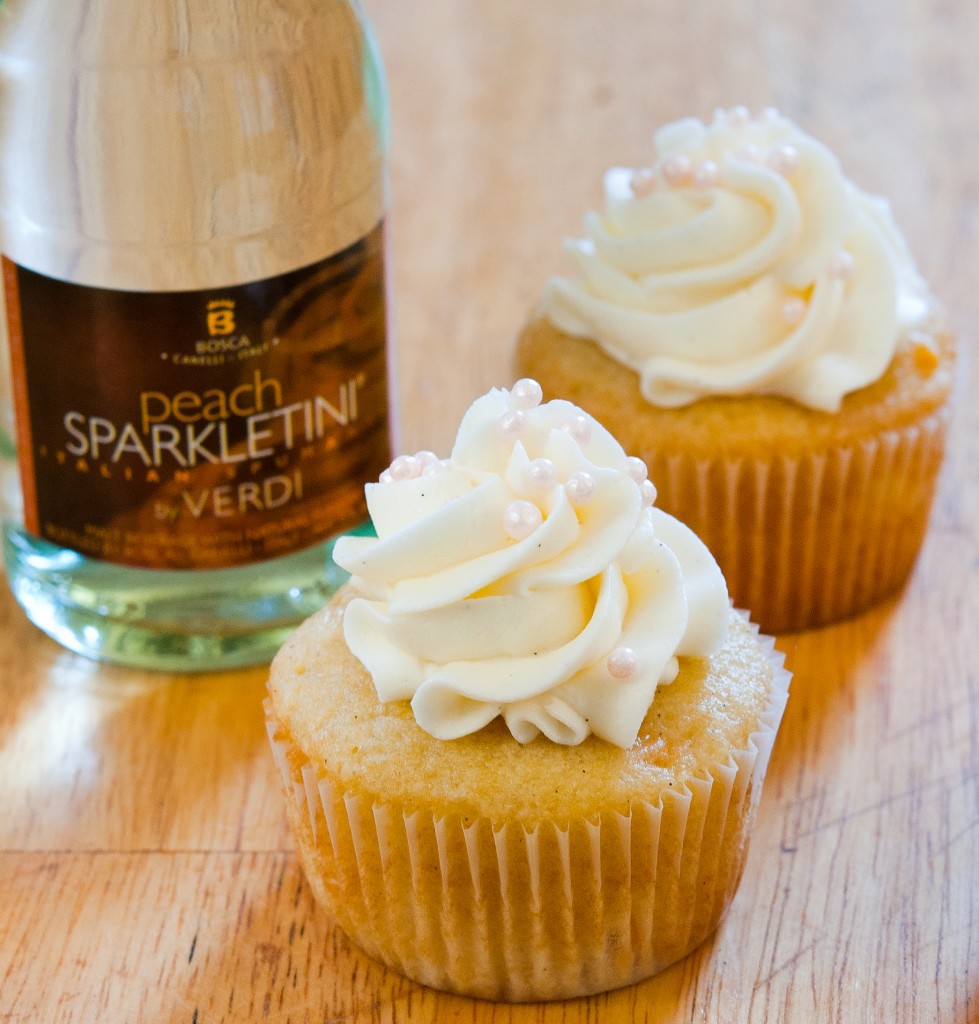 I made these pretty cupcakes for my friend Emily's bridal shower last weekend. I was really excited to write up the post where I talked all about our friendship, intermingled with pictures of all the good times we've had over the years.
Minor hitch – this friendship appears to be entirely undocumented on film, digital or otherwise. How, in this age of Facebook and Instagram and Twitter and camera phones, is this even possible? And it's not like we just met – we've been friends for seven years now! I dug through everything on my computer, incredulous that I could not find a single picture of us doing something awesome together (although I did find over 1300 emails from her). And then I realized that the reason I couldn't find pictures of us doing something awesome together is the same reason I couldn't think of a noteworthy "Emily story" at her bachelorette party last Saturday night – because we don't do anything awesome. Generally, when we get together, we drink wine (or margaritas), eat way more than we should, catch up on our lives, and act like goofballs until we run out of steam (usually by 9:30). And it's great. Maybe not so photoworthy, and certainly doesn't make for good bachelorette party stories, but great just the same. I like to think that we're too busy having fun to take pictures, which would definitely explain why I could find exactly five pictures of us together (three were taken last Saturday at the bridal shower and bachelorette party, so only TWO in seven years of friendship). And the two that pre-existed last weekend are just ridiculous. Here's one: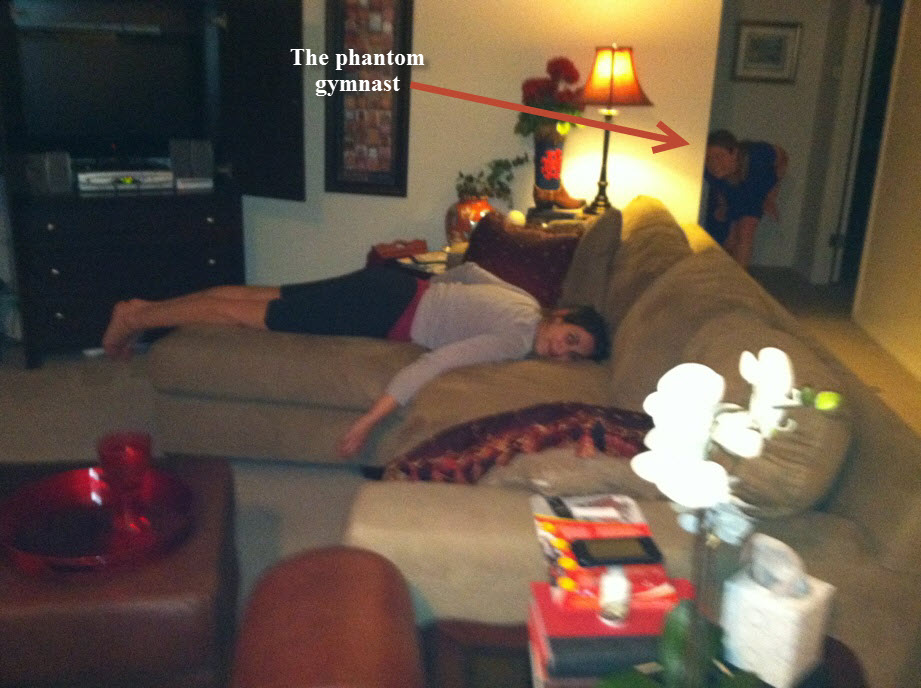 So let me explain that one. We were at our friend Wendy's apartment, and she had just gone on a blind date (to a wedding, ugh, seriously, think of your worst blind date and then pick it up and move it to a wedding) and the date in question had a bit too much to drink. Wendy brought him back to her place (JUST TO CHANGE SHOES. Don't get any ideas) before they headed out for a nightcap. He took one look at her sofa with the chaise lounge section, enthusiastically proclaimed, "I LOVE CHAISE LOUNGES!" and did a gigantic, theatrical belly flop onto the couch. And then immediately passed out. Wendy, being a good citizen, documented this before rousing the gentleman and putting him in a taxi. Obviously, we had to reenact this the next time we got together. The picture above is Emily photobombing my reenactment. After several more takes, our job was done. See?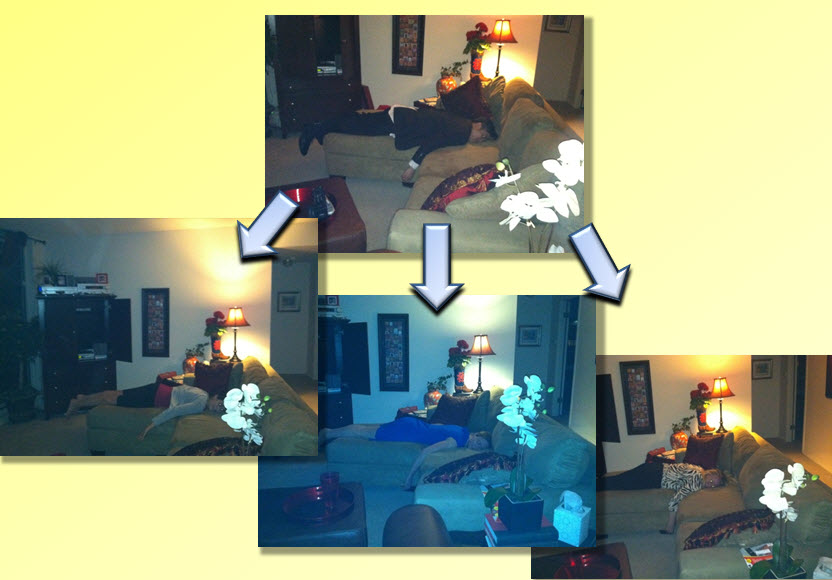 The only other picture I could find is equally ridiculous, although you can't really tell just by looking at it.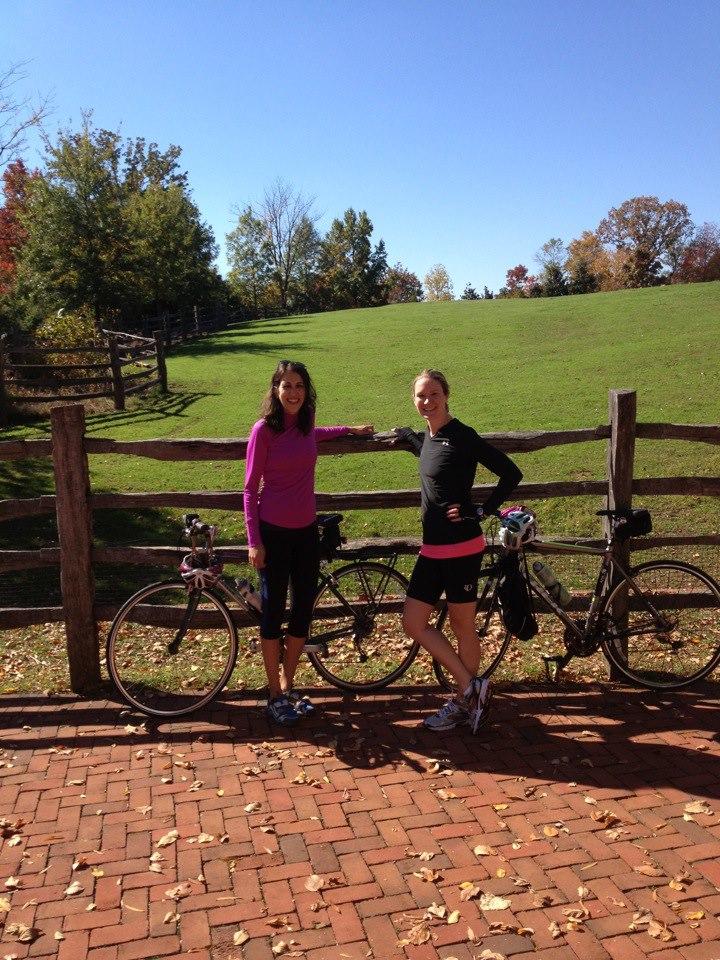 That picture just looks like two gals out on a Saturday bike ride, right? As 'murrican as apple pie. What you can't tell from the picture is that we have just committed the egregious offense of bringing our rogue bicycles onto hallowed ground – George Washington's Mt. Vernon estate. I don't know if GW just hated things with two wheels or what, but you'd have thought we'd been caught with black tar heroin. However, U.S. Park Service employees are insanely nice, so as we were being removed from the property, we got one to agree to take a picture of us breaking this sacred Constitutional rule (what amendment is that again?).
So, two pictures over seven years, and both very silly, but the lack of photographic evidence does no justice to the depth of this friendship. Emily is an everyday friend – an all the time, over the years, everyday friend – and that's the best kind. When we worked together years ago we'd entertain each other on boring days with walks outside or happy hours on the downstairs patio. We've cried over the low points – breakups and layoffs – and laughed ourselves into happier tears over the (fortunately) much-more-frequent high points. She even took a critical look at my blog before I first published it – I handed it off to her because I knew she would give me substantive and honest feedback. And now, she's about to get married, and I got the high honor of making cupcakes for her bridal shower. I only did it in the hopes I might get another thank you note like this one: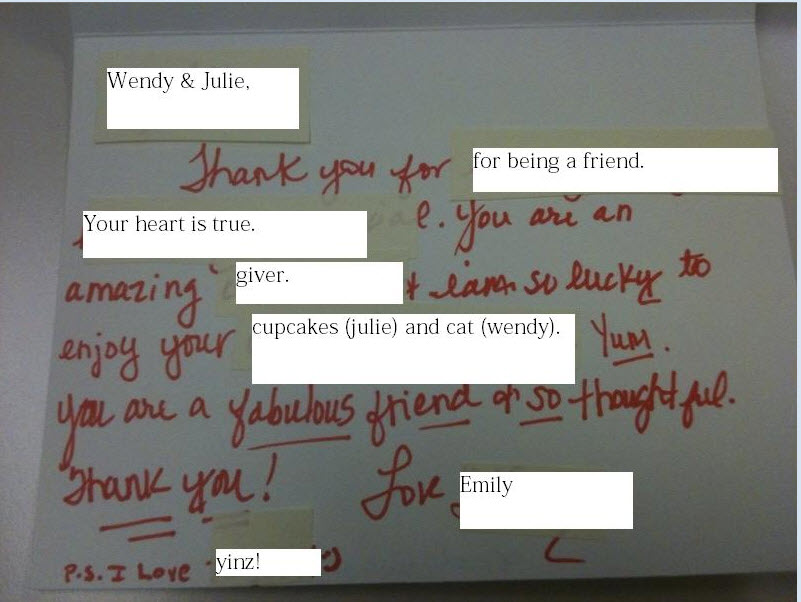 Emily and her future husband Nate are a great match – they have so much in common, chiefly that they both love Emily (calm down, I have Emily's permission for that one). Seriously, though – they have an absolutely perfect balance of love, respect, independence and devotion. It's a relationship that absolutely should be celebrated, and I'm so glad I got to help them celebrate it. I made two batches of cupcakes for her shower – lavender for the wedding color, purple, and these peach cupcakes with champagne frosting, a.k.a. bellini cupcakes in honor of the brunch shower. I really, really loved these – the fluffy cupcake with the burst of diced peaches, topped with the slight tang of the champagne frosting. I've tried a few champagne frostings in the past and this was the first where I could actually taste the champagne – cooking it down first really allowed the flavor to stand out, even in a traditional American buttercream. I could definitely see these becoming a staple at brunch parties or bridal showers.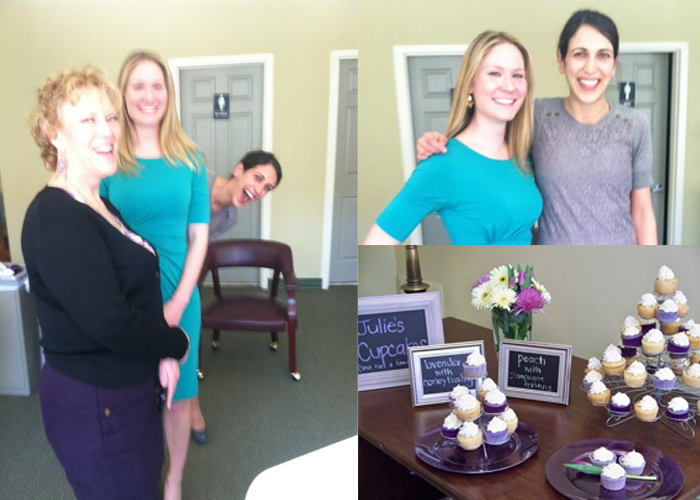 Oh, was I supposed to include a recipe or something? Right. Here is the recipe for these luscious peach cupcakes. And one more congratulations to my under-documented but longtime friend Emily, who deserves every bit of happiness that she'll find throughout her life with Nate.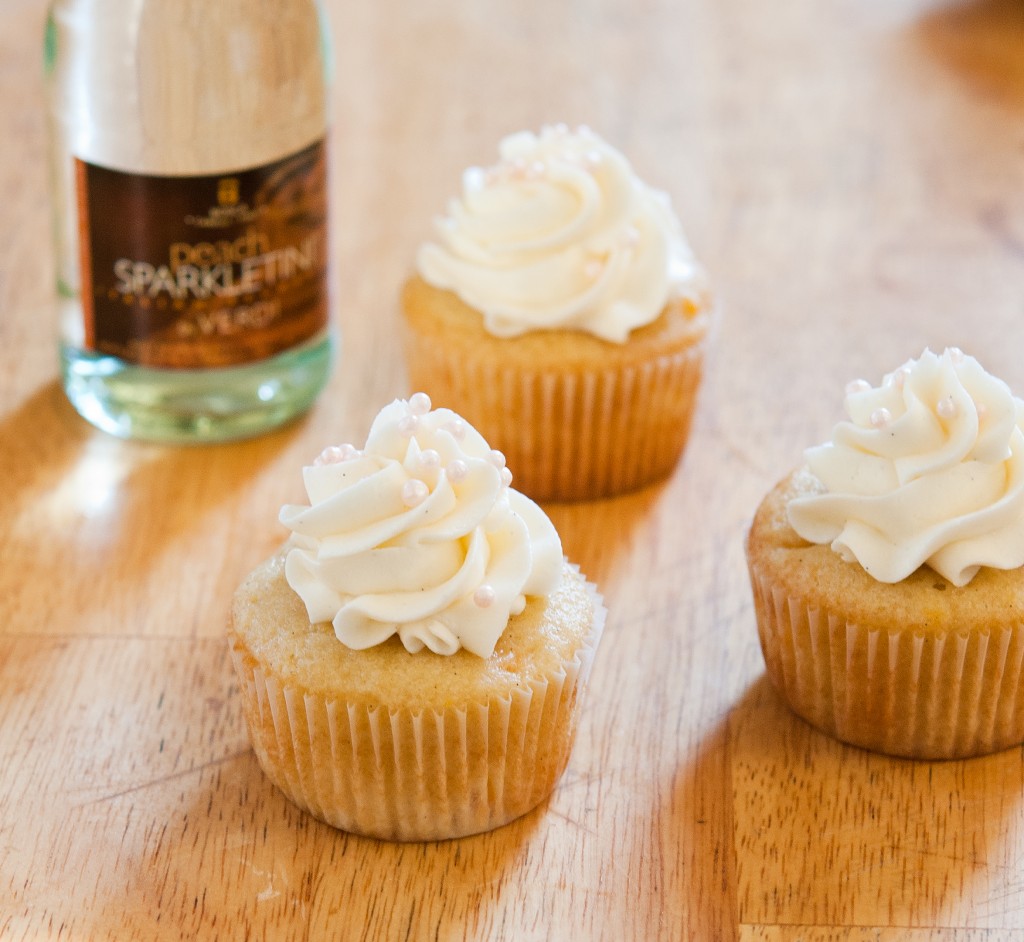 Peach Bellini Cupcakes
Ingredients
Cupcakes:
2½ cups all-purpose flour
1½ teaspoons baking powder
½ teaspoon baking soda
½ teaspoon salt
3 eggs
1¾ cups granulated sugar
1 cup vegetable or canola oil
1 teaspoon vanilla extract
¾ cup sour cream
1½ cups diced jarred peaches in juice, drained
Frosting:
1½ cups prosecco or other sparkling wine
3 sticks unsalted butter, at room temperature
4 cups confectioners sugar
1 tsp vanilla
Instructions
Make the Cupcakes:
Preheat oven to 350 F. Line two muffin tins with paper liners and set aside.
In a medium bowl, mix the flour, baking powder, baking soda and salt. Set aside.
In another bowl (with an electric mixer) or the bowl of a stand mixer, combine the eggs and sugar and beat on medium speed for about two minutes. Add the oil and vanilla and beat to combine. Add peaches and sour cream and beat for about one minute. Add flour mixture and beat on low until just combined.
Fill the cupcake liners about ⅔ full. Bake for 20-22 minutes, until a toothpick inserted in the center comes out clean. Cool for five minutes in pans, then remove to racks to cool completely.
Make the Frosting:
Pour prosecco into a small saucepan. Over medium heat, cook until reduced to about ¼ cup. Set aside to cool.
In a medium bowl or the bowl of a stand mixer, beat butter on medium speed until fluffy, about two minutes. Gradually add powdered sugar, a few tablespoons at a time.
On low speed, drizzle in vanilla and reduced prosecco. Increase speed to medium and beat until fully incorporated. Add more powdered sugar if frosting is too soft.
Source: Cupcake recipe from Indulge