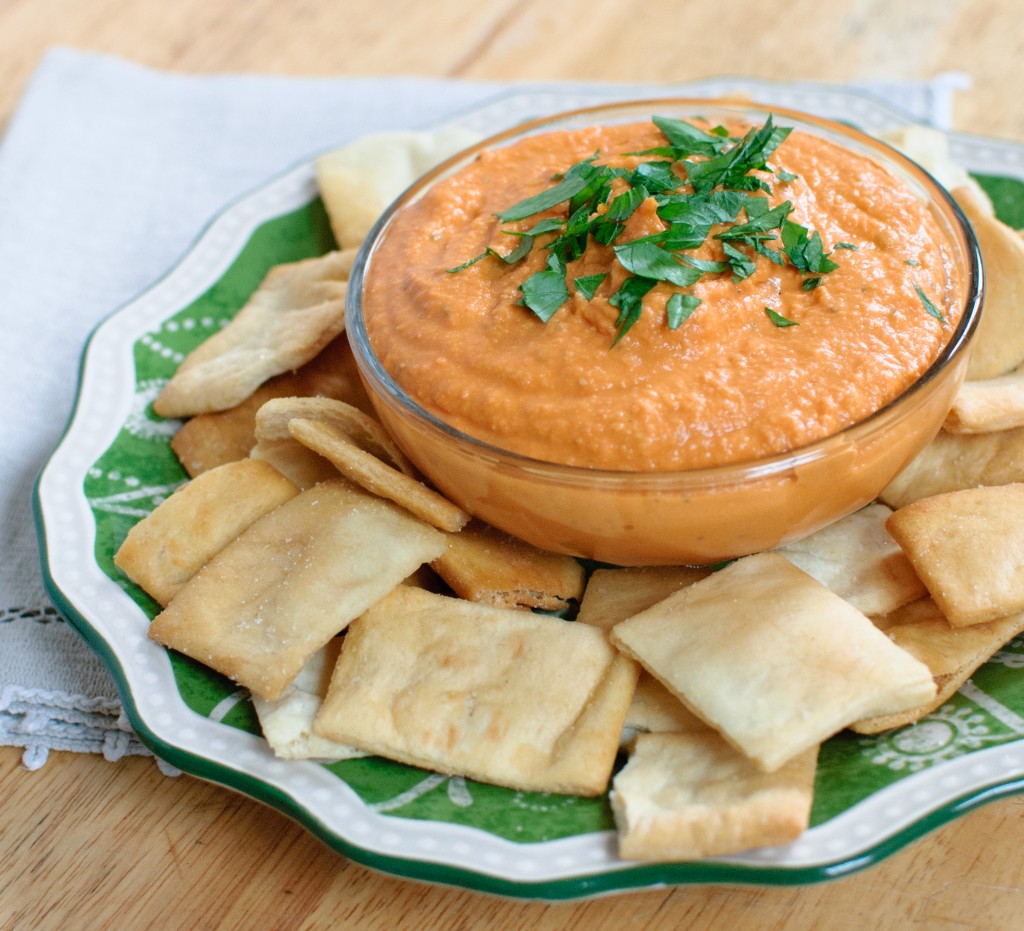 Hummus is one of those things that's so readily available on grocery shelves that we rarely think to make it ourselves (by "we," in this case, I am talking about "me"). Even though I grew up with homemade hummus, even though I am half-Lebanese and therefore pretty sure that I have some variation of hummus coursing through my veins, I am frequently guilty of picking it up at Trader Joe's instead of, you know, exerting myself for the five whole minutes it takes to make it from scratch.
I'm very delicate, you know (delicate = lazy).
There is really no excuse for not making it from scratch, though. It's so easy, the ingredients are affordable, and it just tastes better. You (okay, I) can't even use the 100+ degree temps as an excuse, because it's not like it has to be cooked. It's actually pretty much the only thing you can make in weather like this.
Another bonus of homemade hummus is the unlimited variations – this red pepper one is far and away my favorite. Yes, red pepper hummus is a very common pre-made breed, but I always find that it tastes more like red pepper dip than it does actual hummus, usually because it has little or no tahini. And hummus is not hummus without tahini (unless it's dessert hummus).
I'm on a roll today – now you know that I am an extremely lazy hummus snob. I guess I should quit while I'm ahead. And while there's still hummus left to eat!
Roasted Red Pepper Hummus
Roasted red pepper hummus makes a perfect hot weather dip or sandwich spread.
Ingredients
1 14 oz can chickpeas, rinsed and drained
3 garlic cloves, peeled and minced
¾ cup roasted red pepper (this is about 6 ounces if you're pulling from a jar)
2 Tbsp tahini
Juice of ½ large lemon
1 tsp dried basil
½ tsp smoked or regular paprika
½ tsp cumin
¼ tsp cayenne pepper
½ tsp salt
¼ tsp black pepper
Instructions
In the bowl of the food processor, combine all ingredients.
Place bowl on base and pulse mixture until completely smooth, about two minutes of long pulses.
Remove to a bowl. Cover and refrigerate for at least 30 minutes.
Serve with pita, chips, or veggies, or use as a sandwich spread.
Notes
If you don't love the raw garlic flavor, sweat it for about two minutes in 1 Tbsp olive oil over medium-low heat, just until fragrant.