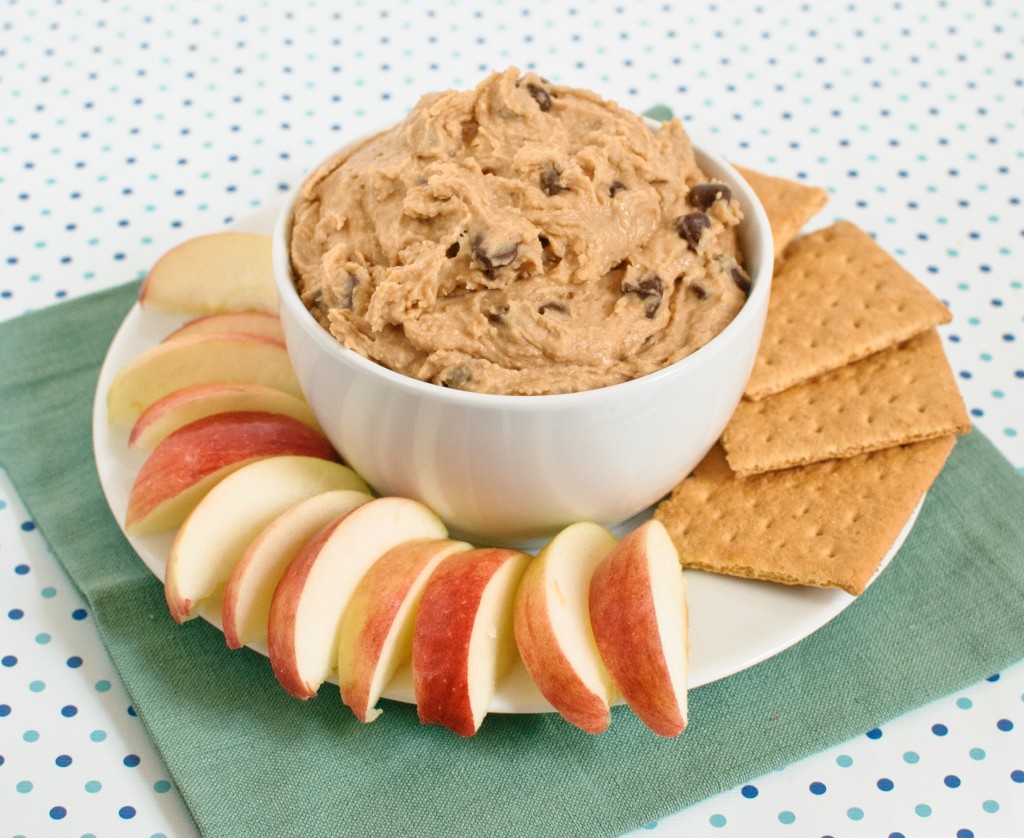 Dessert hummus? What on earth is dessert hummus?
I didn't know either, and being Lebanese, I know hummus in all its variations (or so I thought). White bean. Roasted garlic. Red pepper. Chipotle. Edamame. Cilantro. I could go on and on. But never in my 31 (ugh) years had I heard of dessert hummus. So when I came across the recipe, I was obviously intrigued – and a little nervous. Would I end up with an inedible pile of goo and then be out of beans the next time I wanted stew? Would I be shaming my ancestors by calling this hummus?
Answer: no. This is good. Really good, as a matter of fact. And it's packed with all the fiber and healthy fats that come with beans and peanut butter, so you can totally justify having it several times a day, on apple slices, on graham crackers, on a spoon. Full disclosure: you're not going to fool anyone into thinking this is actual cookie dough. It tastes delicious, but you can pick up a slight "beany" taste – it's not overpowering and not at all unpleasant, but it's there. Cannellini beans are quite mild and I really like their flavor – you can always jack up the amounts of peanut butter and maple syrup if you really want to drown it out.
On top of being my new favorite yummy, easy, healthy dessert, this is a great midday pick-me-up snack – I had some before my 25-mile bike ride home from work the other day and I really felt like it gave me the fuel I needed to push through it. I also think it would make a great healthy but palatable snack for kids. And as one more added bonus, now I really think I can say I've seen it all when it comes to hummus.
Peanut Butter Cookie Dough Dessert Hummus
Ingredients
1 (15 ounce) can white kidney (cannellini) beans, drained and thoroughly rinsed
¼ cup smooth natural peanut butter
⅓ cup pure maple syrup
2 teaspoons vanilla extract
⅓ cup semisweet chocolate chips
Instructions
Combine the beans, peanut butter, maple syrup and vanilla in the bowl of a food processor.
Process until smooth - try to make sure the beans are fully pureed. This took me about two full minutes.
Transfer to a bowl and fold in chocolate chips. Serve with apple slices, graham crackers, and/or carrots.
Source
: Adapted from
The Wannabe Chef