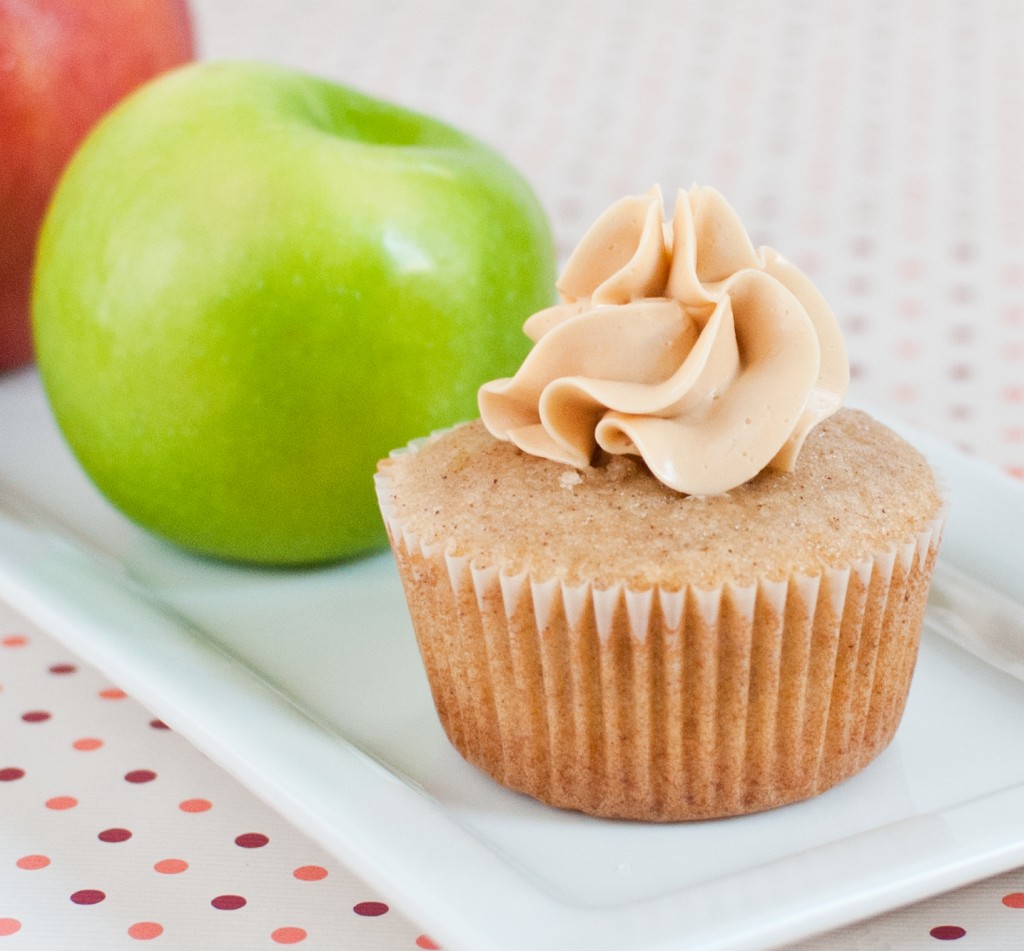 I made these because a coworker requested them for his birthday last week, and I was so happy that he did. I've been dying to make these and share them for a really long time now, and I'm super happy that I didn't have to wait for autumn and apple season. Warmly spiced cinnamon cupcakes with apple filling and caramel Swiss meringue buttercream? If anything should be year-round, it's these.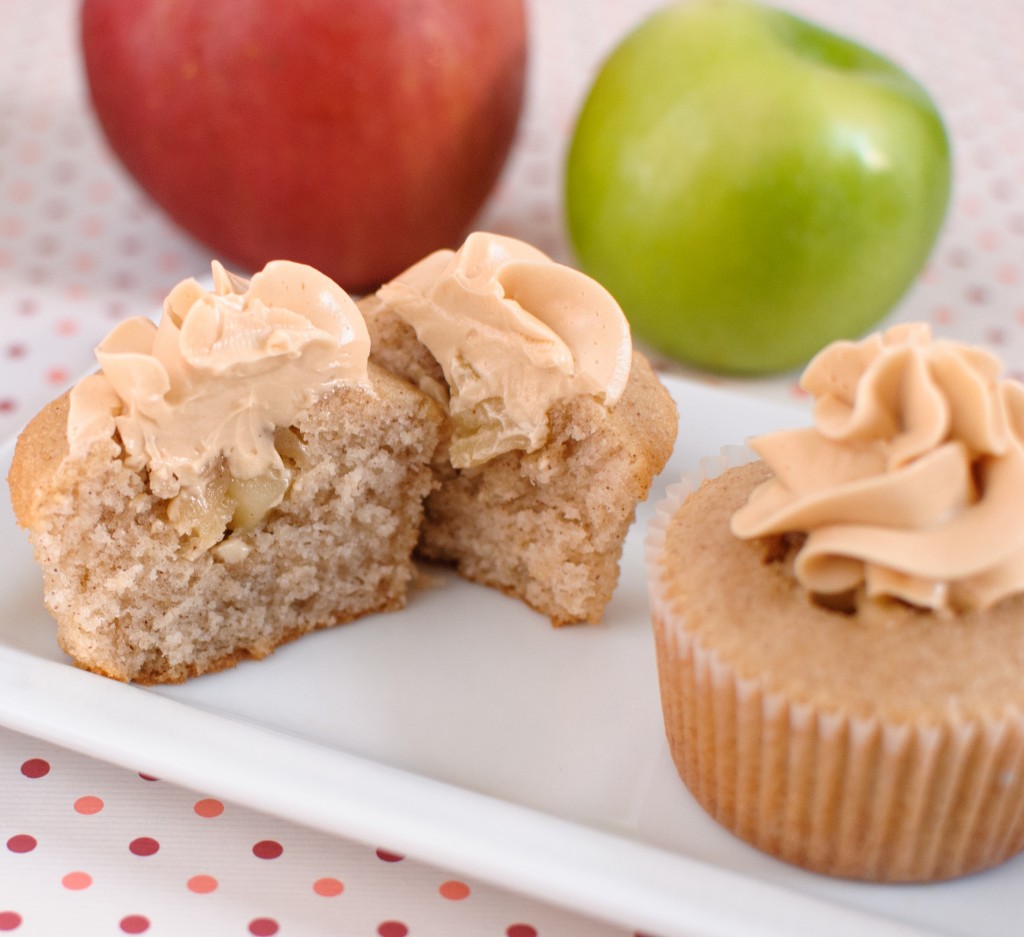 Admittedly, these are a bit labor intensive, but I promise they're worth it. Plus you can make the filling ahead of time, which eases the pain a bit – just don't eat all the filling before you get around to making the cupcakes.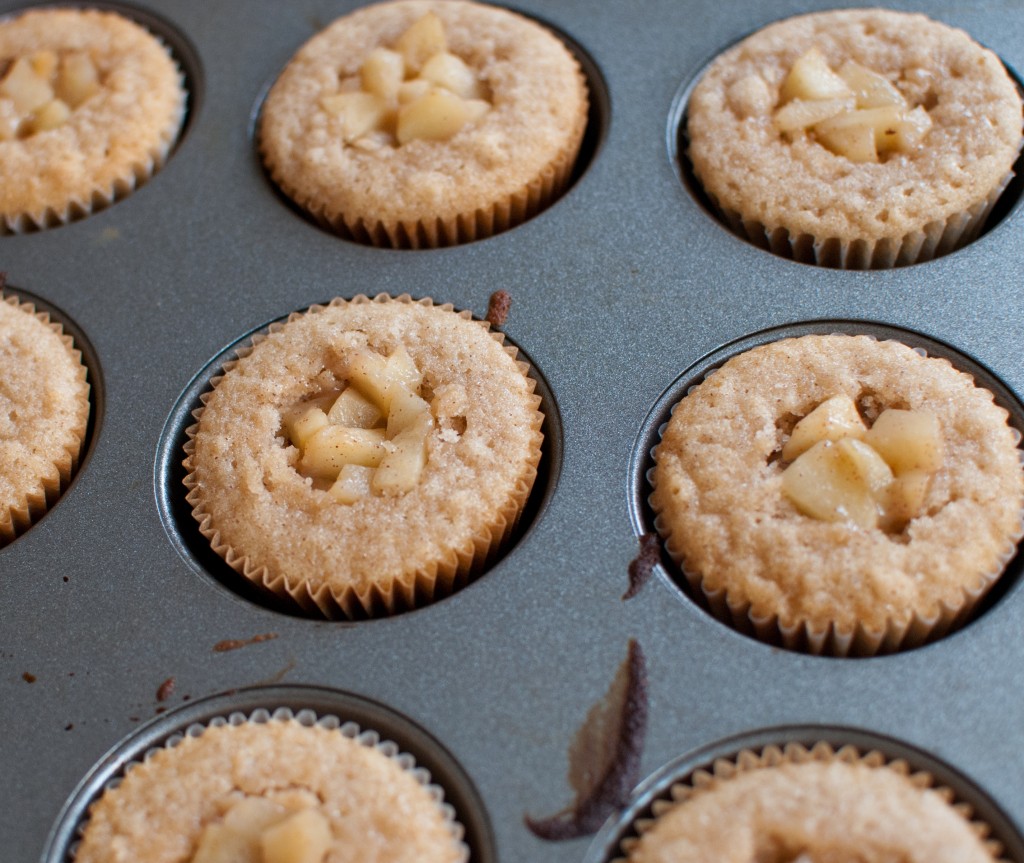 These are special enough to be "occasion" cupcakes – 4th of July? What's more American than apple pie? Thanksgiving? Why not switch up the classic apple pie with these? Even if it's not a holiday, I believe that anything can become a special occasion with cupcakes like these.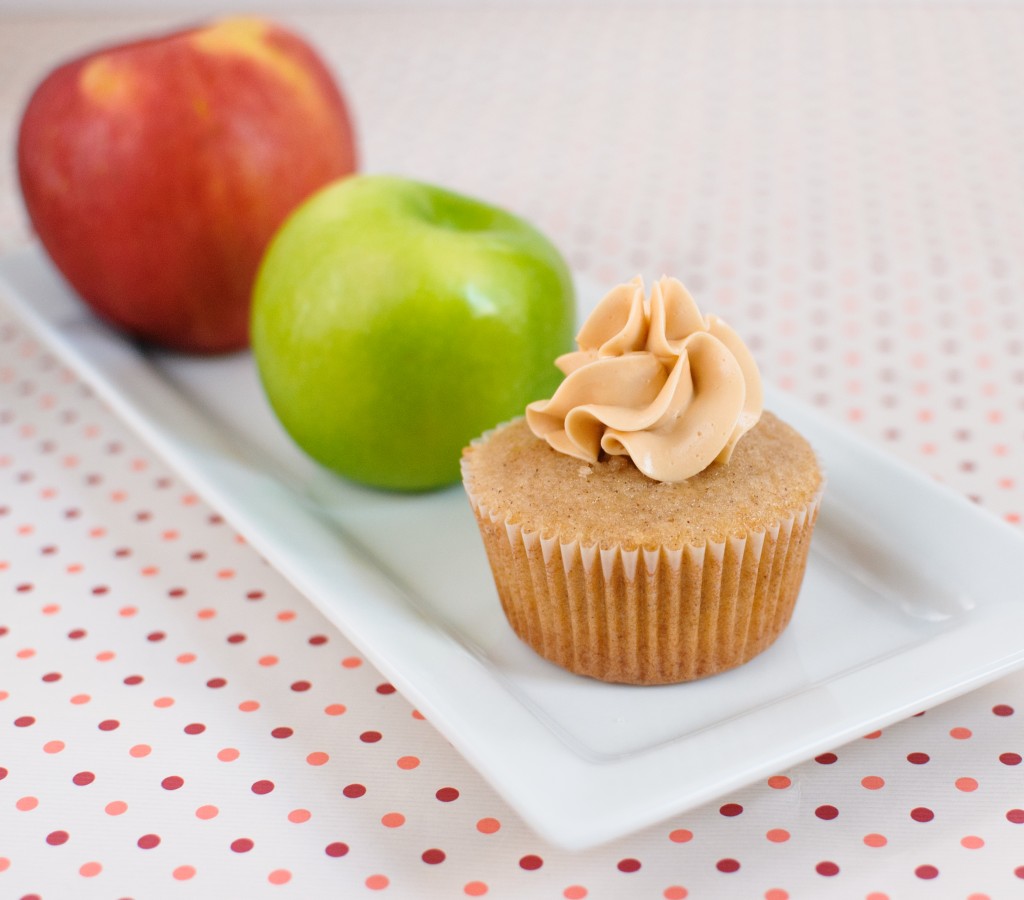 Apple Pie Cupcakes
Ingredients
For the Filling:
5-6 Granny Smith apples, peeled, cored, and diced small
3 Tbsp light brown sugar
2 Tbsp butter
1 tsp lemon juice
¼ tsp cinnamon
½ Tbsp cornstarch
1 Tbsp water

For the Cupcakes:
2½ cups (340g) all-purpose flour
1 tsp baking powder
½ tsp baking soda
½ tsp salt
2 tsp ground cinnamon
3 large eggs, room temperature
2 cups (410g) granulated sugar
1 cup vegetable or canola oil
1 cup buttermilk
1 tsp vanilla
For the Frosting:
4 egg whites
1¼ cup granulated sugar
3 sticks unsalted butter, cut into 2-Tbsp slices
½ cup caramel sauce (I use Trader Joe's Fleur de Sel caramel, but a regular grocery store should have canned dulce de leche, in the international section or with the sweetened condensed milk)
Instructions
Make the filling:
Combine butter, diced apples, sugar, lemon juice, and cinnamon in a medium saucepan. In a small bowl, combine cornstarch and water and set aside.
Cook apples over medium-low heat until softened and releasing their juices (about 6-8 minutes).
Stir in cornstarch/water mixture and turn off heat. Store until ready to use.
Make the cupcakes :
Preheat oven to 350 F. Line two cupcake pans with paper liners and set aside.
In a medium bowl, sift together flour, baking powder, baking soda, salt, and cinnamon.
In a mixing bowl or the bowl of a stand mixer, beat eggs and sugar together on medium speed until pale and thick.
Pour in oil, buttermilk, and vanilla and beat to combine, about one minute.
Add flour mixture and beat on medium-low for about two minutes. batter will be somewhat runny.
Divide batter evenly among liners, about ⅔ full. Bake for 18-20 minutes, until a toothpick inserted in the center comes out clean. Cool in pans for five minutes, then remove to racks to cool completely.
Make the Frosting:
Fill a medium saucepan with about 2 inches of water and bring to a simmer over medium heat. Whisk egg whites and sugar together in the bowl of a stand mixer. Rest the mixer bowl over the saucepan, whisking constantly until sugar is completely dissolved and the mixture is thick and glossy (note: to completely pasteurize the egg whites, they must be heated to 140 degrees).
Remove mixer bowl from heat and place on stand mixer. Using the whisk attachment, beat on high speed until bowl is cooled and the egg whites hold stiff peaks, about 8 minutes. Switch to the paddle attachment and add the cubes of butter, one at a time. Beat until fluffy and smooth, about 3-5 minutes, or longer if necessary. At some point during this process the mixture will turn into a curdled, soupy mess – don't panic! Continue beating, and it will come back together. Add the caramel sauce and beat until fully incorporated.
To assemble the cupcakes, use a paring knife to remove a small cone from the middle of each cupcake. Fill each cupcake cavity with 1-2 teaspoons of apple filling. Frost and serve.
Source: Cupcakes adapted from my Nutella cupcakes, filling recipe and frosting idea from Craving Chronicles