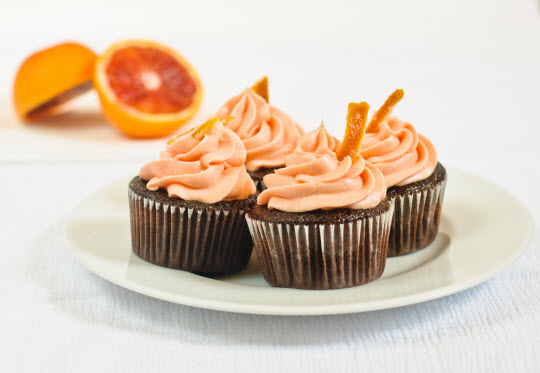 I promise this will be my last blood orange recipe (well…I take that back – there might be one more. Or maybe two). Citrus season in the non-citrus parts of the country seems to fly by, although that's probably all in my head since I feel the same way about brussels sprout season and artichoke season. I try to make the most of the few weeks where blood oranges are at the forefront of the grocery shelves, full of flavor and promising a fleeting but memorable experience. I also wanted to do something special with the last of my blood orange curd, and in my house, cupcakes = special.
Chocolate/orange is one of my all-time favorite flavor combinations. When I was younger, my uncle and grandmother would send a huge box of gifts down from upstate New York at Christmastime. I always looked forward to that box arriving, first and foremost because I was an extremely greedy child, but also because somewhere within the wrapped treats was always a Terry's Chocolate Orange for each of us. I loved cracking the round foil ball on the table before unwrapping it and watching it break into segments, almost as much as I loved the rich chocolaty burst followed by a hint of bright citrus. I haven't had a Terry's in years, but I still veer directly to chocolate when I'm trying to figure out what to pair with oranges.
I used my go-to chocolate cupcake recipe for this, which is just Hershey's Perfectly Chocolate Cake in cupcake form. This is my absolute favorite chocolate cupcake recipe  - it's rich, moist, delicious, and (most importantly) incredibly easy to make. Perking it up with a bit of blood orange zest adds a whole new element, and the tart blood orange cream cheese frosting puts it completely over the top. I loved these so much that I'm going to go scour the grocery stores for more blood oranges so I can squeeze these in a few more times before blood oranges go all unseasonal on me.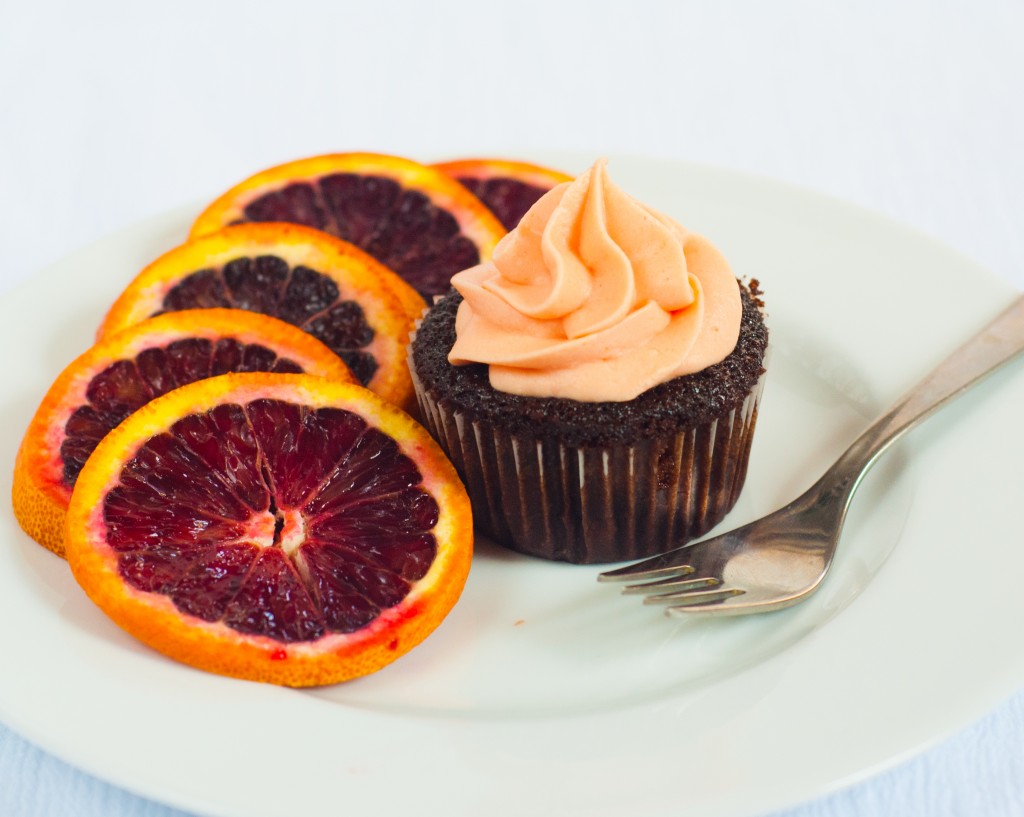 Chocolate Blood Orange Cupcakes
Ingredients
For the Cupcakes:
2 cups (430g) granulated sugar
1¾ cup (230g) all-purpose flour
¾ cup (56g) unsweetened cocoa powder
1½ tsp (7g) baking powder
1½ tsp (7g) baking soda
1 tsp (10g) kosher or fine sea salt
Zest from one blood orange
2 large eggs, at room temperature
1 cup (240mL) milk
½ cup (120mL) vegetable or canola oil
1 tsp (5mL) vanilla extract
1 cup (240mL) boiling water
For the Frosting:
4 oz (1/2 package) cream cheese
6 oz (1½ sticks) unsalted butter
½ cup blood orange curd
1 tsp (5mL) vanilla extract
4 cups (400g) powdered sugar
Instructions
Preheat oven to 350 F. Line two cupcake pans with paper liners and set aside.
In a large bowl or the bowl of a stand mixer, stir together flour, sugar, cocoa powder, baking soda, baking powder and salt. Stir in orange zest. Add eggs, milk, oil, and vanilla and beat on medium speed for about two minutes. Mix in boiling water and try not to panic at how thin the batter is.
Divide batter evenly between prepared muffin tins, filling cups ⅔ to ¾ full. Bake 20-23 minutes, until a toothpick inserted in the center comes out clean. Cool in pans for five minutes, then remove to racks to cool completely.
To make the frosting, beat cream cheese on medium speed until light and fluffy, about two minutes. Add butter and continue beating until well-combined and fluffy, about two minutes. Beat in blood orange curd and vanilla until combined. Slowly add powdered sugar, several tablespoons at a time, beating each addition until well-combined and scraping down the sides of the bowl as necessary. Frost the cupcakes and try to convince yourself to give at least a few away.
Source: Cake adapted from Hershey's Perfectly Chocolate Cake