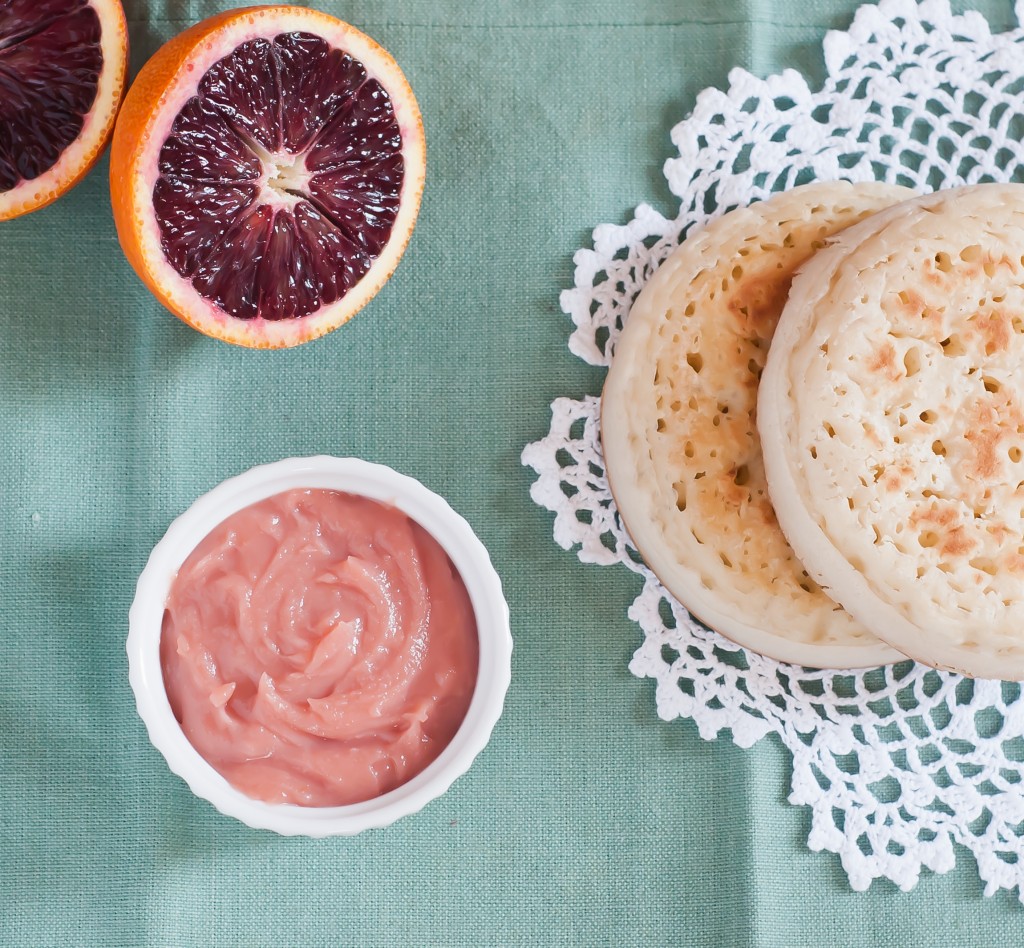 Last week, I impulse bought a 3-pound bag of blood oranges during a 6 AM trip to the grocery store. Clearly, I was not entirely awake, or I would've remembered the identical 3-pound bags of blood oranges I bought over the previous two winters that sat unused in my produce drawer until, shriveled and dried up, I finally had to throw them away.
When I came to my senses (thank you, caffeine), I remembered those squandered oranges and made a solemn and dramatic vow to myself that not only would I not allow this batch to go to waste, but I would use every single bit of them – pith, peel, juice – in glorious ways (okay, I threw out the seeds). I quickly got to work peeling and juicing (lesson learned: convert your kitchen into something similar to Dexter's kill room, or risk staining everything within five feet). Then, as I proudly gazed down at my pile of zest and peels and cups of beautiful scarlet juice, I realized that I'd given exactly zero thought to what I was actually going to do with all of it. Drink it straight? Yes, I did have a cup. But after my declaration of grand destiny for this bag o' blood oranges, simply chugging the juice seemed like a bit of a letdown.
I'd never made my own curd before – the fact that my Trader Joe's sells lemon curd at a very reasonable price, combined with the very real potential of homemade curd ending up as sweetened scrambled eggs (ew), has always held me back. But how could I resist blood orange curd? I certainly couldn't buy it at Trader Joe's, and the odds of ending up with a wealth of perfectly sweet, tart, pale pink loveliness handily trumped the risk of sugary scrambled eggs.
I'm so glad I made this – it's incredibly simple, tastes amazing, and I've already thought of about 354657 ways to use it, including:
donut filling
blood orange tarts
Swiss meringue buttercream
eaten alone with a spoon
In fact, I loved it so much that I made a second batch. And then I had to go out and buy another bag of blood oranges. Don't fear for their future, though – I think it's safe to say that you'll never see blood oranges go to waste in my home again.

Bright, zesty blood orange curd is a perfect spread for scones or crumpets, or as a filling for cupcakes or doughnuts.
Ingredients
½ cup blood orange juice
1 Tbsp blood orange zest
½ cup granulated sugar
2 whole eggs
2 egg yolks
1 stick (1/2 cup) unsalted butter, sliced into 8 pieces
Instructions
Combine juice, zest, sugar, eggs, and egg yolks in a medium bowl and whisk to combine. Set bowl over a saucepan of simmering water. Add butter and cook, whisking constantly, until thickened. The biggest potential for disaster here is in allowing the eggs to overcook - if you have a thermometer, cook until heated to about 160 F. If you don't, that's okay - just cook for about five minutes. The curd should feel very hot to the touch.
Remove from the heat and strain through a mesh sieve to remove any bits of cooked egg. Cover surface of curd with a piece of plastic wrap (this prevents a skin from forming on the top) and allow to cool to room temperature. The curd will thicken slightly as it cools. Serve immediately or refrigerate for up to a week.