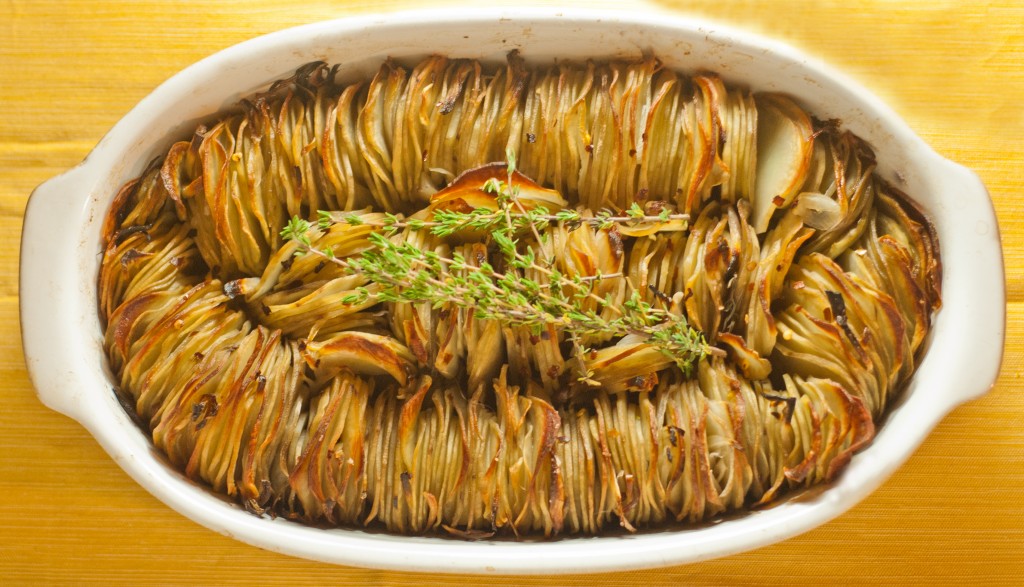 Martha, Martha, Martha.
I tend to shy away from anything Martha Stewart. I steer clear of her products after being given a serviceable-looking dutch oven that I had to return after it was recalled due to a minor flaw (it exploded in people's ovens, no biggie). And I've always backed slowly away from her recipes because, early on in my baking days, I attempted an uncomplicated-seeming vanilla cake recipe no less than four times, with every attempt ending in spectacular failure. Rather than blame my own fledgling kitchen skills, I of course blamed Martha. Clearly, she was trying to sabotage me – I felt entirely certain that I had uncovered a diabolical plot wherein Martha would create the perfect recipe, and then tweak the proportions just enough so that nobody would ever be able to successfully recreate the dish. It would be genius, really – with the wannabe chef now drowning in a sea of her own woeful inadequacy, where to turn but back to Martha? Who better to lift you back up than the one who dragged you down? I told myself after that first cupcake calamity that I wouldn't fall for it, and the subsequent Martha Moratorium lived on for several years. During that time I actually learned to cook and bake, and realized that I probably should stop blaming Martha for my early on kitchen fiascos.
It was right around this time that I stumbled across this recipe, and it was a perfect storm: I had made peace with Martha, I had gotten a mandoline for Christmas, and I had a five-pound bag of organic russet potatoes that were starting to show serious signs of wear from sitting in my vegetable basket for the better part of two weeks. In addition, when I googled to reassure myself that someone other than Martha had successfully cooked and eaten this, I found that someone had – and when Deb says something is easy and good, I believe her.
I'm not going to tell you this isn't time-consuming. It is, a little bit, even with a mandoline. If you don't have one, I honestly don't know if it's worth it – it's a lot of slicing, and these potatoes really need to be wafer-thin. But if you've got one and you're not utterly terrified of it (I have a Kevlar glove for mine – seriously), this is a great way to get some use out of it. This dish has the benefit of not only tasting good, but looking good – really good. The potatoes are browned and crispy, almost potato chippy, on top, and perfectly cooked through on the bottom. I made it on a lazy Saturday afternoon to serve alongside pistachio crusted tofu, and it kind of stole the show because it's so ridiculously pretty. To be 100% honest, that's really the main reason I made it – the fact that it tastes so good is just icing on the cake. More icing on the cake? The leftovers make unbelievable home fries the morning after.
A beautiful and unique way to serve potatoes – great for holidays, or to make a regular day feel like one.
Ingredients
3 Tbsp olive oil
3 Tbsp butter, melted
3 lbs russet or Yukon Gold potatoes
4 shallots, thinly sliced lengthwise
Sea salt
½ tsp red pepper flakes
Several whole sprigs of thyme
Instructions
Preheat oven to 375 F. Combine butter and olive oil in a small bowl. Brush the bottom of a baking dish with about half of the mixture. Sprinkle with sea salt and red pepper flakes.
Peel the potatoes. Using a mandoline slicer (or a sharp knife, tons of patience, and a bunch of elbow grease), slice the potatoes very thinly crosswise. Arrange vertically in the baking dish. Wedge the shallot slices between potatoes throughout the dish. Brush with the rest of the oil and butter mixture and season with more salt.
Bake for 1¼ hours (yeah, I know – put on a movie as soon as you put these in the oven). Lay the thyme sprigs atop the potatoes and bake for another 35-45 minutes, until potatoes are crispy and browned on top (cover with foil for the last leg of this marathon baking time if you notice the top browning too much). Serve immediately.
Notes
You may need to play around a bit with dishes for this. The original recipe calls for four pounds of potatoes, but I found that I didn't have a baking dish big enough to fit all of them. Three pounds just fit into a 1.5 quart oval casserole dish).
Source: Martha Stewart