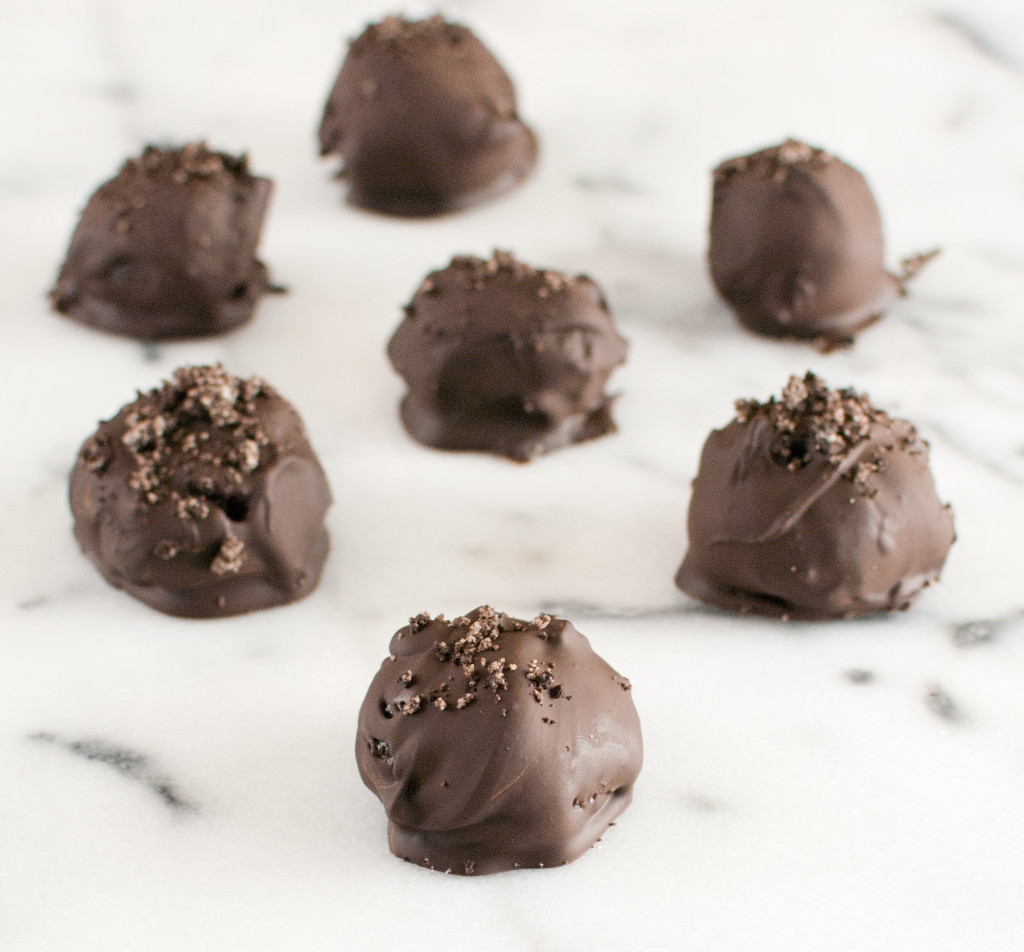 Not going to lie – I have been scrambling big time this year in terms of the holidays. I was out of town traveling for three out of four weeks, and the one week I was home was spent frantically trying to catch up on work before taking off again. Holiday prep has been last-minute and down to the wire, but I'm finally ready to throw down some eggnog and watch people tear up some wrapping paper.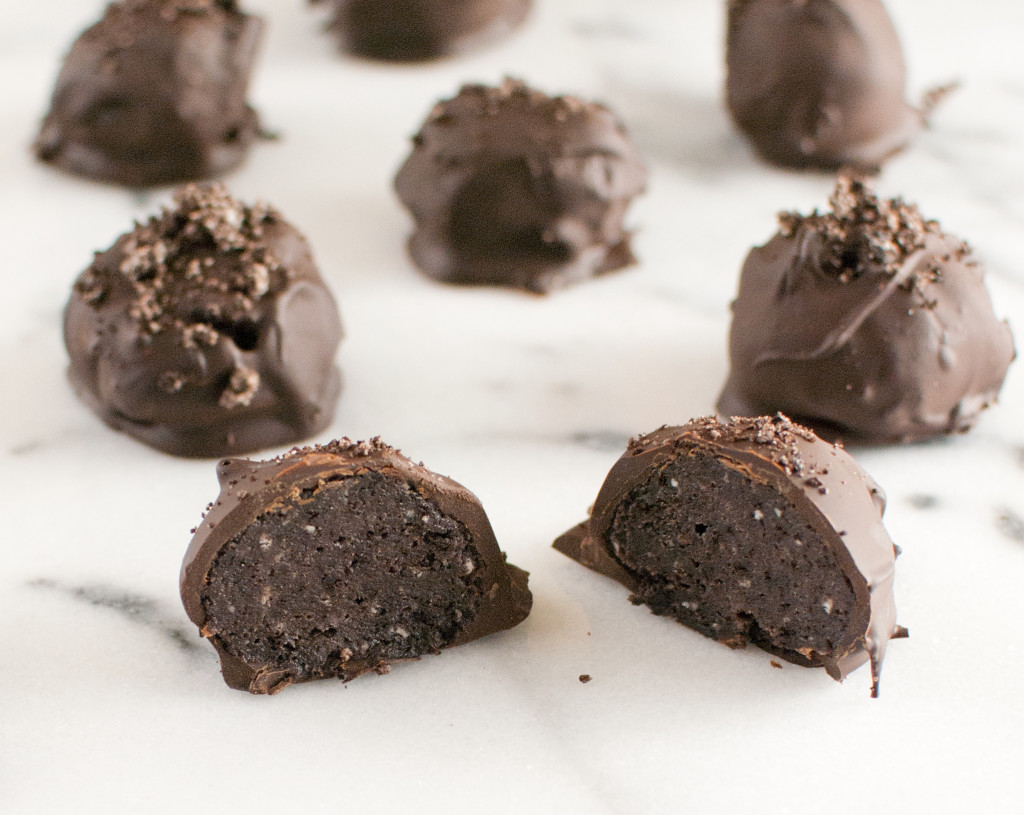 These truffles have saved the day for me countless times when I've needed quick, festive treats to hand out to friends or bring to get-togethers. It's a pretty standard recipe, but we swap out the cream cheese with vegan cream cheese and use rich dark chocolate to keep it vegan – man, the day we found out that Oreos were vegan and that Nor could still have them was a grand day indeed. I make these all the time now and just handed out a batch to a few happy work friends last night. If you're looking for a last-minute holiday handout, these balls will save your life.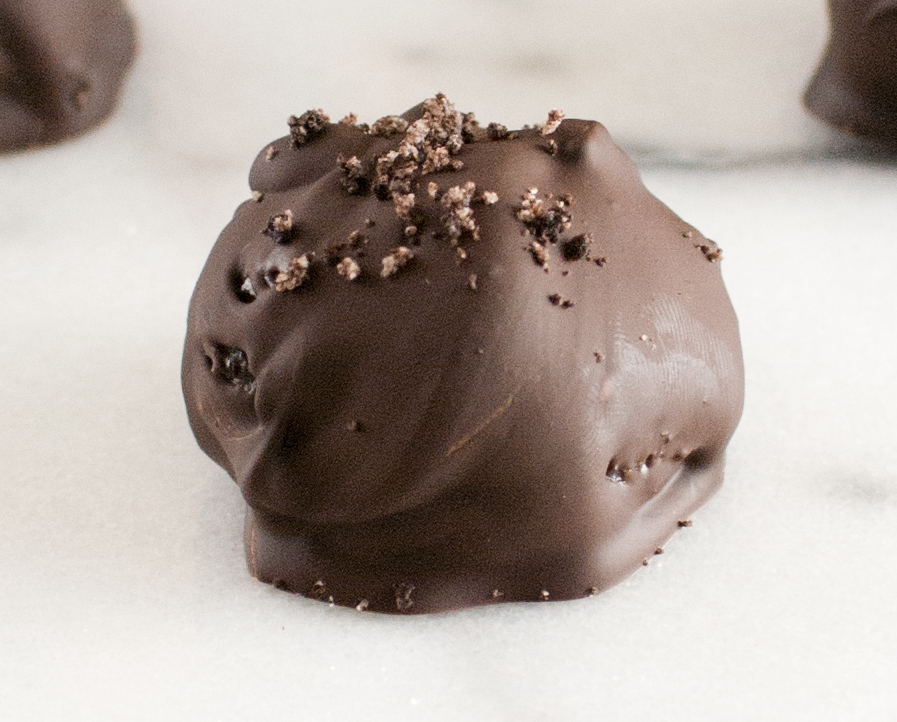 Easy Vegan Oreo Truffles
Classic Oreo truffles made vegan with non-dairy cream cheese.
Ingredients
1 package (36) Oreos
8 ounces vegan cream cheese, softened
16 ounces dark chocolate, chopped
Instructions
Place the Oreos in the bowl of a food processor. Pulse until finely ground (alternatively, you can place the cookies in two layers of Ziploc bags and use a rolling pin to smash them).
Reserve ¼ cup of the cookie crumbs. Place the rest in a large bowl and add the softened cream cheese. Mix thoroughly until cookies and cream cheese are combined.
Shape into 1-inch balls and place on a baking sheet covered with wax paper. Freeze for 20-30 minutes.
While the balls are chilling, place 12 ounces of the chopped dark chocolate in a double boiler or in a medium bowl set over a pan of simmering water. Stirring constantly, melt the chocolate until it reaches 115 degrees Fahrenheit. Remove from heat and add the remaining 4 ounces of chocolate and stir vigorously until completely incorporated and smooth. You just tempered chocolate!
Remove the balls from the freezer. Using the tines of a fork to balance the balls, dip each ball in the chocolate and roll to completely coat it. Remove from the chocolate and allow the excess to drip off. Set on the wax paper covered baking sheet and immediately sprinkle it with a few of the reserved cookie crumbs. Allow to set completely in the refrigerator.
Notes
If you don't want to temper your chocolate, just melt it all over the simmering water/in the double boiler, or microwave in 30 second bursts, stirring between each burst, until completely melted and smooth.
Source
: veganized from
Kraft Recipes