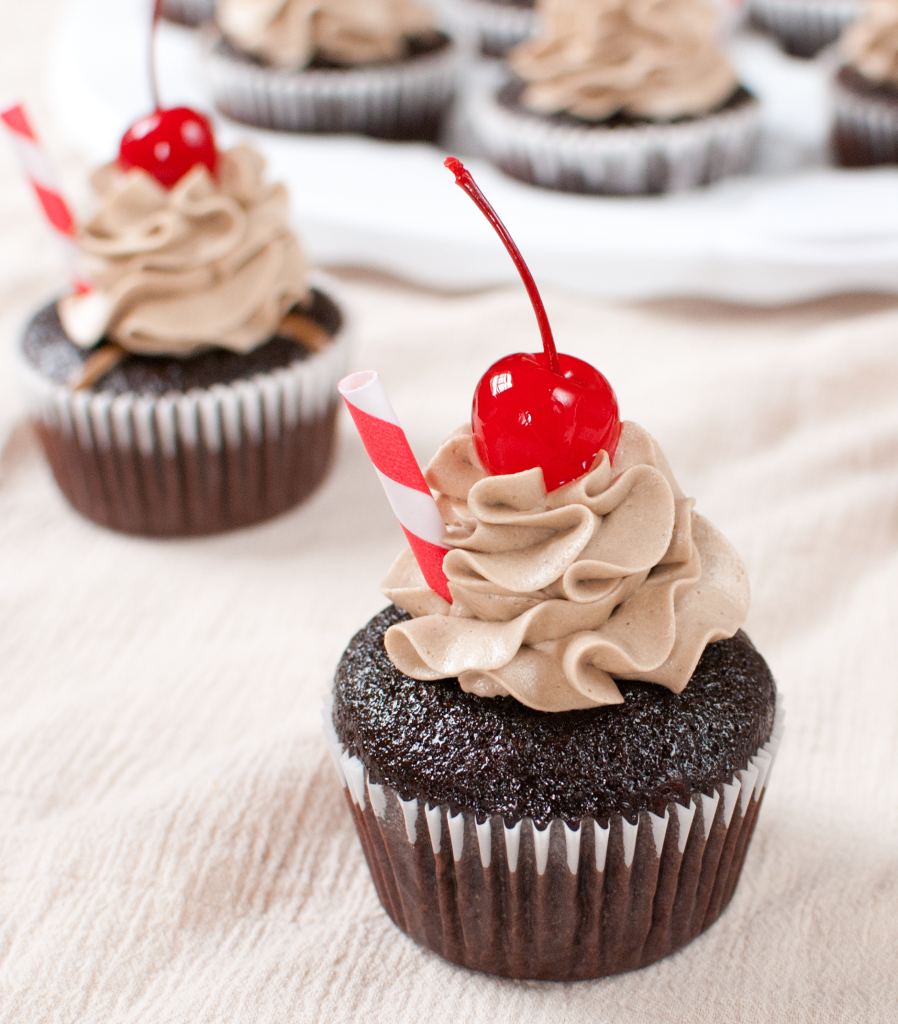 Are you sitting down? Grab the edge of something sturdy and steady yourself – because this post contains neither apples nor squash. I know, it's crazy. But I think we need a little break from the autumnal explosion, and probably some sugar, too. Fear not – we'll be back to our regularly scheduled fall programming in no time. I promise you won't be thinking about gourds once you try these cupcakes.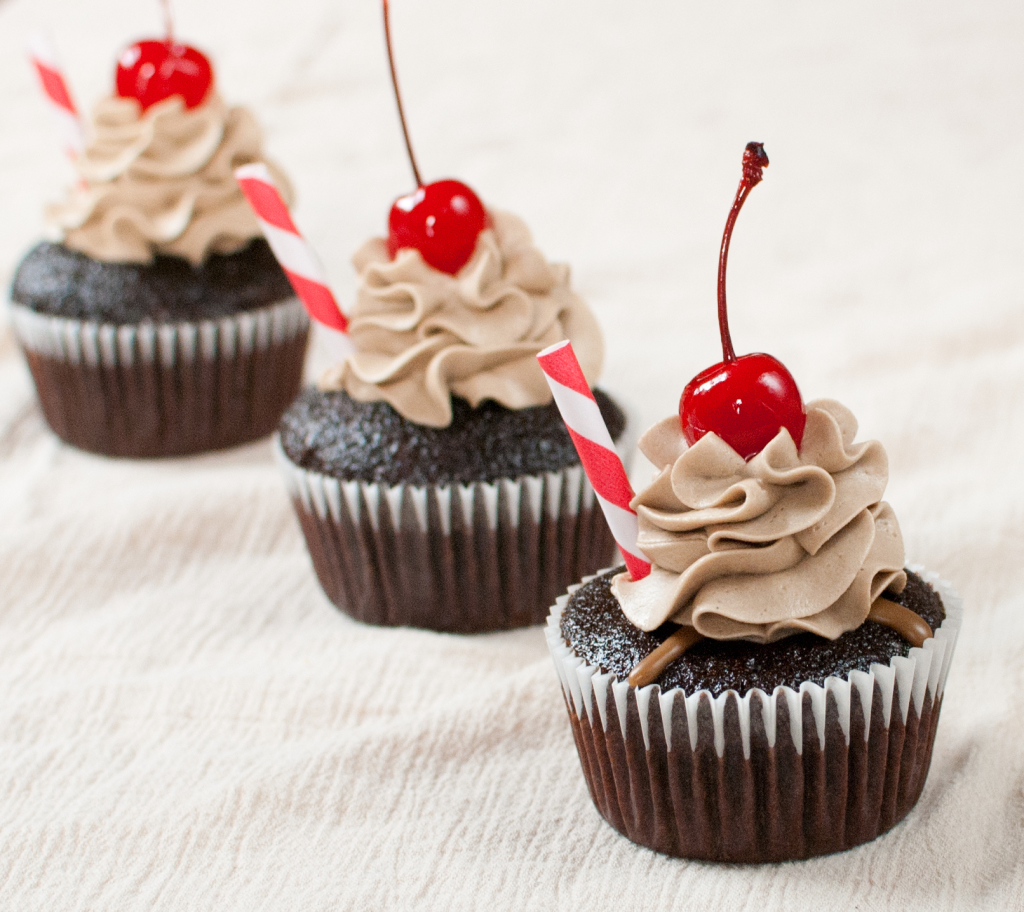 It's getting a little too chilly out for ice cream, but that doesn't mean we can't enjoy everything that's great about a root beer float – we'll just do it in cupcake form. These are the perfect handheld embodiment of a real root beer float, with chocolaty root beer cake, a sweet root beer filling/glaze, and vanilla-root beer flavored frosting. And, obviously, a cherry on top. These were a big hit with the friend I sent them home with and his family, and pretty popular in the office, too.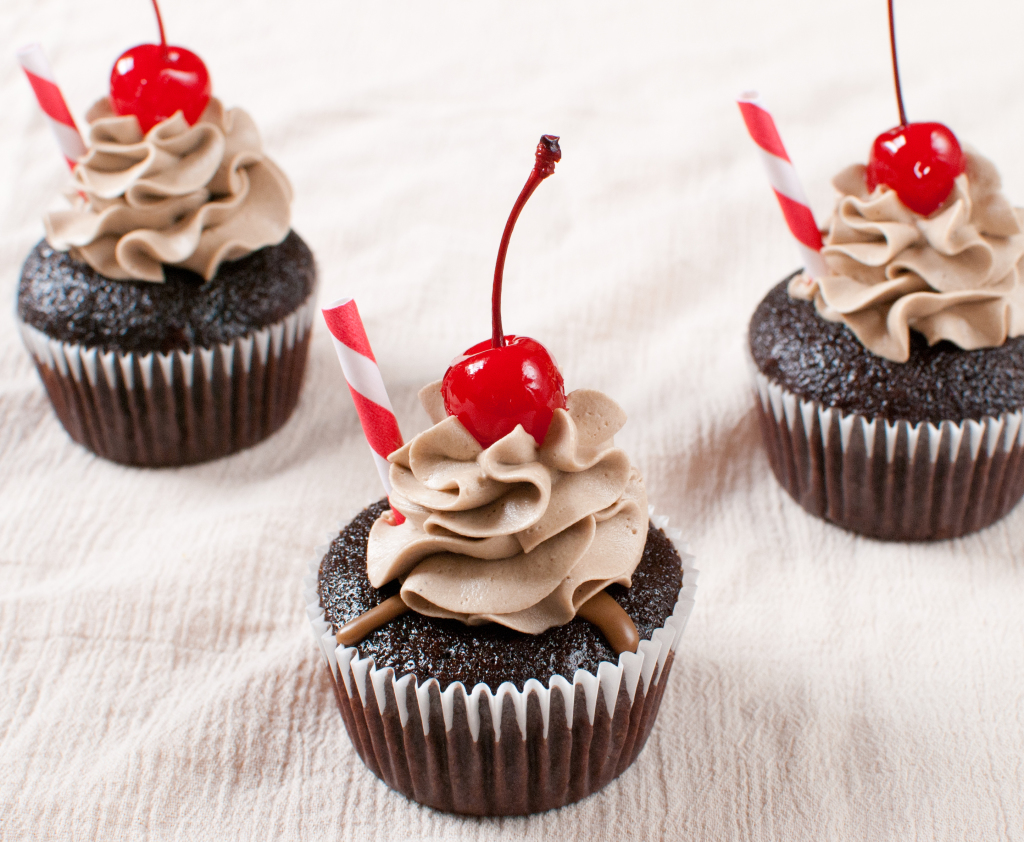 I cut up paper straws to make them look even more like a float, but a great edible alternative would be those pirouline cookie straws – I just didn't have any. Either way, they're delicious. I'm hoping someone requests them again soon so I have a good excuse to make them again. In the meantime, back to squash and apples!

Root Beer Float Cupcakes
Root beer floats in cupcake form - chocolate root beer cake, root beer glaze, and root beer/vanilla frosting.
Ingredients
Cupcakes
2 cups root beer (NOT diet)
1 cup unsweetened cocoa powder
1 stick (4 ounces) unsalted butter
1¼ cups granulated sugar
½ cup firmly packed dark brown sugar
2 cups all-purpose flour
1¼ tsp baking soda
1 tsp kosher or sea salt
2 large eggs
1 tsp root beer extract
Glaze/Filling
2 cups powdered sugar
1 tsp root beer extract
¼ cup milk
Frosting
1½ cups shortening or butter, room temperature (I prefer shortening for this)
4 cups powdered sugar, sifted
1½ tsp vanilla extract
1 tsp root beer extract
Garnishes
Maraschino cherries
Cut paper straws or pirouline cookies
Instructions
Make the Cupcakes:
Preheat oven to 350 F. Line two cupcake pans with paper liners and set aside.
Combine root beer, cocoa powder and butter in a medium saucepan. Heat over medium heat, whisking frequently, until butter is melted and there are no lumps. Add the sugar and brown sugar and whisk until completely dissolved. Set aside or place in refrigerator to cool to room temperature.
While the root beer mixture cools, combine flour, baking soda and salt in another bowl and stir to combine.
Combine eggs and root beer extract in a small bowl and beat to combine. Pour eggs into the room temperature root beer/cocoa mixture and stir to combine.
Add flour mixture to the root beer mixture and fold together to combine. The batter may be slightly lumpy.
Divide batter evenly among prepared cupcake liners, filling each ⅔-3/4 full. Bake 20-22 minutes, until tops spring back lightly when touched. Cool in pans for 5 minutes, then remove to racks to cool completely.
Make the Filling
While the cupcakes are cooling, place the powdered sugar in a medium bowl. Combine root beer extract and milk and stir to combine. Pour into the powdered sugar and whisk until mixture is smooth. If it's too thick, add more milk to thin it out. If it's too thin, add more powdered sugar.
When cupcakes have completely cooled, use a paring knife to remove a 1-inch circle from the middle of each cupcake. Fill the hole with 1-2 tsp of filling. If you wish to skip this part, you can simply spread the filling on top of each cupcake as a glaze.
Make the Frosting
Place butter/shortening in a medium bowl or the bowl of a stand mixer. Beat on medium speed until fluffy, 3-4 minutes.
Sift in powdered sugar a few tablespoons at a time, beating well between each addition. Add the vanilla and root beer extract and continue beating for 1-2 minutes. Frost cupcakes and top with cherries. Stick a paper straw or pirouline cookie into each cupcake. Serve.
Source
: adapted from
Instructables
Don't miss a thing – sign up to receive new recipes by email, or follow me on Facebook, Instagram, and Pinterest.