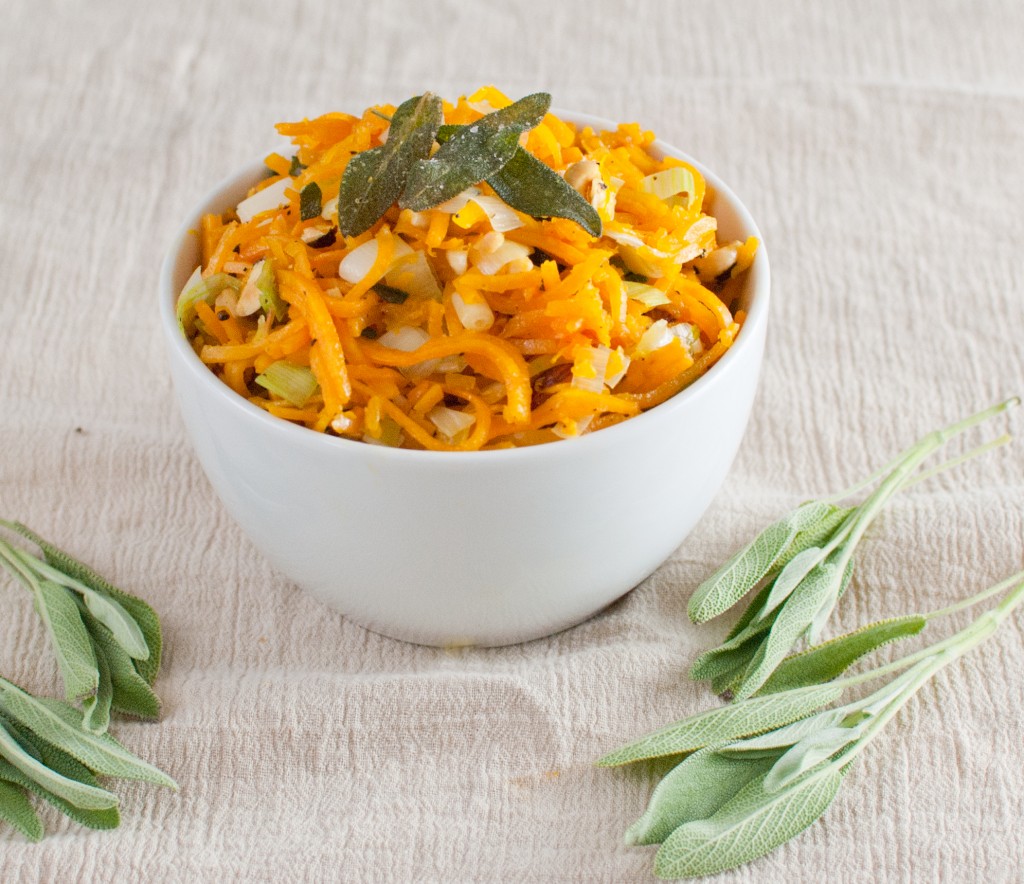 I really love my spiralizer (now that it's finally out of its box and getting frequent use), but I don't often post the meals I make with it – I don't want to have a glut of recipes on here that require special equipment or the purchase of a new gadget. Some, though, are worth sharing, and this is one of them. Not because it's flavorful and healthy and packed with veggies (although it is, and that really should be part of why I want to share it), but because I went head to head with that spiralizer and a large raw vegetable roughly the consistency of a rock, and I WON. It may have ended with me swearing and sweating and heaving that squash through the blades with all my might, and it may be a small miracle that this dinner was completed without injury – but I won. And that's really all that matters.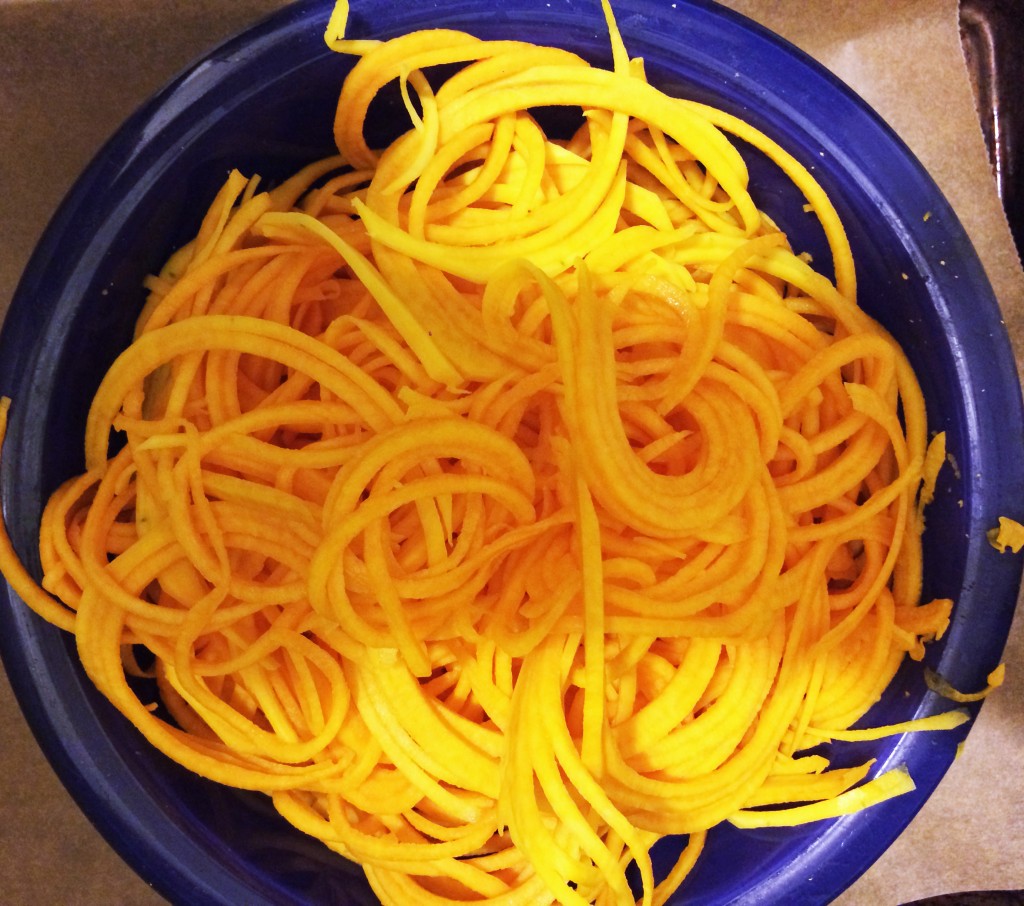 Inspiralized (which is a blog dedicated entirely to spiralizing, bless her heart) has a video that shows a much more cooperative butternut squash easily uncorking itself into long, beautiful noodles with what seems to be minimal effort – I'm convinced there might have been some CGI used to create that video, but I hope your experience is much more like hers than mine.
Regardless, it's worth the elbow grease. The quickly-roasted squash noodles (squoodles?) have a lovely rich flavor on their own, enhanced by a touch of olive oil before they go into the oven. Sautéed leeks add a savory note to the subtle sweetness of the squash, and toasted hazelnuts lend a welcome crunch. Finally, a sprinkle of crispy-fried sage leaves takes the whole thing over the top. This was a perfect comforting fall dinner – although I had to wait to get the feeling back in my hands before I ate it.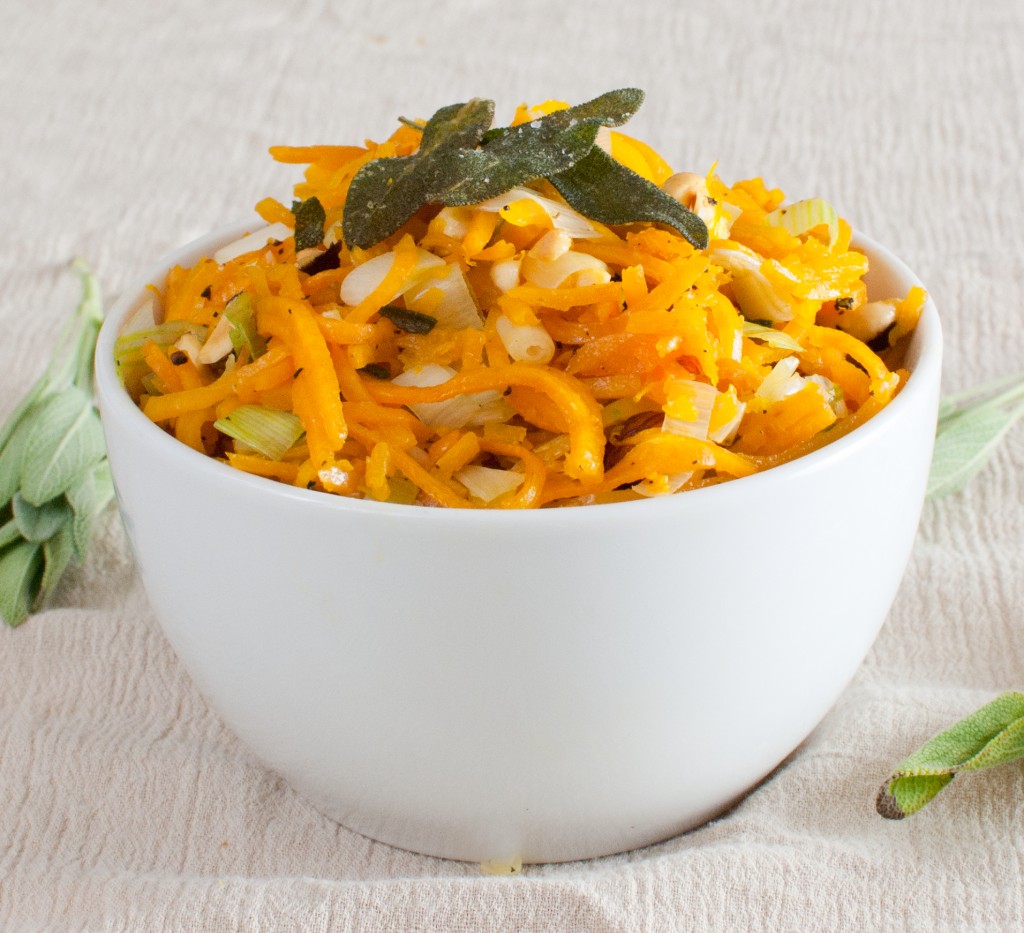 Butternut Squash Noodles with Toasted Hazelnuts and Crispy Sage
"Pasta" in butternut squash form, tossed with gently sauteed leeks, toasted hazelnuts, and crispy sage.
Yield:
2 entree sized portions
Ingredients
1 butternut squash
3 Tbsp olive oil, divided
Salt and pepper to taste
2 leeks, chopped (white and light green parts only)
½ cup hazelnuts, roughly chopped
2 additional Tbsp olive oil
1 small bunch fresh sage
Instructions
Preheat the oven to 400 F. Line a baking sheet with parchment paper or foil.
Place the hazelnuts on the baking sheet and cook for 5 minutes. Remove to a bowl and set the baking sheet aside - you'll need it again for the squash.
Chop the bulbous bottom off the butternut squash and reserve for another use. Chop the stem off the top of the squash and cut the remaining long part of the squash in half, cross-wise (feel free to refer to this video for a demo of how to do this). Place each half in the spiralizer, one at a time, and follow the instructions to spiralize the squash.
Place squash noodles on the baking sheet, spreading them out as much as you can. Drizzle with half of the olive oil and sprinkle with salt and pepper and toss to coat. Bake 8-10 minutes, until noodles are softened.
While the noodles are roasting, heat the rest of the oil in a skillet over medium heat. Add the leeks and cook until softened and beginning to caramelize, 5-7 minutes. Remove leeks from skillet.
Heat the remaining olive oil over medium heat. Drop the sage leaves into the hot oil and fry until crispy (about 1 minute). Remove to a paper towel.
Combine roasted noodles, leeks, and hazelnuts in a bowl and toss to combine. Top with crispy sage leaves. Serve warm.