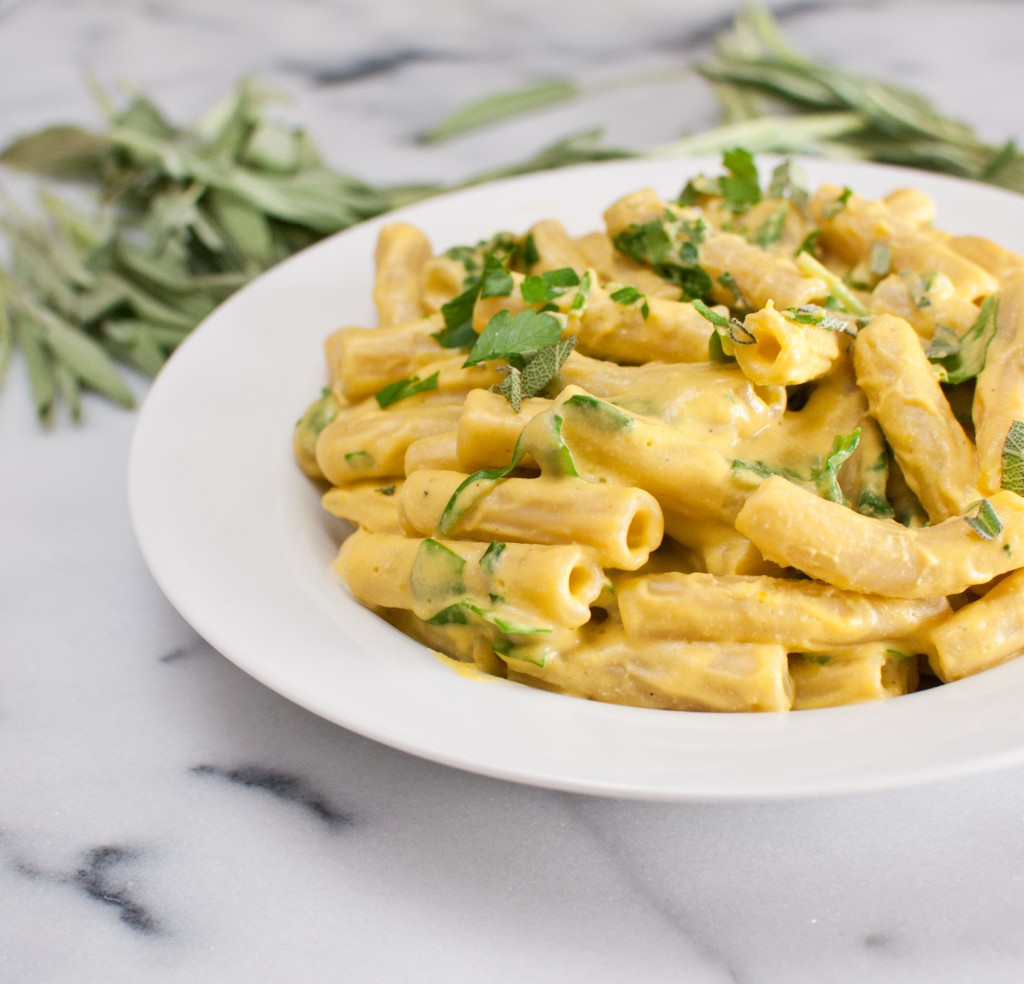 I'm going to go ahead and apologize in advance for the amount of squash that's about to happen on this blog. My CSA, to put it mildly, is out of control. The entire bottom shelf of my refrigerator is jam-packed with various gourds, and if the box I picked up last night is any indication, that's going to be a bit of a pattern.
What's that you say? The whole point of a CSA is to eat seasonally? Even if it means four different kinds of squash rolling enthusiastically off the shelf and onto the floor every time you open the fridge? Valid point, and well taken. The more squash, the merrier – it's a smorgas-gourd.
I tackled the butternut first, because it's my favorite (so much for saving the best for last). It's not quite as sweet as pumpkin and has a nutty taste that gives it some real depth. I used half of it over the weekend to spin together a thick, creamy cashew-based sauce to stick in the fridge and use for quick weeknight meals, and it came up big the other night when I came home after a brutal day and just really wanted some pasta. In less than fifteen minutes I was parked under a blanket in front of the television with a big bowl of penne and a new Real Housewives.
The ways you can vary this are endless – I stirred in some fresh spinach with the hot pasta and sauce and then added fresh parsley and sage at the end (I was out of rosemary and thyme). You could add mushrooms, broccoli, peas – anything you have on hand will go great with this rich-but-light sauce.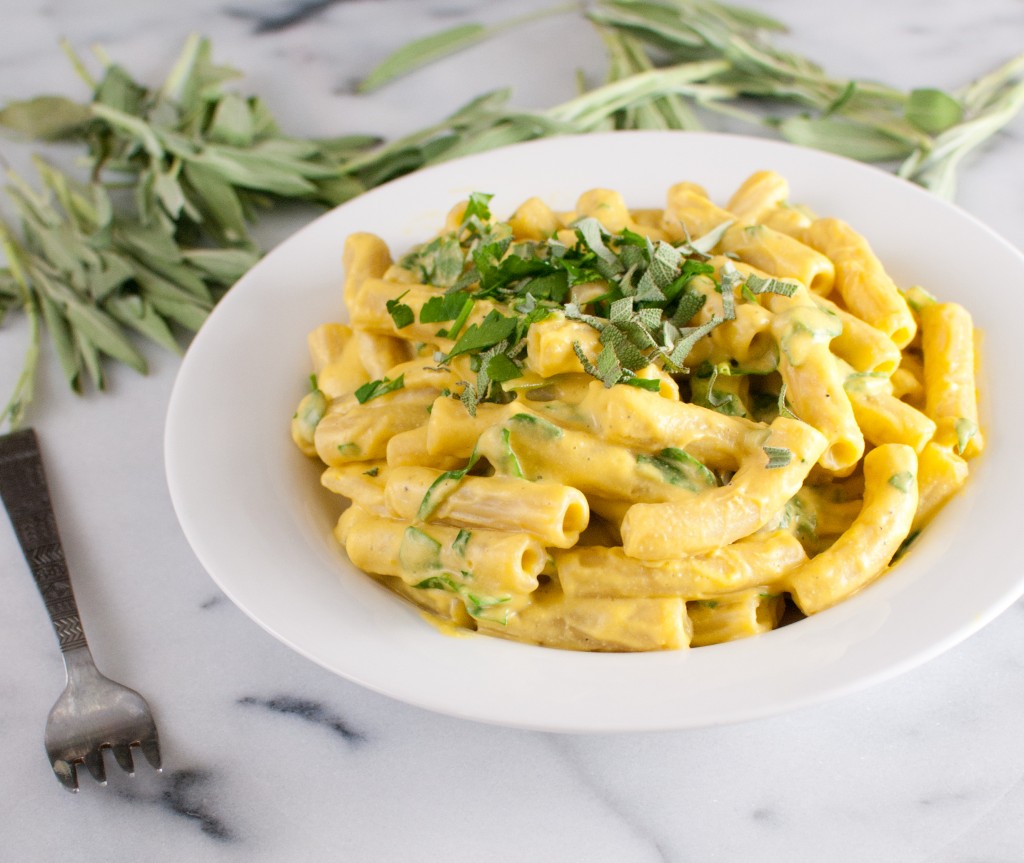 Pasta With Vegan Butternut Squash Sauce
A flavorful, creamy butternut squash sauce is perfect with pasta and fresh herbs.
Ingredients
3 cups diced butternut squash
2 Tbsp olive oil
Salt & pepper to taste
½ a small onion, diced
1 large garlic clove, minced
1 cup raw cashews
3 cups unsweetened almond milk (or other non-dairy milk)
¼ tsp cayenne pepper
Additional salt and pepper to taste
1 pound pasta of choice
3 cups fresh baby spinach
2 Tbsp chopped fresh parsley
2 Tbsp chopped fresh sage
Instructions
Preheat oven to 400 F. Line a baking sheet with parchment or foil.
Spread diced butternut squash in a single layer on the baking sheet. Toss with olive oil, salt, and pepper, and roast for 20-25 minutes until it's soft. Remove from oven and let cool a bit.
Combine butternut squash, onion, garlic, cashews, almond milk, cayenne, salt and pepper in a high-powered blender or food processor (NOTE: if your blender/food processor isn't super powerful, you may want to saute the onion and garlic in a little olive oil before adding them to the blender - this will remove any "raw" taste that higher powered blenders can usually whip out). Blend on high speed until smooth. If it seems too thick, you can add a bit of water to thin it out, but I just reserve a bit of pasta water and thin it out later.
Bring a large pot of salted water to a boil. Add pasta and cook according to package directions. Drain (reserving some pasta water to thin the sauce if desired) and return to pot over low heat. Add as much butternut squash sauce as desired (you'll have extra, which freezes wonderfully for next time). Stir in fresh spinach and cook on low heat until everything is heated through and spinach is slightly wilted.
Stir in parsley and sage and serve hot.
Source
: Heavily adapted from
Food Network
Don't miss a thing – sign up to receive new recipes by email, or follow me on Facebook, Instagram, and Pinterest.