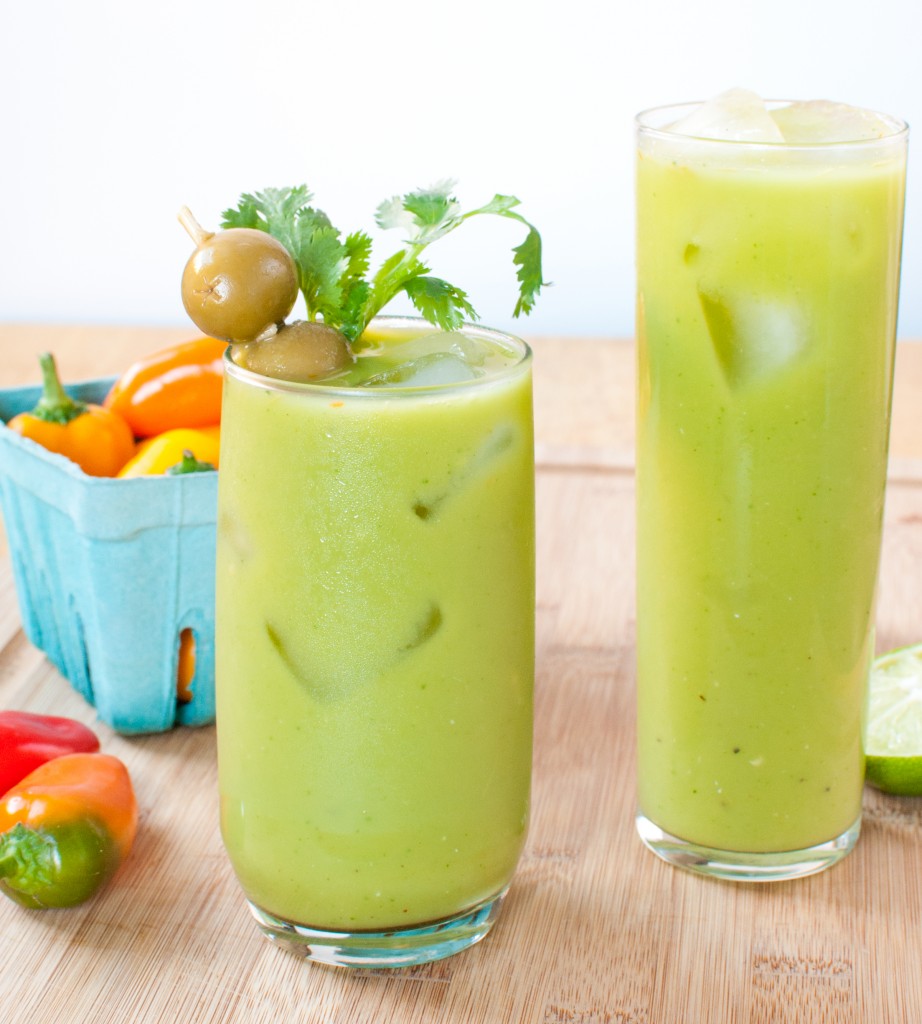 Green tomatoes are everywhere right now. Tomato season is drawing to a close, and as it gets colder, most growers have a glut of pale green, rock hard tomatoes that just won't ever make it to ripeness on the vine. Luckily, they don't have to go to waste. Almost every stand at the farmer's market yesterday was overflowing with these, and I was happy to take some off their hands.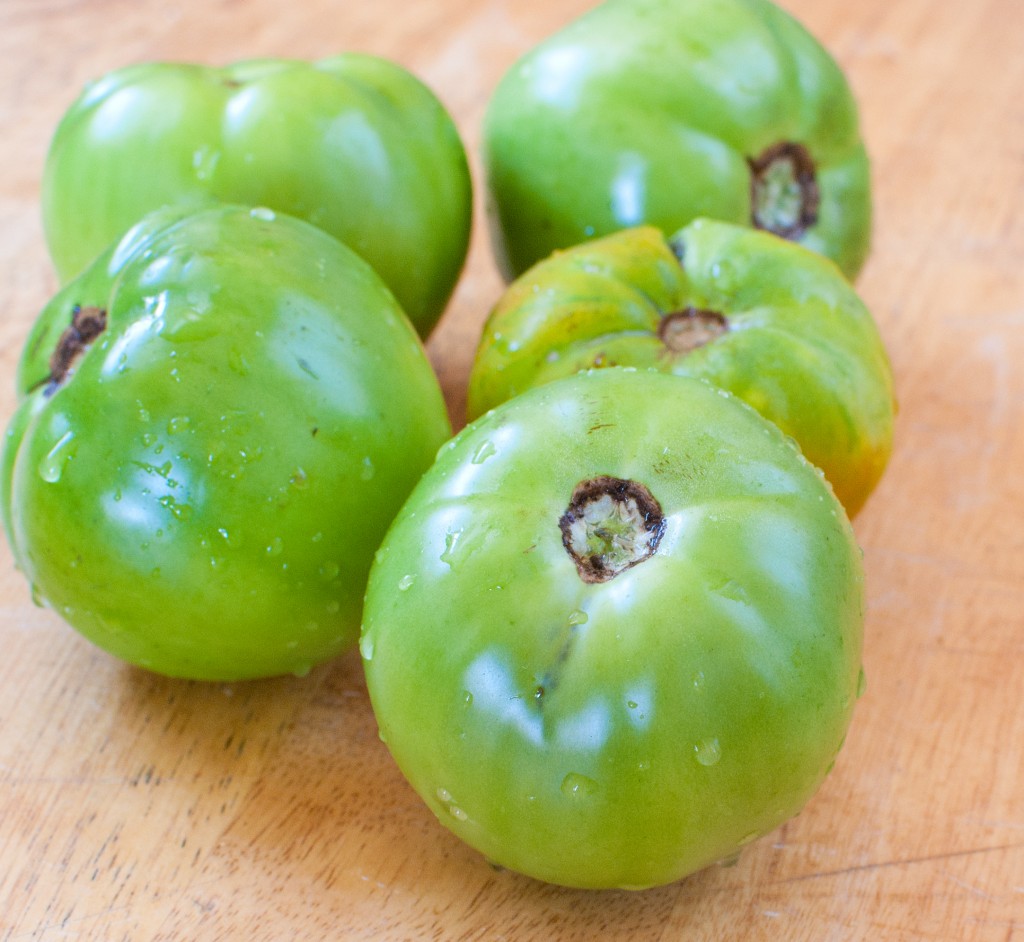 There's something I really like about salvaging food that's normally cast aside and using it to make something really wonderful. Green tomatoes end up in the compost or the trash more often than not, and that sucks, because there are tons of things you can do with them – oven-fry them, pickle them, watch movies about them…or if you're like me, make cocktails with them.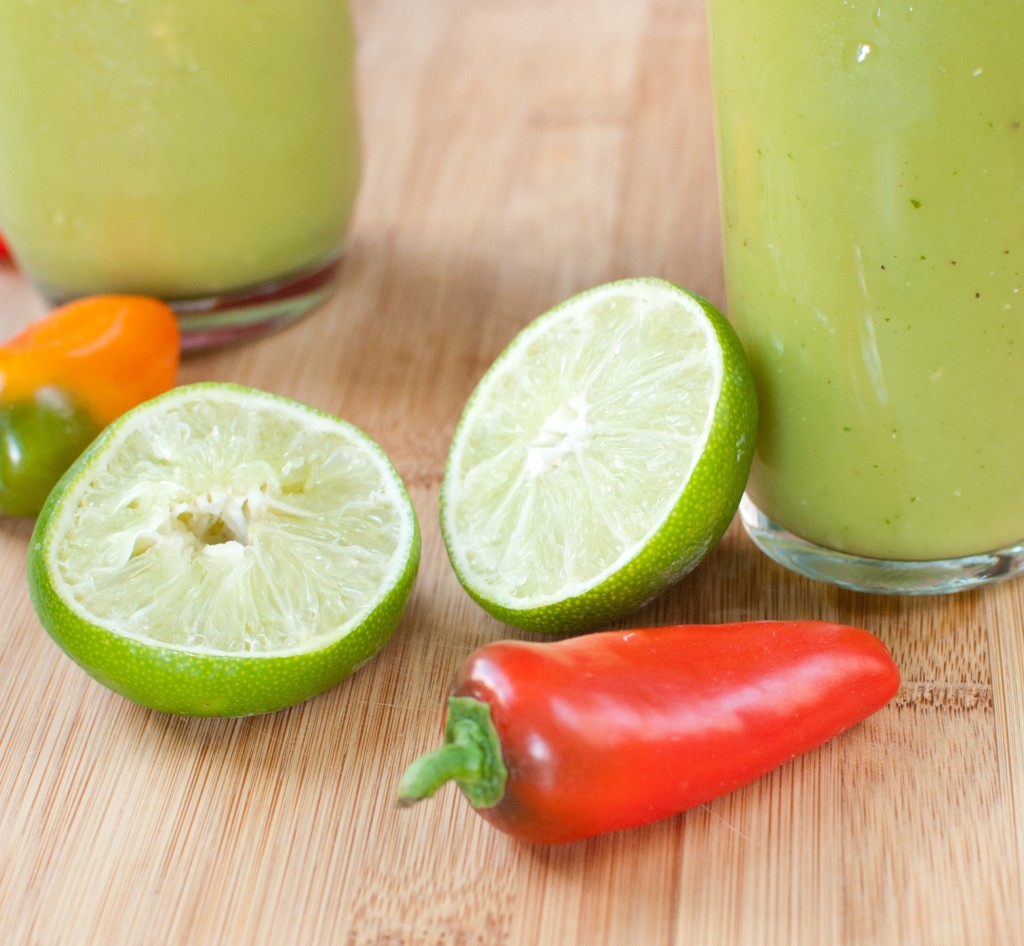 On the inaugural Sunday Funday post last week, I said it would be hard to top the light, sweet ginger-plum concoction we kicked off with. I think I was wrong. Slow-roasted green tomatoes, cooked until soft and tender, without a trace of that unripe tartness – plus fresh cucumber, green pepper, jalapeno and lime juice? Seriously, take out the booze and this is a fresh juice superfood recipe.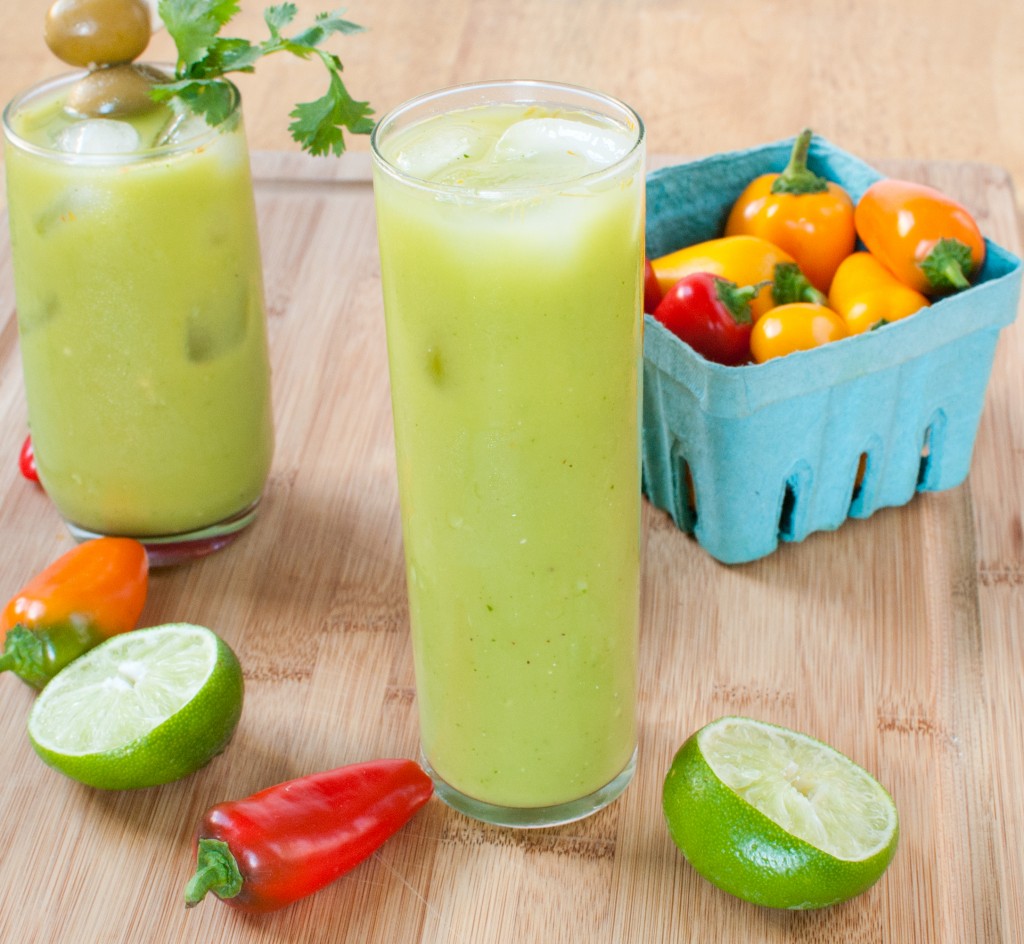 Since there's roasting involved in the prep, this may seem like a lot of work just for a few brunch beverages – but rest assured, roasting up the green tomatoes is worth your (largely idle) time. Whatever you don't use for this Bloody Mary mix can be used for other purposes (another green tomato recipe on the way this week!) – plus, you can blend up the mix the night before and have it ready to go the next day. Serve alongside huevos rancheros, macho tacos, or leave out the alcohol entirely and just enjoy as a refreshing juice.*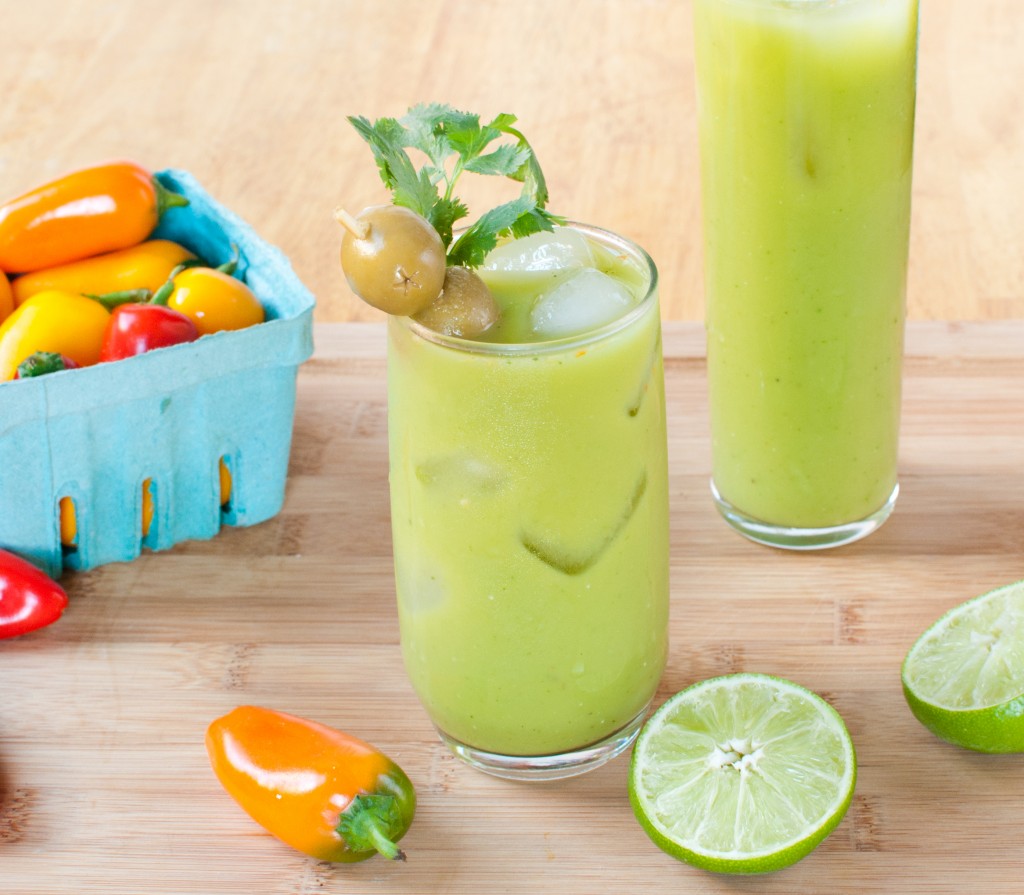 *Protip: don't leave out the alcohol.

Green Tomato Bloody Mary
A spin on the traditional Bloody Mary, made with green tomatoes and other veggies.
Ingredients
5 medium green tomatoes
2 Tbsp olive oil
1 medium cucumber, chopped
½ green bell pepper, chopped
½ jalapeno pepper, chopped (remove ribs and seeds for lower heat)
⅓ cup fresh parsley
⅓ cup fresh cilantro
1 cup water
Juice of 1 lime
Salt & pepper to taste
1¼ cups vodka
Olives and extra cilantro for garnish
Instructions
Preheat oven to 300 F. Line a rimmed baking sheet with parchment or foil.
Halve tomatoes, then quarter the halves. Place on baking sheet in a single layer and drizzle with olive oil. Roast for 1 hour and 15 minutes, until tomatoes are tender. Let cool at room temperature for 20 minutes, then remove tomatoes and juice from the baking sheet to a container and refrigerate for at least an hour.
When tomatoes are cool, place them in a blender or the bowl of a food processor. Add cucumber, bell pepper, jalapeno, parsley, cilantro, water, lime, salt, and pepper. Process until well-incorporated.
Strain mixture into a jar or other container and discard pulp (see Notes).
Pour into glasses over ice and add vodka (I recommend 1.5-2 oz vodka to 4-5 oz mix, depending on how strong you and your guests like it). Stir and garnish with olives and cilantro and serve.
Notes
I usually stir 2-3 Tbsp of the pulp back into the strained mixture because I like the texture. If you really like a thick Bloody Mary, there's no need to strain it at all - just add more water.
This makes about 5½ cups if you don't strain it and about 3¾ if you do.
Source
: Heavily adapted from
Garden and Gun
. I can't believe I'm linking to Garden and Gun.
Don't miss a thing – sign up to receive new recipes by email, or follow me on Facebook, Instagram, and Pinterest.