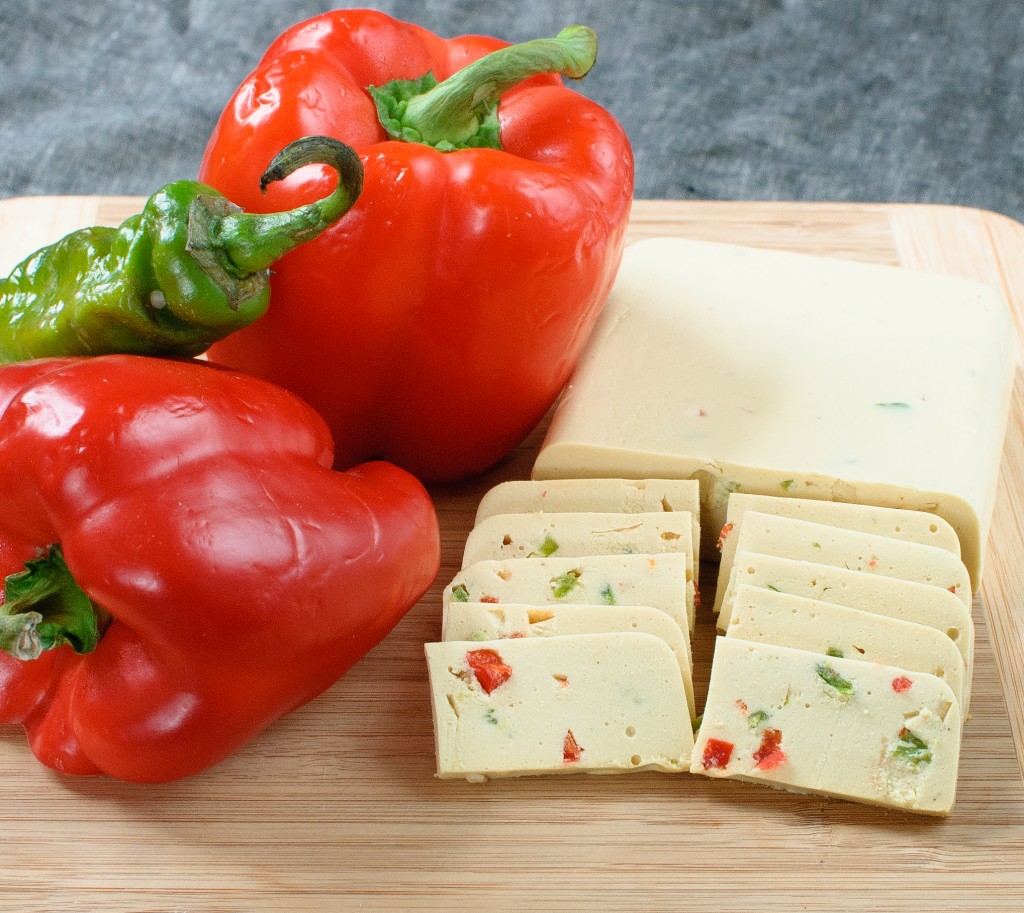 I hate vegan cheese.
There. I said it.
Every time I think I might be close to giving up dairy, I grab a package of vegan cheese at Whole Foods. And every time, I end up throwing most of it away. I don't know what it is about it – it just always tastes off to me somehow. And I know people swear by Daiya, but I think it tastes like shredded chemicals – can't stand it. I've gradually come to accept that cheese is cheese and probably can't be accurately replicated without dairy.
And then came this vegan pepperjack cheese. Okay, it doesn't taste exactly like real cheese, but it's the first vegan cheese I've actually enjoyed in its own right. I made it for Nor, who cut out dairy a few months ago, but ended up eating most of it myself – on crackers, in sandwiches, by itself straight from the fridge…basically, the same way I eat regular cheese.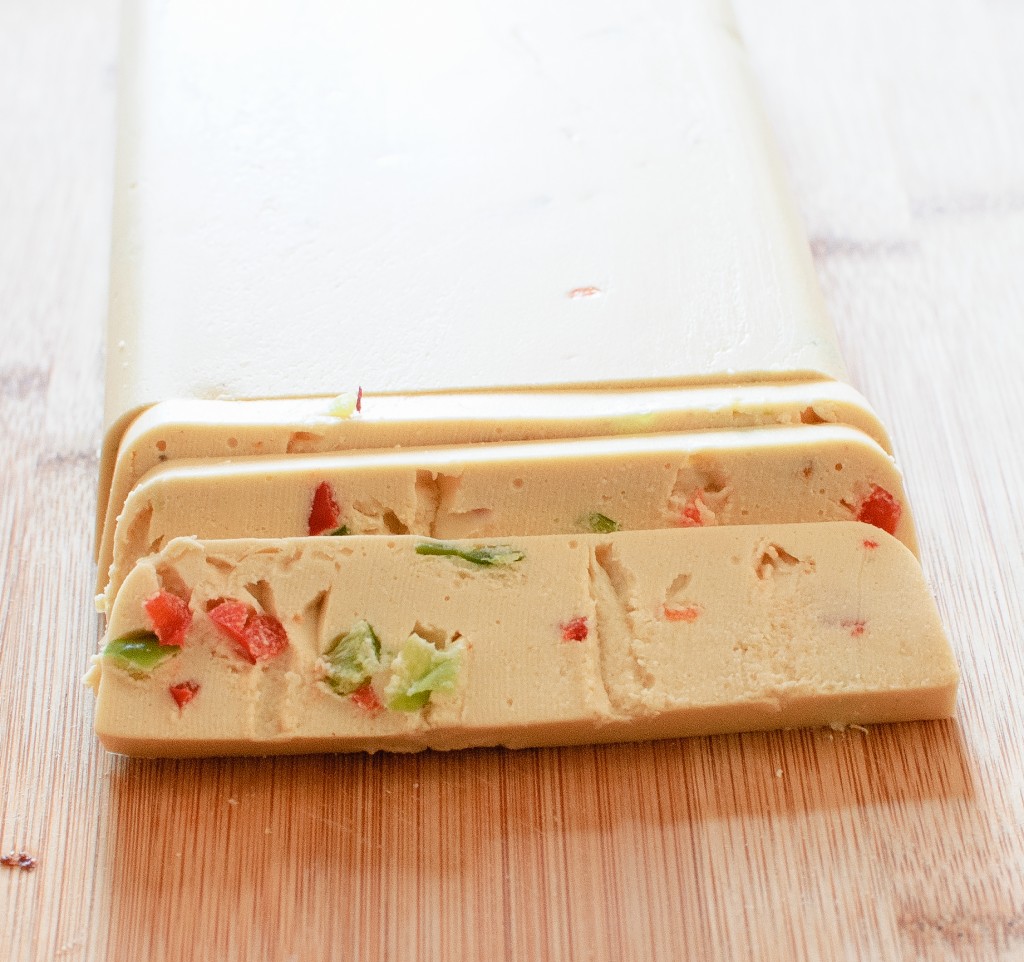 I think tahini and nutritional yeast are the magic ingredients here – they both give this a distinct depth of flavor that I haven't found in other non-dairy cheeses. And the fiery bits of pepper don't hurt either. This slices like a dream and shreds well, but fair warning – it doesn't melt, so I wouldn't use it as pizza topping or quesadilla filling. That said, it's perfect for an appetizer tray or snack plate, or on a cold sandwich. I'm a convert – if homemade vegan cheeses can be this good, I may be on the road to giving up the real thing after all.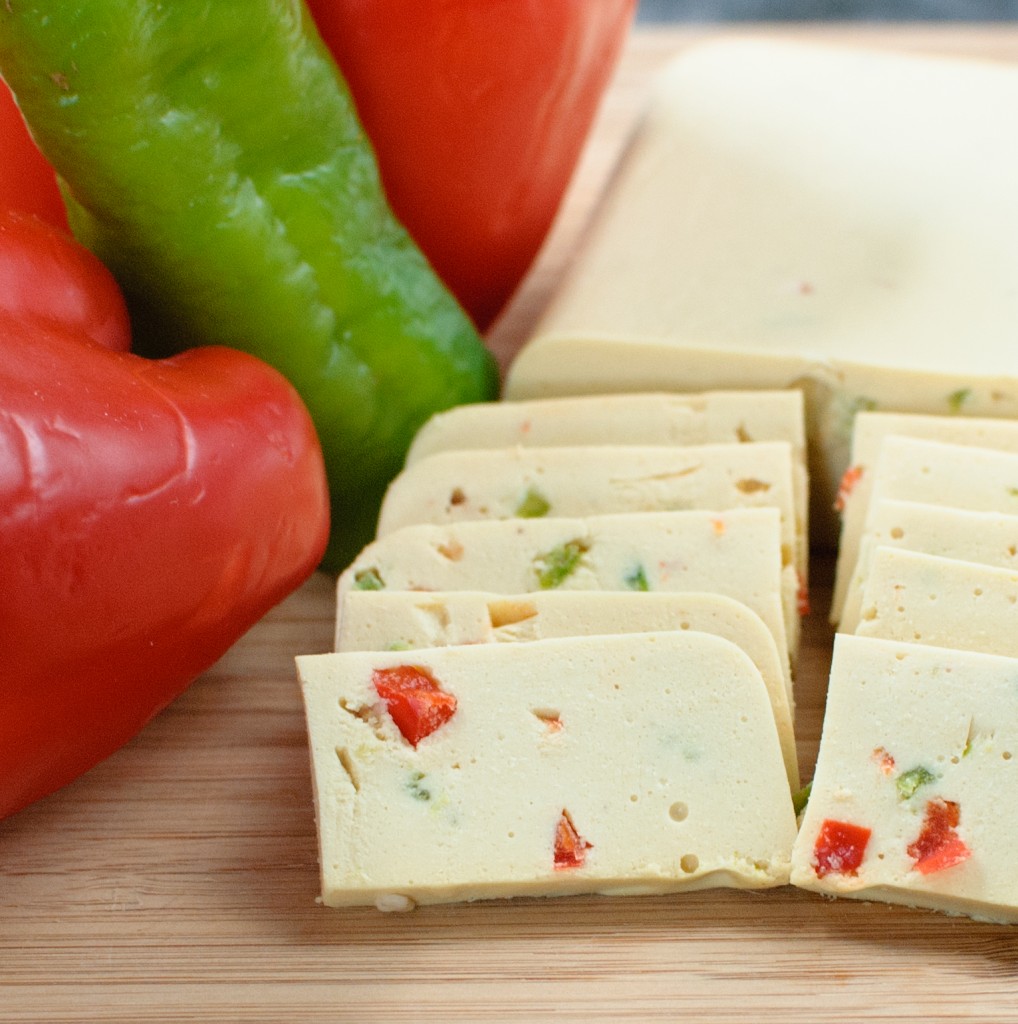 Vegan Pepperjack Cheese
Category:
Appetizers, Snacks
Ingredients
½ cup raw cashews
½ cup unsweetened almond milk
3 Tbsp lemon juice
2 Tbsp tahini
¼ cup nutritional yeast
1 tsp kosher or sea salt
1½ tsp onion powder
½ tsp garlic powder
1 cup water
2 Tbsp agar powder
1 cup peppers, diced - use whatever you want. I used one bell pepper and a jalapeno
Instructions
Set aside a loaf pan or square baking pan for pouring the cheese.
Soak cashews in water for 2-4 hours. Drain thoroughly and rinse.
Combine cashews, almond milk, lemon juice, tahini, nutritional yeast, salt, onion powder, and garlic powder in a blender or food processor. Blend until combined and creamy. Leave mixture in blender.
Combine water and agar powder on in a small saucepot and bring to a boil. Lower heat and simmer for 5 minutes, stirring frequently. Remove from heat.
Start the blender on medium-high speed. With the blender running, slowly drizzle in the water/agar mixture.
Add diced peppers and blend for another 10-20 seconds. You want the blender to process the peppers into smaller pieces, but not puree them.
Turn off blender and immediately pour the mixture into the pan. Refrigerate, uncovered, until firm (30-60 minutes). Slice and serve.
Source
:
Nouveau Raw
Don't miss a thing – sign up to receive new recipes by email, or follow me on Facebook, Instagram, and Pinterest.