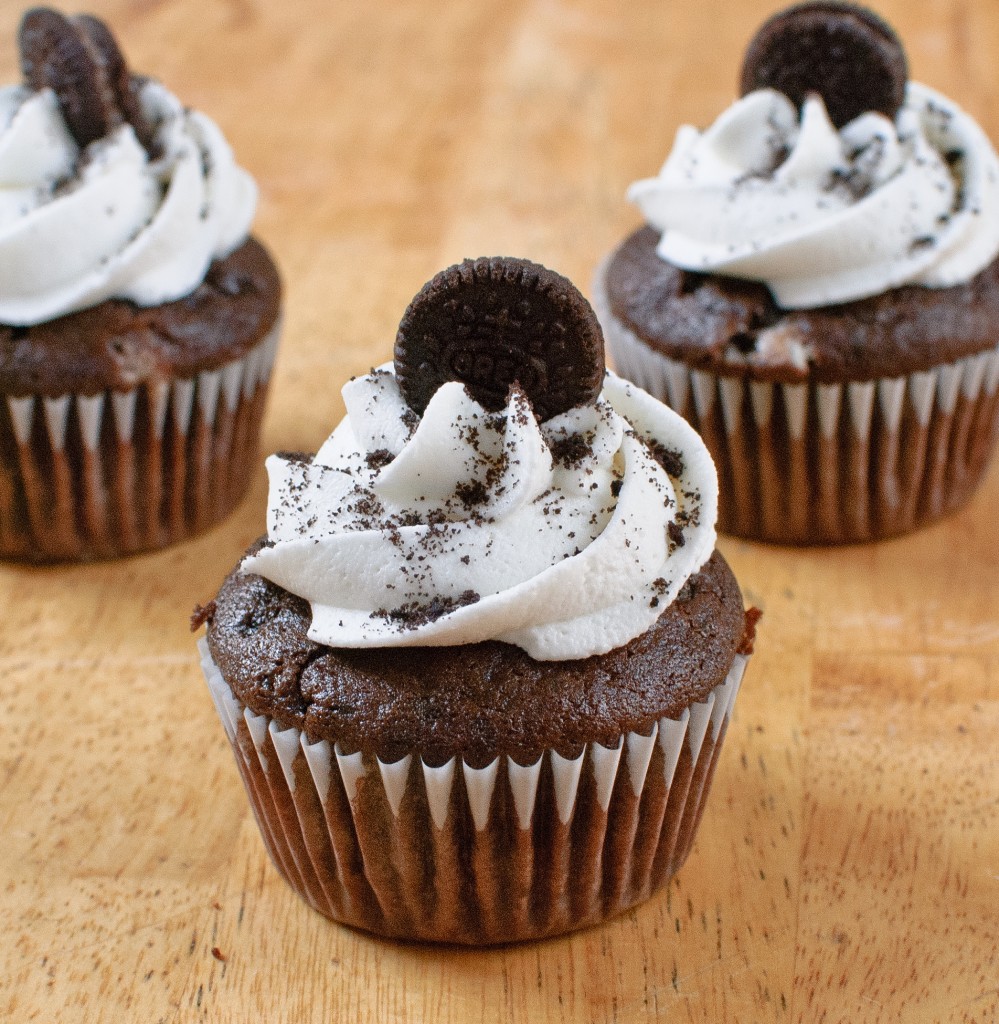 I love all cupcakes. I don't discriminate. I'm an equal opportunity dessertist. Vanilla-flecked sponge cake, dense flourless cake, fluffy chocolate…I'm not kicking any of those off my plate. But my little cupcake side business tells a different story – when I go back over my order history, one bar on the graph soars above the others (yes, I have bar graphs for my cupcake orders. Don't judge me).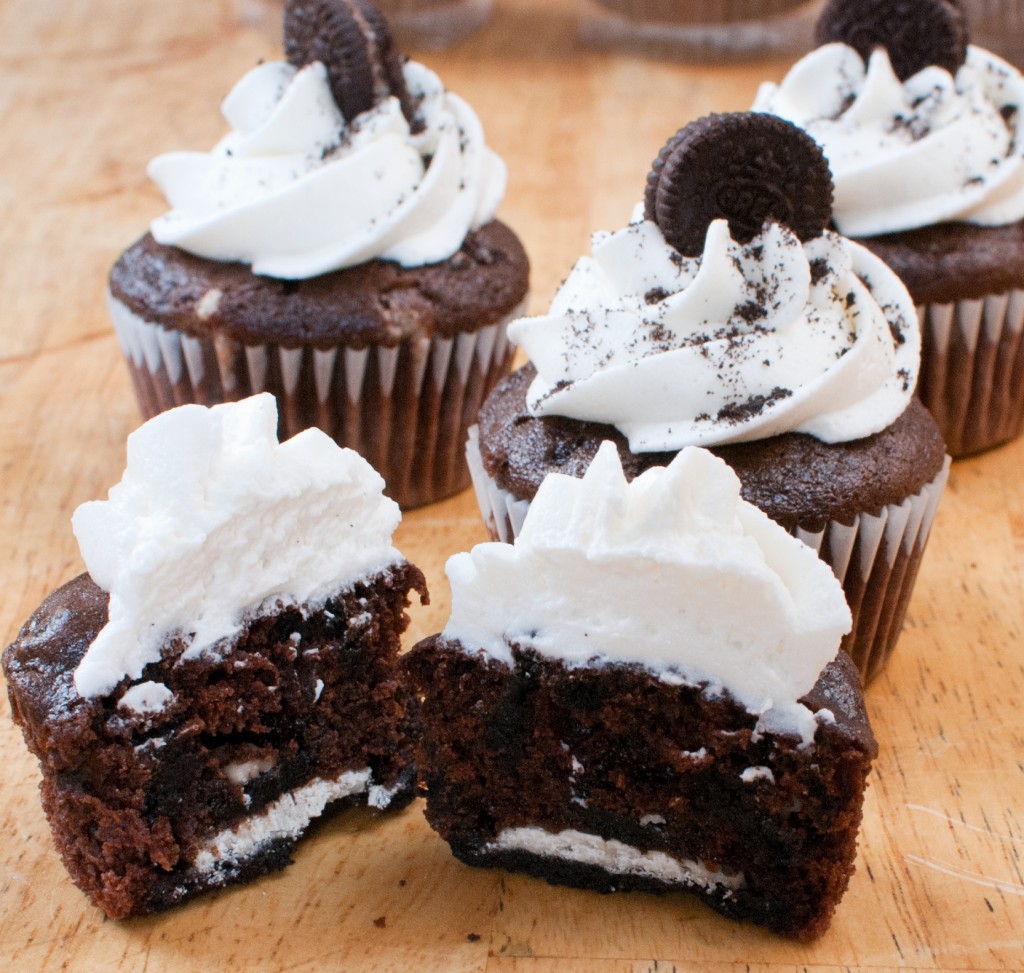 Maybe it's the nostalgia of Oreo cookies. There aren't many adults who don't have memories of twisting off the top and licking off the filling, or holding one by your fingertips as far as you could get it in a glass of milk, until it got just soggy enough for the cookie and filling to melt in your mouth before you washed it down with the Oreo-infused milk.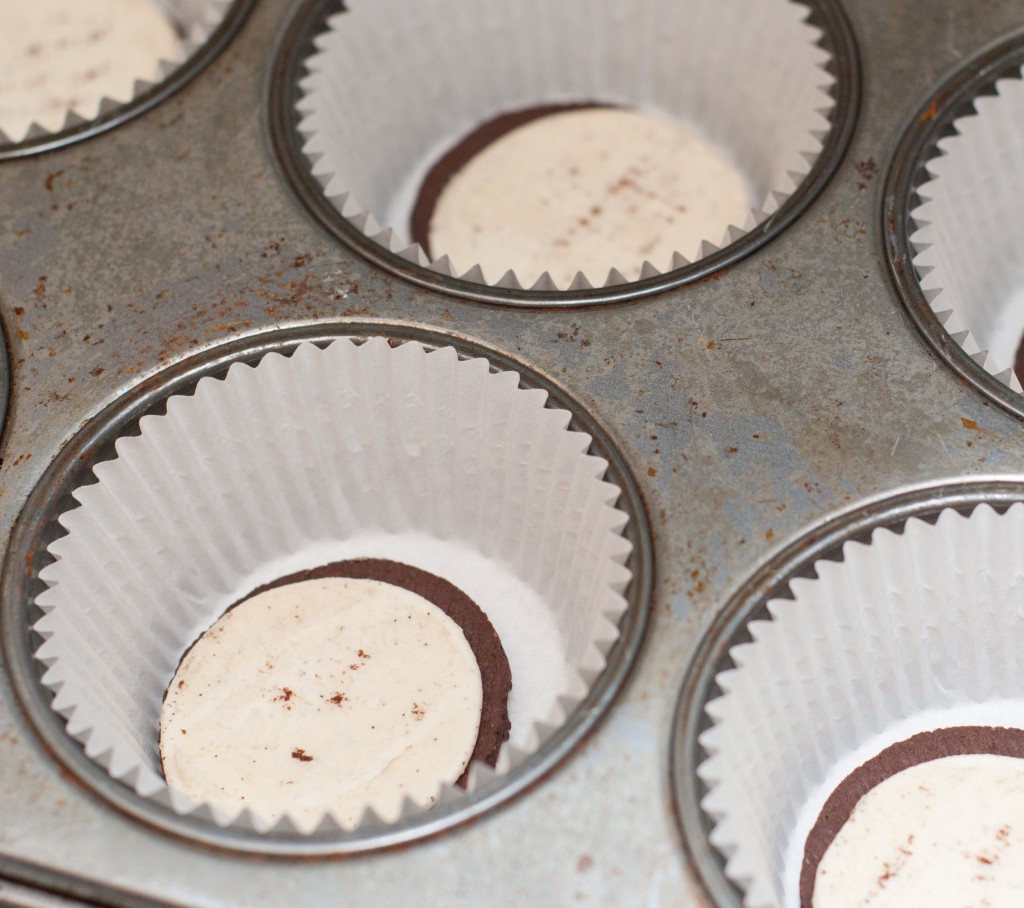 Or maybe it's just because these are that good. Rich chocolate cake with chopped Oreos mixed generously throughout, a vanilla buttercream that just so happens to taste a whole lot like Oreo filling, and the kicker – half an Oreo cookie at the bottom? No wonder these have taken the mantle of most popular. And even though I'm non-discriminatory (really! I swear these aren't my favorites!), I never get tired of making these. Whimsical, unique, and absolutely delicious, they're a guaranteed hit for a kid's birthday party, a dinner gathering, or just to cure a case of the Mondays at work. Just be warned that they'll probably become your favorites, too.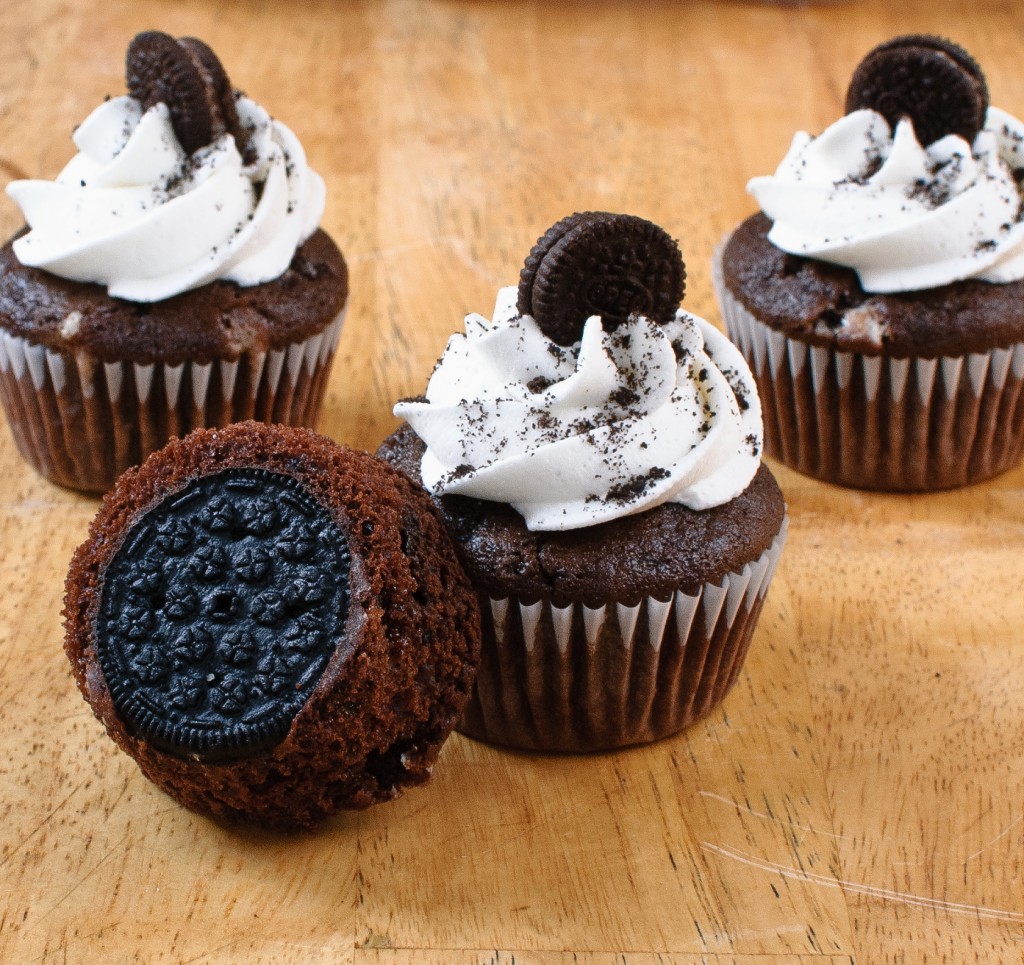 Cookies n' Cream Cupcakes
These are an Oreo explosion - an Oreo base, chocolate cake studded with Oreo bits, and vanilla frosting.
Ingredients
Cupcakes
40 Oreos or other chocolate sandwich cookies
2 cups (280g) all-purpose flour
1 cup (85g) unsweetened cocoa powder
2 cups (400g) granulated sugar
1 tsp (5g) baking soda
1 tsp (5g) baking powder
½ tsp (3g) kosher or sea salt
½ cup (120mL) vegetable oil
2 large eggs
2 tsp vanilla extract
1 cup (250g) sour cream
1 cup (237mL) coffee, at room temperature
Frosting
1 (4 oz) stick unsalted butter, room temperature
8 ounces (1 cup) vegetable shortening (I use Spectrum Organic)
3½-5 cups powdered sugar
2 tsp vanilla bean paste or vanilla extract
Mini Oreos or reserved halves from the cupcake bottoms, for garnish (optional)
Instructions
Make the Cupcakes
Preheat oven to 350 F. Line two cupcake pans with paper liners and set aside.
With a paring knife (or just twist if you're brave!), remove one side of 24 of the Oreos, leaving the filling intact. Place an Oreo half with the filling filling-side-up in each of the cupcake liners.
Roughly chop the remaining whole Oreos and set aside.
Sift flour, cocoa powder, baking soda, baking powder and salt into a large bowl. Add sugar and whisk to combine.
In another large bowl, mix together the vegetable oil, eggs, vanilla, sour cream and coffee until incorporated. Pour into the bowl with the flour mixture and stir until well-mixed and smooth. Gently fold in the chopped Oreos.
Divide batter evenly among prepared pans, filling each ⅔-3/4 full. Bake 18-20 minutes, until a toothpick inserted in the center comes out clean.
Make the Frosting
In a large bowl or the bowl of a stand mixer, beat butter and shortening until fluffy. Add vanilla and mix to incorporate.
Sift in powdered sugar, a few tablespoons at a time, mixing well between each addition.
Pipe onto cooled cupcakes and garnish with an Oreo half, a mini Oreo, or Oreo crumbs
Source: Inspired by
Beantown Baker
, cake recipe from
Baking Bites
.
Don't miss a thing – sign up to receive new recipes by email, or follow me on Facebook, Instagram, and Pinterest.