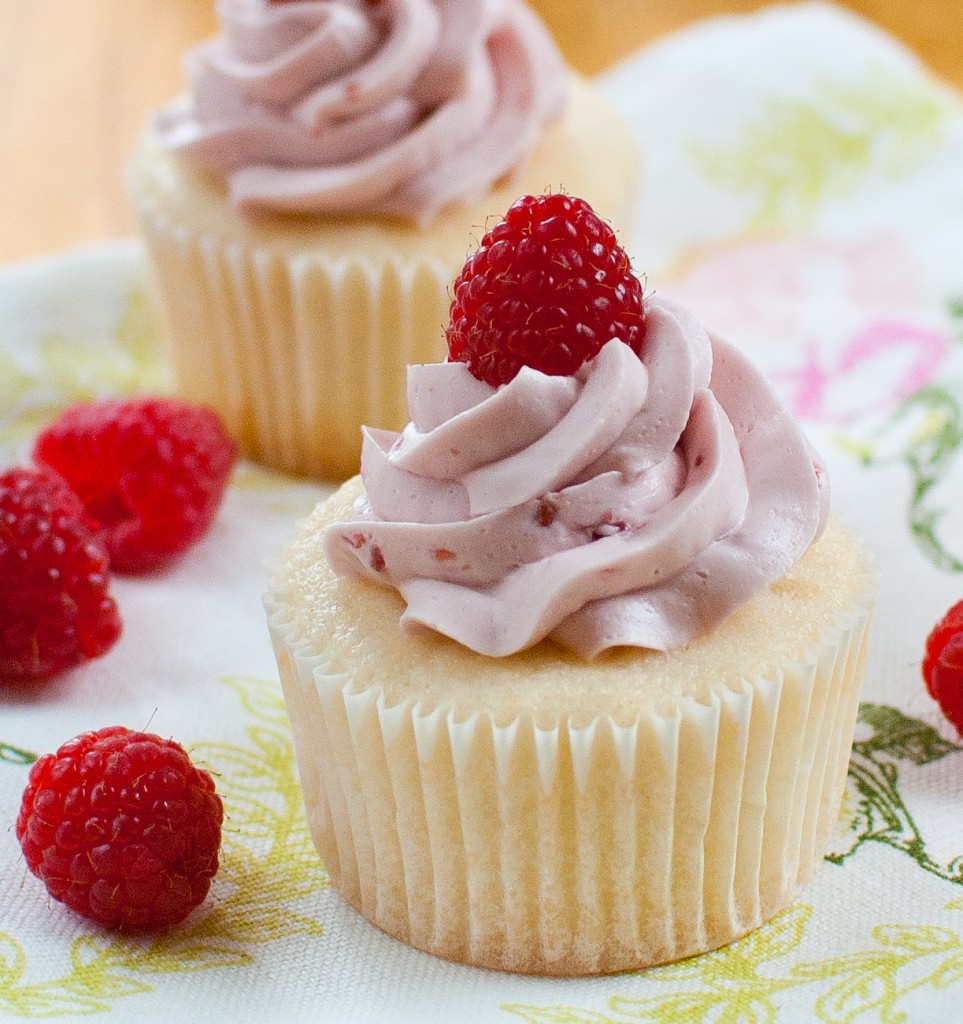 It's spring today!
So what if there's still snow in the forecast for next week? So what if  the term "polar vortex" has found itself a comfortable place in the common vernacular? It's spring. And that means we can take whatever last gasp winter wants to throw our way. Bring it.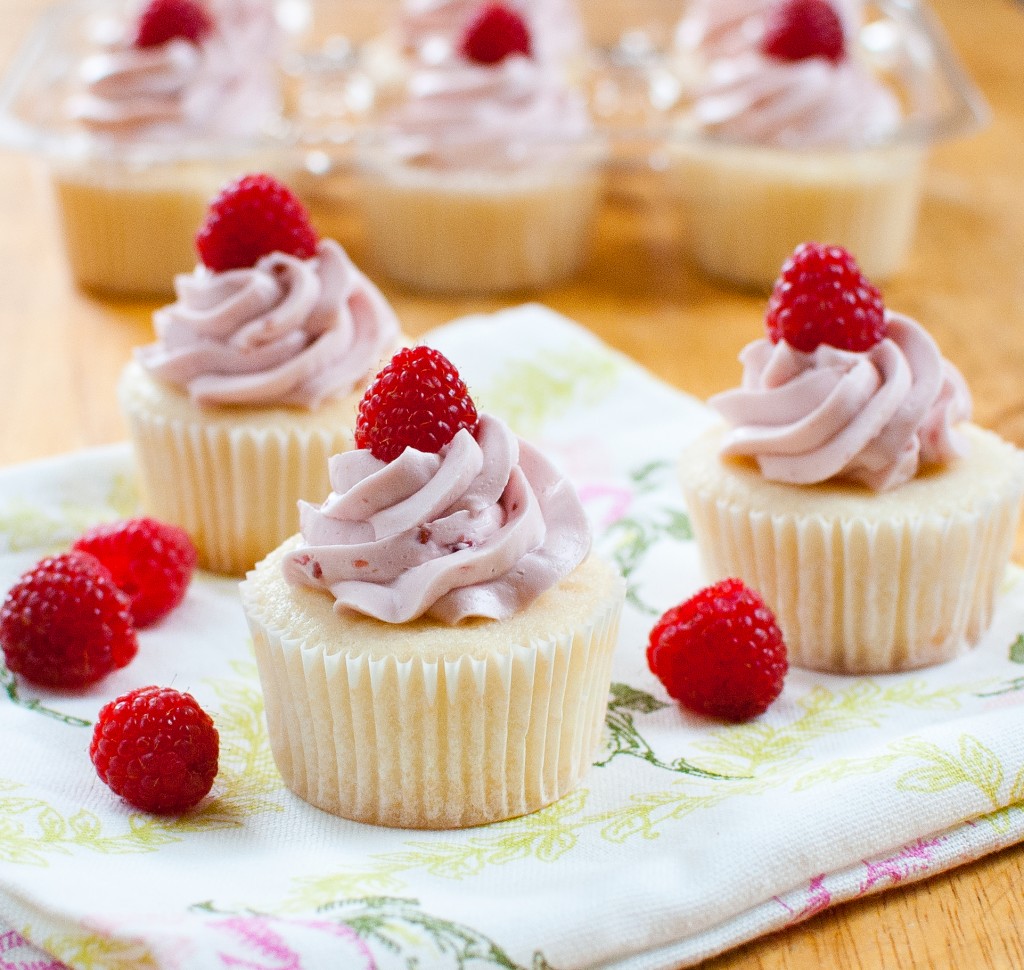 We've had a lot of wintry comfort food around here. Soups, stews, pizza, you name it. Now it's time for some spring comfort food, which is really only comforting in that it means spring is springing. Somewhere, anyway.
My coworker chose these lemon-raspberry cupcakes for his St. Patrick's Day birthday. That surprised me – I figured he'd choose these, but I guess sharing your birthday with St. Patty's Day your entire life takes a little bit of the novelty out of it. And it worked out fine, because I was really excited to make these again. This was one of the first cupcake recipes I ever made from scratch (six or seven years ago now), and my first Swiss meringue buttercream – I actually can't believe these haven't turned up here on the blog yet.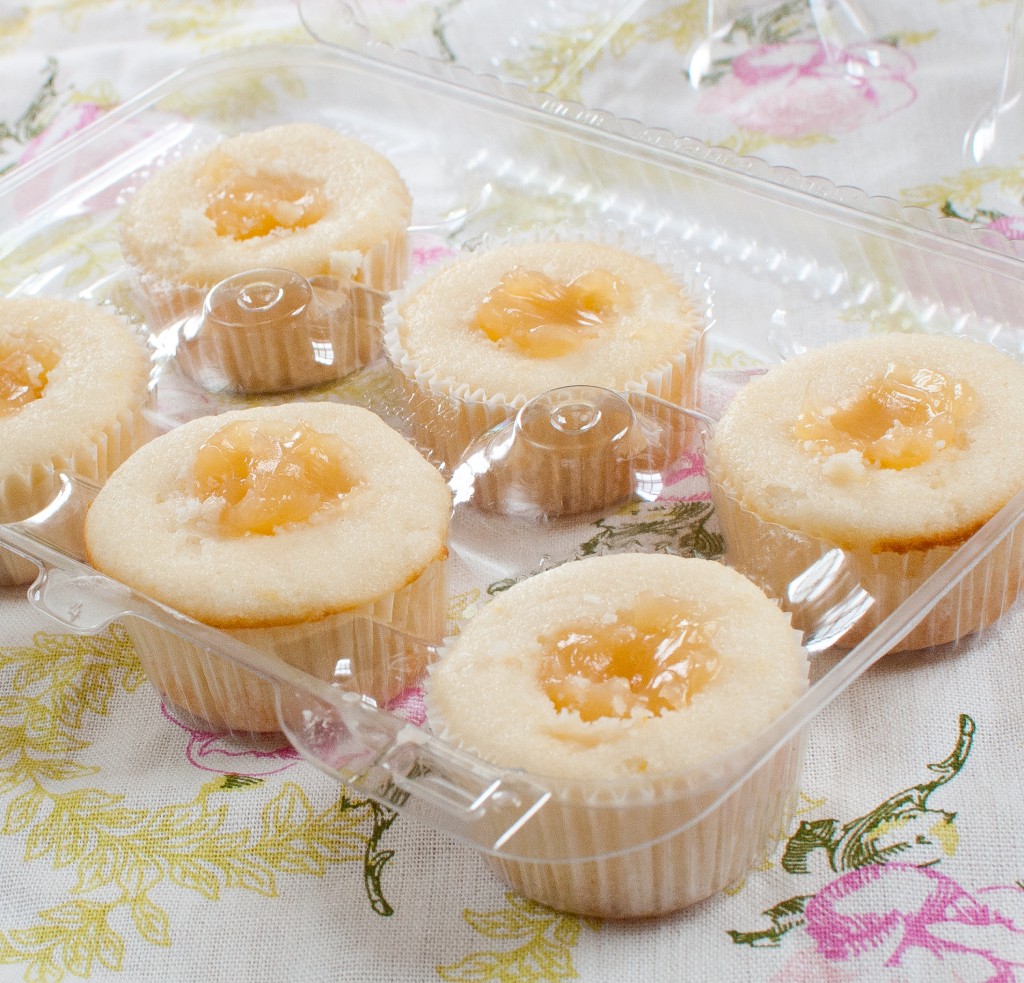 There's no better way to welcome spring than with these cupcakes. The cake is fluffy and bright and bursting with lemon flavor. They're filled with tangy, sweet lemon curd and topped with the airiest raspberry buttercream you can imagine. I use fresh raspberry puree and strain out the seeds, but you can also use seedless raspberry preserves. Top each with a single fresh raspberry and you've got spring in a cupcake liner (which at this rate may be the only way to get spring for a while).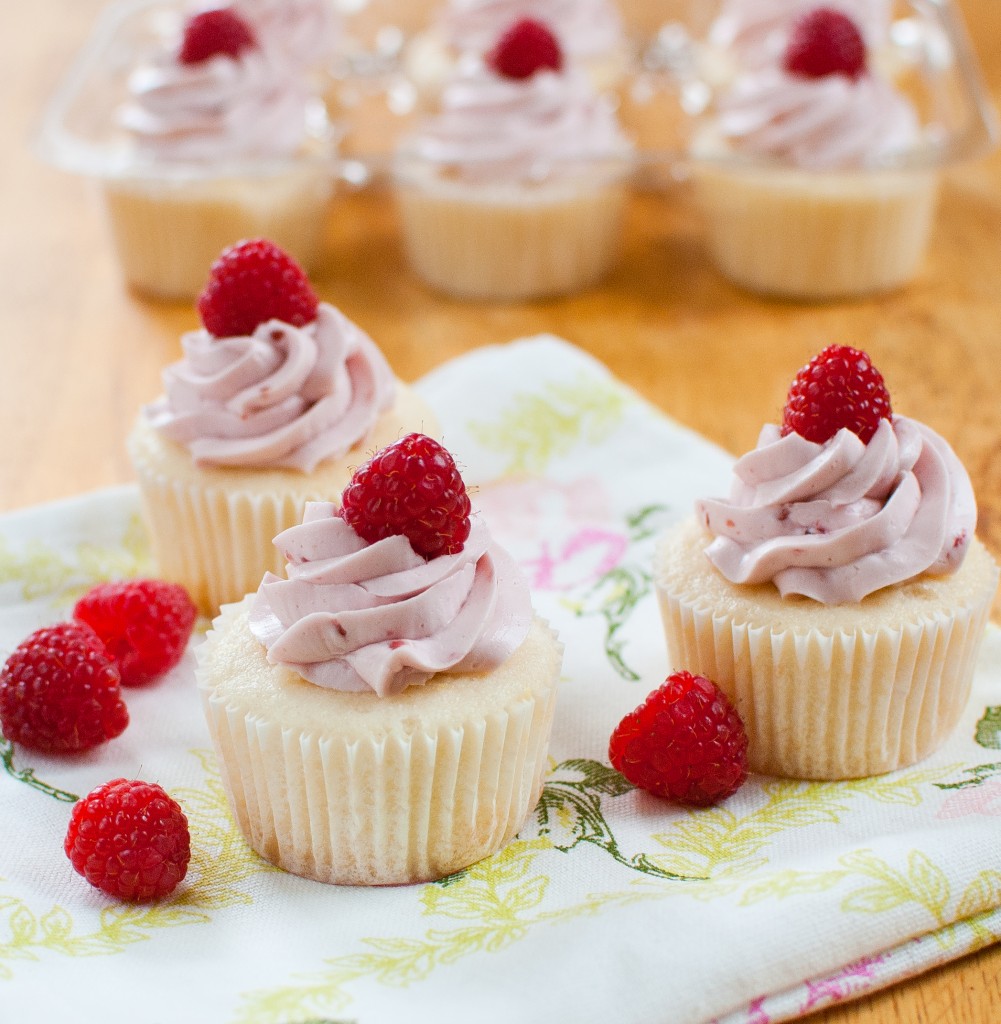 Lemon-Raspberry Cupcakes
Welcome warmer weather with these bright lemon cupcakes filled with lemon curd and topped with raspberry Swiss meringue buttercream.
Ingredients
Cake
2¼ cups cake flour
1 Tbsp baking powder
½ tsp kosher or sea salt
1¼ cups buttermilk
½ cup egg whites (or the whites from 4 large eggs)
1 tsp vanilla extract
1 tsp lemon extract
1½ cups granulated sugar
Zest of 1 lemon
1 stick unsalted butter, room temperature
1 jar lemon curd for filling
Frosting
½ cup pureed raspberries
½ cup egg whites (whites from 4 large eggs)
1¼ cup granulated sugar
3 sticks (1½ cups/12 ounces) unsalted butter, room temperature, chopped into Tbsp-size pieces
Instructions
Preheat oven to 350 F. Line 2 cupcake pans with paper liners and set aside.
In a medium bowl, sift together flour, baking powder and salt.
Combine buttermilk, egg whites, and extracts in a measuring cup and stir to combine.
In a large bowl or the bowl of a stand mixer, combine sugar and lemon zest. Use your fingers to combine, until sugar is moist and fragrant. Add butter and mix on medium speed until well-combined and fluffy, about 2 minutes.
Add ⅓ of the flour and beat on low to combine. Add half the buttermilk mixture and beat to combine, then add another ⅓ of the flour followed by the other half of the buttermilk/egg white mixture. Add the last of the flour and beat on medium-low for two minutes to thoroughly combine.
Scoop batter into prepared cupcake pans, filling each about ⅔ full. Bake 20-22 minutes, until a toothpick inserted in the center comes out clean. Cool in pans for 5 minutes, then remove to racks to cool completely.
When cooled, use a paring knife to remove a circular core from each cupcake. Fill the hollow with a teaspoon of lemon curd.
Make the Frosting:
Strain the pureed raspberries to remove seeds and set aside (I like to leave just a few seeds for texture).
Fill a saucepan with about 2 inches of water and bring to a simmer. In the bowl of a stand mixer, combine egg whites and sugar and stir to combine.
Set the bowl over the saucepan and cook, whisking constantly, for about 3-5 minutes (if you have a thermometer, you'll want to get them to about 140 degrees) until sugar is dissolved and the mixture is thick and glossy.
Quickly remove and place bowl on the mixer base. With the whisk attachment, beat on medium-high for 6-8 minutes, until stiff peaks form and the bowl is cool to the touch.
With the mixer still running on medium, add the butter one tablespoon at a time, beating each addition until incorporated. When all the butter has been added, continue beating for several minutes until the mixture is thick, shiny, and stable. DON'T PANIC if it looks like a curdled mess for several minutes - it hasn't betrayed you and it will come together!
Add the raspberry puree and beat well to incorporate. Pipe onto cooled, filled cupcakes.
Notes
Refrigerate any cupcakes that need to be kept longer than a few hours. Remove from fridge and bring to room temperature at least 45 minutes before serving.
Source: Lemon cupcakes from Dorie's Baking
Don't miss a thing – sign up to receive new recipes by email, or follow me on Facebook, Instagram, and Pinterest.