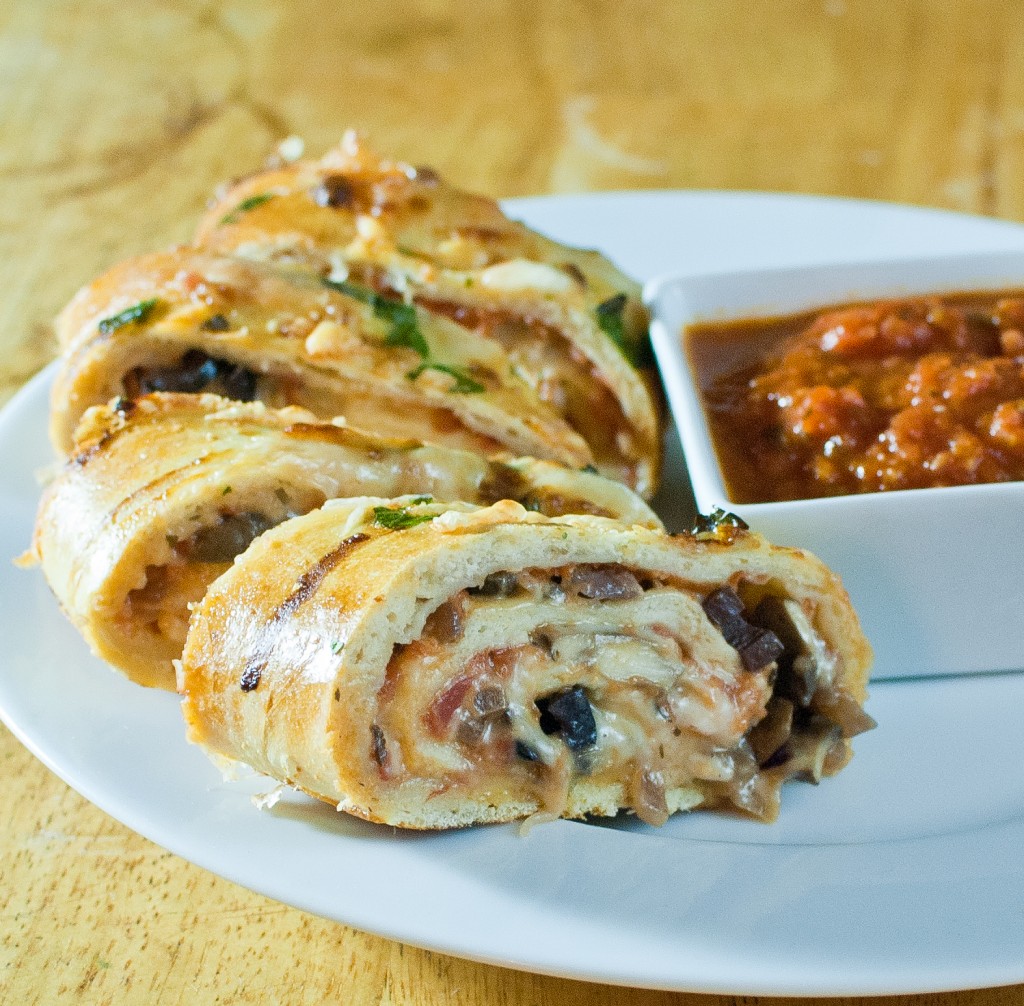 Stromboli versus calzone: an age-old discussion. Does one have ricotta while the other has mozzarella? Is there usually provolone in one? One has the sauce inside and the other on the side for dipping, right? One's rolled and one's folded?
Ask me if I care. They're both bread filled with cheese and pizza toppings. Reconfigured pizza, if you will. So no, I don't care. Call it whatever you want; I'm eating it either way.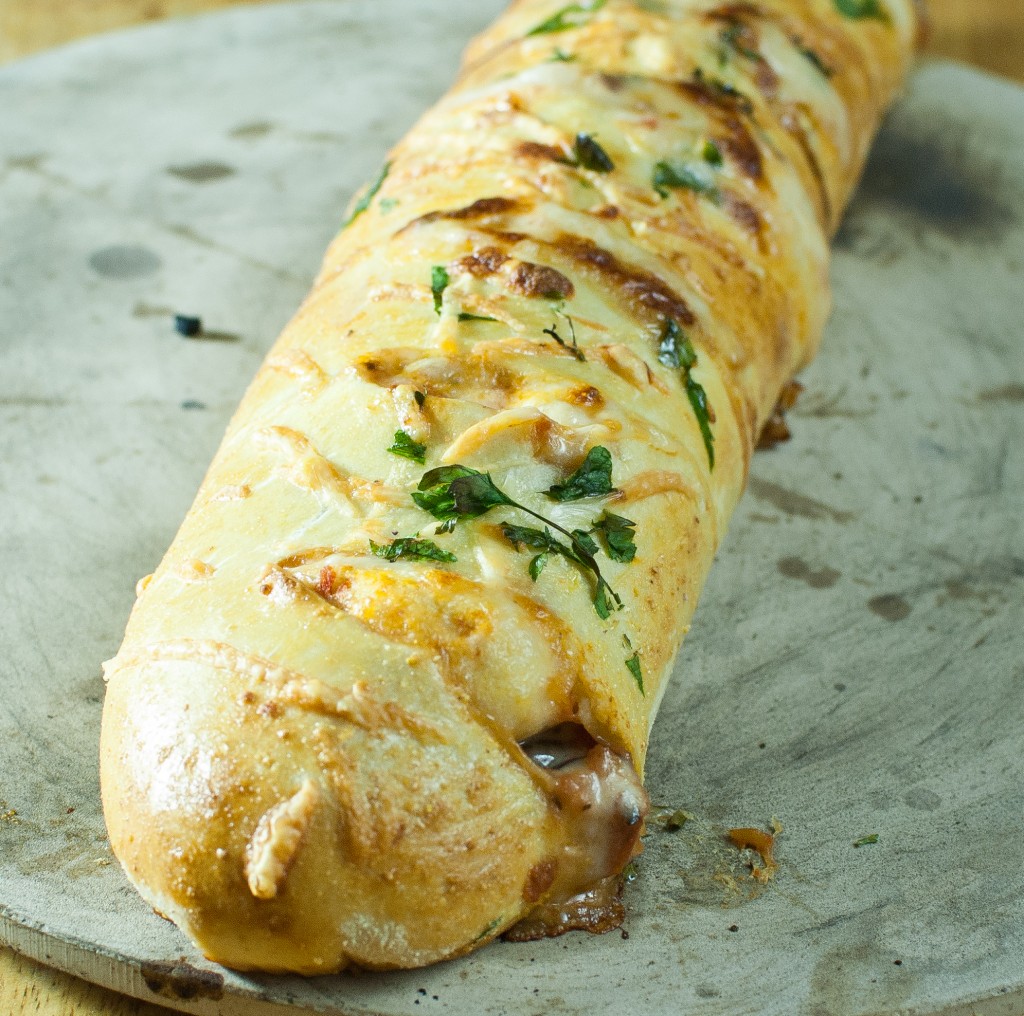 Ugh, all right, fine. I might care a little. Just enough to google it. While there's significant dissension in the ranks about what differentiates one from the other, I found one common thread: calzones are folded; strombolis are rolled. That's seriously the only consistent thing I could find (although the certainty with which people speak of it is very convincing – I read two articles back to back, each with vehement, table-pounding, but very different convictions about which has the sauce on the inside). So then I stopped caring again. Let's face it – if you load up a pizza crust with sauce, cheese and toppings and roll it up into a Log of Deliciousness, there's really nothing you can do to make it unappetizing. Including telling your boyfriend that the shape reminds you of the baby chestburster from the movie Alien. Come on, it does.
Did you just lose your appetite? Sorry. Hey, I didn't post a comparison picture, so give me credit for that.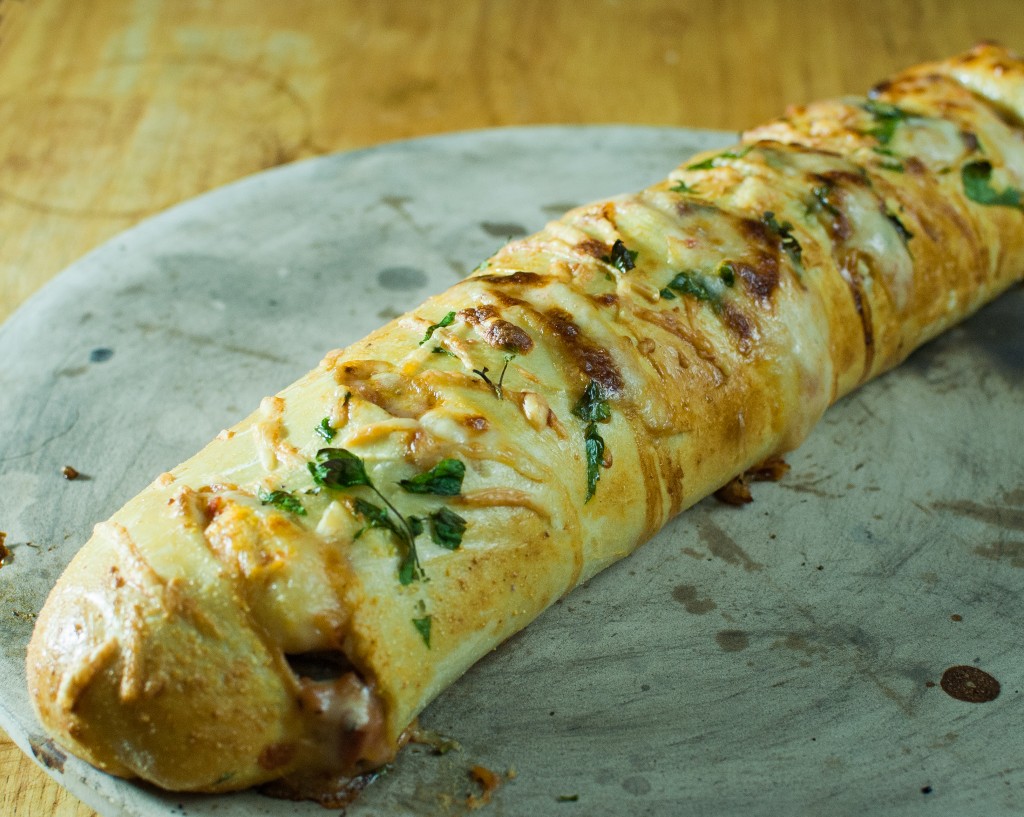 This is a pretty indulgent dish. I only make it for the occasional Sunday dinner or major sporting events (it's a Super Bowl favorite around here). But it's so, so worth it. I highly recommend using the dough recipe linked below to make your own crust, but of course it works with any premade dough if you don't have the time. As for fillings, I love it with the mushrooms and olives in this recipe, but it's incredibly versatile and works with any veggies you have on hand – spinach, broccoli, peppers, whatever. How can you lose with a rolled up pizza? You can't.
Mushroom and Olive Stromboli
Sauce, cheese and your favorite pizza toppings rolled up into a delicious stromboli.
Ingredients
One recipe pizza crust, or your favorite storebought crust
1 Tbsp cornmeal
1 Tbsp olive oil
6 oz (about 1¼ cups) cremini or white mushrooms, sliced
Pinch of salt, black pepper to taste
¼ cup kalamata or black olives, sliced
1 cup marinara sauce
1 cup mozzarella cheese, shredded
½ cup + 2 Tbsp parmesan cheese, shredded and divided
½ tsp onion powder
¼ tsp garlic powder
1 egg, lightly beaten
2 Tbsp fresh parsley
Extra marinara sauce for dipping
Instructions
Preheat oven to 475 F (if you have a pizza stone, heat it with the oven).
Lightly dust a work surface with cornmeal (I like to use parchment paper so I can transfer it directly to the oven). Roll out pizza dough into a 10x14 rectangle.
Heat olive oil in a skillet over medium heat. Add mushrooms, salt and pepper and cook until mushrooms are softened and have released some of their liquid, about 5 minutes. Remove from heat and stir in olives.
Spread marinara sauce evenly across the bottom ¾ of the pizza dough, leaving margins of 1-2 inches on the other 3 sides. Sprinkle cheese, onion powder, and garlic powder evenly on top of sauce, reserving 2 Tbsp of the Parmesan. Spread mushrooms and olives over sauce and cheese.
Starting at the long edge on the bottom, roll the dough as tightly as you can into a log. Pinch/fold the two ends and the seam to seal.
With the seam side down, lightly brush the rolled up dough with the beaten egg. Sprinkle with the remaining Parmesan.
Use a sharp knife to cut 3 or 4 slits in the dough (this will prevent your log of deliciousness for ending up as an exploded log of non-deliciousness inside your oven).
Transfer to preheated oven and cook 10-12 minutes, until top is golden-brown and cheese is bubbling through the slits. Remove and sprinkle with parsley.
Cool 5 minutes, slice, and serve with extra marinara.
 Don't miss a thing – sign up to receive new recipes by email, or follow me on Facebook, Instagram, and Pinterest.