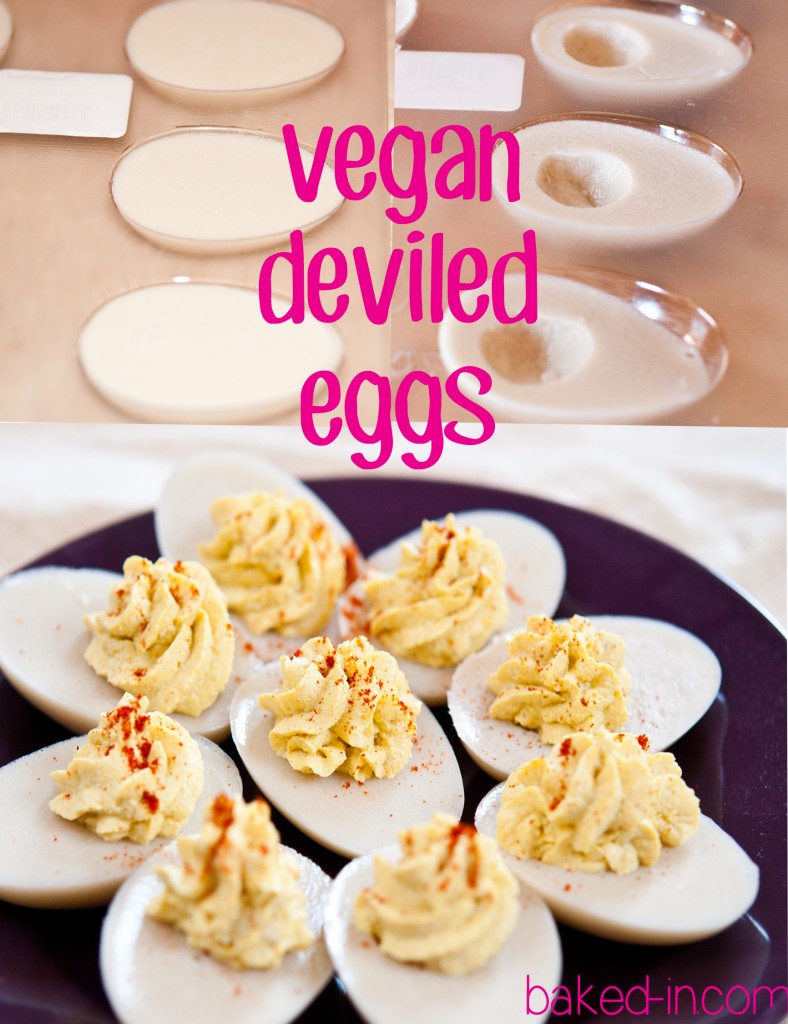 Disclaimer: I am most definitely not a vegan, nor do I play one on TV, but I've been dying to try this recipe ever since I saw it over on Lagusta's Luscious a few months ago. Of course it took me forever to get around to it, but now we're coming up on Easter, so the timing is perfect. Holidays can be tough for vegans and vegetarians – most of the traditional holiday meals center around a big slab of meat, and Easter, of course, is all about eggs. I've seen lots of recipes for deviled egg substitutes, but this was the first one I've come across that really has the look – and, it turns out, the taste – down pat.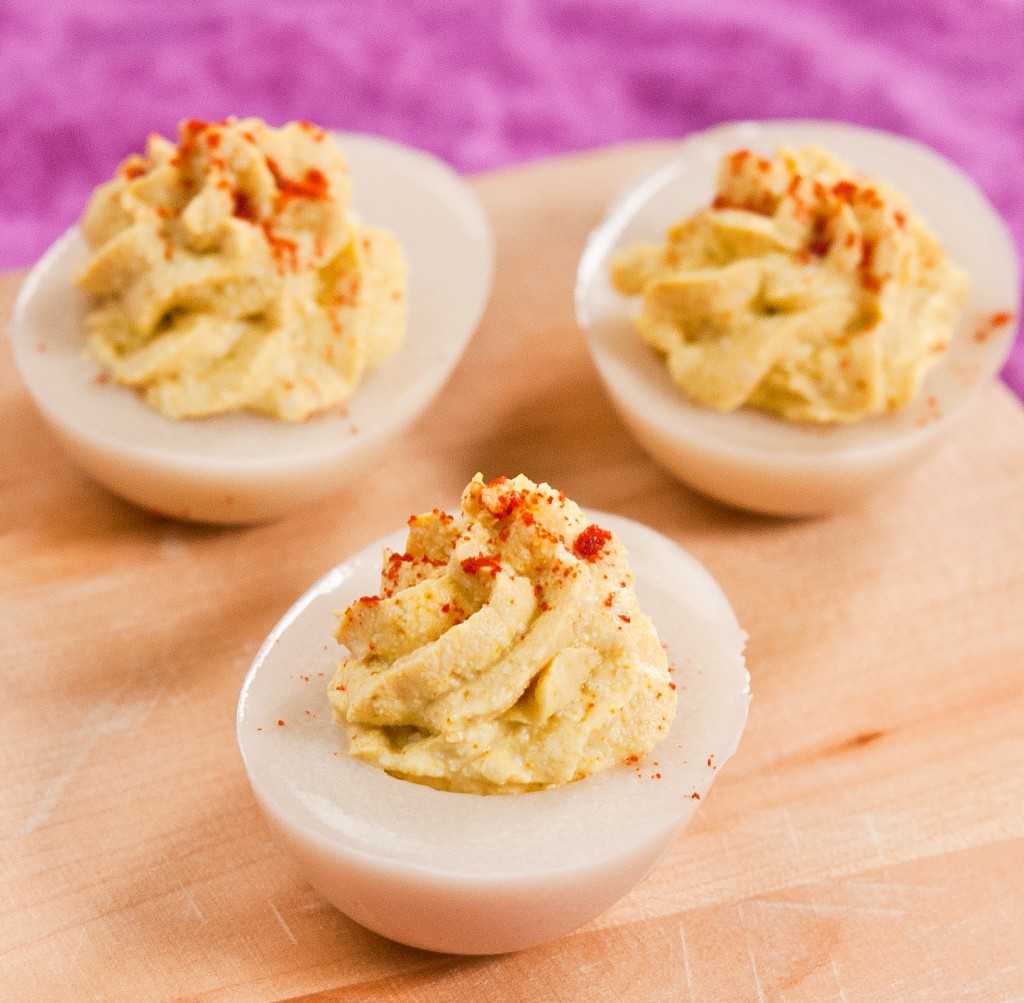 You won't normally see recipes here that require special equipment or ingredients, but I will always make an exception when it's worth your while – and these are. You'll need two things to make these that you probably don't have in your kitchen:
Kala Namak (Indian black salt) – this is a sulfurous mineral salt that is great for lending an eggy taste to vegan foods. I have not tried to make these without kala namak, and I don't know that I would. I really think this is what gives these an authentic egg-like taste. If you live in a city and have an international or Indian grocery store near you, you should be able to find it there – otherwise, you can buy it online.
Agar agar powder – this is what sets up the egg "whites" and gives them that hard-boiled egg rubbery consistency. You need this – most Whole Foods stores carry it or you can buy it online.
Egg molds are optional – you can use ice cube trays or muffin tins or any other small container. I just like the egg molds because it gives that extra "HELLO I AM AN EGG NO REALLY, SERIOUSLY I'M AN EGG" feel. You can get these online or at crafts stores like Michael's.
These couldn't be more simple, once you have the necessary ingredients. It's honestly as easy as bringing almond milk, kala namak and agar agar to a boil, pouring into egg molds, and waiting.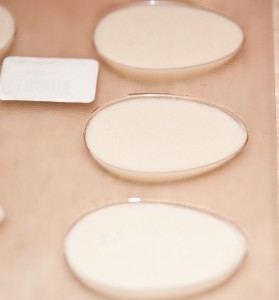 While you're waiting, just whip up your "yolks." You can also probably catch up on an episode of Parks and Rec, since the yolks take about 30 seconds to combine and buzz in a food processor. Then you just use a melon baller or a half-teaspoon to scoop a little hollow out of each egg white, the better to hold some more yolk.
HOW FUN ARE THESE? Science, man. You just made vegan eggs. Now just pipe some pretty yolkage onto each white, sprinkle with paprika, and you've got a perfect vegan appetizer for Easter dinner, or for any cocktail party.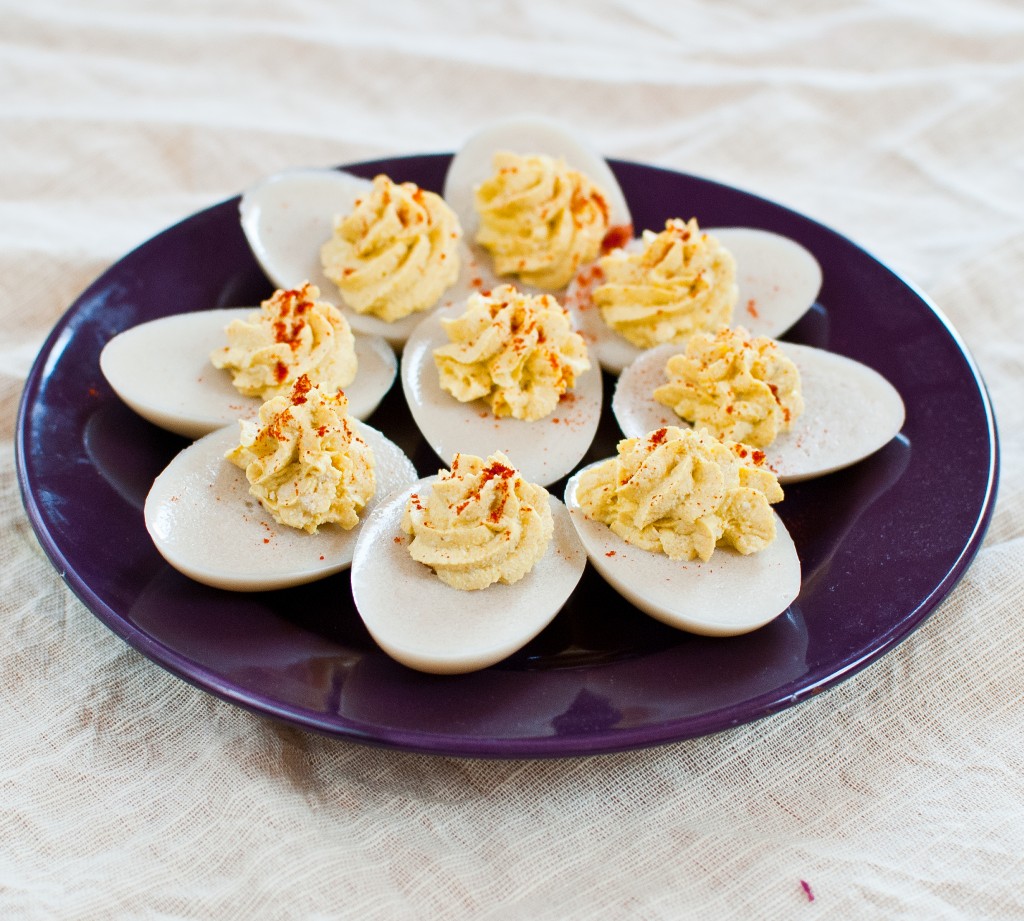 Nor and I, who both eat real eggs, felt that this was a really, really legit facsimile, especially the "yolk." If you're vegan, have vegans coming over for Easter, or if you're just feeling experimental, I highly recommend giving these a try. You'll feel like a (very kind) mad scientist.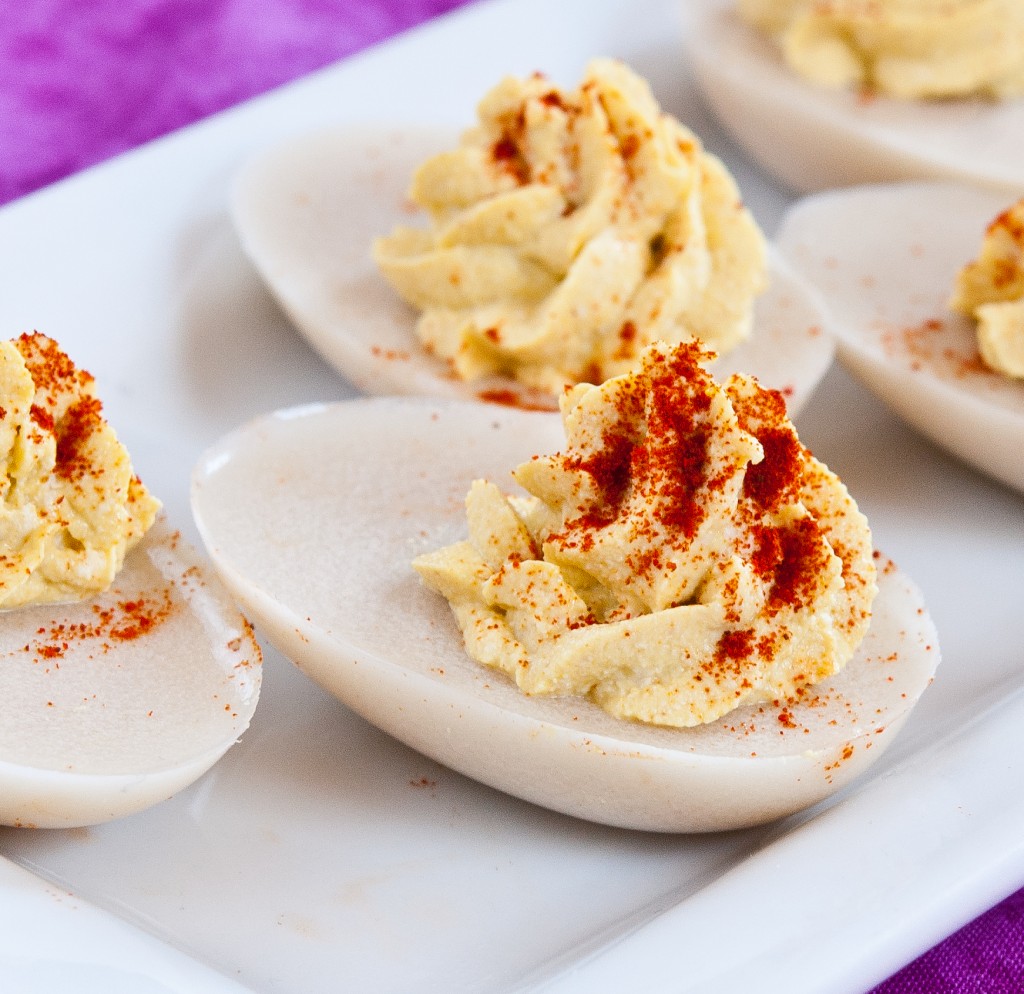 Vegan Deviled "Eggs"
Egg-free deviled "eggs" for Easter or any other time!
Ingredients
"Whites"
2 cups unsweetened, unflavored almond milk
2 tsp agar agar powder
¼ tsp kala namak (black salt)
"Yolks"
½ lb extra firm tofu
2 Tbsp vegan mayonnaise (I used Nayonaise)
2 Tbsp vegetable oil
2 tsp dijon mustard
1 tsp white wine vinegar
¾ tsp kosher or sea salt
½ tsp kala namak (black salt)
½ tsp turmeric
Freshly ground pepper to taste
Paprika, for garnish
Instructions
Combine almond milk, agar agar, and kala namak in a small saucepan and whisk to combine. Bring to a boil. Remove from heat and pour into egg molds. Refrigerate for 30 minutes to allow to set.
Combine tofu, vegan mayo, oil, mustard, vinegar, salt, black salt, turmeric and pepper in a food processor or blender. Blend 30 seconds or until smooth.
Use a half-teaspoon or melon baller to scoop out a small circle from the inside of each egg half.
Place the yolks in a piping bag fitted with a star tip. Fill each egg with yolk (alternatively, just use a spoon to scoop some yolk into each egg).
Sprinkle with paprika and serve.
Nutrition Information
Calories:
29
Fat:
2g
Carbohydrates:
1g
Sugar:
0
Sodium:
31g
Protein:
1g
Source: slightly adapted from Lagusta's Luscious
Don't miss a thing – sign up to receive new recipes by email, or follow me on Facebook, Instagram, and Pinterest.