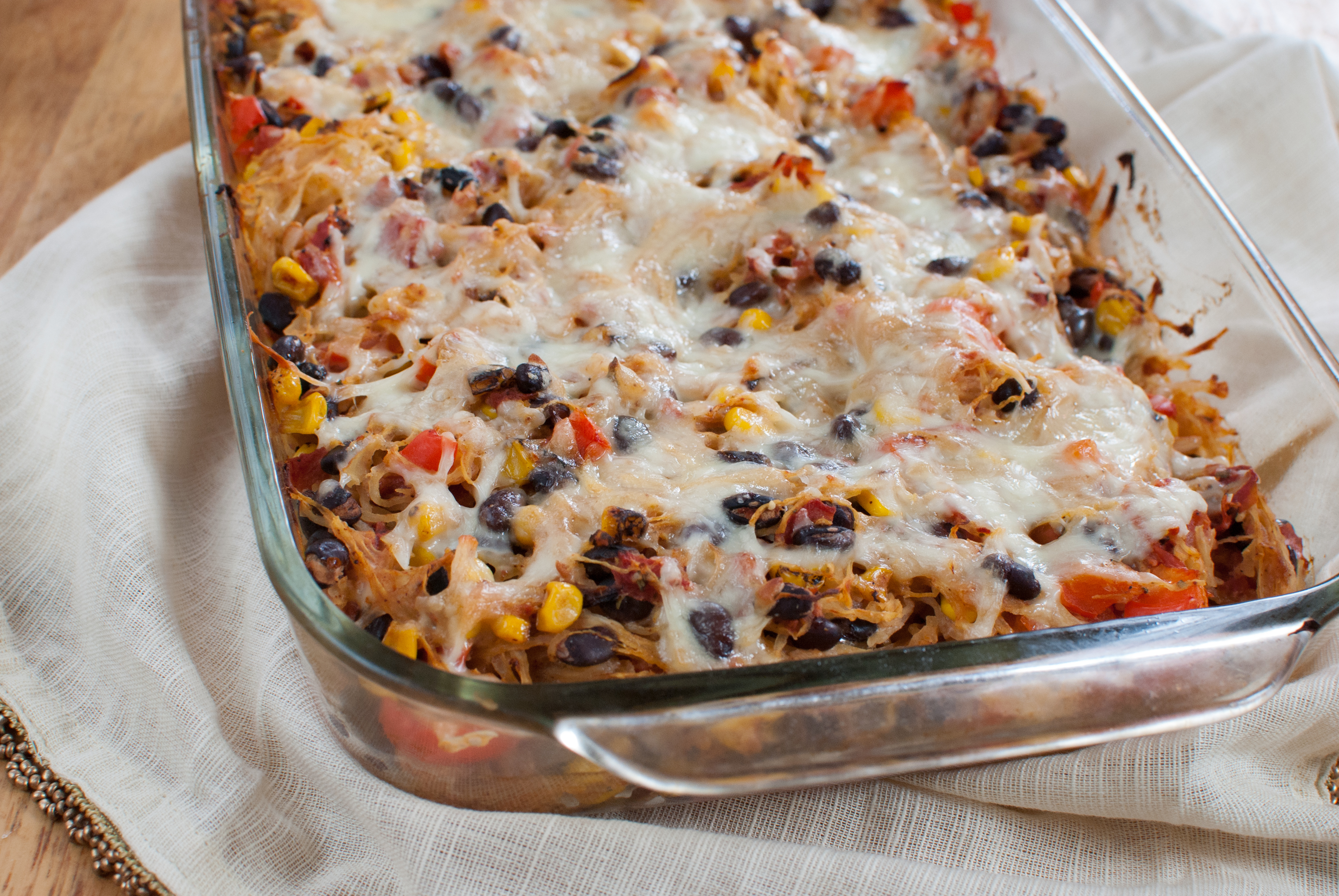 I am told by the functional adult that occupies a very tiny corner of my brain that the holidays and the Super Bowl are both behind us; therefore one is supposed to expand one's food consumption beyond the basic food groups of Stupidly Decadent Desserts and Appetizers So Filling You Don't Need Dinner. Are you wondering why you don't see those food groups here in the food pyramid?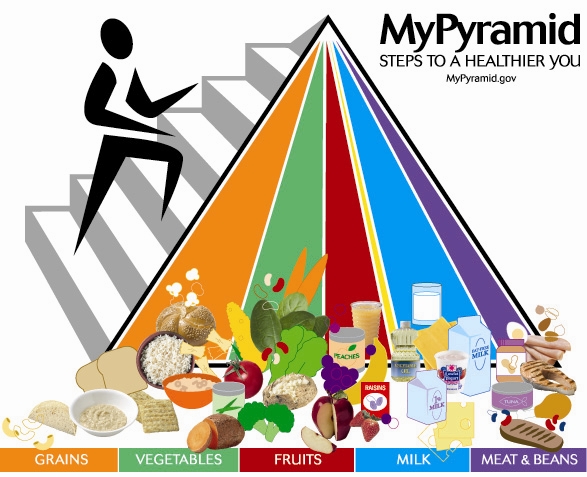 Because they're the foundation. They're just beneath the surface of that pyramid, holding everything up and making it all structurally sound and permanently marketable no matter what property values do in the rest of the neighborhood. And how much of the glory do they get? Zippy. I honestly think I could subsist on just appetizers and desserts. But that's the majority (non-functional, non-adult) part of my brain talking. We do need to eat a real dinner occasionally. I guess. And this spaghetti squash has three of the above-ground food groups and is really satisfying and delicious. It's like lasagna and enchiladas had a very healthy baby together.
Tangent: I think spaghetti squash is SO COOL. Like, you can just cook this vegetable and then scrape out its insides and it magically becomes healthy spaghetti? What kind of voodoo is that? I'll tell you. It's nature voodoo, the best kind. I have yet to convince the b/f of this, as he sees the majestic spaguash (as I call it) as something more fit for punting out the window, but that just means more for me.*
*not kidding. It took six days but I ate the entire pan.
Mexican Baked Spaghetti Squash
Yield:
yields 6-8 normal person servings, or be like me and eat the whole thing over a week.
Ingredients
1 spaghetti squash
2 Tbsp olive oil
1 medium onion, sliced thin
1 red bell pepper, diced
1 jalapeno pepper, seeded and minced
2 cloves garlic, minced
1 Tbsp chili powder
1 tsp dried oregano
½ tsp cumin
Salt and pepper to taste
1 can black beans, drained and rinsed
1 cup frozen corn kernels, thawed
1 can tomatoes with green chilis, drained
½ cup nonfat greek yogurt
1 cup reduced-fat shredded cheddar cheese, divided
Instructions
Preheat oven to 375 F. Lightly spray a 9x13 baking dish with cooking spray and set aside.
Cut spaghetti squash in half and remove the seeds with a spoon. Place the halves in a microwave-safe dish and cover. Cook for 14-16 minutes until easily pierced with a knife and inner flesh is easy to remove.
While the spaghetti squash is cooking, heat the olive oil in a skillet over medium heat. Add the onions, bell pepper and jalapeno and cook until softened and onion is translucent, about five minutes.
Add garlic and cook for two minutes. Stir in chili powder, oregano, and cumin and cook for one minute, stirring constantly.
Transfer from the skillet to a large bowl. Stir in black beans, corn, tomatoes, yogurt, and half the cheese.
When spaghetti squash is done, allow to cool for five minutes. Use a fork to remove the long strands from the inside of the squash. Add the squash to the bowl with the rest of the ingredients and stir well to combine.
Transfer to baking dish and top with the rest of the cheese. Cook, uncovered, for 30-35 minutes, until bubbling and cheese is golden brown.
 Don't miss a thing – sign up to receive new recipes by email, or follow me on Facebook, Instagram, and Pinterest.