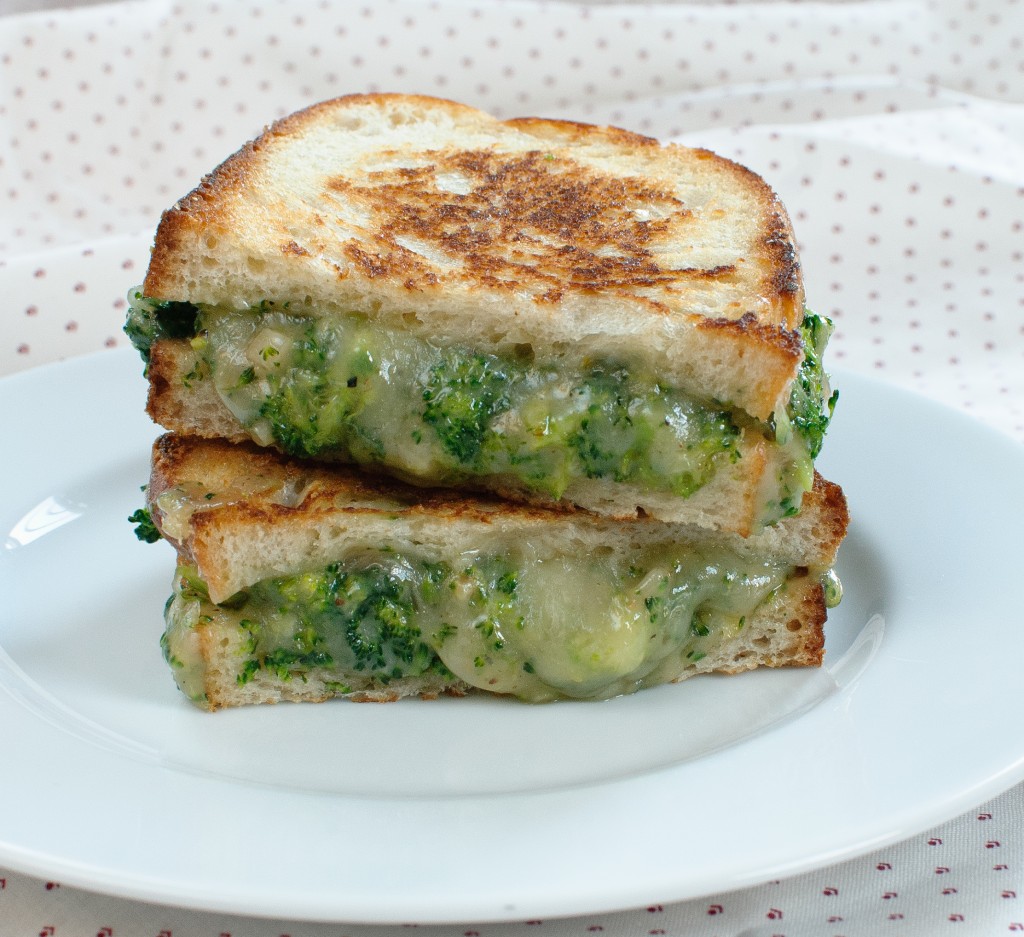 When you live in or near Washington DC, it's impossible to not become embroiled in politics. The local news here is also the national news, and at this point, I don't know (nor would I have it) any other way. Most of us are firmly entrenched in our beliefs from early childhood, and can argue any number of legislative issues as (or more) coherently than some of our elected representatives.
My first inauguration was Bill Clinton's first, in 1993. I was twelve years old, and I really don't remember whether I was enthusiastic about going. What I remember is losing my friend Jamie in the massive crowd – I think she decided she wanted hot chocolate, and who could blame her? I'll never understand why the Founding Fathers decided to throw out a freezing mid-January date and make it a constitutional requirement  that the inauguration occur on that date. What's wrong with May? Anyway, we spent most of the parade looking for her, and my parents have very different recollections of whether we found her or not. Either way, she survived and there was no harm done, but we didn't take any family outings to inaugurations after that.
I've remained politically inclined since then, though – sometimes too much for my own good. Friends with differing viewpoints take great pleasure in bringing up hot button issues and watching me turn red and sputter as I try to quickly Wikipedia my brain to counter their points.  Oh, and this is the very first cake I ever baked, more than four years ago: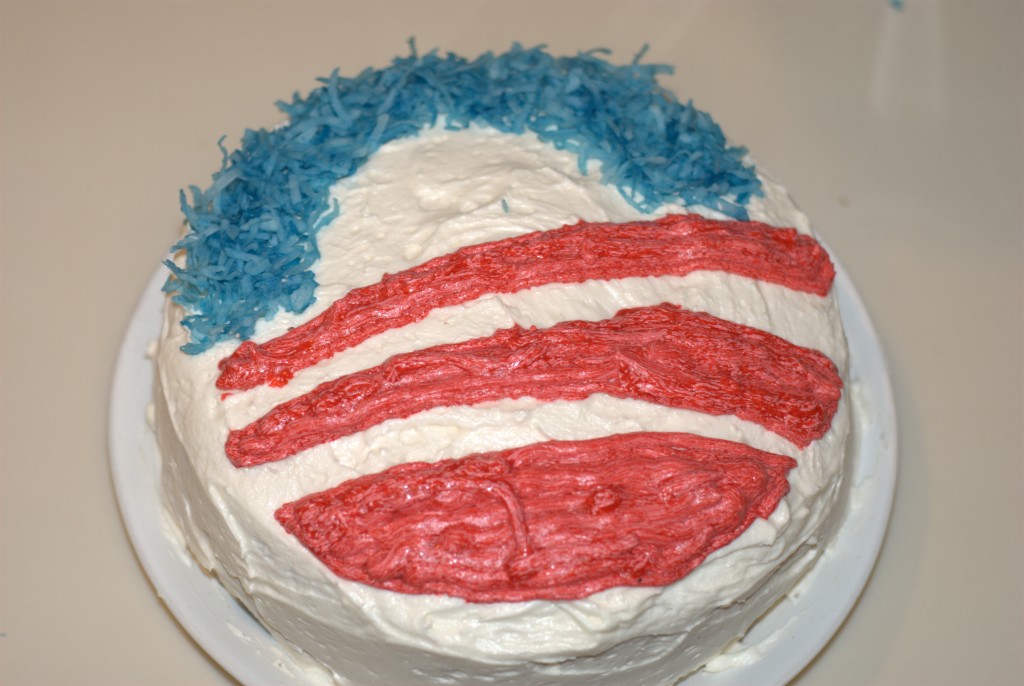 Yes, the impetus for learning to bake was solely so I could make themed food for an election party. 2008 was a great year for food puns – we had parties with Joe Six-Packs and Liberal W(h)ine, Hurri-McCains and Smear Champagnes. I didn't go to that inauguration, though – the sheer number of people pouring into the city was so daunting that I just didn't even try. Four years later, I felt a bit braver, and ventured downtown yesterday to alternately meet up with both of my parents – the people who made me so political – and take full advantage of living in a city where I can watch history take place again and again. Despite the biting cold and huge crowds, I'm glad I did.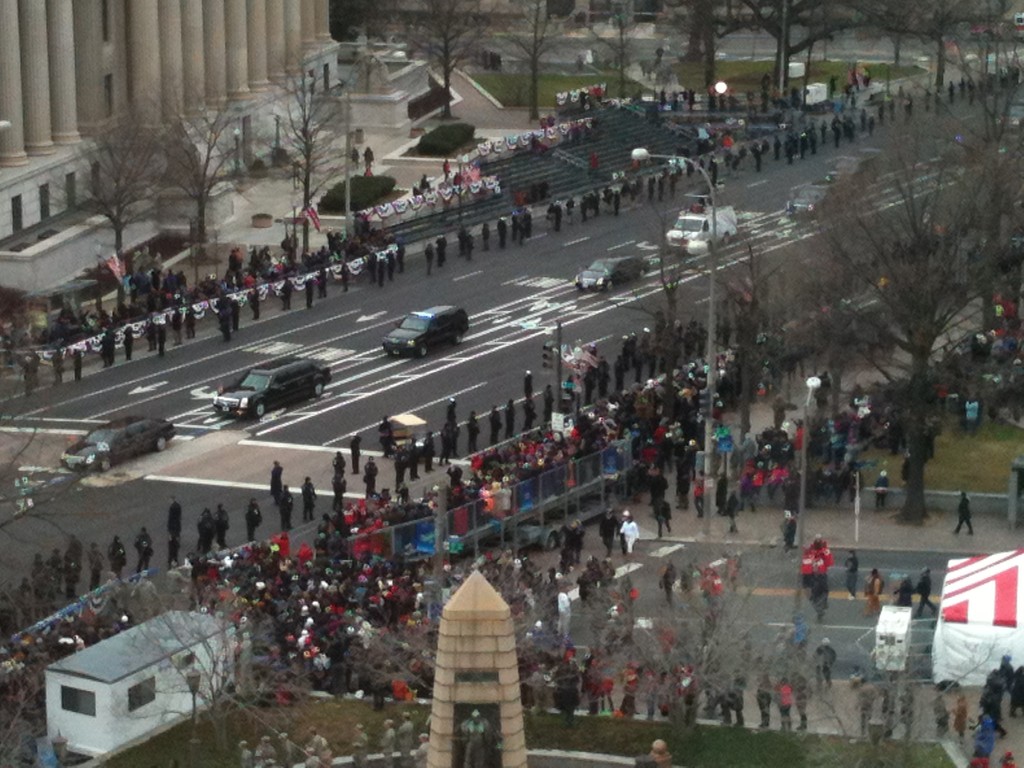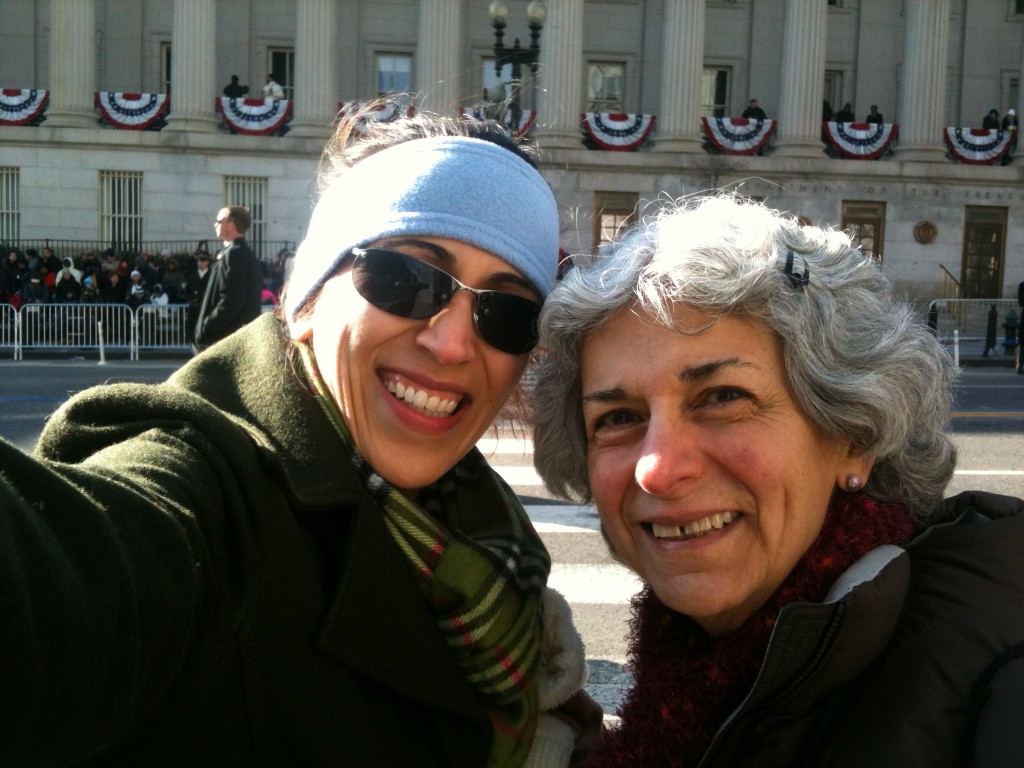 Veering back to food puns for a moment, one of my favorites from the '08 election cycle was "barack-li." And that's what popped into my head as I rode the train back home, practically hyperventilating into my hands to warm them up – broccoli cheddar soup. But I really didn't want the rigmarole of soup – I'd been running around the city all day, all on the heels of a particularly soul-crushing Body Pump class at 6 AM. Nothing like forty billion squats followed by miles of walking, am I right? And that's how this quick, easy sandwich came to be sitting on a plate in front of me for several brief seconds before I inhaled it like a wild animal. Try it. It's bipartisan, its approval ratings are through the roof, and it will make a worthy president of your belly.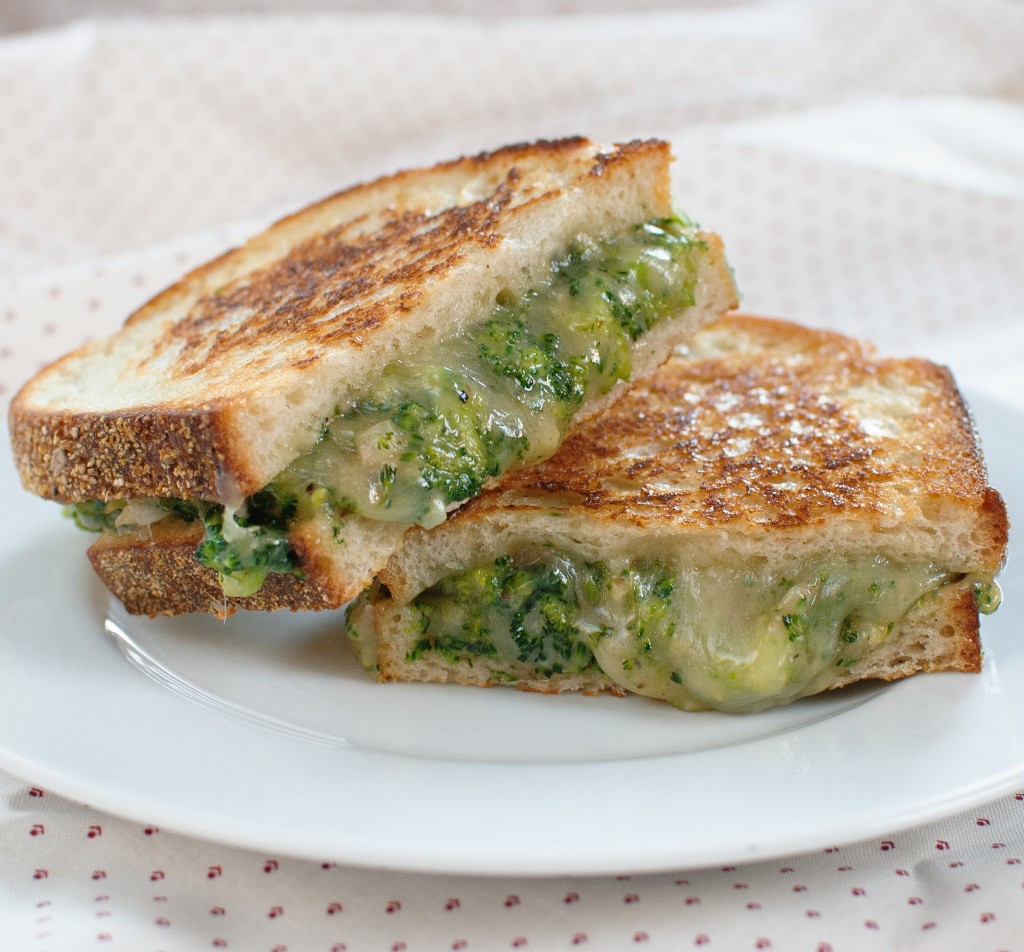 Broccoli-Cheddar Grilled Cheese
Broccoli-cheddar soup meets grilled cheese, and they become monogamous life partners and live happily ever after.
Category:
Lunch, Main Dish
Ingredients
2 Tbsp olive oil, divided
1 shallot, diced
1 clove garlic, minced
1¼ cups fresh broccoli florets, diced small
3 oz (about ¾ cup) shredded sharp cheddar cheese
⅛ tsp paprika
Pinch cayenne pepper
Salt and pepper to taste
2 slices sourdough or other hearty sandwich bread
Instructions
Heat olive oil in a skillet over medium heat. Add shallot and garlic and saute until translucent and softened, about three minutes. Add broccoli, paprika, and cayenne and cook until broccoli is tender-crisp, about five minutes (cook longer if you like softer broccoli).
Remove from heat and stir in shredded cheddar. Remove to a bowl and wipe out your skillet.
Over medium-low heat, heat the other tablespoon of olive oil. Spread broccoli-cheese mixture on one slice of bread and top with the other slice. Cook until bread is browned and cheese is completely melted (about two minutes), then flip and cook on the other side for another minute. Serve immediately.