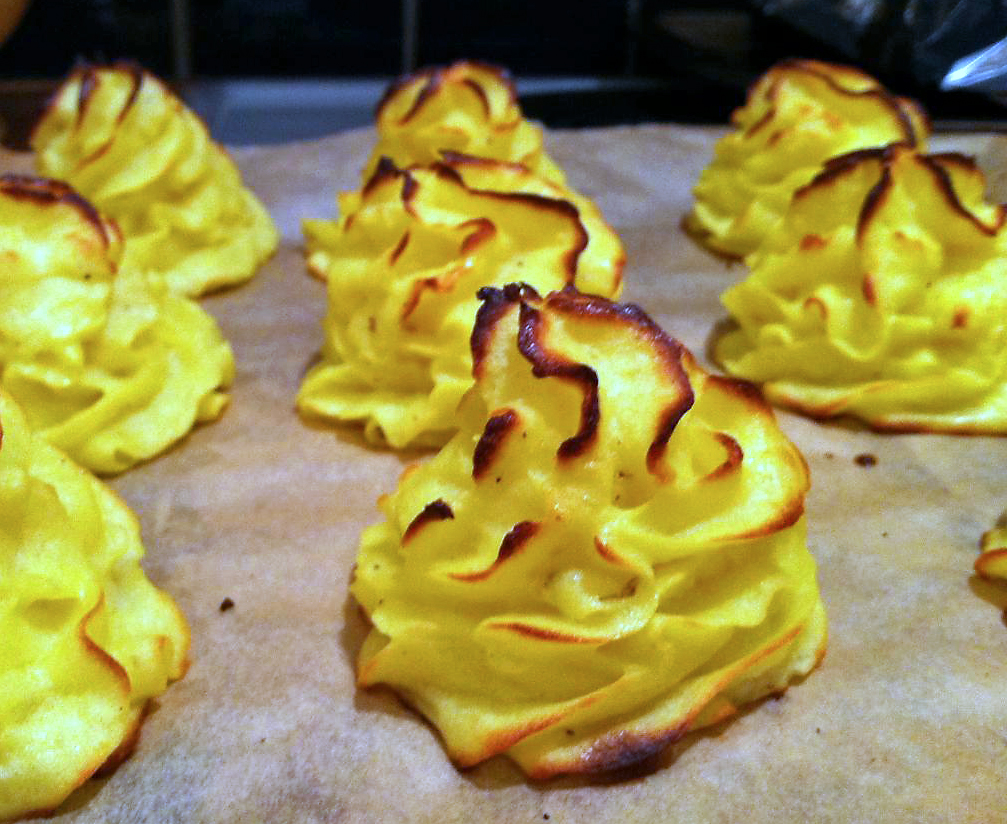 Mashed potatoes are one of the absolute best parts of Thanksgiving. And of life. Seriously, what's better than a gigantic plate of creamy mashed potatoes?
I'll tell you what's better. Creamy mashed potatoes piped into a swirl and baked to browned, crispy perfection. These are just mashed potatoes taken one step further. I've always loved twice-baked potatoes, and these are everything great about those, without having to worry about keeping the skins intact to restuff. These are so easy, and they make for an incredibly impressive presentation. The return on investment is high here, people. You don't even really need to pipe them – you can just as easily spread them into a casserole dish and bake them. The peaks will brown just as beautifully and no one will know that you took a shortcut, because their mouths will be full of delicious potatoes.
The traditional version of these has butter, egg yolks, butter, maybe another egg yolk, heavy cream, and a tiny splash of extra butter. I've had that version, and it's really (really!) good. This one is a little easier on the cholesterol, though, and it tastes just as good – give it a whirl and see what you think. I was initially skeptical about how this would veganize, but I think it has just the right amount of richness and creaminess to feel just as indulgent as the classic version. I take the fact that I was only able to get a camera phone picture of these babies before they were gone as a testament to how good they are.
Ingredients
2 lbs russet potatoes, peeled and cut into one-inch chunks
4 Tbsp margarine or Earth Balance
12 ounces silken tofu
¼ tsp freshly grated nutmeg
1 tsp kosher or sea salt
½ tsp freshly ground black pepper
½ tsp paprika
2 additional Tbsp margarine or Earth Balance, melted
Instructions
Preheat oven to 425 F. Line a baking sheet with parchment paper and set aside.
Fill a large stockpot with about an inch of water. Place potatoes in a steamer basket. Cover pot and steam on medium-high heat for 15-17 minutes, until potatoes are tender and easily pierced with a knife. Remove steamer basket with potatoes and drain stockpot.
Place potatoes back in pot over low heat and stir for about two minutes (this will remove remaining water and steam and give you a fluffier potato). Turn off heat.
Add margarine or Earth Balance and mash with a potato masher to combine. Add tofu, nutmeg, salt, pepper and paprika and continue mashing until potatoes are smooth and fluffy. You can also use a food mill here, but who has a food mill (answer: I do, but I hate getting it dirty because it's a PITA to wash).
Place potatoes into a piping bag with a large star tip. Pipe potatoes into decorative swirls on prepared baking sheet. If you're not a piper, simply grease a baking dish and fill it with the potatoes. Use the tines of a fork to create decorative peaks - these are what will brown, so don't skip that step!
Brush the melted margarine/Earth balance over the potatoes and bake until peaks are browned, about 18-20 minutes.