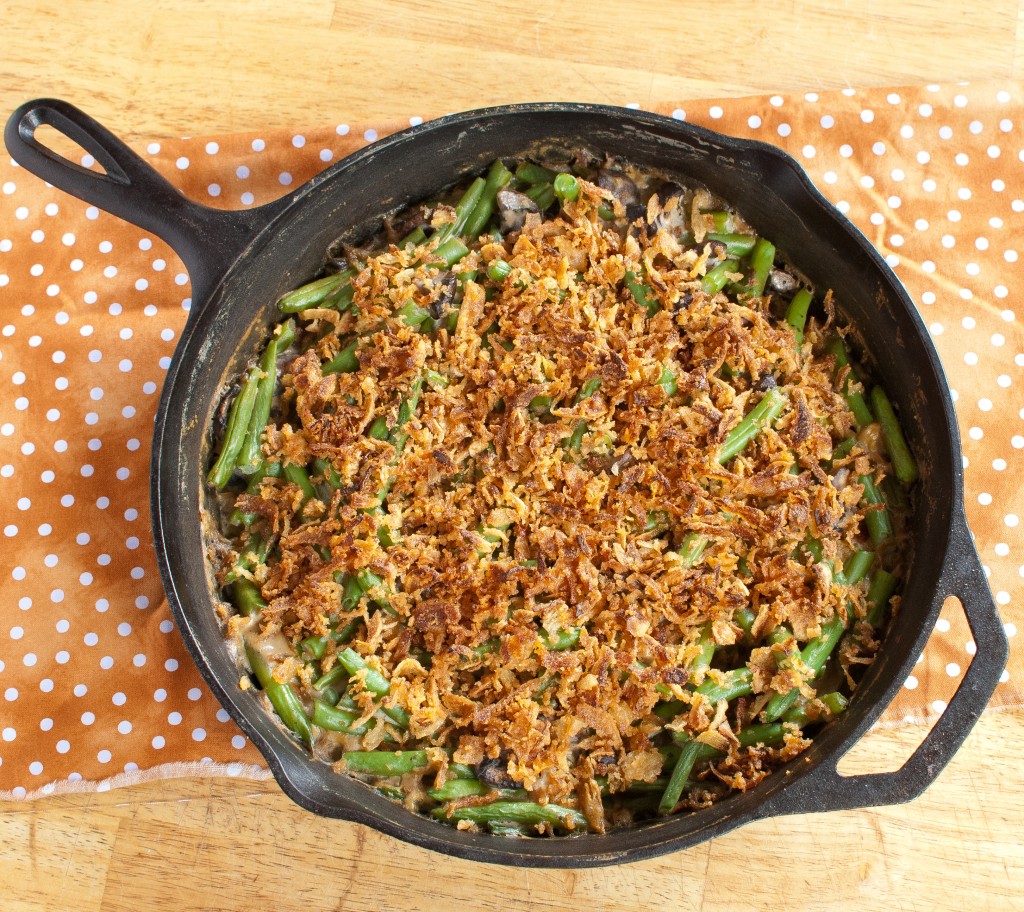 Thanksgiving is a fun holiday for vegetarians, huh?
That sounded sarcastic. But it really is fun! I get a lot of jokes about what I'm eating during the holidays, and questions about what we do when we sit down at a dinner table with a gigantic turkey carcass plopped in the middle. What do we do? We handle it. For me, there are few things more fun than a challenge – and vegging up a holiday meal that can wow even the most devout turkey fanatic is most definitely a challenge.
The ubiquitous green bean casserole was not something that ever showed up on our Thanksgiving table. I'm not sure why – we did the canned cranberry sauce with the can's date imprinted in the bottom, the mashed potatoes and gravy, and pretty much every other staple. But I had never even heard of this until five or six years ago, and the person who described it to me didn't do a great job of selling it – I'm paraphrasing, but it was something along the lines of, "You take a bunch of cans of condensed crap and dump it into a dish, and then you mix in mushy cafeteria green beans and try to cover it with enough fried onions to make it palatable. Then you weep in memory of actual food."
Honestly, the traditional version never sounded that bad to me, but I have a strange love affair with canned green beans (yeah, I know).  But most of the condensed soups out there have chicken broth (so they're out of my realm), and besides, why not scratchify it if you can?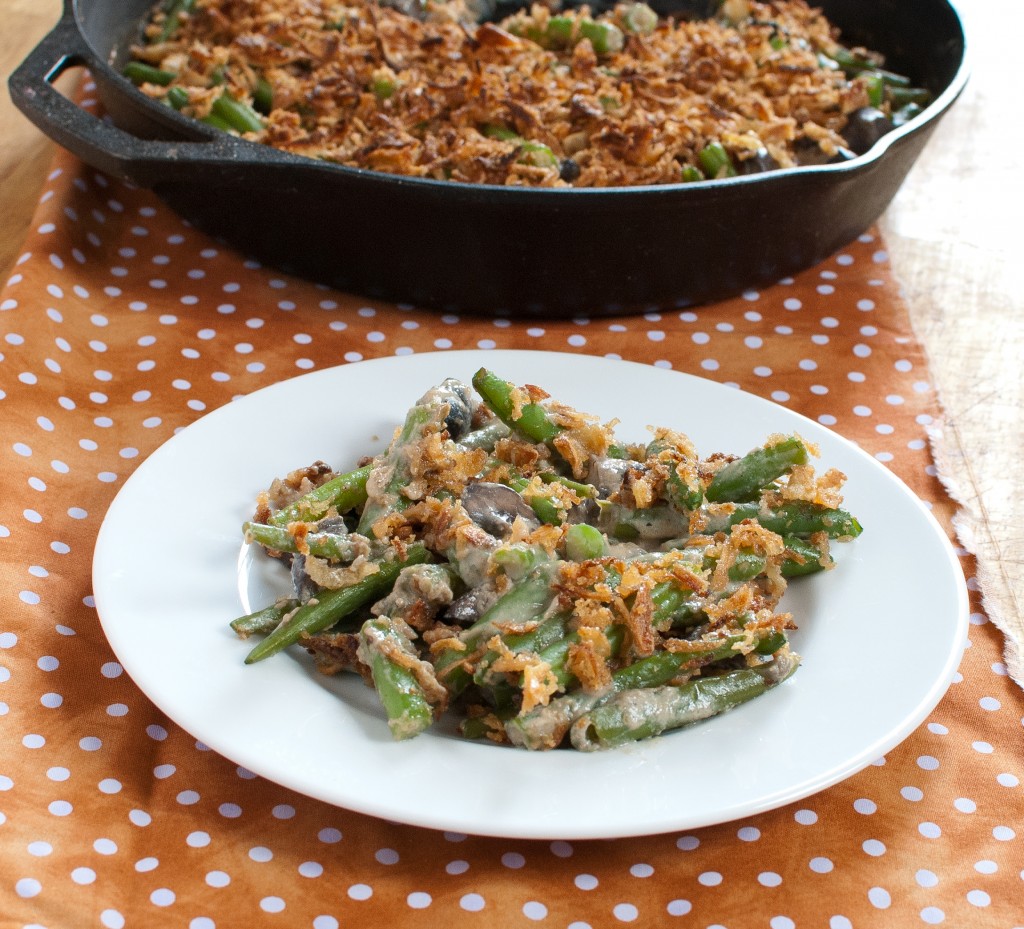 Fresh green beans and mushrooms, DIY crispy fried onions, and a healthy, protein-packed creamy sauce are all you need to give a tired Thanksgiving classic a much-needed facelift. Silken tofu replaces heavy cream in the sauce – this is kind of my new obsession. When given a quick buzz in the food processor or with an immersion blender, it becomes a thick liquid that lends a perfect creaminess to sauces and soups without the extra fat, and it doesn't curdle over heat like most non-dairy milks. The end result is a rich but healthy (and totally vegan) Thanksgiving side dish – this is so good for you that you can even cheat and use the classic canned fried onions. I promise I won't tell anyone.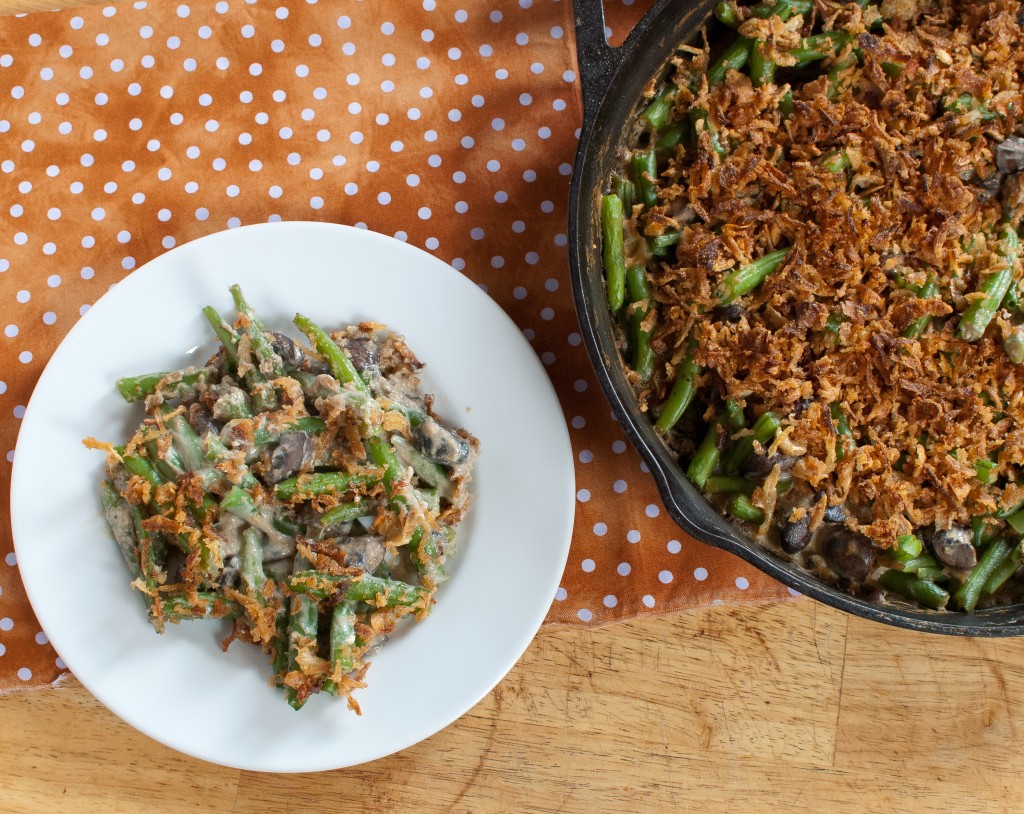 Healthy Green Bean Casserole
A from-scratch version of the classic Thanksgiving side.
Category:
Side Dish, Holiday
Ingredients
Onions:
3 medium onions, cut in half lengthwise and thinly sliced
⅓ cup all-purpose flour
3 Tbsp panko breadcrumbs
1 tsp sea salt
Casserole:
1.5 lbs fresh green beans, trimmed and cut in half
2 Tbsp olive oil
1 lb cremini mushrooms, quartered
½ tsp sea salt
¼ tsp ground black pepper
2 cloves garlic, minced
¼ tsp freshly grated nutmeg
⅛ tsp cayenne pepper
2 Tbsp all-purpose flour
1 cup low-sodium vegetable broth
12 oz (one package) silken tofu, pureed
Instructions
Preheat oven to 400 F. Spray a cookie sheet with cooking spray.
In a large bowl, combine flour, breadcrumbs, and salt. Toss onions in flour mixture until coated. Spread on baking sheet and bake for 25-30 minutes, stirring several times during baking. Remove from oven and set aside.
Bring a large stockpot of water to a boil. Pour in green beans and cook for five minutes. Drain and plunge immediately into a bowl of ice water to stop cooking. Drain again, and set aside.
In a cast-iron or other oven safe skillet, heat olive oil over medium heat. Add mushrooms, salt, and pepper and cook for about 5 minutes, until mushrooms are releasing their liquid. Add garlic, nutmeg, and cayenne pepper and cook for another 2 minutes.
Sprinkle flour on top of the mushrooms and cook for 1 minute, stirring constantly. Pour in vegetable broth and simmer for 3-4 minutes, until mixture is thickened. Stir in pureed tofu and cook for another 5-7 minutes. Remove from heat and stir in green beans and a handful of the onions until beans are thoroughly coated.
Top with remaining onions and bake for 15 minutes. Serve hot.
Source: adapted from Alton Brown
Don't miss a thing – sign up to receive new recipes by email, or follow me on Facebook, Instagram, and Pinterest.