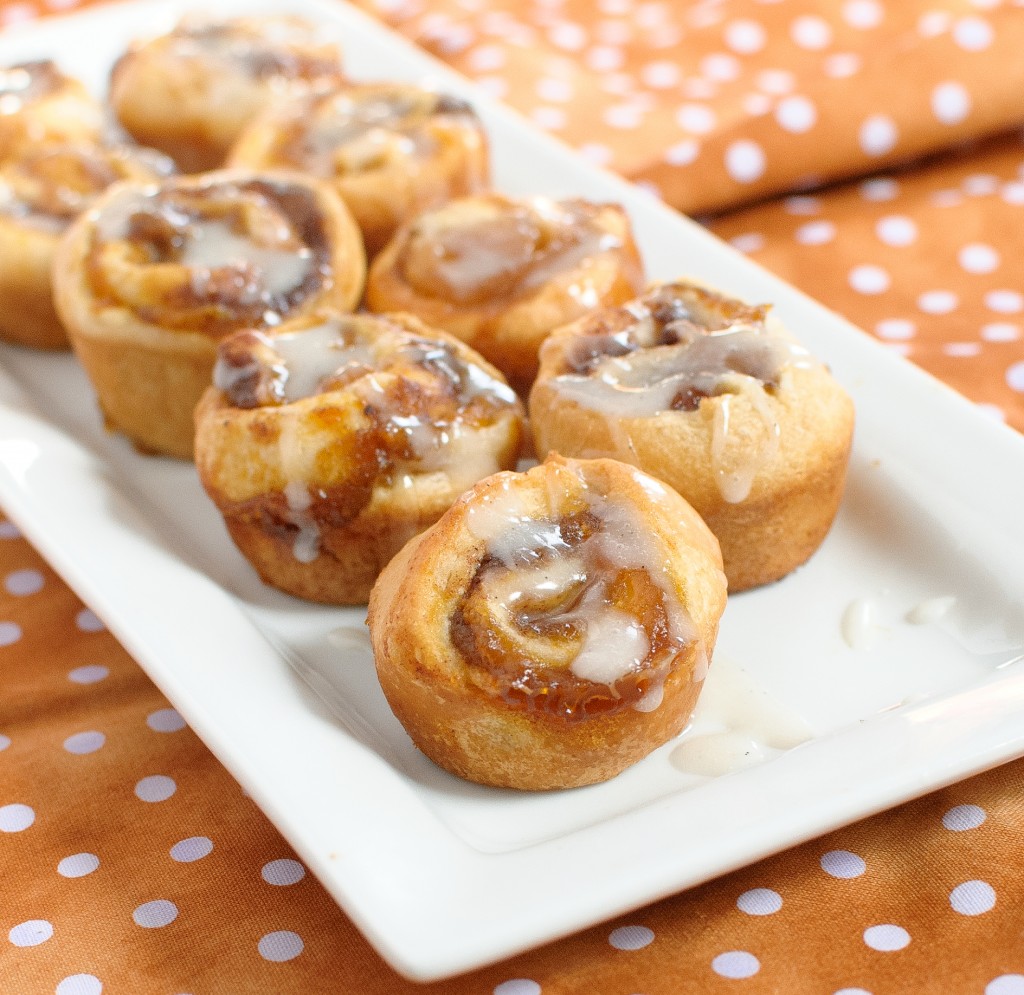 Yes, it's that time of year – the leaves are turning (too early, if you ask me), the mornings are starting to get that delightful little nip in the air, and the entire world is obsessed with pumpkin. Myself included. This was my first pumpkin foray of the year, for a brunch at a friend's house. They are incredibly simple, due to the cheat factor with refrigerated crescent dough (but you don't have to tell anyone that), and they have all the warm, gooey appeal of a regular cinnamon roll, but with an extra pumpkin punch. Assemble in five minutes, bake in 15-20, and you're good to go.
You can bring these to brunch, to work, or just pop them like candy in the privacy of your own kitchen. I highly encourage popping them like candy – it's so easy to just whip up another batch when you do.
5 Minute Pumpkin Cinnamon Crescent Rolls
Category:
Dessert, Breakfast
Ingredients
1 8 ounce can crescent rolls
4 Tbsp butter, melted
1 Tbsp light brown sugar
2 tsp pumpkin pie spice
1 cup pumpkin puree
½ cup powdered sugar
1 Tbsp milk
Instructions
Preheat oven to 375 F. Set aside a muffin tin.
Mix the light brown sugar and pumpkin pie spice into the melted butter.
Open the crescent rolls and roll out on a counter or large cutting board. Separate into two long rectangles and use your fingers to pinch the seams together.
Brush the butter/sugar mixture evenly onto each rectangle.
Spread the pumpkin puree evenly across each rectangle.
From the long side of each rectangle, roll up as tightly as you can. Slice into one-inch pieces and place each piece in a cavity in the muffin tin.
Bake 16-19 minutes, until lightly browned.
While rolls are baking, whisk powdered sugar and milk together in a small bowl.
Remove rolls from the oven and cool in pans for 10 minutes. Drizzle glaze over warm rolls and serve.
Source: Adapted from Pillsbury.com
Don't miss a thing – sign up to receive new recipes by email, or follow me on Facebook, Instagram, and Pinterest.