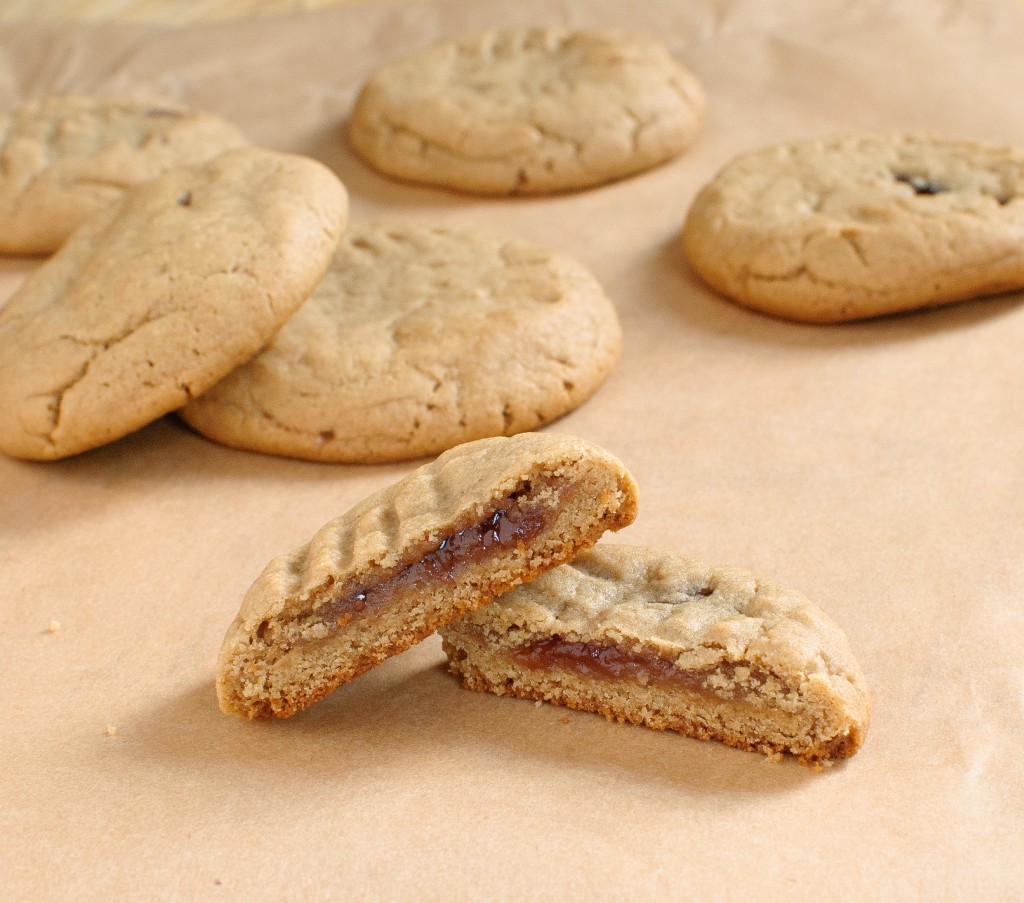 A couple of things are reminding me of being a kindergartener right now. The first day of school, for one. For lots of people, it was last week or the week before. For me, the only reason I really noticed is because the blissfully light summer traffic has once again descended into gridlock. Welcome back, everyone! I'm really enjoying sharing the roads with you again! Second, I have an unshakable cold, which makes me act like a small child. Whining, complaining, going completely limp when someone tries to make me get up and do something…hey, I'm reminding me of being a kindergartener!
So aside from tantrums and snotty noses, what's more small child nostalgic than peanut butter and jelly? Peanut butter and jelly…cookies? I came across this recipe for Rolo-stuffed peanut butter cookies, but didn't have Rolos, and I thought they'd be just as good with jelly. I loved how they turned out – soft, chewy, classic peanut butter cookies with a sweet burst of strawberry jelly in the middle. I worried that the jelly would just soak into the peanut butter and turn into a soggy mess, but they were delicious (and very popular in the office).
To those of you with kids back in school, these are a great after-school treat (or, you know, they also work as a present to yourself for getting through the summer – whatever works). And to those of you who don't, they'll still put a smile on your face, because hello? COOKIES.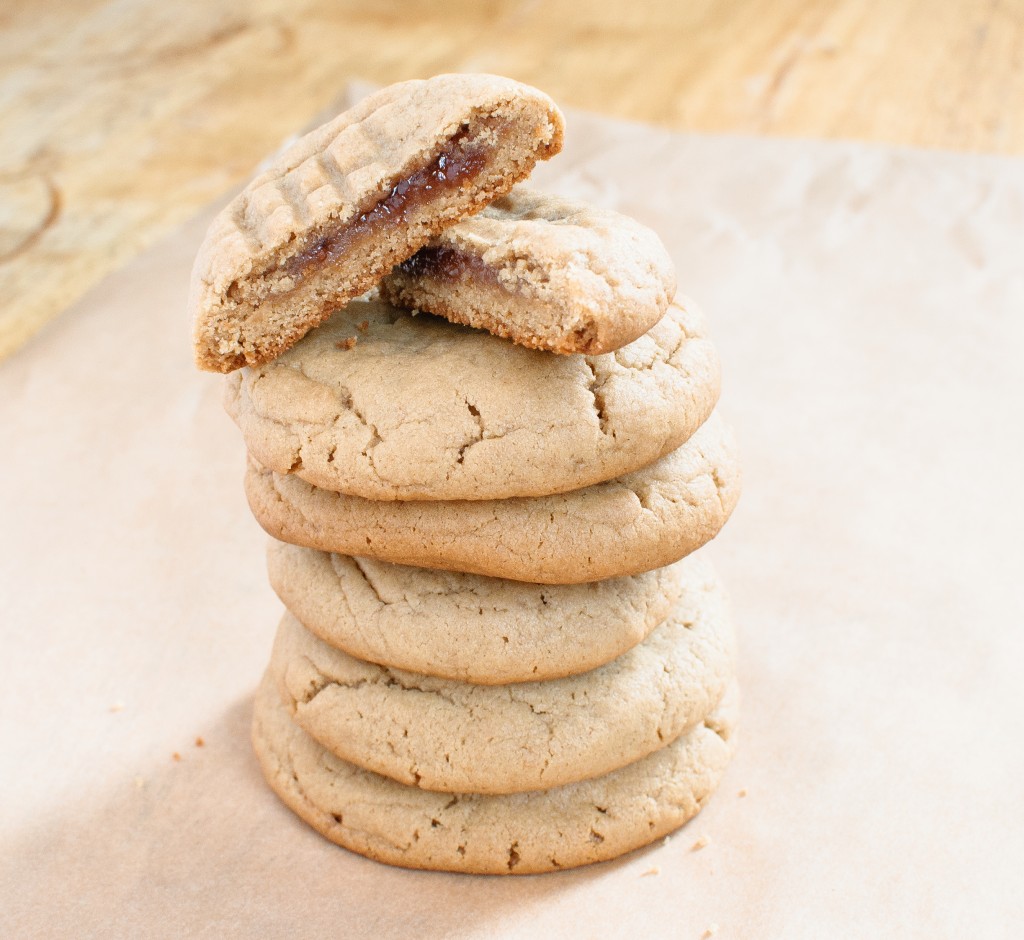 Peanut Butter and Jelly Cookies
Peanut butter and jelly, in cookie form.
Ingredients
2 cups all-purpose flour
¾ tsp baking soda
4 oz (1 stick) unsalted butter, at room temperature
¾ cup creamy natural peanut butter
1¼ cup packed light brown sugar
3 Tbsp milk
1 Tbsp vanilla extract
1 egg
1 cup jam or jelly of your choice
Instructions
Preheat oven to 350 F. Line two baking sheets with parchment and set aside.
Combine flour and baking soda in a small bowl and set aside.
In a mixing bowl or the bowl of a stand mixer, beat butter, peanut butter, brown sugar, milk and vanilla until incorporated.
Beat in egg until blended.
Add flour and baking soda to the batter and beat until just incorporated.
Cover the dough with plastic wrap and refrigerate for 20 minutes (note: this is not mandatory but I find it makes the dough easier to work with).
Scoop one tablespoon of dough and make a well in the center with your thumb. Fill the well with jelly and cover with another tablespoon of dough to make a ball. Make sure the sides are sealed well.
Place each ball on baking sheets two inches apart. If desired, use the tines of a fork to make crisscross patterns on the top.
Bake for 14-15 minutes, until bottoms are lightly browned. Cool for five minutes on baking sheets, then remove to racks to cool completely.
Notes
Note on cooking time: the original cookie recipe calls for 8-9 minutes of cooking time, mine took almost double. Check early (9-10 minutes) - some ovens are just different.
Source: Cookie recipe from Crazy For Crust