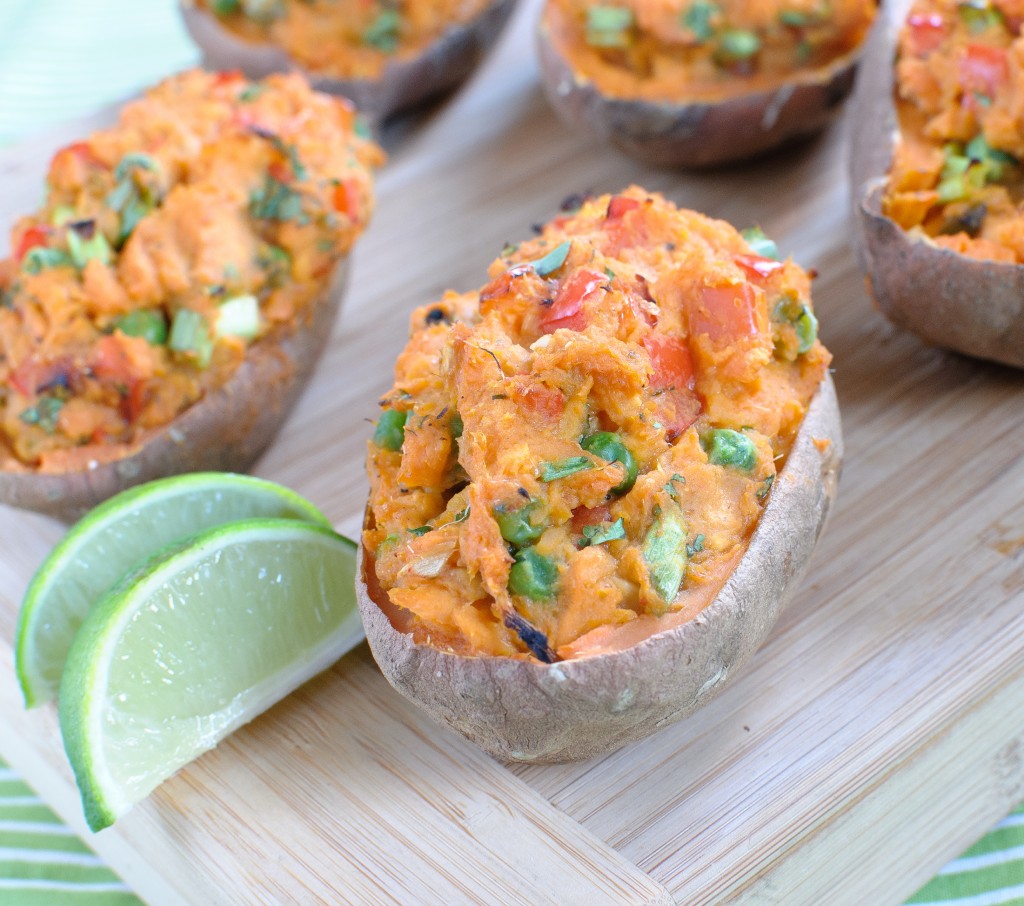 It's been an incredibly busy – but great – couple of weeks. Work has been insane (this is normal) and I have finally made room in my routine to incorporate almost daily workouts (this is not normal). Since my bike accident back in May, I've spiraled a bit. The torn ligaments in my back just nagged and nagged, often leaving me nearly in tears by the middle of a workday and with absolutely no energy to even go out for a walk by the end of it. On top of the injury, I'm allergic to all anti-inflammatory painkillers (Advil, etc.), so all the doctors could really tell me to do was ice it a lot and try to find time to lie around doing nothing until it felt better (have we met? My name is Julie and I am pathologically unable to lie around doing nothing).
I will regretfully admit to feeling a little bit sorry for myself, even while trying not to lose sight of the fact that it could have been a hundred times worse. I didn't break anything, my head was blessedly undamaged (thanks, helmet!), and I am fortunate to have good health insurance through work that kept this from becoming a financial nightmare. But even cooking became a chore for those couple of months, as prolonged standing and twisting around in the kitchen would end up quite literally bringing me to my knees. I worked hard to keep my routine normal, to keep updating the blog, to tell people I was feeling 100% when I was nowhere close, but it took a toll.
A month or so ago, a kind yoga studio owner took pity on me and allowed me to activate an expired Groupon that I hadn't been able to use since I'd been hit by the car just days before it was due to expire. Nervousness about trying to do backbends and stretches in my current state eventually lost out to sheer frustration over not being able to do anything, and I started dragging my butt out of bed at 4:30 AM to get to the 6 AM flow class.
Y'all…this has changed everything for me. The first few classes were agony, but the instructor helped me to go at my own pace and tailor my practice to allow me to build strength back into my body gently. After just two weeks, I was feeling better than I had since the accident. After four, I've shed the weight I gained while my back was giving me grief, I'm able to run again, and quite frankly, I feel amazing. Maybe better than before the accident.
I want to have an over/under on how many posts get to a point where I have to say "…um…was this supposed to be about food?" Right. So, food. I made these sweet potatoes as I was coming out of this injury haze of the last few months, and they have significance to me simply because I was excited to make them. I was excited to bend to check the oven, to stand in the kitchen pounding potato innards with a masher, to slice a zillion veggies – I was excited to cook, and it didn't even cross my mind that I might be so miserable and in pain by the time I was done that I wouldn't even want to eat.
Being excited felt amazing. I'm so happy to feel excited again.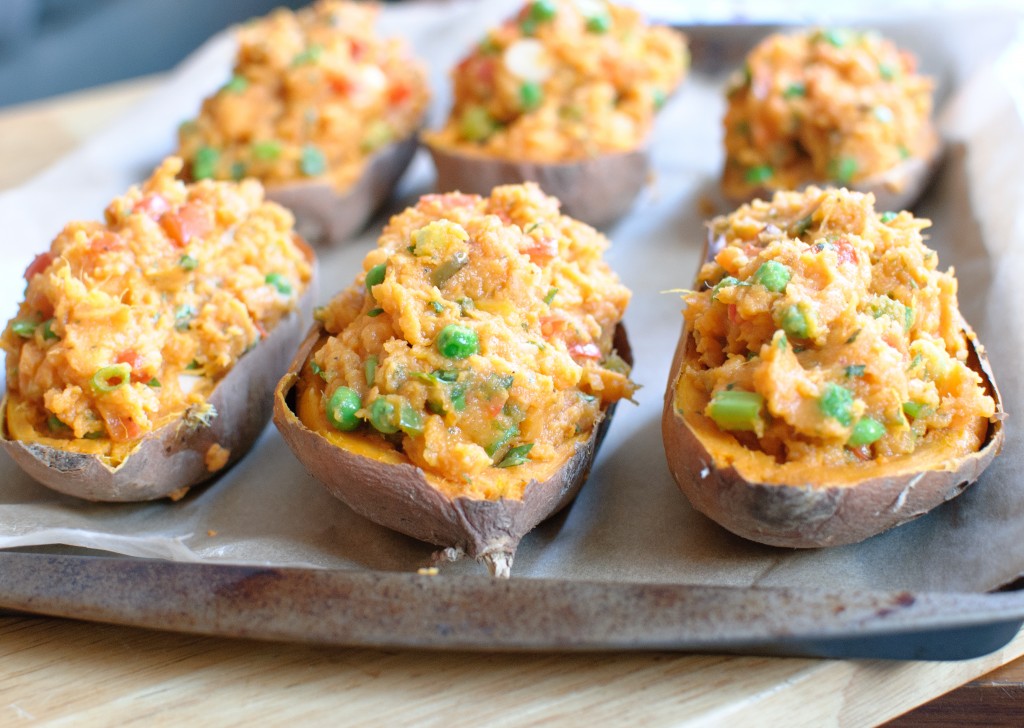 These were a super-fun welcome back to the kitchen – they are unique and exploding with flavor, and Thai flavors in sweet potatoes are to die for. They are quite spicy – I have lowered the amount of curry paste from what I used, but lower it even more if you don't have much of a heat tolerance. They make great leftovers for weekday lunches, and can be a stir-fry side dish or a vegan entrée (we had it as a main dish).
Loaded Thai Sweet Potatoes
A Thai spin on the twice-baked sweet potato. NOTE: these are SPICY. Cut the curry paste for a milder flavor.
Ingredients
4 large sweet potatoes
1 Tbsp vegetable oil
1 red pepper, diced
1 serrano pepper, ribs and seeds removed, minced
2 tsp minced ginger
3 cloves garlic, minced
1 Tbsp Thai red curry paste
⅓ cup light coconut milk
Juice and zest of one lime
6 scallions, chopped
¼ cup fresh cilantro, chopped
1 cup frozen peas, thawed
Instructions
Preheat oven to 375 F. Prick potatoes with a fork and bake until easily pierced with a knife, 55-70 minutes. Remove potatoes and preheat oven to broil.
While potatoes are cooking, heat oil in a skillet. Add red pepper, serrano pepper, ginger, and garlic and cook on medium-low heat until peppers are softened. Remove from heat and set aside.
Allow potatoes to cool. When cool enough to handle, slice in half lengthwise.
Use a spoon to remove the inner flesh into a large bowl, leaving about ¼ inch around the skin to hold it together. Place the hollowed skins on a baking sheet and set aside.
Add curry paste, coconut milk, and lime juice and zest to the potato filling. Mash with a potato masher until smooth and well-blended.
Stir in pepper mixture, scallions, cilantro and peas.
Scoop the filling back into the shells. Broil until heated through and browned on top, about 3-5 minutes. Serve hot.
Source: Adapted from Choosy Beggars
Don't miss a thing – sign up to receive new recipes by email, or follow me on Facebook, Instagram, and Pinterest.