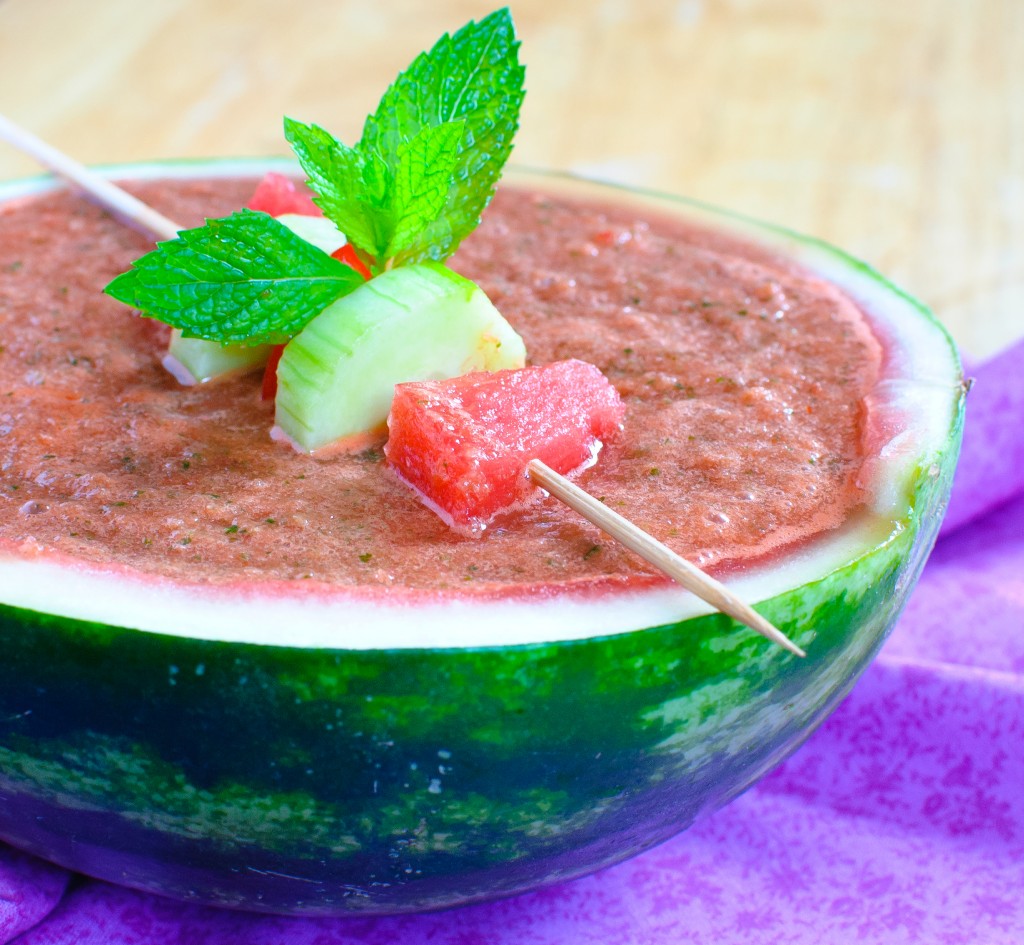 I grew up with gazpacho that was served without pureeing, big mouthfuls of fresh garden vegetables in a red wine vinegar broth studded with droplets of olive oil. It was only a few years ago that I learned that the traditional way to serve gazpacho is well-blended, with small chunks of vegetables but nothing identifiable (I was appalled when I found that out, by the way). I still don't like regular tomato gazpacho any way but the way I've always had it. I fear change.
Point being, I'm not a stranger to off kilter gazpacho, even if I never knew mine was off kilter. And I've been thinking about chilled watermelon soups for weeks, as the weather gets hotter and hotter. This was a welcome treat on a Saturday afternoon – cool, refreshing, and perfectly balanced between savory and sweet. The fresh herbs are so flavorful and bright, and the cucumber adds even more cool summer flavor. You can serve it in the watermelon for a fun presentation, but be warned that watermelon halves are exactly as stable as you'd probably imagine. The above picture was snapped about ten seconds before the melon, filled to the brim with my precious soup, began slooooowly tilting to the right. I was barely able to shove my camera out of harm's way and grab it in the nick of time. Lesson learned, I promptly transferred it into a much more sensible tupperware and served it in bowls. Whichever way you try it, I know you'll enjoy the cool, refreshing flavors.
Cool, refreshing, and no-cook for a hot summer day.
Category:
Appetizer, Soup
Ingredients
6 cups watermelon, diced (this was half a large-ish melon for me)
1 English cucumber, peeled and diced
½ red bell pepper, diced
⅓ cup fresh mint, chopped
⅓ cup fresh parsley, chopped
1 large shallot, diced
3 Tbsp red wine vinegar
2 Tbsp olive oil
Pinch of kosher or sea salt
Several grinds of black pepper
Instructions
Reserve about one cup total of the watermelon, cucumber, and pepper for garnish.
Combine watermelon, cucumber, pepper, mint, parsley, shallot, vinegar, oil, salt and pepper in a large pot.
Using an immersion blender if you have one, blend the mixture until completely pureed (if you don't have an immersion blender, transfer to a blender or food processor in small batches and pulse until blended).
Serve chilled or room temperature in an empty watermelon half (if you dare) or in bowls with a tablespoon or so of the reserved watermelon, cucumber, and pepper.
Source: Adapted from Eating Well