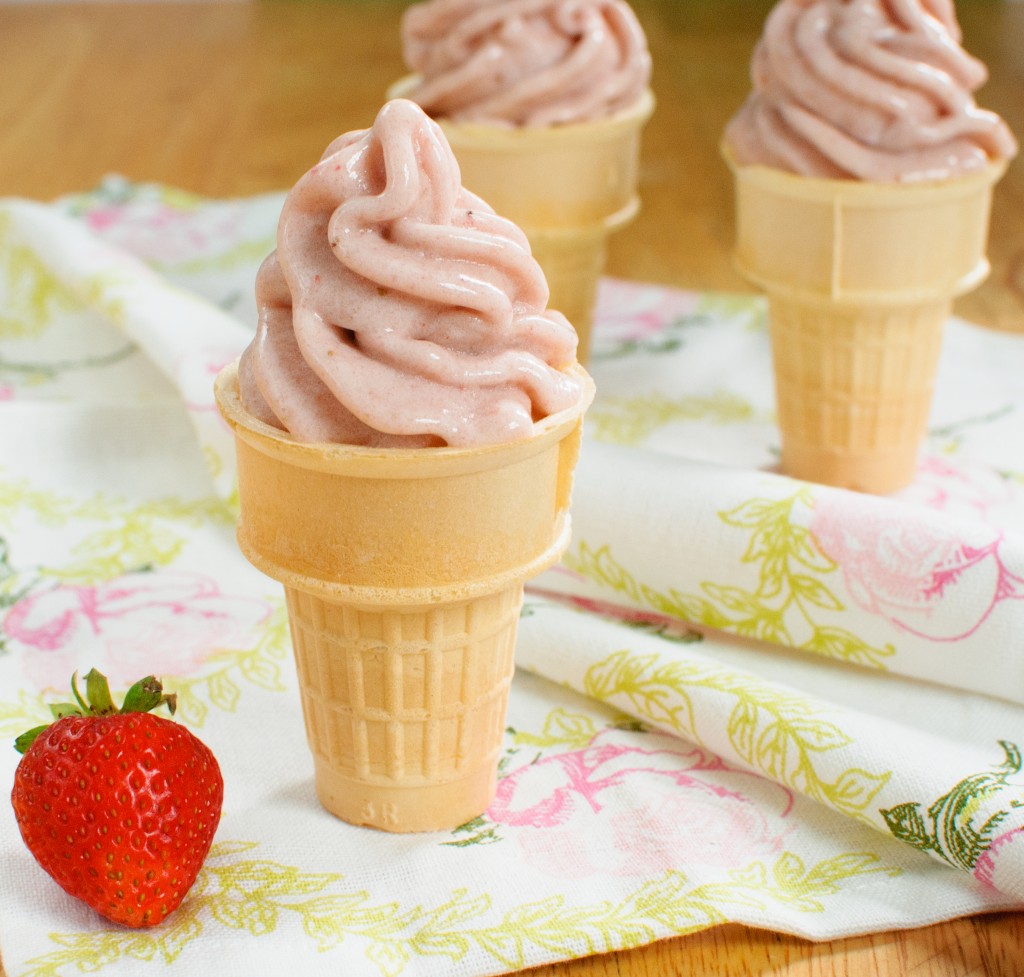 I had a long debate in my head about whether I was going to share this "recipe," such as it is. It went a little something like this:
Julie's Brain: Dude, seriously? There's like a hundred variations of this already on the interwebs. You're really going to clog up the pipes with yet another one?
Another Part of Julie's Brain: But it's yummy!
Julie's Brain: Yeah, and everyone already KNOWS that, genius.
Another Part: It is not physically possible that everyone on the internet knows about this, therefore it's worth it!
Julie's Brain: Fine. Post it. Don't bother to, you know, make a real recipe or anything.
Another Part: I don't care for your tone.
Julie's Brain: I don't care for your slacker soft serve.
Another Part: Zip it. I'm eating.
The team with a mouthful of ice cream always wins.
Banana soft serve has been around the blogosphere (I can't believe I just said "blogosphere") for years. I remember seeing it here back in the day, and immediately thinking, "I'm going to make that someday." And somehow, even though it is likely the easiest, quickest non-recipe recipe in the world, I just never got around to it. Last week, when I was drowning in overripe bananas, I remembered it, stuck the nanners in the freezer, and threw them in the food processor a day later with a handful of frozen strawberries, a little almond milk and a smidge of almond extract. Lo and behold, cold, refreshing frozen glory.
Bananas, when whizzed in a food processor or blender for five or so minutes, take on a rich, creamy, almost custardy consistency – very much like soft serve. The resulting banana goodness is lovely on its own, but even better if you take advantage of a variation. I always have a ton of frozen fruit around for smoothies, so I'm excited to keep playing with this. Strawberry-banana is, of course, a classic combination, but you could also make a banana colada version with frozen pineapple and coconut extract, or raspberry banana, or even blueberry. There's a surprising amount you can do with a pile of frozen bananas and five minutes of your time.
Since this doesn't have any fat to keep it creamy, it's best eaten right away. But to get more of an ice cream consistency, you can cover the surface with plastic wrap and freeze for an extra 30 minutes or so. The picture at the top of the post is immediately after making, and the one below is after a half-hour in the freezer. Whichever way you choose to enjoy this – in a cone, in a dish with chocolate sauce, in an extra banana-y banana split – I know you'll enjoy it (you know, if you haven't already enjoyed it like, five years ago).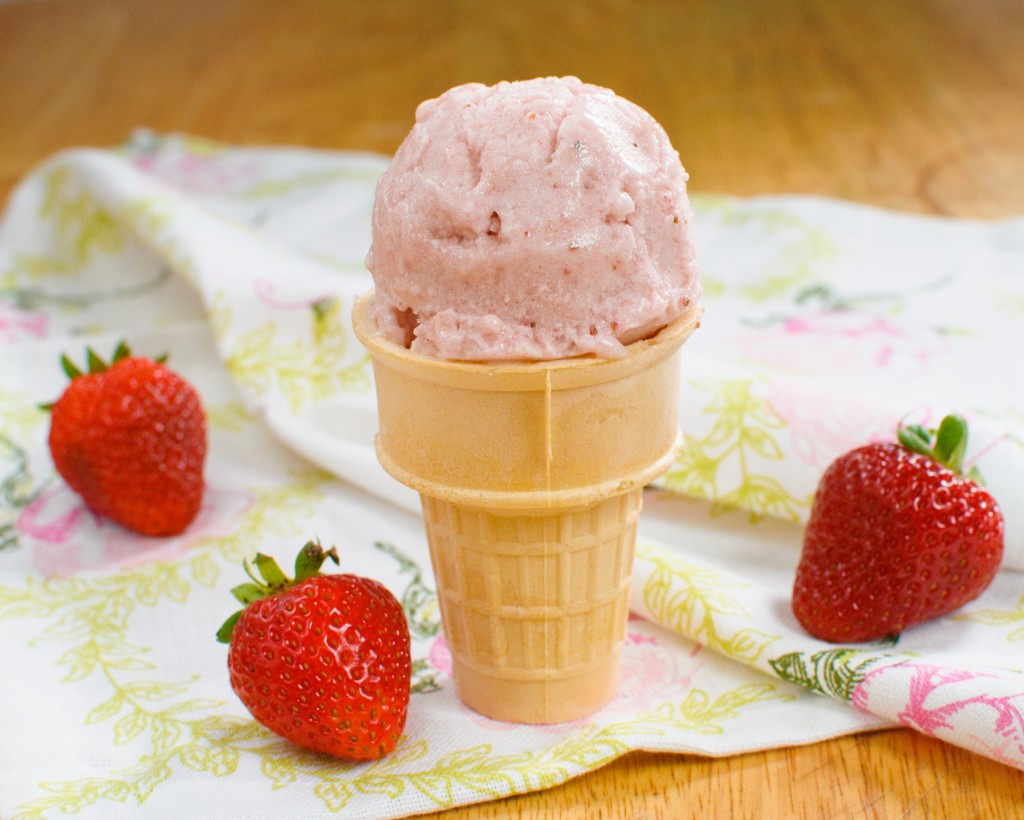 Strawberry-Banana Soft Serve
Frozen bananas + five minutes = healthy summer refreshment
Ingredients
3 ripe bananas, cut into two-inch pieces and frozen at least overnight
1 cup frozen strawberries
¼ cup almond milk
½ tsp almond extract (optional, substitute vanilla if you don't have almond)
Instructions
Combine strawberries, almond milk, and extract (if using) in a blender or the bowl of a food processor. Blend until completely smooth, scraping down the sides if necessary.
Add bananas and blend until consistency is smooth and creamy, like soft serve - about 4-5 minutes.
Serve immediately or freeze for 30 minutes for a more solid texture.
Source: Adapted from Choosing Raw
Don't miss a thing – sign up to receive new recipes by email, or follow me on Facebook, Instagram, and Pinterest.