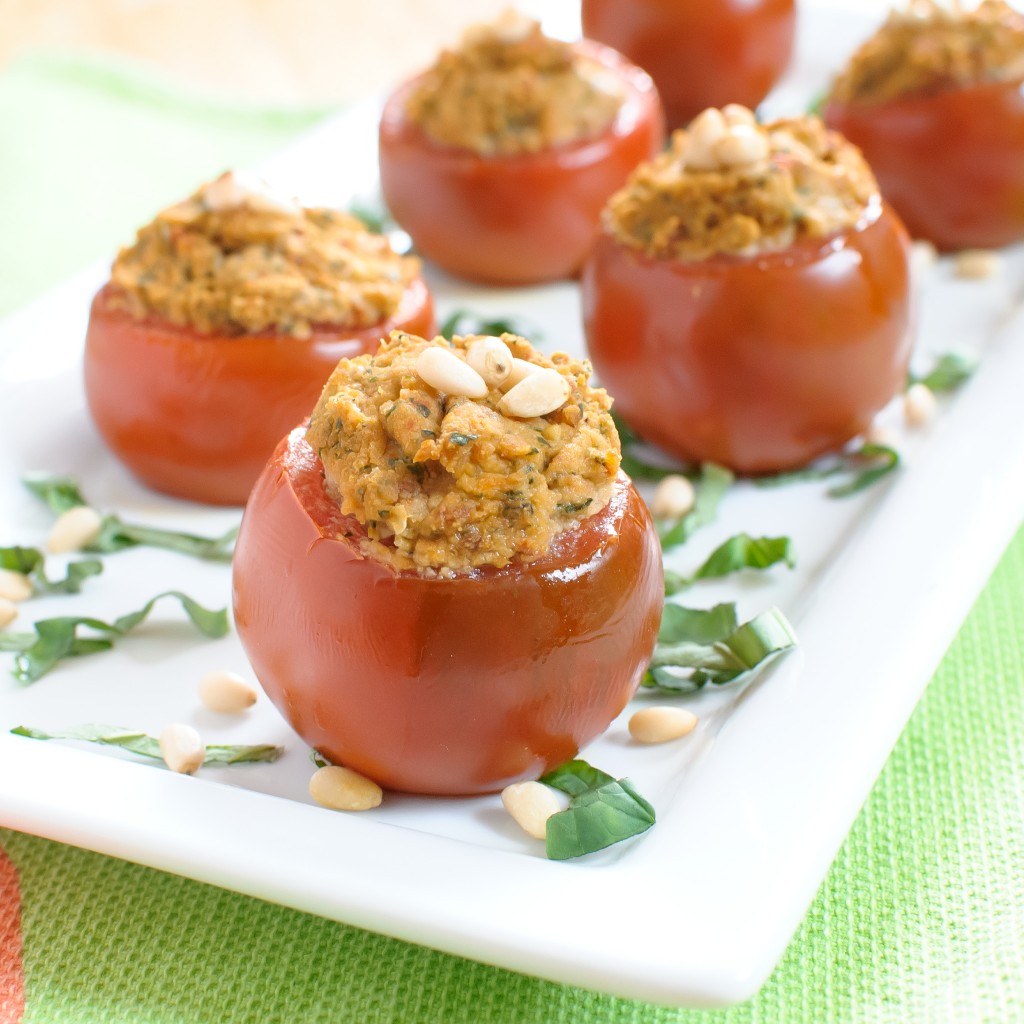 I went on a bit of a healthy kick over the weekend – after making four batches of cupcakes in three days the week prior, I definitely needed it (not that I gorge on the cupcakes I make, but one does have to taste test, you know?). And in a fit of heat-induced amnesia, I accidentally bought a new package of kumatos every.single.time I went to Trader Joe's last week (four packages, for the record). Luckily, when you're craving healthy food, a glut of tomatoes isn't a bad thing to have around.
After I came home with my fourth package, I spent an embarrassing amount of time staring blankly at the tomato patch on my counter, knowing only that I wanted to stuff them. I LOVE stuffed tomatoes, but when I look for recipes, I see a lot of cheese, and breadcrumbs, and more cheese. I also didn't want to use quinoa or rice, or anything that would require a long cooking time (did I mention it's been really hot? Because it has). So I went pantry diving and lucked into this soft, creamy, flavorful filling – and what a stroke of good luck.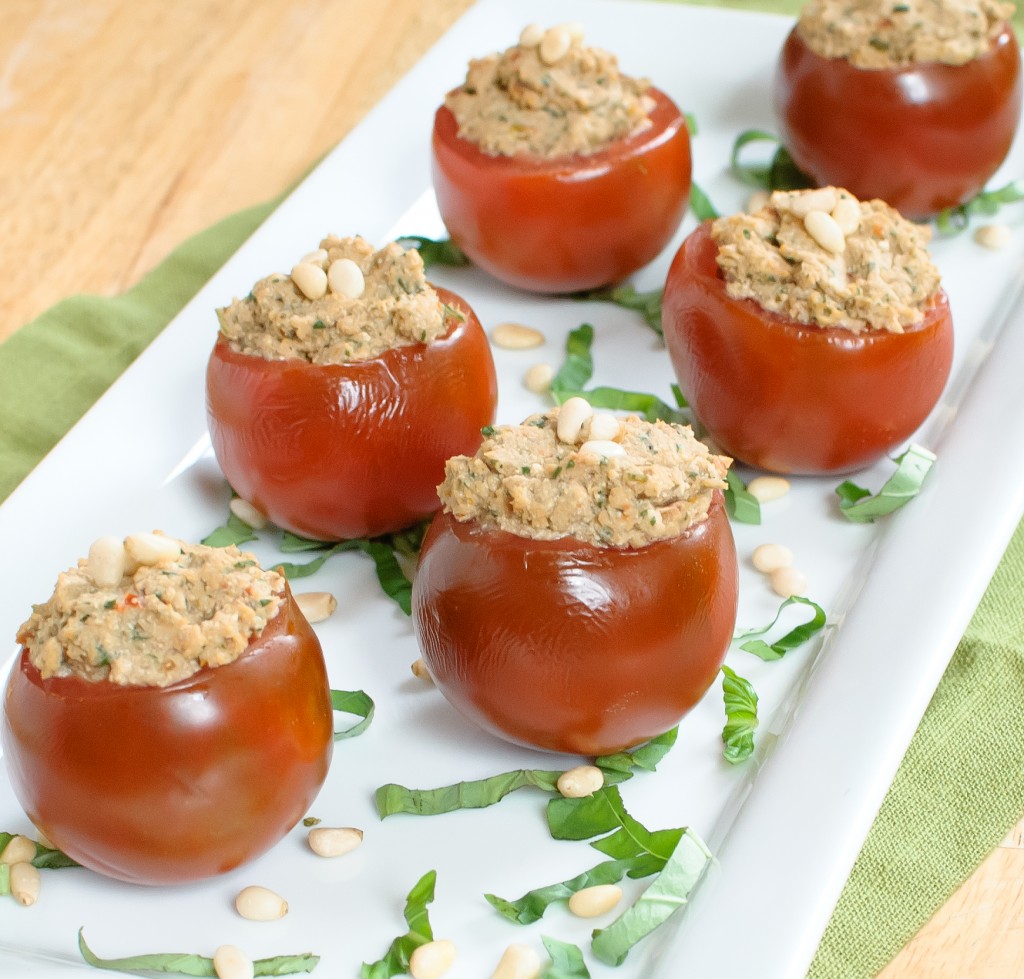 White beans and tofu give the filling a ricotta-like texture while packing a protein and fiber-rich punch. Sun-dried tomatoes and fresh basil are blended in for a hearty but still summery richness. These are not only vegan, super-healthy, and totally delicious, but also quick and simple enough for a weekend lunch and elegant enough to bring to a party as an appetizer or side – I brought most to a dinner this weekend, and we've had the few that were left over for lunches and snacks the past few days. These are definitely going into the regular rotation – I think with a side of couscous or quinoa, they can even stand up as a light summer dinner. You could even cook them in the toaster oven to keep your kitchen temperature down (related note: my birthday is sort of soon and I don't have a toaster oven. I'm just saying).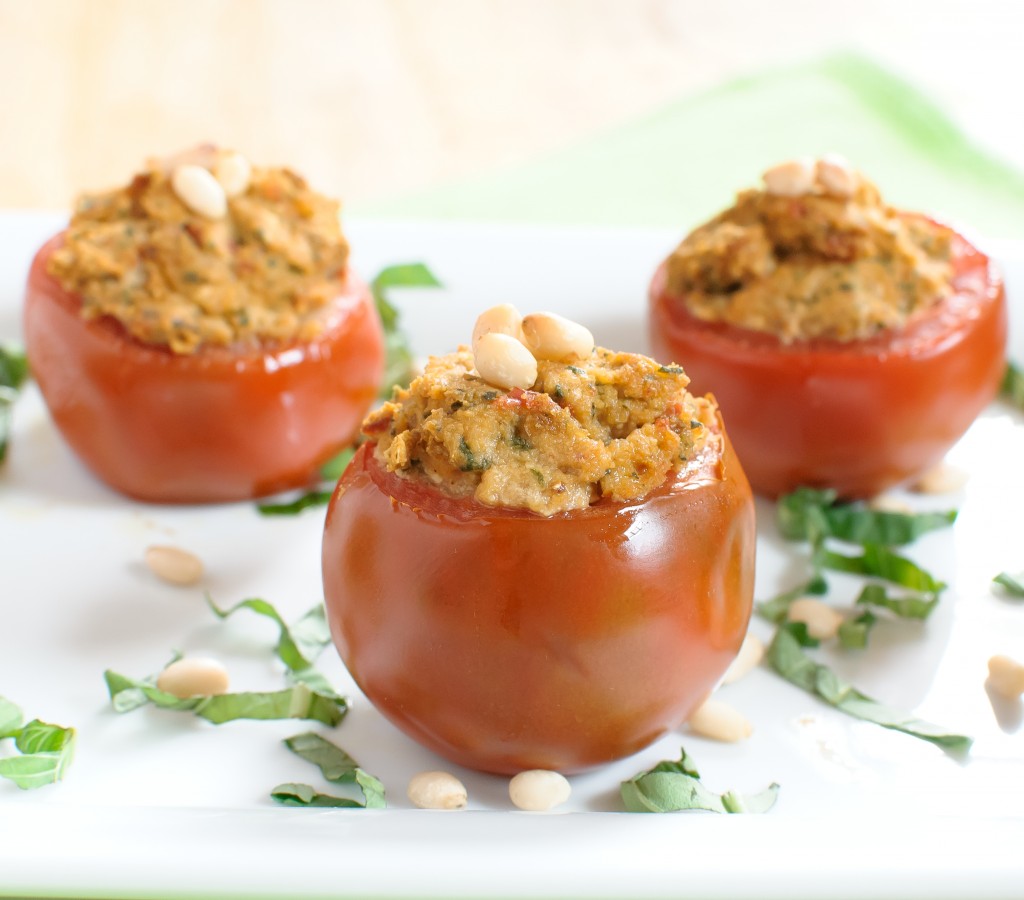 White beans and tofu stand in for the usual cheesy filling in this healthy summer treat.
Category:
Appetizer, Side Dish, Main Dish
Ingredients
10-12 small/medium tomatoes
½ package (7 oz) extra firm tofu
1 can cannellini (white kidney) beans, drained and rinsed thoroughly
2 cloves garlic
1 cup fresh basil, lightly packed
⅓ cup sun-dried tomatoes in oil, oil drained
1 Tbsp balsamic vinegar
1 tsp dried oregano
Salt and pepper to taste
2 Tbsp pine nuts (optional)
Instructions
Preheat oven or toaster oven to 375 F. Line a baking dish with foil or parchment. If using foil, spray lightly with cooking spray.
Slice the tops off of the tomatoes, and use a spoon to scrape out the seeds and middles. Discard the tops, seeds and middles, and place the hollowed-out tomatoes in the dish, leaving a little space between each one.
Using paper towels, squeeze the excess water out of the tofu.
Place tofu, beans, garlic, basil, sun-dried tomatoes, balsamic, oregano, and salt and pepper in the bowl of a food processor.
Process in ten second pulses until creamy and smooth. A little texture is good - you'll get flavor-packed bursts of sun-dried tomato and basil.
Fill each tomato to just over the top with filling. Top with a few pine nuts.
Bake for 12-14 minutes, until filling is lightly browned on top. Serve warm or at room temperature.