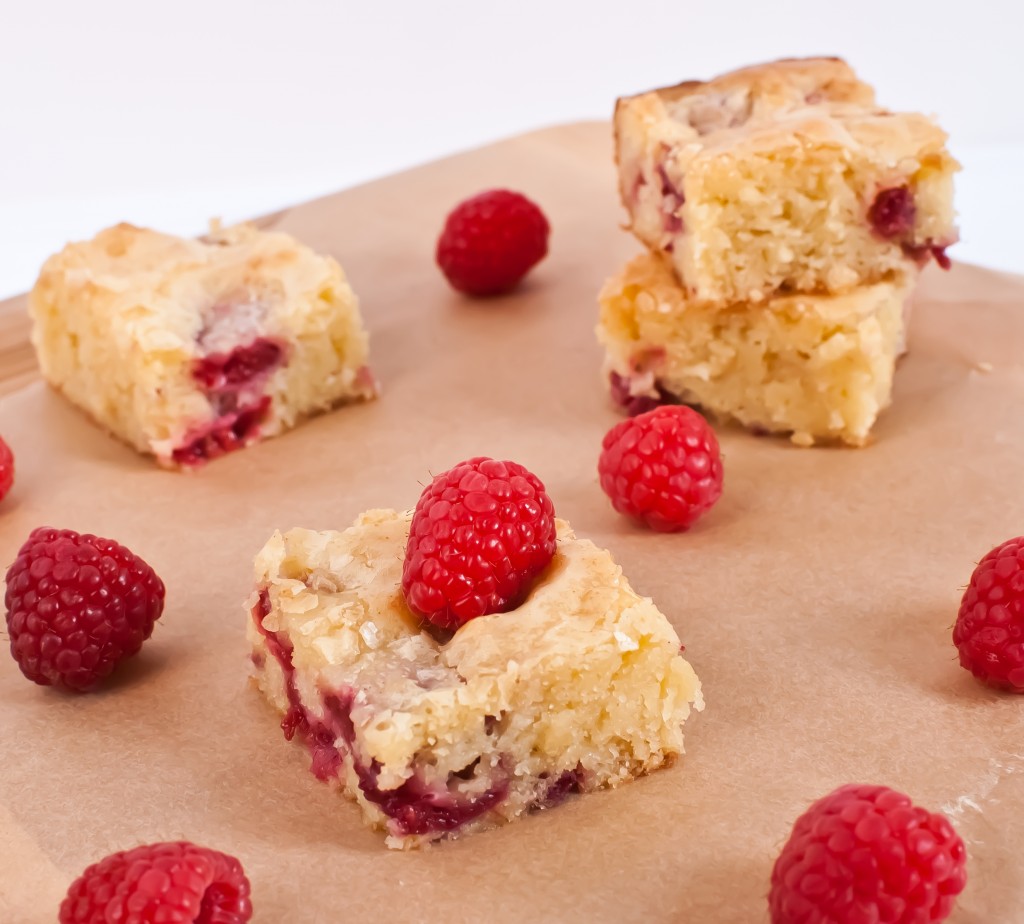 I went a little crazy at the farmer's market last weekend. I couldn't help it. There's something about the hustle and bustle, the fresh produce in every direction, my bank's ATM right across the street…things happen. We'll call it magic, lest my lack of impulse control be revealed.
Berries, cherries, and other summer fruits are starting to come into season, and they are impossible to resist. When I saw the juicy, plump raspberries nestled in their blue cardboard cartons, it was all over. They were coming home with me, and they were going to become some ridiculous dessert or another. I'd seen these white chocolate strawberry blondies over at Love & Olive Oil, and I figured raspberries would work just as well – they didn't disappoint. Although raspberries are a bit less sturdy than strawberries, their flavor is a welcome addition to these blondies. Dense and not overly sweet, these are perfect for pretty much any occasion (or lack of occasion – they were just a Sunday afternoon lark for me). Make them with whatever berry you pick up this weekend at the market – I bet cherries or blueberries would be great in these, too.
Raspberry White Chocolate Blondies
Light, buttery blondie bars with juicy raspberries.
Ingredients
5 oz white chocolate, chopped
6 Tbsp unsalted butter, cut into pieces
⅔ cup (140g) granulated sugar
2 eggs
1 teaspoon vanilla extract
1 cup (140g) all-purpose flour
¼ teaspoon baking powder
¼ teaspoon salt
1 cup raspberries (chop half of them if you want more of a raspberry burst throughout)
Instructions
Preheat oven to 350 F. Grease an 8×8 pan and set aside.
Place white chocolate and butter in a mixing bowl. Fill a medium saucepan with about an inch of water and bring to a simmer. Place the mixing bowl on top of the saucepan and melt the white chocolate and butter together, stirring constantly.
Remove from heat and stir in sugar (the batter will look weird and curdled – don't panic!). Let cool for about five minutes.
Whisk in eggs and vanilla until combined and smooth. Stir in flour, baking powder, and salt and stir until just combined. Fold in raspberries with a wooden spoon or spatula. Pour batter into the baking pan.
Bake for 30-35 minutes, until a toothpick inserted in the center comes out clean. Cool in pan on a wire rack. Cut into bars and try to force yourself to share.
Source: Very slightly adapted from Love & Olive Oil