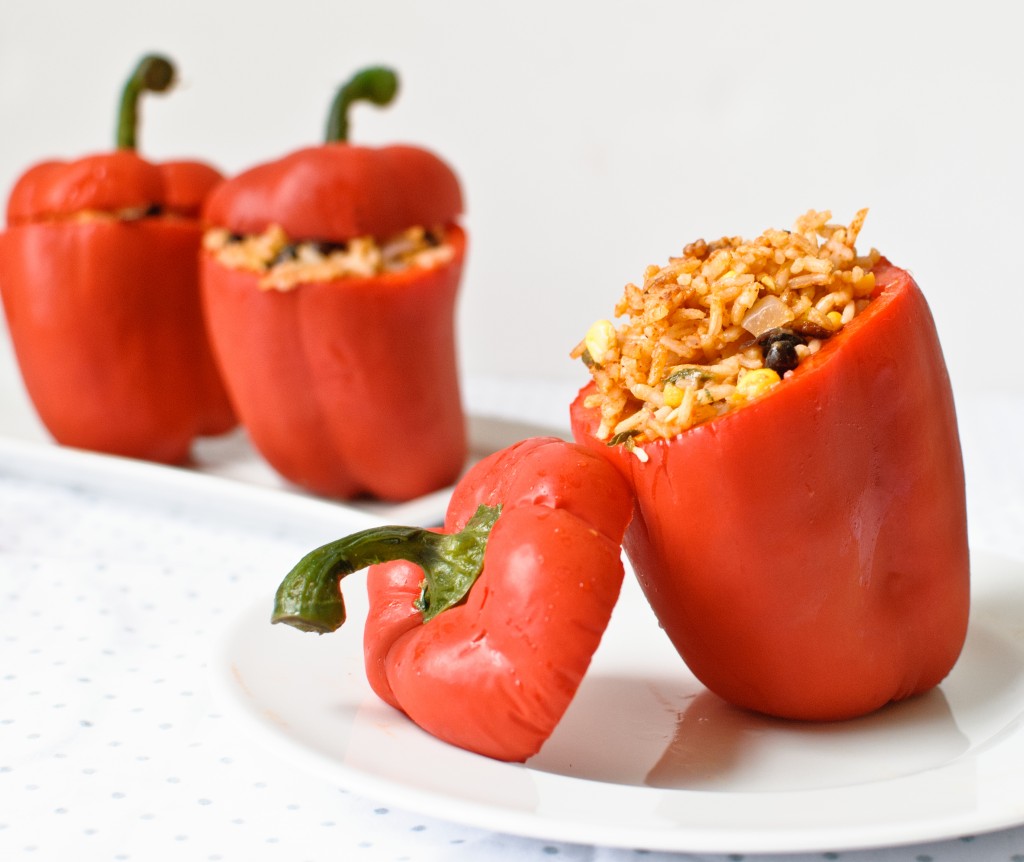 For some reason, I always think that when I come back from a business trip, everything is going to settle down. I'll arrive home at 5:30 with plenty of time to make a nice leisurely dinner, follow it with an evening run or bike ride, and still have time to get to bed early.
And for some (presumably related) reason, I appear to be completely disconnected with reality, which generally goes a little more like this: finish work at least an hour later than planned, leave bike in the office because I still haven't fixed the roof rack on my car, remember that I have to stop at the grocery store for something or the other, fly in the door around 8 with dinner barely a tadpole of a thought, cook, scarf it down, conveniently disappear while Nor does the dishes, finish up extra work stuff, and run around like crazy trying to get into bed before it's officially tomorrow.
If any of that sounds familiar, you probably appreciate a quick and easy meal as much as I do. These stuffed peppers are a lifesaver on hectic nights – even more so if I remember to make the filling over the weekend (I usually don't).  They also aren't baked like many stuffed peppers – and with summer on the way and the thought of firing up the oven getting more unpleasant by the day, that's a total bonus.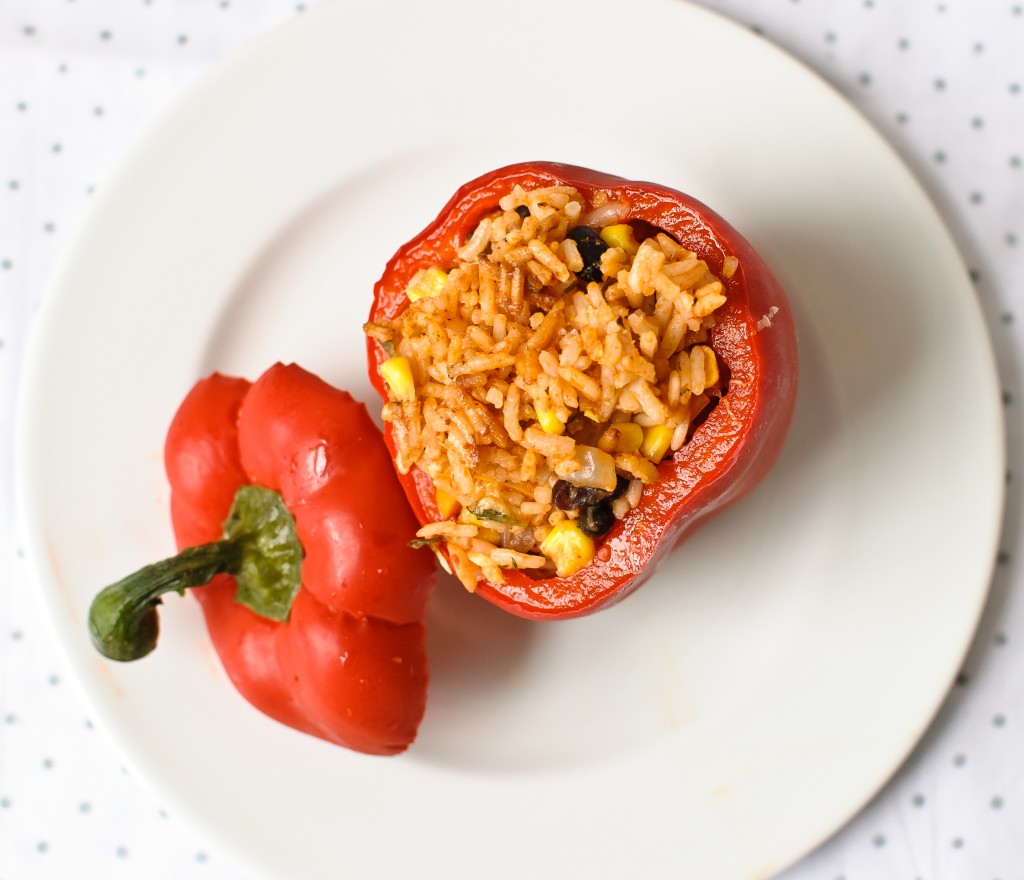 Category:
Main Dish, Side
Ingredients
6 medium bell peppers
1 Tbsp olive oil
1 small onion, diced
1 jalapeno pepper, minced
1 clove garlic, minced
2 tsp chili powder
1 tsp cumin
1 tsp dried oregano
1 cup long grain white rice
1 15 oz can tomato sauce
⅓ cup water or stock
1 can black beans, drained and rinsed
1 cup fresh or frozen corn, thawed
⅓ cup cilantro or parsley, chopped
1 cup reduced-fat shredded cheese (Mexican blend or cheddar work well)
Salt and pepper to taste
Garnishes: sour cream, salsa, avocado, additional cheese
Instructions
Cut the top off of each pepper and remove the seeds. Replace the tops of the peppers.
Fill a large stockpot with about an inch of water and place peppers upright in a steamer rack (if you don't have one, directly in the water is fine). Cover and steam for 8-10 minutes. Remove lid.
While the peppers are steaming, heat olive oil in a saucepan over medium heat. Add onions and jalapeno and cook until onion is slightly softened and transparent, about 5 minutes.
Add garlic, chili powder, cumin and oregano and cook for about a minute, stirring constantly.
Pour in rice and stir until coated. Add tomato sauce and water/stock and bring to a boil. Reduce heat to low, cover, and cook for 20 minutes.
Remove from heat and add black beans, corn, cilantro and cheese. Season with salt and pepper.
Fill peppers, cover each with the top of the pepper, and place back in the steaming pot. Steam for another 3-5 minutes until heated through.
Top with any garnishes – cheese, sour cream, avocado, or salsa – and serve.
Notes
I like my peppers to keep a little bit of crunch, so I tend toward the lower steaming times. If you prefer softer peppers, use the longer cooking times.