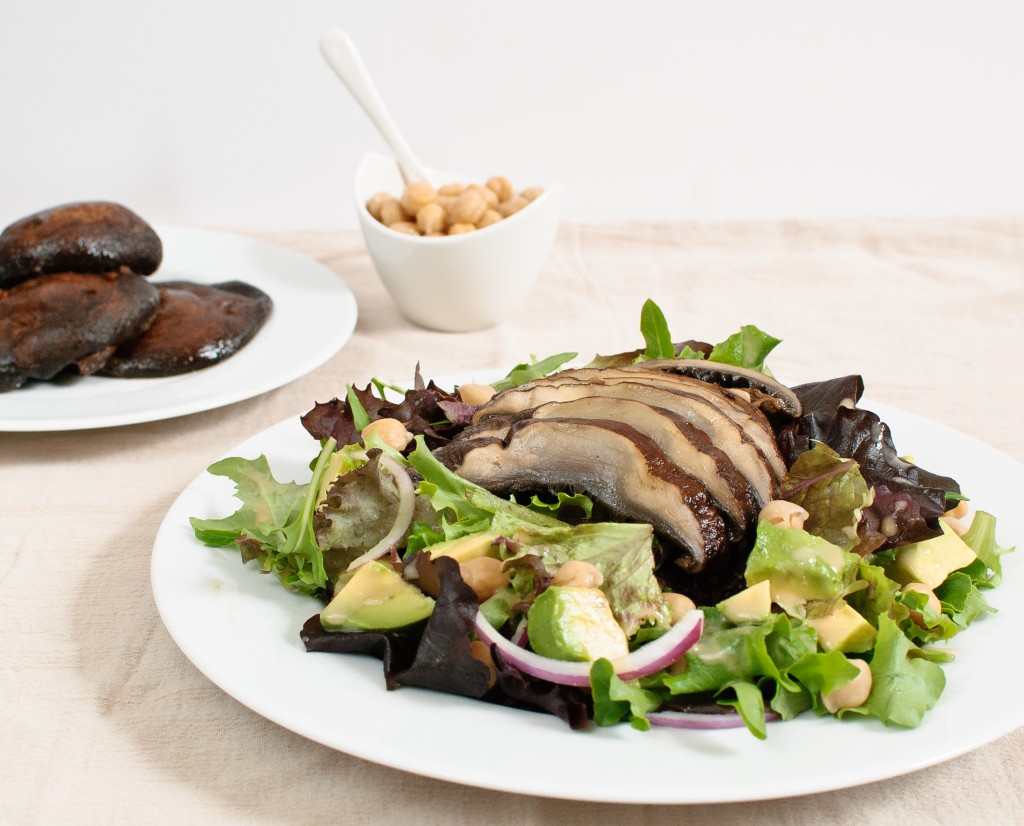 I'm leaving tomorrow for a weeklong business trip. I still haven't finished unpacking from my Florida trip last week (to be fair, I've been home nearly a week, so that's really on me). Whenever possible, I usually spend the day before I leave on any trip in the kitchen trying to make a few dinners for Nor to have while I'm gone, as well as getting my fill of healthy, homemade food before the inevitable streak of takeout begins. This portabello salad was just what the doctor ordered today – light but hearty, filling but healthy.  It was the perfect quick, simple Saturday lunch, but it could just as easily be an entrée or a side dish for a fancy meal.
The meaty mushrooms, rich avocado, and protein-packed chickpeas elevate the humble salad to nutritional powerhouse status, and the creamy dressing has a slight kick balanced by a bit of sweetness from maple syrup. I see this becoming a regular fixture in the rotation around here, whether I'm trying to load up on healthy food pre-travel or just craving a dinner salad (this happens a lot). Add slivered almonds for some crunch and even more protein, or crumbled feta cheese – the possibilities are endless, one of the many reasons salad rules.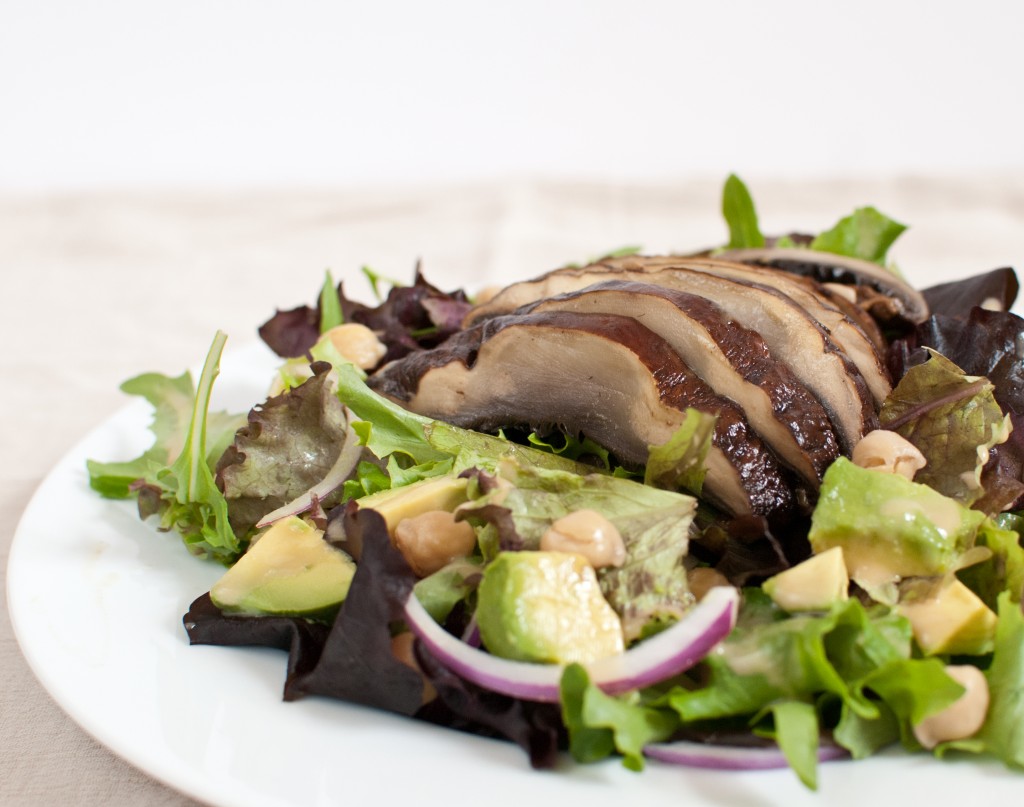 Portabello Salad with Maple-Mustard Dressing
A hearty green salad with portabellos, chickpeas, and avocado. Hearty enough for an entrée.
Category:
Main Dish, Side Dish, Salads
Yield:
4 main dishes or 8 sides
Ingredients
1 cup cooking wine (I used Marsala)
2 Tbsp olive oil
¼ cup soy sauce
¼ cup balsamic vinegar
3 cloves garlic, minced
4 large portabello mushroom caps
¼ cup Dijon mustard
3 Tbsp vegetable oil
¼ cup red wine vinegar
2 Tbsp maple syrup
8 cups mixed baby greens
1 ripe avocado, sliced
1 small red onion, thinly sliced
1 15 oz can chickpeas, drained and rinsed
Instructions
Preheat oven to 400 F. In a baking dish, combine cooking wine, olive oil, soy sauce, balsamic vinegar, and garlic. Place mushrooms in the baking dish (stem side up) and spoon some marinade into each mushroom. Set aside for about 20 minutes.
While the mushrooms are marinating, make the dressing. Combine mustard, vegetable oil, red wine vinegar, and maple syrup and whisk until smooth and creamy. Set aside.
Cover baking dish with foil and bake for 30 minutes. Remove the foil, flip the mushrooms, and bake for another 10 minutes. Cool for ten minutes, then slice thinly.
Mix greens, avocado, onion and chickpeas in a large bowl. Add dressing and toss. To serve, place a generous helping of salad on each plate. Top greens with sliced portabello.
Source: One of my favorite cookbooks ever, Veganomicon.