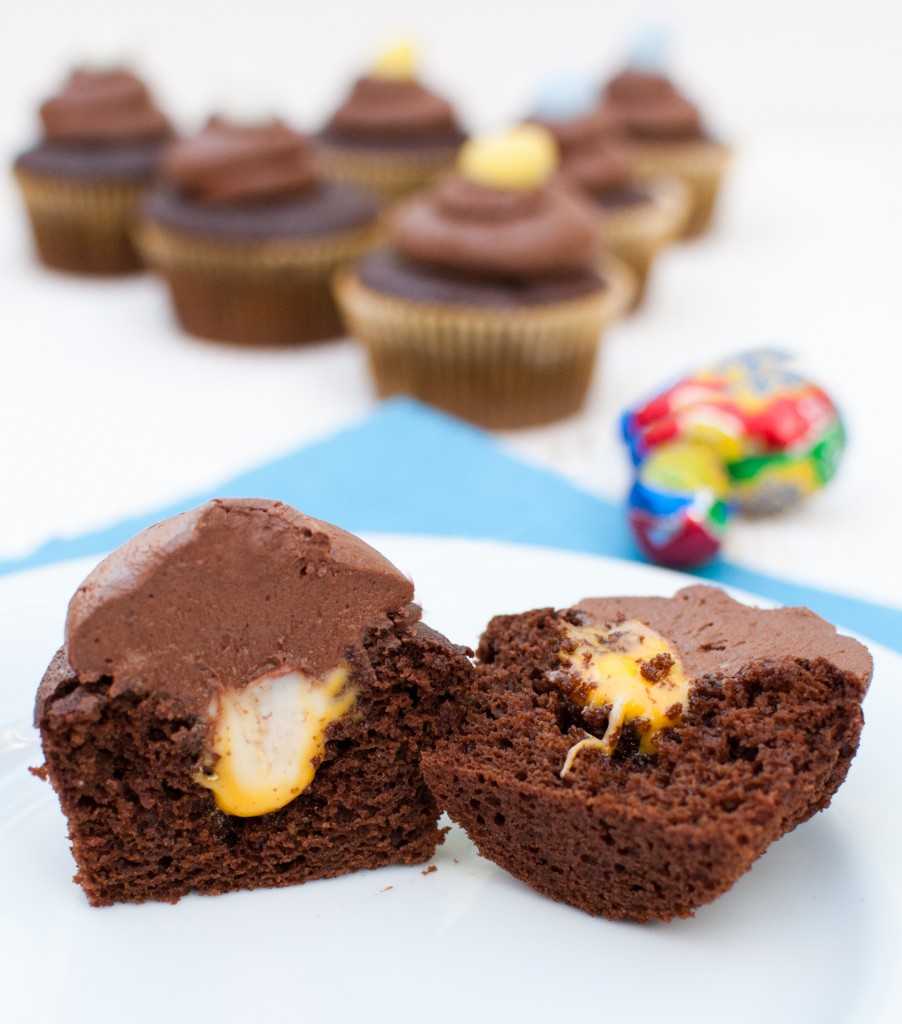 Cadbury egg recipes have been flying around the blogosphere this spring, and each time I see one, I have a little mantra I recite to myself as I frantically click the back button: "I will not make this. I will not make this." Every day it's gotten more and more difficult to click away, and today I cracked. I blame these creme egg brownies for pushing me over the edge. I was able to resist all of the recipes that called for scraping out creme egg middles, because it just looked like such a pain, but Lindsay's super-easy homemade filling took away both the annoying prep work and the suspect ingredients. How could I turn away? I went straight to the kitchen before I even had time to feel ashamed of my fleeting willpower (or lack thereof).
These cupcakes are extremely rich and very sweet. Stuffed with homemade creme filling and topped with chocolate frosting and a Cadbury mini egg, one is definitely enough. I had actually wanted to top these with a thin layer of ganache rather than a buttercream, since the centers are so decadent, but I had no heavy cream on hand and no car – and frankly, rich isn't always a downside.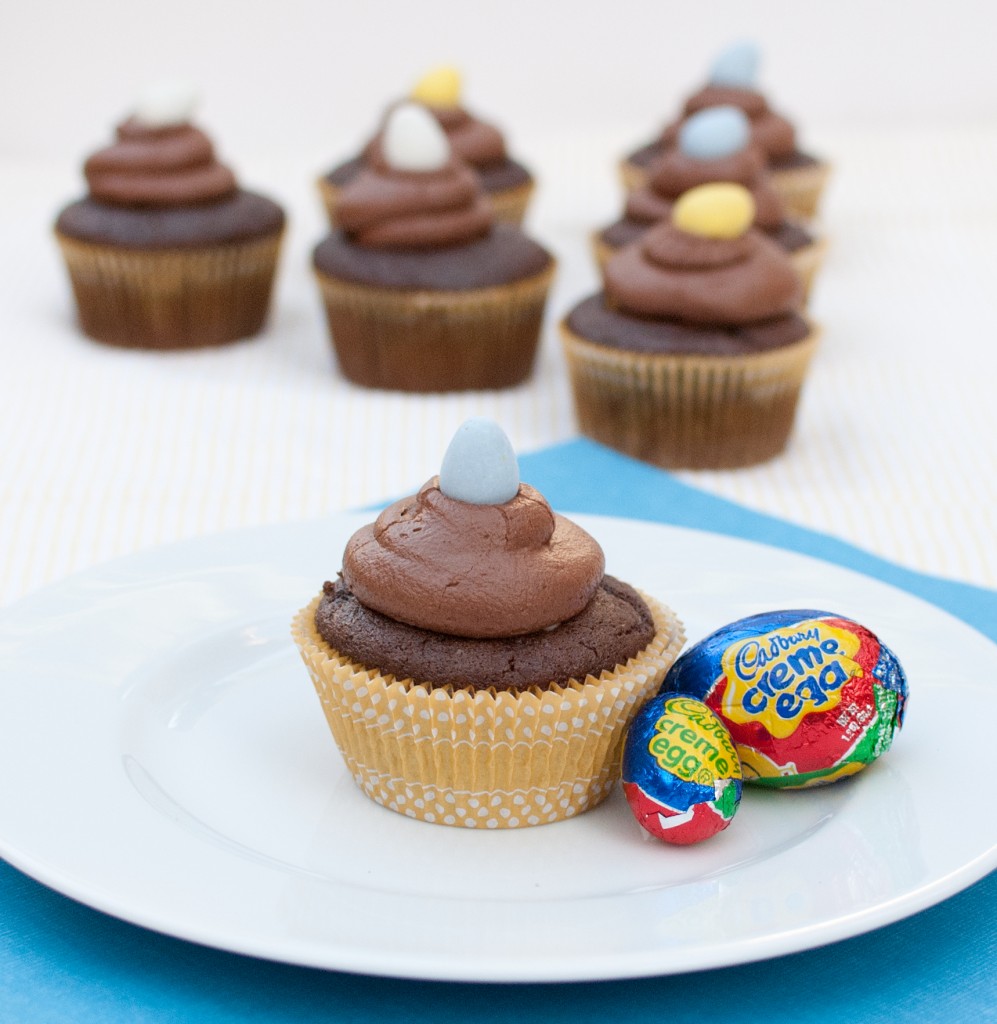 The Cadbury Creme Egg brings back a lot of memories for me. My dad used to bring them home for us as a treat here and there in the weeks around Easter, and I'll always remember how much I looked forward to him coming home from work with those foil-wrapped chocolaty treats oozing with creamy filling. As I've gotten older, my sweet tooth has tempered itself somewhat, and I find them to be a little too sweet for my taste buds these days. But the memory of waiting for my dad to come home on spring nights with a handful of Cadbury eggs for us? That will never be too sweet. Happy Easter, everyone!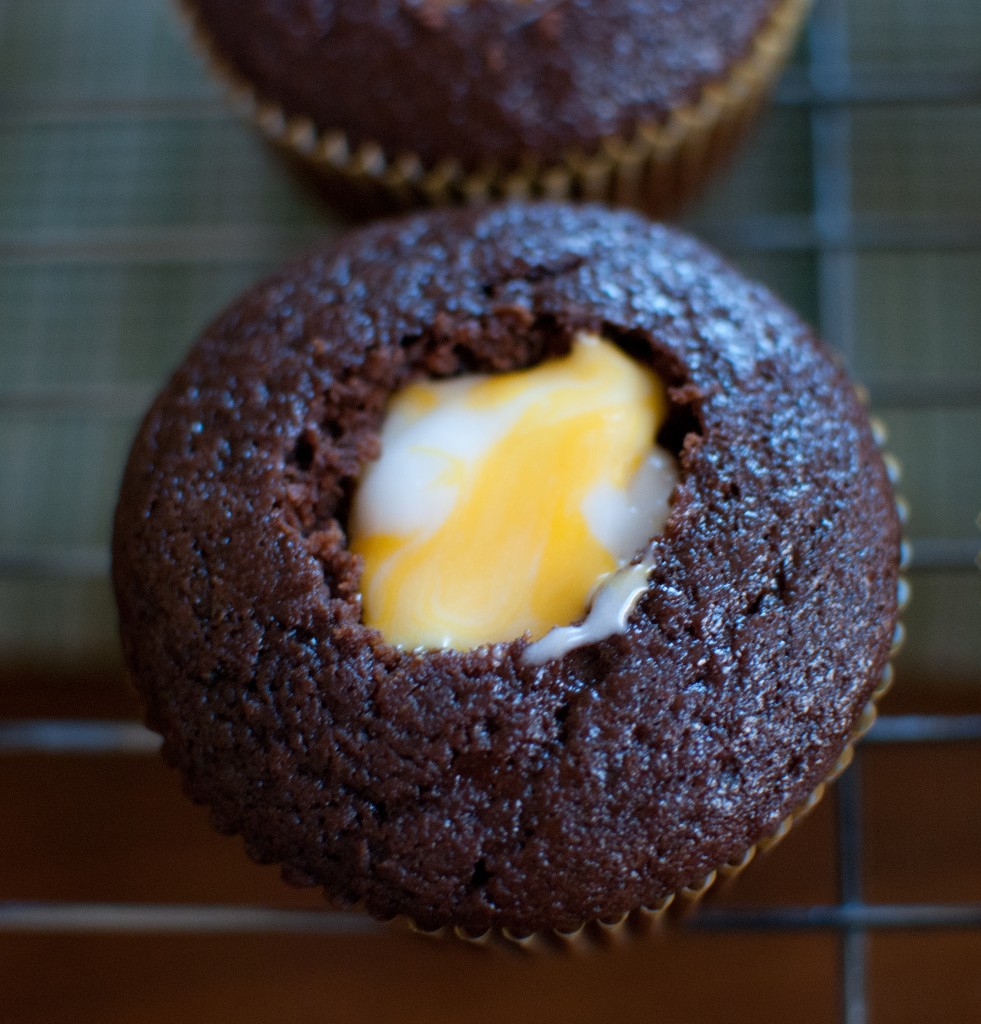 Creme Egg Cupcakes
A tribute to the Cadbury Creme Egg - chocolate cupcakes with homemade creme egg filling and chocolate frosting.
Ingredients
Cupcakes:
2 cups (280g) all-purpose flour
1 cup (85g) unsweetened cocoa powder
2 cups (400g) granulated sugar
1 tsp (5g) baking soda
1 tsp (5g) baking powder
½ tsp (3g) kosher or sea salt
½ cup (120mL) vegetable oil
2 large eggs
2 tsp vanilla extract
1 cup (250g) sour cream
1 cup (237mL) coffee, at room temperature
Filling:
½ cup (120mL) light corn syrup
4 Tbsp (1/2 stick) unsalted butter, at room temperature
1 tsp vanilla extract
¼ tsp salt
1½ cups (150g) powdered sugar
1-2 drops yellow food coloring
Frosting:
12 Tbsp (1½ sticks) unsalted butter
1 cup (85g) unsweetened cocoa powder
3½ cups (350g) powdered sugar
¼ cup milk
Garnish (optional):
Instructions
Preheat oven to 350 F. Line two cupcake pans with paper liners and set aside.
To make the cupcakes, sift flour and cocoa powder into a large bowl. Add sugar, baking soda, baking powder and salt and whisk to combine. In another large bowl, whisk together the vegetable oil, eggs, vanilla, sour cream and coffee. Pour into the bowl with the flour mixture and stir until well-mixed and smooth. Divide evenly among prepared pans, filling each ⅔-3/4 full. Bake 17-19 minutes, until a toothpick inserted in the center comes out clean.
To make the filling, beat butter, corn syrup, vanilla and salt on medium speed until smooth. Add the powdered sugar a few tablespoons at a time, beating until smooth. Remove about ¾ of the mixture to a bowl. Add 1 or 2 drops of yellow food coloring to the remaining filling and beat until color is distributed and the mixture is a deep yellow. Pour yellow mixture into white mixture and use a fork to swirl gently together (make sure the colors stay distinct).
To make the frosting, beat butter on medium-high speed until light and fluffy. Beat in cocoa powder and powdered sugar alternately with the milk until frosting is the desired consistency - you want it to hold its shape. Add more milk if necessary if frosting is too stiff.
To assemble, use a paring knife to cut the middle out of each cupcake (you can save the middles for cake balls or something else). Fill each cupcake with 1-2 teaspoons of the filling. Frost with a dollop of frosting and garnish with mini Cadbury eggs.
Sources:
 Cake recipe from 
Baking Bites
, filling adapted from 
Love and Olive Oil
.