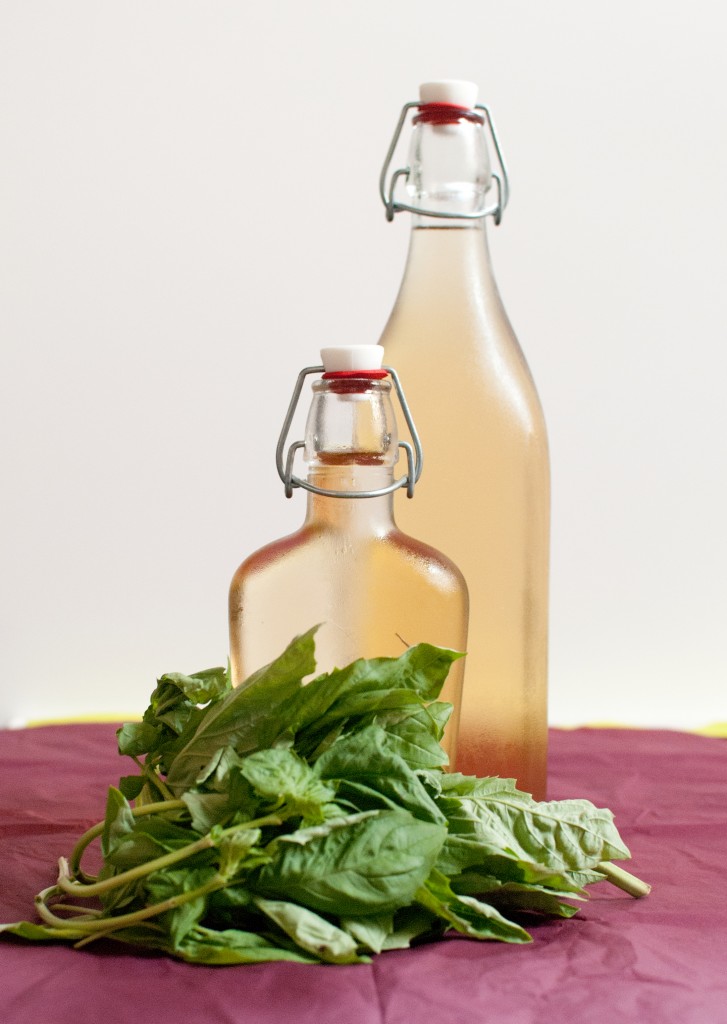 Basil vodka was my very first at-home liquor infusion (although I posted about my second first). You'll know everything you need to about the results by the simple fact that I haven't stopped since. I infuse everything now – vodka, oil, vinegar, shampoo…it's become a bit of an obsession, all because this first infusion turned out so stinking good. This one will always be my favorite, because it's so different. You can get vodka in almost any flavor these days, from marshmallow to pomegranate, but most of the off-the-shelf flavors lean toward the guaranteed-to-be-popular sweet or fruity types. The musky, earthy scent and flavor of basil isn't for everyone, but for me it was a welcome change (especially after trying a cloyingly sweet whipped cream flavor a week earlier…ick!).
I made the first batch of this over the holidays, while in a DIY gifting frenzy. Tragically, I gave every last bit away, but after recalling how much I'd enjoyed my taste tests (a completely necessary and non-optional step in vodka infusing, of course), I mixed up another batch to welcome spring and the beginning of basil season. I still plan to give most of it away, but have set aside a small bottle to keep this time – lesson learned!
Basil vodka mixes beautifully with citrus or berry flavors – I'll post a recipe later this week for the cocktail I enjoyed while on a baking bender this past rainy Saturday – but it's also pretty much custom-made for a Bloody Mary. Whatever you do with it, be sure to give some away, because a) it's dangerous to keep too much lying around, and b) it's fun to let your friends think you're some sort of mad scientist.
DIY Vodka Infusions, Part 2 - Basil
Make your own basil vodka - you won't find this in the liquor store!
Ingredients
1 1.5 liter bottle of good vodka (I used Svedka)
1 bunch fresh basil, washed and dried
Instructions
Place basil in the bottom of your glass infusion jar. Pour vodka over leaves, ensuring that leaves stay submerged. Close jar tightly and set in a cool dark place (I just use a corner of the kitchen and throw a towel over the jar - you can also refrigerate it).
Allow to infuse for up to, but not more than three days. Shake gently once a day, and taste if desired to check progress. Strain through coffee filters into a large measuring cup, then use a funnel to pour back into the original vodka bottle, or into decorative flasks for gifts.
Notes
Special equipment: Glass jar with lid Coffee filters Patience
Update
: Here's a link to the yummy
Meyer Lemon Basiltini
I made with the little bit of this I kept!