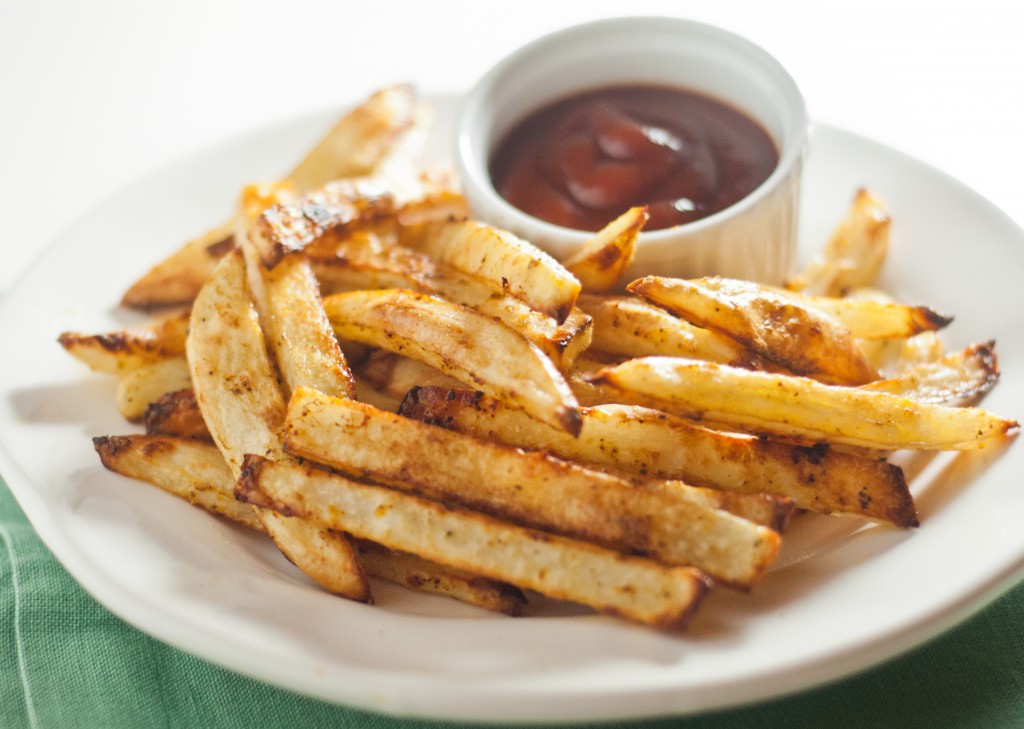 It feels a little misleading to call these fries, because they aren't fried. But wrap these puppies in paper and serve them up with ketchup, and no one will ever be the wiser. Plus, calling them "oven baked potatoes" sounds incredibly dull and doesn't do justice to a baked french fry that is crispy on the outside, soft and fluffy on the inside, and could pass as its traditional deep-fried cousin any day of the week.
I started making these on burger nights a few years ago for a few reasons – first, because I'm not a big fan of deep-frying. Second, there's no arguing that baking isn't far, far healthier than frying, and it always seemed odd to pair a veggie burger chock full of nutritional value with potatoes straight out of the oil vat. Keep in mind that I have also used the veggie burger argument to justify "real" fries ("well, the burger is so healthy it cancels out the fries!") – isn't it great how you can make that work either way? Regardless of whether you're cutting calories or avoiding the mess of the fryer, these oven fries will definitely do the trick.
Oven-baked French fries - all of the flavor, none of the grease.
Ingredients
2 lbs Russet potatoes
2 Tbsp olive oil
½ tsp paprika
1 tsp dried parsley
Pinch of cayenne pepper
Salt and pepper to taste
Instructions
Preheat oven to 400 F. Line a baking sheet with parchment paper or tinfoil (if using foil, spray lightly with cooking spray).
Scrub potatoes thoroughly and peel if desired (I leave the skins on). Cut each potato in half lengthwise, then slice into ½-inch strips. Combine potatoes, olive oil, paprika, parsley, cayenne pepper, salt, and pepper in a large bowl and toss until thoroughly combined. Pour into a single layer on the baking sheet.
Bake for 20 minutes, then flip potatoes and bake for another 15 minutes until lightly browned and cooked through. If the potatoes brown too quickly, lower the oven temperature to 375 and increase cooking time by a few extra minutes. Serve hot with ketchup or other dipping sauce.
Don't miss a thing – sign up to receive new recipes by email, or follow me on Facebook, Instagram, and Pinterest.