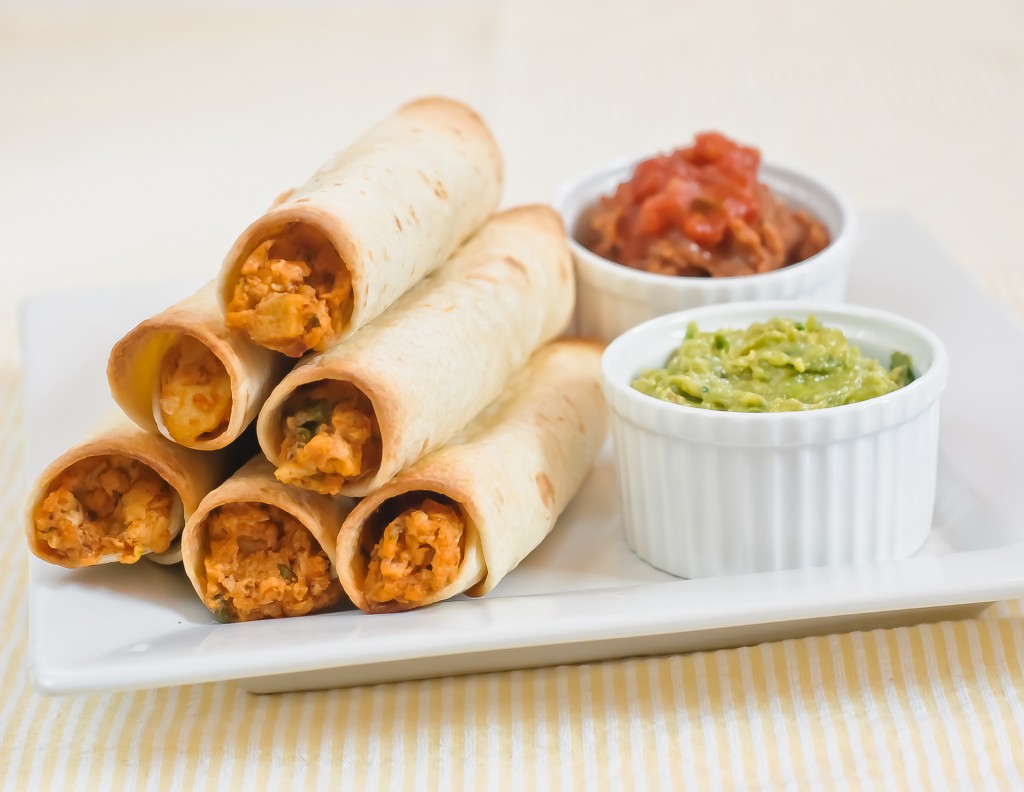 I never get tired of Mexican food. I strongly believe that food wrapped/rolled/stuffed into things is pretty much as good as it gets, and Mexican food has that down pat. I also love that it's pretty easy to find satisfying vegetarian options in Mexican restaurants (although beware the refried beans). Most of all, I love that Mexican food is easy to make it home, and that you can usually make it much healthier than you could ever hope to get in a restaurant.
This recipe for creamy baked chicken taquitos began making its merry way around the internet several years ago. After reading wistfully of its charms in blog after blog, it almost began to haunt me – everywhere I went, I seemed to be staring at it, but I couldn't have it! The humanity! Even the disgusting deep-fried messes they call taquitos at 7-11 seemed to be mocking me as they slowly rotated over and over on their dirty griddle. After suffering through this for years, I finally decided to Take Back the Taquito.
"But Julie," you may be saying, "how can you take back the taquito when you never had the taquito?" If you are saying that, then you're arguing semantics. And you know what rhymes with semantic? Pedantic. So there. Now eat one of the taquitos I just took back, and like it.
You'll need to plan a couple of days ahead in order to freeze and thaw the tofu. Remove the tofu from the package and press gently with paper towels to remove excess water. Place in a freezer-safe Ziploc bag and seal tightly. Freeze for at least a day. Remove the night before or morning of the day you plan to make these and place in the refrigerator to thaw. After thawing but before shredding, gently press with several paper towels again to remove additional moisture. This will give the tofu a firmer, chewier texture.
I'm going to say one more thing about these taquitos before I beg you to make them – whether you're a vegetarian or not really doesn't matter with this recipe, so please don't be put off by the tofu. In fact, I think this is a great introduction to tofu for those who perceive it as a wobbly, spongy, inadequate meat substitute. Freezing it first firms it up a lot, and the shredded texture mimics chicken so closely that I honestly don't think most people would be able to tell the difference, especially with all the flavor in this recipe. Just this once, give tofu the benefit of the doubt. Your taste buds will thank you.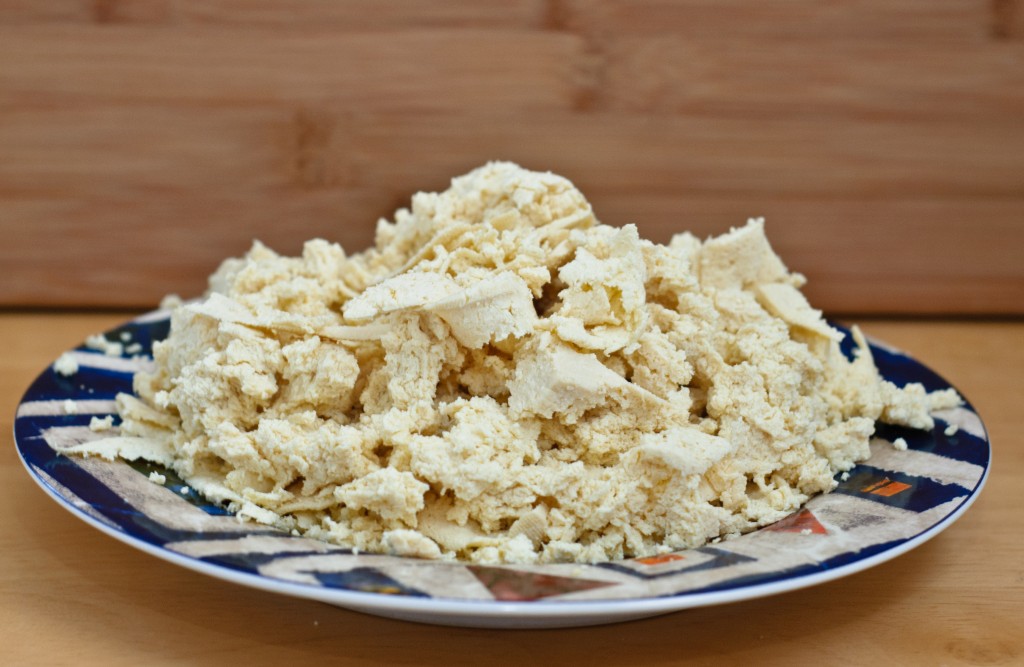 Creamy Baked Tofu Taquitos
Ingredients
1 package (14-16 oz) extra-firm tofu, frozen and thawed
4 oz light cream cheese, softened
1 Tbsp lime juice
⅓ cup salsa
3 cloves garlic, minced, or 1 generous tsp jarred garlic
1½ tsp chili powder
1 tsp cumin
¼ cup chopped cilantro
2 scallions, chopped finely
1 cup shredded cheese (I used a Mexican blend)
6-inch flour tortillas (you can use corn, but I find flour easier to work with and I prefer the taste)
Cooking spray
Coarse sea salt (optional)
Instructions
Using a vegetable peeler, box grater, or your fingers, shred the tofu into strips and set aside.
Preheat the oven to 400 F.
In a large bowl, combine the cream cheese, lime juice, salsa, garlic, chili powder, cumin, cilantro, and scallions. Stir well to combine. Add the cheese and shredded tofu and stir until well mixed.
Remove the tortillas from their plastic bag and place the stack between two paper towels. Microwave for about 30 seconds. This will make them pliable enough to roll.
Place 2-3 tablespoons of filling into a tortilla (I did closer to 2 Tbsp because I'm all about quantity and more taquitos = yay! Also makes them easier to roll). Roll the tortilla away from you, as tightly as you can. Place seam side down on a baking sheet lined with parchment or foil sprayed with cooking spray. Repeat with the rest of tortillas and filling, ensuring that the taquitos aren't touching each other on the baking sheet.
Spray the tops of the taquitos lightly with cooking spray and sprinkle with sea salt. Bake for 15-20 minutes, until the ends are lightly browned. Serve with refried beans, salsa, sour cream, guacamole, and a large margarita.
Source:
Adapted and vegetarianized from
Our Best Bites