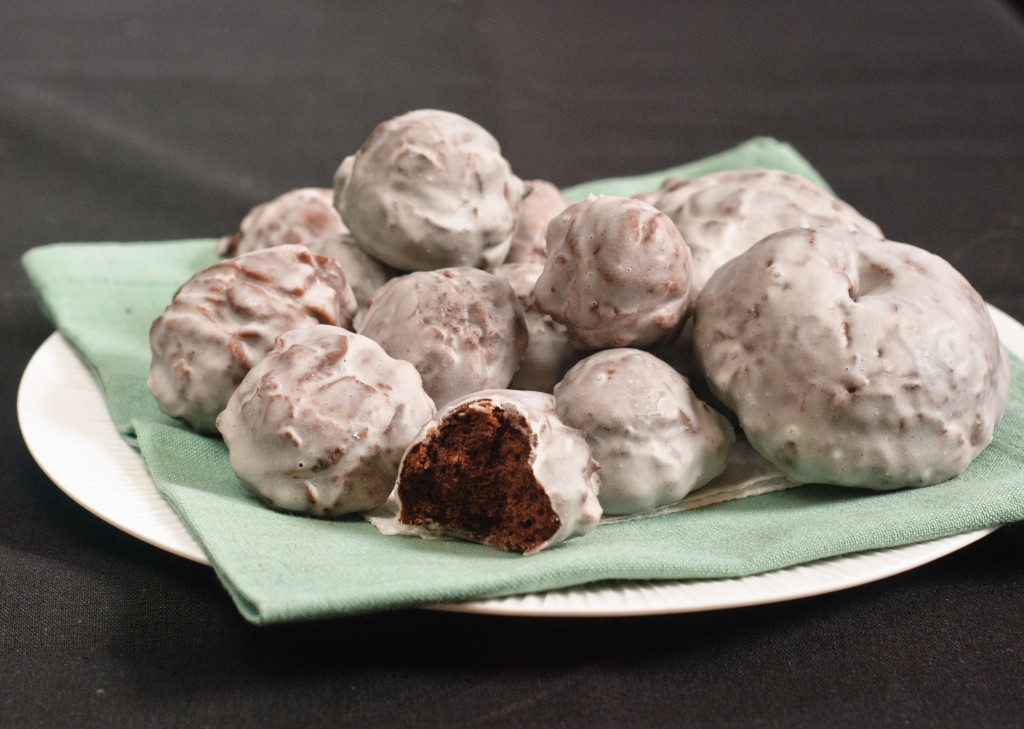 I don't do much frying. Largely because, you know, it's bad for you, but if I'm being 100% honest, there's a pretty big laziness factor thrown in there. I never know how to best dispose of the oil, and I hate dealing with the greasy stack of paper towels left from draining. And I can't stand that oily film that deep-frying seems to leave on your skin, your clothes, and half your kitchen.
I'm really selling this, aren't I?
My point is, I fried for these doughnuts. Even though I hate frying. After making blood orange curd last week, all I could do was picture it oozing prettily out of the center of a dark chocolate doughnut. I'd never made doughnuts before, but this seemed like as good a reason as any to learn.
I had some catastrophic failures making these. I'm going to detail them out, because the correctly made ones are so sublime that I need you to not make the same mistakes I did. This will allow you to enjoy a full batch of these babies instead of the roughly two-thirds of a batch I ended up with after dejectedly admitting defeat with the other third and tossing them in the garbage.
How Not to Fail at Doughnuts
Do not attempt without a deep-fry/candy thermometer. I foolishly shrugged this off, thinking "hot is hot." This is how I lost approximately one-third of my doughnuts. The oil gets too hot, and while you're happily waiting for your timer to go off, your poor doughnuts are burning and screaming for rescue. Since they're chocolate, you won't be able to tell they're burned until after you take them out, so correct temperature + time is key.
Okay, that's pretty much it. Seriously. Make sure your oil is the right temperature.
Did I mention thermometers yet? So, I don't know if you've heard, but if your oil gets too hot you will burn your doughnuts and go to bed sad.
I know I said that was pretty much it, but I lied. Don't try to fry in your enameled cast iron dutch oven. I began heating my shortening in there because it was already on the stove and I didn't really think about it, but it began to make alarming crackling noises about five minutes later. A quick Google revealed that I was lucky to not have ruined it. Should I have known this? Don't judge me.
Even with my failure and lost doughnuts, the remaining ones were 100% worth it. They're tender and cakey, and frying them in shortening prevents an excess of oily residue after they cool (this is a great tip from Deb - fats that are solid at room temperature are better for frying because of that, and because less of it is absorbed into the food). In the end, they were so good on their own that I didn't even fill them with the orange curd* – I just rolled them in the simple vanilla glaze from the original recipe and brought them into work to make them disappear.
*Recipe for what I actually did with the blood orange curd coming this week.