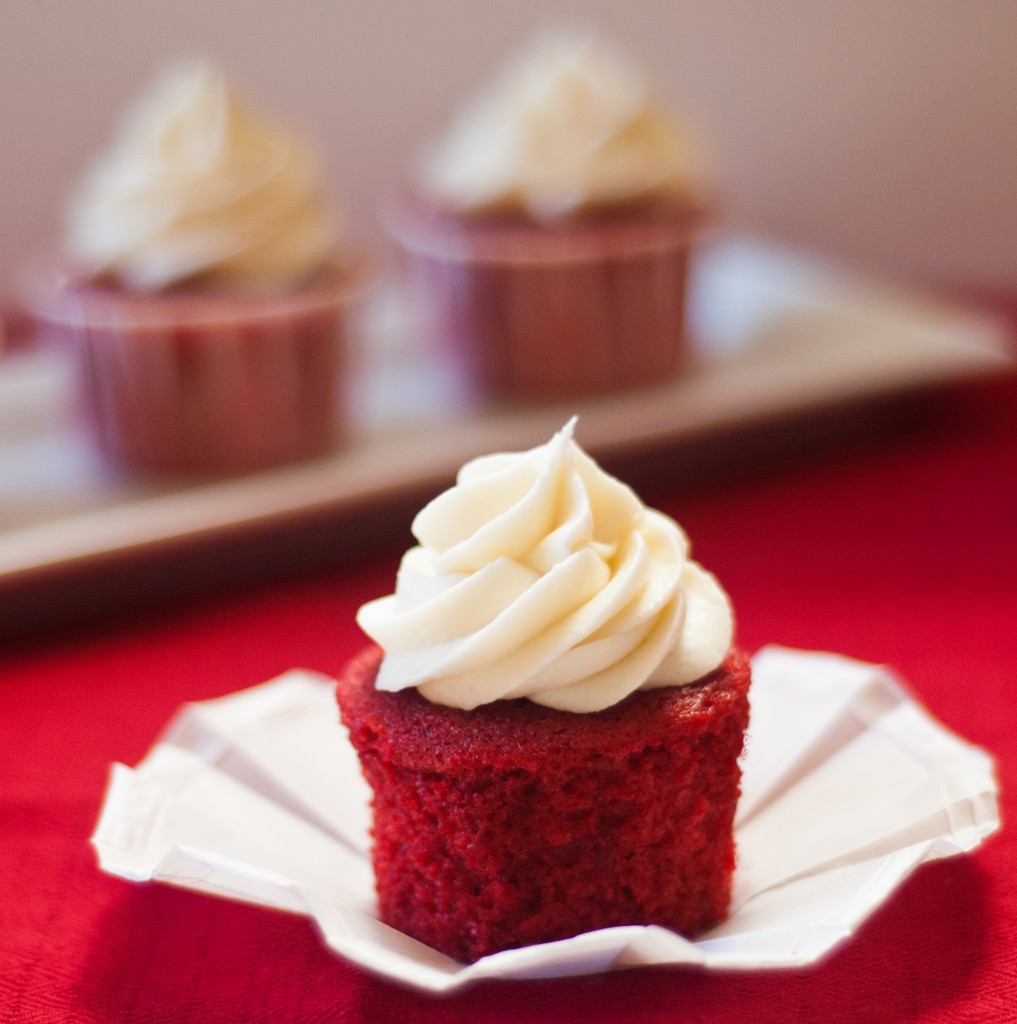 Whenever a friend or coworker has a birthday, I send out my cupcake menu and ask them to choose a flavor so I can give them a custom half-dozen for their special day. I also tell them that they're free to suggest something entirely different if they have a favorite flavor they don't see, or a beloved dessert that I might be able to recreate as a cupcake. I love this, because it challenges me to get outside my comfort zone and try new things, and it's the main reason there are now almost forty flavors on my cupcake menu. It's how key lime, tiramisu, and cream soda cupcakes went from crazy ideas to crowd favorites, and it's why the list continues to grow. The best part is that it makes people happy to see a brand new flavor come to life purely from a fond childhood memory – it feels like a meeting of the minds, a joint effort, and I wouldn't have it any other way.
I have a friend, though, who recently reminded me of something equally important, if not more so – that not everything enjoyable has to be exotic, or new, or particularly adventuresome. For her birthday, without even looking at the cupcake menu (I'm actually not even sure I even had to send it), she immediately chose red velvet for the third year in a row, noting that she "prefers the classics." I jotted down her selection, made a note on my calendar, and didn't think more about it until the night before our get-together earlier this week.
That night, I'd gotten stuck in two hours of traffic after a long day at work. Cranky and exhausted, I flipped the television to the classic rock station as I began preheating the oven, lining my cupcake pans, and rearranging the kitchen so I could plug in the mixer (yes, I actually have to reconfigure about half of my kitchen to plug various appliances into the one electrical outlet that's not behind the refrigerator. We'll discuss that another time). As I continued to prep, I began to notice something.
Slowly but surely, I was relaxing. Decompressing. Unwinding.
My trudging plod across the kitchen was getting lighter, and I even felt myself beginning to move a little to the music (Night Moves, for the record). As I spooned flour and sugar into measuring cups and began sifting, I realized that this felt so good and comforting and perfect because it was so wonderfully familiar and uncomplicated. I knew this recipe by heart. I didn't need to perch my laptop precariously atop the microwave, or frantically triple-check to make sure I hadn't mixed up baking powder and baking soda. All I needed to do was allow my mind to wander and let my hands do the work they'd done hundreds of times before. By the time I slid the pans into the oven and curled up on the couch to wait for the unmistakable signal they were almost done (that blissful scent of freshly baked cake in the air), I'd completely forgotten about the hellish ride home and the long day that preceded it.
That's a gift. And it's a gift that new, exciting, probably delicious but undeniably demanding experiments just can't give. There are so many wonderful things about those – they're challenging, they're different, they make us feel accomplished. But often, we (ahem, I) get so caught up in variety, and making sure we're branching out enough (whatever "enough" means to each of us) that we forget about those little things that have always made us happy, that we tend to push aside in favor of whatever's newer and bigger and faster and better. I know I'm headed down Metaphor Avenue and taking the first right onto the Tired Cliche cul de sac, but that evening earlier this week of music and muscle memory and tension melting away reminded me how important it is to acknowledge the joy in the familiar – and that sometimes you just need to stop and smell the red velvet.

Red Velvet Cupcakes
Ingredients
For the cake:
2½ cups cake flour
1½ cups sugar
1 tsp baking soda
1 Tbsp cocoa powder
1 tsp kosher or sea salt
2 eggs, room temperature
Scant 1½ cups vegetable oil
1 cup buttermilk, room temperature
2 Tbsp red food coloring
1 tsp distilled white vinegar
1 tsp vanilla extract
For the frosting:
½ lb cream cheese
1 cup (2 sticks) unsalted butter
⅛ cup light brown sugar, packed
4 cups confectioner's sugar, sifted
1 tsp vanilla extract
1 Tbsp heavy cream
Instructions
Preheat oven to 350 F. Line two cupcake pans with paper liners and set aside.
In a medium bowl, sift together flour, sugar, baking soda, cocoa powder and salt.
In a larger bowl or the bowl of a stand mixer, beat together eggs, oil, buttermilk, food coloring, vanilla, and vinegar until combined (about two minutes). Add the dry ingredients in two additions and beat on medium speed until each addition is incorporated. The batter will be liquidy.
Fill the cupcake liners about ⅔ full and bake for 18-20 minutes (until a toothpick inserted in the center comes out clean). Let cool in pans for five minutes. Remove to racks to cool completely.
To make the frosting, beat the cream cheese on medium-high speed until light and fluffy, about a minute. Add the butter and beat until combined and fluffy, about two minutes, scraping down the sides of the bowl as necessary. Add the brown sugar, salt, and vanilla and beat to incorporate.
With the mixer on low, add the powdered sugar one cup at a time, beating each addition until well-incorporated and scraping down the sides of the bowl as necessary. Add the cream and beat on medium-high until light and fluffy.
Frost the cupcakes, and then clean red food coloring off everything you've ever owned (it has a way). Serve immediately or keep refrigerated in a tightly closed container for up to three days. Bring to room temperature before serving.
Source:
Cake recipe adapted from
Cake Man Raven
, frosting adapted from
Joy the Baker